Because you are here on this page, you must be trying to find out what are the best air purifiers to buy for your home or your office.
Well, you're in the right place!
Let's not waste countless hours of searching through any others of websites just to find the top rated air purifiers that fit your specific needs. Because in Breathe Quality:
We do give honest reviews (both pros and cons) and a base comparison for all the air purifiers so anyone will guarantee to have the wisest choices.
We do not (never) exaggerate one product just to let you click the links and buy that product blindly.
On this page, you'll find everything you need to quickly make the right decision on which air purifier to get. You even have "what is the best air purifier" in your mind for later use. Keep in mind that we will update this list daily (to 2019 and beyond) so you are welcome to come back and check again for the latest top rate air purifiers. We never let our readers find an out-of-date air purifier in our list.
We know that not everyone has time to find, research, check reviews and ratings of air purifiers from a huge ton of websites. Therefore, this page aims at helping you, yes you, find the right air purifier for your needs in a quick and efficient way. We have read other reviews in the whole Internet and rather find them outdated, or just sort the most expensive air purifiers in top for maximum benefits. Well, we never do it.
Related posts: 
We hope this list of the top rated best air purifiers is exactly what you're looking for and that it not only saves you time trying to find the right device but also helps you get the most value for your money! Thank you!
Base Comparison Table of Top 10 Best Air Purifiers in 2018
This Comparison Table of best air purifiers will help you have a quick overview of our list of Top 10 Best Air Purifiers in 2018. The factor for comparison in this table is Filter Type of this air purifier, also we give the most concerned factors as Room Capability, Air Purifier's Size.
Remember that you should check the reviews of this comparison table. We will share all the knowledge about the pros and cons of each air purifier, also with other products from the same air purifier's manufacturers. So even if you can't find your favorite air purifier products in this table, please check reviews for the same brand's product. There you will find your favorite best air purifier for sure.
| Image | Name | Filter Type | Room Capability (sq ft) | Size | Check Reviews |
| --- | --- | --- | --- | --- | --- |
| | Rabbit Air MinusA2 Ultra Quiet HEPA Air Purifier | Advanced BioGS HEPA, Ionic Filter, Carbon Filter | 815 | 19.25 x 7 x 21.4 inches | Read More |
| | LEVOIT LV-H132 Air Purifier | True HEPA Filter, Carbon Filter | 86 | 8.5 x 14.5 x 8.5 inches | Read More |
| | Honeywell True HEPA Allergen Remover HPA300 | True HEPA Filter, Carbon Filter | 465 | 20.08 x 10.83 x 22.32 inches | Read More |
| | Winix WAC9500 Ultimate Pet True HEPA Air Cleaner | True HEPA Filter, Carbon Filter | 283 | 16.5 x 9.9 x 21.9 inches | Read More |
| | Coway AP-1512HH Mighty Air Purifier | True HEPA Filter, Ionic Filter, Carbon Filter | 361 | 16.8 x 18.3 x 9.6 inches | Read More |
| | AIRMEGA 400S Air Purifier | True HEPA Filter, Carbon Filter | 1560 | 14.8 x 14.8 x 22.8 inches | Read More |
| | Hamilton Beach 04384 Air Purifier | Permanent HEPA, Carbon Filter | 160 | 10.8 x 8.1 x 16.4 inches | Read More |
| | Biota Bot Model #MM208 Air Purifier | True HEPA Filter, UV Light Filter, Carbon Filter | 430 | 25.6 x 16.5 x 11 inches | Read More |
| | GermGuardian CDAP5500BCA WiFi Smart 4-in-1 Air Purifier | True HEPA Filter, UV Light Filter, Carbon Filter | 193 | 9.1 x 6.7 x 27.6 inches | Read More |
| | Alen BreatheSmart Customizable Air Purifier | True HEPA Filter, Carbon Filter | 1100 | 26.75 x 17.75 x 10 inches | Read More |
---
Top 10 Best Air Purifiers List
Fun facts: Here is the list of Best Air Purifiers for consumers in 2018, and if Breathe Quality has to pick one to be the winner of them all, we think we will stick with this guy: Rabbit Air MinusA2 Ultra Quiet HEPA Air Purifier.
And why we consider it the best air purifier system for home available?
Rabbit Air is one leader in air purifier market, starting from 2004. Their MinusA2 is the latest True HEPA Filter air purifier product to compete in the air purifier market. To perfect this product, Rabbit Air created a Six-stage purification & deodorization to make the cleanest, freshest air possible in the world (notice that typical air purifier only consists of 2 to a maximum of 4 filter for air purifying). Let's dive into:
Pre-filter – The polluted air must pass through a pre-filter, there it will capture all large particles, along with dust mites and some of pet hair.
Medium Filter – Traps large pollen, pet dander, mold and dust particles that is small enough to bypass the Pre-filter.
Advanced BioGS HEPA Filter – It is a True HEPA Filter that captures 99.97% of all allergens, virus particles, pollen, mold and fungi particles down to 0.3 microns. Rabbit Air advances their air filter process, therefore prolong optimal filter efficiency and filter life of their HEPA Filter.
Activated Carbon Filter – Eliminates odors, smokes and chemical vapors.
Customized Filter – Let's you customize the product and choose from a variety of customized filters including Germ Defense, Pet Allergy, Odor Remover, or Toxin Absorber.
Ion Generator – allows the particles to get trapped more easily by your air purifier's filters, or to settle onto the floor where they can be picked up by your vacuum instead of accidentally inhaled. Can be switched on/off.
So basically MinusA2 is a combination of almost all of the popular air filter types. Thanks to the reduction of common allergens from the Pre-filter and Medium filter, The Advanced BioGS HEPA filter can last at least 3 years, profitably reduce the cost of HEPA Filter replacement after 6 months to 1 year like normal.
While including an Ion Generator, due to the fact that Ionizer Filter's downside is irritating asthma and respiratory issues, MinusA2 brings an on/off control for this function. So if you are allergic to the ion, you can turn it off.
Many customers love MinusA2 because they can customize the front panel in both color and/or design. Many different artistic design choices, from Vincent Van Gogh, Claude Monet, Katsushika Hokusai to original designs by Rabbit Air's creative team, are available to suit your taste. Moreover, you can hang this air purifier to your wall, making it a perfect art.
For variety of options, MinusA2 comes with three editions. The first is SPA-700A, which covers up to 700 sq ft (around 65 sq m). The bigger (covers up to 815 sq ft) has two editions: SPA-780A (with no wifi connection) and SPA-780N (wifi enabled). With Wifi enabled, the SPA-780N can be controlled via an iOS application.
Fun facts: the model name give you exactly the area it can cover, for example, SPA-700A covers 700 sq ft. And Rabbit Air also is the only brand to give comparison of annual cost for energy between many air purifier's brands.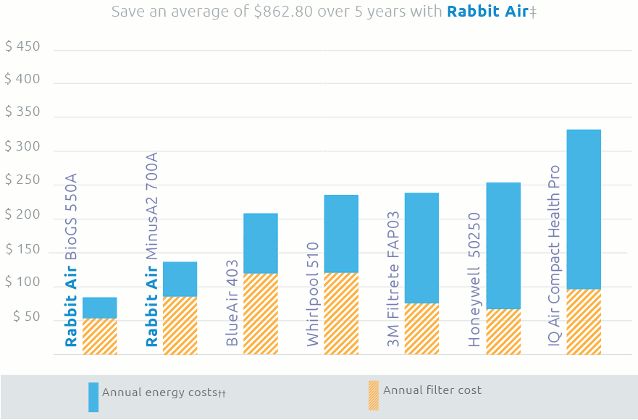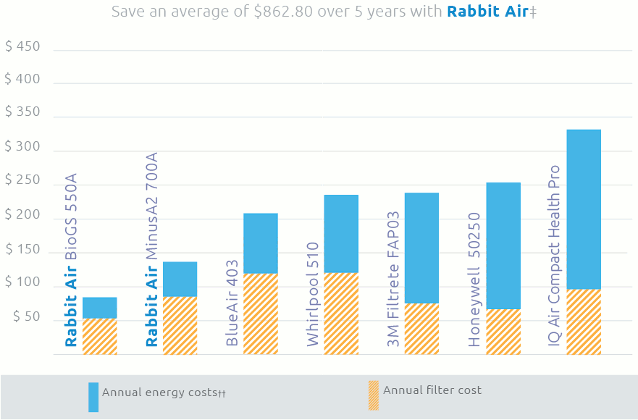 Here is the pros/cons of Rabbit Air MinusA2
PROS
---
6-stage Filter instead of 2 to 4 as normal
BioGS HEPA prolongs longer than typical True HEPA Filter
Wifi Capability Control
Can be either stand alone or to be mounted on the wall
Artist Series is really amazing
Ultra Quiet
Energy Annual Cost is among the lowest
Smart Sensor
5-year warranty
CONS
---
Overall price is high
No Android app for Wifi version – SPA-780N
Rabbit Air also provided a good air purifier in the past and still continue to the present: the BioGS 2.0 SPA-625A.
One of the best thing to consider this SPA-625A is the BioGS HEPA Filter technology from Rabbit Air. So with a reasonable budget, you can have one of the best technology for air purifier.
While only has 4-stage purification and covers a smaller area (625 sq ft), this product only costs you nearly half of the MinusA2 above. If you are a fan of Rabbit Air and are not willing to pay more than $400, you can have a low-budget BioGS 2.0 SPA-625A.
Finally, if you are allergic with ozone or ion, BioGS 2.0 SPA-625A doesn't have any ozone or ion emission.
Are you convinced? If yes, please follow the beside button to Rabbit Air BioGS 2.0 SPA-625A.
Fun facts: Levoit LV-H132 Air Purifier is the #1 Best Seller Air purifier in Amazon.
Levoit is a great brand of air purifier with their favorite quote: "One less snooze = a morning walk around the block". Their LV-H132 is among the most favorite air purifiers in the market.
LV-H132's desgin is small and elegant, with 2 main color editions: Black and White. This compact True HEPA Air purifier is mostly suitable for small bedroom or/and even in a van while traveling.
Comes with a 3-stage Air Filtration System that includes a Pre-filter, True HEPA Filter and Activated Carbon Filter, Levoit LV-H132 Air Purifier meets the strictly requirements to remove 99.7% of dust, smoke, odor, mold spores, pet dander and particles as small as 0.3 microns.
We believe this air purifier is one of the best for your babies. The Nightlight function and Quiet Mode of LV-H132 is really great to keep a baby from waking up.
Here is the pros/cons of Levoit LV-H132
PROS
---
Low cost, High Efficiency
Small size, perfect for a side table
True HEPA Filter is one of the greatest
Quiet
1-year warranty
CONS
---
Small coverage of room area: 86 sq ft
Sometimes the fan's speed is not working
Do not have light notification for filter replacement
Do not have automatic shut-off
Related post: Best air purifiers for bedroom.
However, this compact air purifier can only cover a space up to 86 sq. ft. For a larger-covered product, Levoit has created their latest air purifier – Levoit LV-PUR131.
LV-PUR131 has all advantages one could have had with the LV-H132, while covering a larger space, up to 322 sq ft.
To be the flagship of Levoit, LV-PUR131 has an automatic sensor called Air Quality Indicator to adjust the fan speed according to the surrounding air quality. Also the missing of timer is found in LV-PUR131. Now you can set the timer anytime from 1 to 12 hours.

Fun facts: Honeywell is claimed to be more than 130 years of Innovation.
Honeywell is not just an air purifier's brand. In fact, this Fortune-100 company invents and manufactures technologies for a lot of world's challenges like energy, security, productivity and so on.
This Honeywell True HEPA Allergen Remover HPA300 comes with one of the best True HEPA Filter Technology in the world. Combined with the Activated Carbon Filter, this Honeywell air purifier is claimed to capture even the 0.005 microns viruses. That's why this product is easily the #4 Amazon Best seller for True HEPA Air purifiers.
Like almost all of the air purifiers in this post, Honeywell HPA300 has a Charcoal Filter to help remove smokes and odors. And it can handle a very large area up to 465 sq ft.
Below is a picture showing how powerful Honeywell HPA300 could be:
Here is the pros/cons of Honeywell HPA300
PROS
---
True HEPA Filter
Automatic shut off
Control panel light dimmer
5-year warranty
CONS
---
Quite noisy
Many experiences of bad smell
Related post: Best air purifiers for allergies and asthma.
If you find 465 sq ft is too large, Honeywell provides a variety of selection for air purifier, being the smallest HPA100 (with 155 sq ft) and the medium HPA200 (with 310 sq ft).
Basically, all Honeywell's products share the same technology, only different for the size and the room capability. So before purchasing any Honeywell's products, please check your room's area again. Down there is all of Honeywell's product available for you: HPA 060, HPA100, HPA160, HPA200, HPA250B (can connect with Bluetooth).
Fun fact: The model names of Honeywell give you exactly the room capability of air purifier (higher means larger). The white-version's name is the black model number plus 4. Example: if Black model is HPA100 then White model is HPA104 and so on.
As an Amazon's Choice for Best Air Purifiers, Winix is also a must-look brand when finding an air purifier for your home. Among the variety of selections for air purifiers, Winix WAC9500 Air Cleaner is safe to say the best.
Winix WAC9500 features the unique technology of Winix – PlasmaWave, to produce both positive and negative ions (plasma state). Combined with True HEPA Filter, PlasmaWave technology can eliminate effectively most of toxic contaminants. However, not like the ionizer filter, it won't irritate asthma and respiratory issues. That's why PlasmaWave is considered the safest technology to combat with smallest bacteria.
Winix WAC9500 has a standard 4-layer filter, with a pre-filter, a True HEPA Filter, a Charcoal Filter and PlasmaWave technology. Moreover, Winix brings CleanCel Anti-Bacterial Treatment to further destroy the bacteria.
A Smart Sensor is also a plus for Winix items, which can automatically adjust your air cleaner settings to meet the needs of your environment.
Winix WAC9500 is capable of covering up to 283 sq ft, which is a typical room of US.
Here is the pros/cons of Winix WAC9500
PROS
---
PlasmaWave technology is safer than Ionic Filter
True HEPA Filter
Smart Sensor
Mobility, using 2 AA batteries
1-year warranty
CONS
---
Quite noisy
Some still claim that PlasmaWave irritate asthma
Related post: Best air purifiers for pets.
Winix WAC9500 is one of the latest products of Winix, however, with some reviews of it is not worth the money, we will add some previous versions of this product so you can choose the one you love the most. The couple of Winix 5300-2 and 5500-2 (Amazon's Choice) provide a 3-stage air filtration, including of True HEPA Filter, Carbon Filter and PlasmaWave technology. The fact is that with under $200, this couple is giving the same fresh air as WAC9500.
If you are a true fan of Wifi-enabled air purifiers, you may love the couple of Winix NK105 and HR1000. Both of them come with the latest 5-stage air filtration of Winix, and a great Android named Winix Smart to control your air purifiers. But not like Rabbit Air, Winix wifi devices seem to be disconnecting randomly. If you are planning to buy one of this couple from Winix, you must be sure to check it carefully.
Coway is the number one in Korean Air Purifier's market. The #3 Amazon Best Seller for Air purifier is also one of our picks as the best air purifier you can buy for your home.
Why is Coway Mighty Air Purifier AP-1512HH so highly rated in almost all of air purifiers' reviews websites?
Mainly due to these important reasons:
4-stage Air Filtration System – Includes a Pre-filter, True HEPA Filter, Carbon Filter, and Ionizer to eliminate the widest range of pollutants and odors. As you can see from the image below, they have Antivirus True HEPA Filter.
Eco Mode – Unlike other air purifiers that run 24/7 even when the air is fresh, this product shut down the fan when it detected no air pollution, perfect for saving energy.
Auto Mode – Automatically adjusts the airflow speed based on the air quality level.
Coverage – Up to 361 sq ft.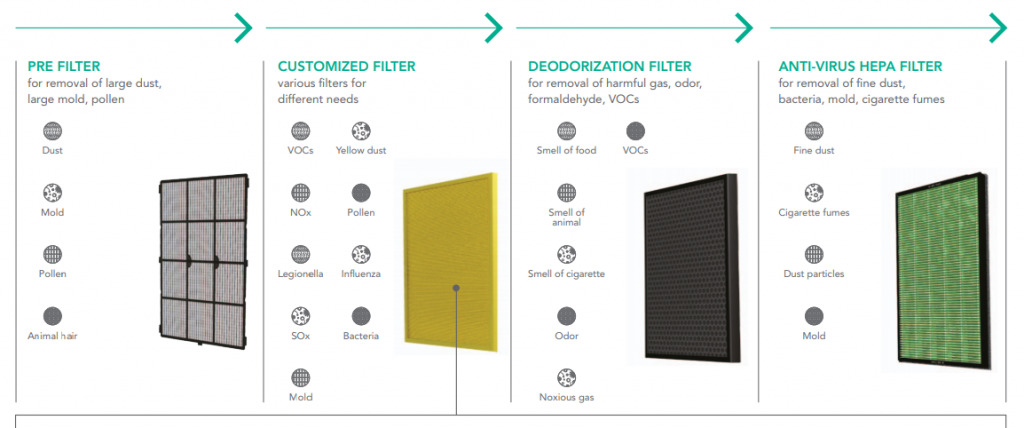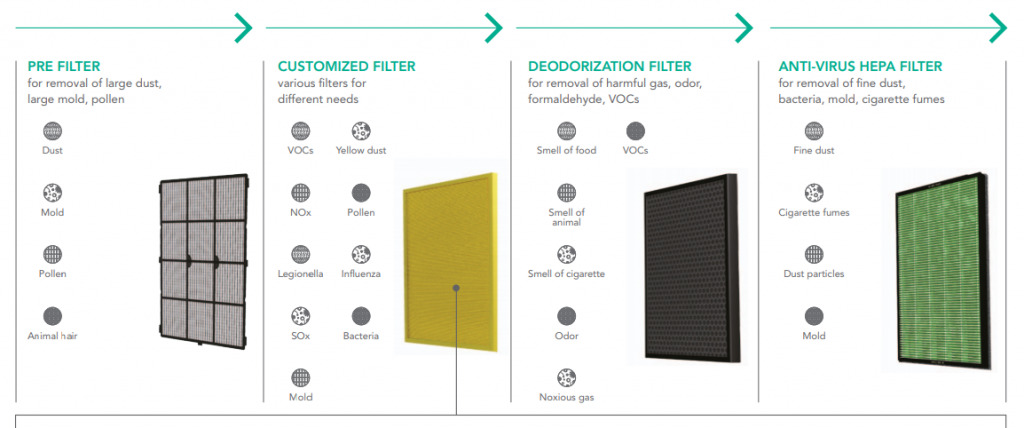 With a quite small compact size, Coway AP-1512HH is really high efficient. We even have one in our home, and after 7 months using, its reaction to odors and cooking smells is still one of the best.
Some reviewers complainted that the display light on the top is too bright, and it can't be turned off. It is true. So if you have a problem with light, please do not set the air purifier in your bedroom.
Other than that, this is the best value air purifier you can get.
Here is the pros/cons of Coway AP-1512HH
PROS
---
Antivirus True HEPA Filter
Compact size, large coverage
Eco Mode
Auto Mode adjusts the air effectively
3-year warranty
CONS
---
The top light can't be turned off
Related post: Best air purifiers for smoke.
It's hard to find a Coway's fan without using Coway AP-1512HH, but to give a honest review for the best air purifier, we will give the last two items of them. Coway AP-0512NH is also a compact like AP-1512HH, but with a smaller size and smaller coverage. Comes with Therapy 6 Sounds developed by Doctors, this one is the most suitable for baby's bedroom.
Coway AP-1216L Tower is a tall Air purifier, only cover a little smaller of 330 sq ft. The Technology of Coway AP-1216L is basically the same with AP-1512HH.
Fun facts: AIRMEGA is a brand of Coway Company.
AIRMEGA 400s Air Purifier ranks high on the list of best rated air purifiers because it offers something not many other devices provide – Smart Enabled Feature.
What makes this product so popular is the fact that you can control every aspect of it from your iOS or Android device. It allows you to monitor the air quality inside your home, see the status of the filters, schedule the timer, and even receive real-time outdoor air quality updates.
When the air quality remains good for 10 minutes or more, AIRMEGA 400S conserves energy by shutting down the fan. If the sensor detects pollution in the air, the fan will restart automatically. This is one of the best features of AIRMEGA best air purifier – the Eco Mode.
Like the above best air purifiers in this post, this machine uses an advanced set of air filters, True HEPA and Activated Carbon – that are capable of capturing 99% of volatile organic compounds (VOCs) and 99.97% of all other pollutants. The pre-filter is also washable.
If you don't need the Smart Enabled Feature, you should look for AIRMEGA 400 – the non-wifi version of AIRMEGA 400S.
Here is the pros/cons of AIRMEGA 400S
PROS
---
True HEPA Filter
Smart Enabled Feature for both iOS and Android
Eco Mode
Cover up to 1560 sq ft
5-year warranty
Related post: Best large room air purifiers.
If you like AIRMEGA and are looking for the best air purifier of AIRMEGA, 400S is clearly the first. And the second must be the 300S, with smaller room capability but share all the same technology with 400S. If you can't afford the AIRMEGA 400S, why not check the AIRMEGA 300S right now. Like the 400S, 300S also comes with a non-wifi version named AIRMEGA 300. If you choose the non-wifi 300, the cost of this air purifier is quite average.
What if you are looking for your first air purifier, and after learning that True HEPA Filter must be replaced once per six months. You are not willing to spend around $50 for your next 6 months. And you need a solid air purifier to help you remove pet hair, then you might want to check Hamilton Beach 04384 Air Purifier – the latest air purifier of Hamilton Beach.
Hamilton Beach 04384 Air Purifier uses a Permanent HEPA-type Filter that can be cleaned with a vacuum and doesn't need to be replaced. This saves you a considerable amount of money.
To combat with pet's odor, this Hamilton Beach's product has 2 Activated Carbon zeolite Filters which can be replaced.
Here is the pros/cons of Hamilton Beach 04384
PROS
---
Permanent HEPA Filter
Low cost overall
Cheap carbon filter replacement
1-year warranty
CONS
---
No True HEPA Filter
Have a burning smell after a long time
Quite noisy
Instead of this 04384, you can purchase the normal Hamilton Beach 04386A – one of top 10 in Amazon Best Sellers for Air Purifier.
This Allergen Reducing Air Cleaner doesn't have 2 Charcoal Filter, and therefore will be unable to remove pet's odors. However, the Permanent HEPA Filter is great at reducing the level of dust in your room.
If you don't have pets or problems with your pet hair or dander, you could save money with Hamilton Beach 04386A.
Despite their bad website, Biota Bot has grown into one of the most recognized Air Purifier Retailers. And among several products, Biota Bot Model #MM208 Air Purifier is by far the best air purifier from this brand.
To be honest, Biota Bot #MM208 is the first to claim a 7-stage air purification. Its functions can destroy microbial molecular structure of DNA or RND and kill a variety of bacteria in a coverage of 430 sq ft.
There are 4 filters in this air purifier:
Pre-filter: to remove larger particles like pet dander, hair and dust.
True HEPA filter: a certificate of True HEPA filter always guarantee the effective removal of 99.7% of 0.3 microns particles.
Activated Charcoal filter: to combat with odors and smokes.
UV (Ultra Violet) Light filter: the UV-C Light type will guarantee to kill a variety of bacteria. Though it is harmless to human beings, this function can be switched on/off as you wish.
Just like other high-end machines, Biota Bot #MM208 has Automatic Sensor to monitor Air quality. We also like its Sleep Mode, which reduce the fan speed to the lowest, and in fact, this is a gold feature for anyone who has difficulty at sleeping.
Here is the pros/cons of Biota Bot #MM208
PROS
---
True HEPA Filter, combine with Charcoal Filter and an UV Light Filter
Automatic Sensor
The Sleep Mode is a gold feature
3-year warranty
What do you think? If you like Biota Bot, and have no problem with Ionic Filter, you can buy along with your #MM208 a compact air purifier named Biota Bot #MM108. Instead of using UV-C Light filter, this desktop air purifier #MM108 is built with an ionizer to combine with True HEPA Filter and Charcoal filter. This product is smaller and can be set on your side table at bedroom.
Guardian Technology is always a leader in Air Quality Industry, manufacturing a variety of products ranging from air purifier, humidifier to spa therapy. Their air purifiers are always staying high in the consumers' list for many years (currently they have 2 in top 10 Amazon Best seller for Air purifiers).
Fun facts: Guardian Technology allows dogs in their office.
To find out the best air purifiers, of course we will never forget mentioning GermGuardian – the high-end True HEPA Air purifiers. And their latest product in 2018 is GermGuardian CDAP5500BCA WiFi Smart 4-in-1 Air Purifier. What makes this product so popular is the fact that it uses a 4-in-1 Air Cleaning System that clears airborne pollutants of all types – making the room a sterile, healthy environment.
The 4-in-1 Air Cleaning system includes:
True HEPA Filter – Captures 99.97% of microscopic allergens, dust and mold spores down to 0.3 microns in size. This is clearly the best filter for people who suffer with allergies or asthma.
Carbon Filter – Reduces odors created from smoke, cooking, pets…
UV-C Light – Kills airborne bacteria, viruses and mold spores that cause health issues.
This air cleaner is excellent for small to medium-sized rooms and can purify a space up to 171 sq ft. For most personal uses, this is an ideal size for a living room and bedroom.
This is also one of the best low-budget air purifier using Wifi connection. You can download their GT app with both iOS and Android devices. Now you can control your air purifier anywhere anytime.
GermGuardian Air quality Monitor is called SmartAQM, which can automatically adjust the fan speed to optimize air quality in your room. Also, like other top rated air purifiers in this list, GermGuardian CDAP5500BCA has Control Timer to schedule your time off.
Here is the pros/cons of GermGuardian CDAP5500BCA
PROS
---
True HEPA Filter combined with UV-C Light Filter
Wifi Smart Enabled
SmartAQM
Low-budget for a high-end product
5-year warranty
CONS
---
Quite noisy with highest setting
Alexa voice command seems bad
Guardian Technology has a lot of air purifiers in low-medium budget. In fact, they have 2 in top 10 of Amazon Best sellers for Best Air Purifier: GermGuardian AC4825 3-in-1 Air Purifier (#2) and GermGuardian AC5250PT 3-in-1 Air Purifier (#6).
As you can see, GermGuardian can be the most popular brand for top rated best air purifiers in 2018. The lower versions of GermGuardian air purifier come with only a 3-in-1 Air cleaning system, however it is still the best air purification system with the UV-C Light filter combining with True HEPA filter and an Activated Carbon filter.
The GermGuardian AC5350B Elite and GermGuardian CDAP4500BCA WiFi Smart have 4-in-1 Air Cleaning system (the latter even has Wifi Smart). Honestly, these air purifiers are nearly the same with GermGuardian CDAP5500BCA.
Here are some of Guardian Technology air purifiers, with the 2 first are the best sellers:


Our last champion in this best air purifiers list is from AlenCorp company, where all of their air purifiers earned Consumer Digest's Best Buy.
Fun facts: AlenCorp is the only company offering a lifetime warranty. Their motto is "put the customers first".
Alen BreatheSmart Customizable Air Purifier is one of the three customizable air purifiers that covers the largest area, up to 1100 sq ft. Moreover, this BreatheSmart has 4 HEPA Filter types. These different HEPA Filters can all remove dust and allergens, but each unique made to fit your unique needs:
The HEPA-Pure filter is the standard filter that captures most of the pet dander, mold spores and pollen.
The HEPA-Silver filter is perfect for mold, germs and asthma related concerns.
Next is the HEPA-FreshPlus filter to remove smoke, VOCs and heavy chemicals.
HEPA-OdorCell filter can neutralize pet and diaper odors.
To match your personal style, Alen BreatheSmart offers 15 panel color options including of white, blue, brushed bronze and stainless, black, rosewood, natural maple and more.
The Smart Sensor with a colored light indicator is also for the high-end air purifier. It adjusts BreatheSmart's cleaning power to achieve the best air quality while saving energy and maximize filter life.
One of the best functions of this BreatheSmart air purifier is the WhisperMax technology. It generates soothing white, pink, red noise that gently masks disruptive sounds for a peaceful night's sleep. A great air purifier for bedroom, right?
Here is the pros/cons of Alen BreatheSmart
PROS
---
4 HEPA Filters
Customizable color options
Very quiet
SmartSensor
Lifetime Warranty
CONS
---
No True HEPA Filter
High cost
Bigger than average air purifiers
Related post: Best air purifiers for office.
It is fair to say with around $600, BreatheSmart is the flagship of AlenCorp. If you like their customizable color options, their BreatheSmart FIT50 is much quieter and have longer filter life than BreatheSmart. Or you save a little money for purchasing the BreatheSmart FLEX (without SmartSensor and WhisperMax technology).
If you don't need customizable color option and don't have budget for the Alen high-end best air purifiers, you can think of their old products like Paralda and T500. It can only cover an area of 500 sq ft (which is still huge for a common room). With their lifetime warranty, the customers could believe that their investment will be long-term.
---
Buying Guide for Best Air Purifier
Above is a complete list of the top 10 air purifiers in 2018 that are the most outsell in the market. This guarantees that no matter which one you choose in this top 10, you'll enjoy a really great long-term investment for your health. If you are still uncertain of why you should have an air purifier, you should have known Air pollution is dangerously high for almost half of the US. Yes, we are not safe as you think.
Now, you should have read our complete best air purifier's buying guide to better prepare before giving decisions. You'll see, we've done everything to make sure you don't make any mistakes.
We hope that this list of the best air purifiers has been a valuable guide for you to help you make a good buying decision.
Here is a buying guide for you to choose the right air purifier:
Choosing the right filter types
The classic Air purifier comes with a HEPA filter. Some may have other filters for specific needs, here are the terminology and definitions:
Pre-filter – An essential feature of air purifiers that use a HEPA style filter. The pre-filter captures the large dust and pet dander to help prolong the life time of the main filter. Most pre-filters are washable and reusable and last a lifetime.
True HEPA Filter – This is the highest standard air filter you can get for a best air purifier. In order to carry this label, the filter must meet strict regulations set by the United States Department of Energy (DOE) and capture at least 99.97% of particles as small as 0.3 microns. A true HEPA filter needs to be replaced after 6 months to 1 year, and you should use the suitable replacement for your air purifiers.
Activated Carbon (or Charcoal) Filter – This filter can absorb odorous particles and gases. That's why it can remove the smells produced by smoke, pets, cooking, chemicals, etc.
Ionic Filter (or Ionizer) – This filter emits negative ions to charge small particles like dust, pollen and bacteria and collect them into a plate.
UV-C Light – The Ultra Violet light destroy bacteria and virus by sterilizing them. The UV-C Light (UV Light type C) is harmless to human.
Advanced BioGS HEPA Filter – A technology from Rabbit Air, to help prolong the life of the main True HEPA filter.
Permanent HEPA Filter – A technology from Hamilton Beach, to make their HEPA-type filter be cleaned by vacuum, therefore you don't need to replace their HEPA filter.
HEPA-type Filter – This filter is a lower quality version of a True HEPA filter and doesn't meet the standards set in place by the U.S. DOE mentioned above.
Choosing the right size air purifier
It is highly recommended to check your air purifier's size and room capability. The size of an air purifier is varied, and if you do not have room for your new air purifier, it would be a disaster.
Room capability, or how well your air purifier can cover is also a crucial factor. You know, air purifier is not an one size fit all machine. Most air purifier is designed for a small room of 100 to 400 sq ft. For a larger room, you will need an additional air purifier or larger coverage one. Otherwise your air purifier will not meet your demands, and cost you much more energy than normal.
Knowing some terminology in air purifier
ACH Stands for "Air Changes Per Hour"
The ACH rating, stands for Air Changes per Hour, tells you how many times the device can exchange the air within a room with clean, fresh air every hour. For example, 4X means the device cleans air four times per hour.
Common ACH ratings in best air purifier you'll see are 4x, 5x, 6x, etc
Remember that the advertised ACH for air purifier is normally when you use the maximum fan speed.
CADR Stands for "Clean Air Delivery Rate"
Developer by the Association of Home Appliance Manufacturers (AHAM), CADR, stands for Clean Air Delivery Rate, tells exactly how well an air purifier can clean the air within a particular size room.
For example, an air purifier with a CADR like this: dust/500 cfm, pollen/640 cfm, and smoke/500 cfm (or 500/500/640) will normally have a coverage from 700 to 800 sq ft.
Knowing your problems and how air purifier fix them
1, To help with your allergies
Each year, about 2,000 people are diagnosed with nasal cavity in the United States. Airborne allergens wreak havoc on the immune system and cause many unpleasant symptoms like eye irritation, coughing, sneezing, painful headaches and more.
True HEPA filter air purifiers are the best one for you.
2, To reduce asthma
One again, you should aim at True HEPA Filter. If you have problem with ion, stop using your Ionizer filter immediately.
3, To prevent dust
For better air purifier's filter life, you should use the one with pre-filter. Air purifier with a HEPA filter will help prevent dust as much as possible.
4, To trap pet hair and dander
All of HEPA air purifiers (especially True HEPA ones) can capture pet hair and dander with no difficulty.
5, To remove smoke and odors
You must look for an Activated Carbon filter (or Charcoal filter) to help remove all the smokes and smells.
We hope you have found your best air purifier right now. Thank you for reading.