The latest member of Airpura family – the Airpura G600 is finally here, to continue the mission of bringing commercial-grade air cleaning into your home. This air purifier is very powerful, but it's only for anyone who don't want fancy features. So, get ready for the Airpura G600 Review.
In Breathe Quality, we have reviewed all air purifiers under these sections. Also, we guarantee that:
We do give honest reviews (both pros and cons) so anyone will guarantee to have the wisest choices.
We do not (and never) exaggerate one product just to let you click the links and buy that product blindly.
Sections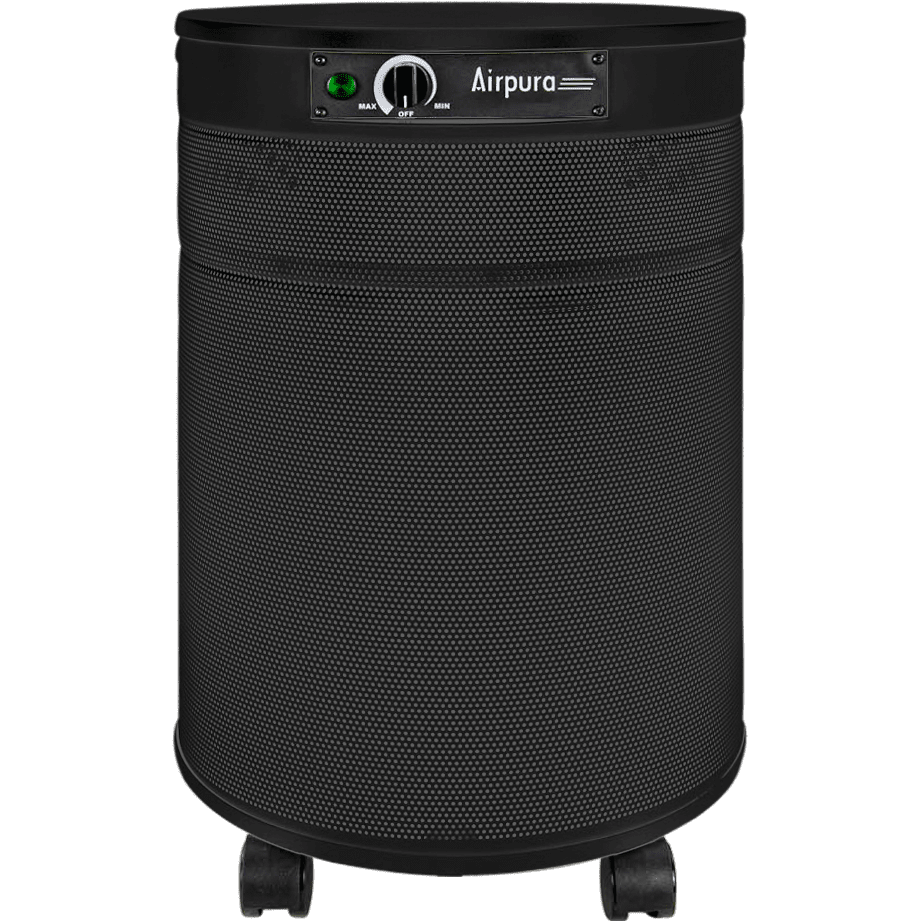 CONS
---
No Smart Features
High power consumption
Airpura is proud to be one of the best Canadian air purifier brands at the moment. Any tests with Airpura air purifiers will result in zero particle in the air. The Airpura G600, with the enhanced German-sourced carbon filter, offers advanced protection against any types of gases and odors. Today, we're lucky to have one unit to make a comprehensive Airpura G600 Review.
Airpura G600 Price
The Airpura G600 harks back to the days when Austin Air made their first air purifier, and they were king. Those days are gone, as customers tend to love the air purifiers with more fancy features, however Airpura still sticks with their own design language. Thanks to their effort, we will have an air purifier with commercial-grade performance for our home.
Airpura G600, just like its brothers, takes modern air purifiers back a step, to metal machine days. This is a huge air purifier with only one knob to manage the setting.
This isn't necessarily a bad thing. Sure, we love fancy additional features for a modern air purifier device, but not everyone wants to show off their machine to others. They only want one thing: deep and thorough air cleaning, something that Airpura does at its best.
Airpura G600 shares the same price tag of $799 with its brothers, like the Airpura V600 or Airpura R600. Its name tells us its main power – the solution for any issues involving gases and odors.
Well, this Airpura G600 is clearly the direct competitor with the Austin Air HealthMate Plus and AllerAir 5000, which lean more on the air cleaning task than being smart. However, if you enjoy the smart air purifiers, let's take a look at the Molekule Air, Blueair Classic 680i or Alen BreatheSmart 75i.
Airpura G600 deals right now
Airpura G600 Air Purifier, Black.
Clinical-grade air purification for dealing with household pollen, mold spores, dust and allergens and chemicals. Free shipping. Get one for as low as $36/month.
Related post: Best air purifier 2023.
Airpura G600 Design and Size
In exchange for that cash, you get the same device like any previous Airpura air purifiers. Yes, I mean the Airpura G600 is exactly the same one you can get for other Airpura systems.
This is the same metal housing with a full body of powder coat steel. It can prevent any off-gassing of chemical vapors like plastic, both within the clean air stream and in the unit's end-of-life phase. With this material, the Airpura G600 is 93% recyclable.
There is one pressure seal on the filter chamber ensures that all of the dirty air passes through the filters. Other systems allow leakage and do not achieve the standard of HEPA filtration rating. Also, the felt gaskets will seal the filter chamber and maximize the filtration. There is no rubber off-gassing found with other filters.
Other dimensions of Airpura G600 remains the same at 23 inches in height and 15 inches in width. The air purifier features a 360° air distribution, as well as a simple bottom-to-top air flow system concept.
The code name of the Airpura G600 – "G" perhaps means "gas". This air purifier is the most capable solution for gases, odors, airborne chemical and VOCs. It is carefully calibrated to ensure the dwell time of polluted air over the carbon bed and ample bed depth to maximize the adsorption. If you need more power of Activated Carbon filter, you can look for the more expensive Airpura G600DLX. Let's check the below deal.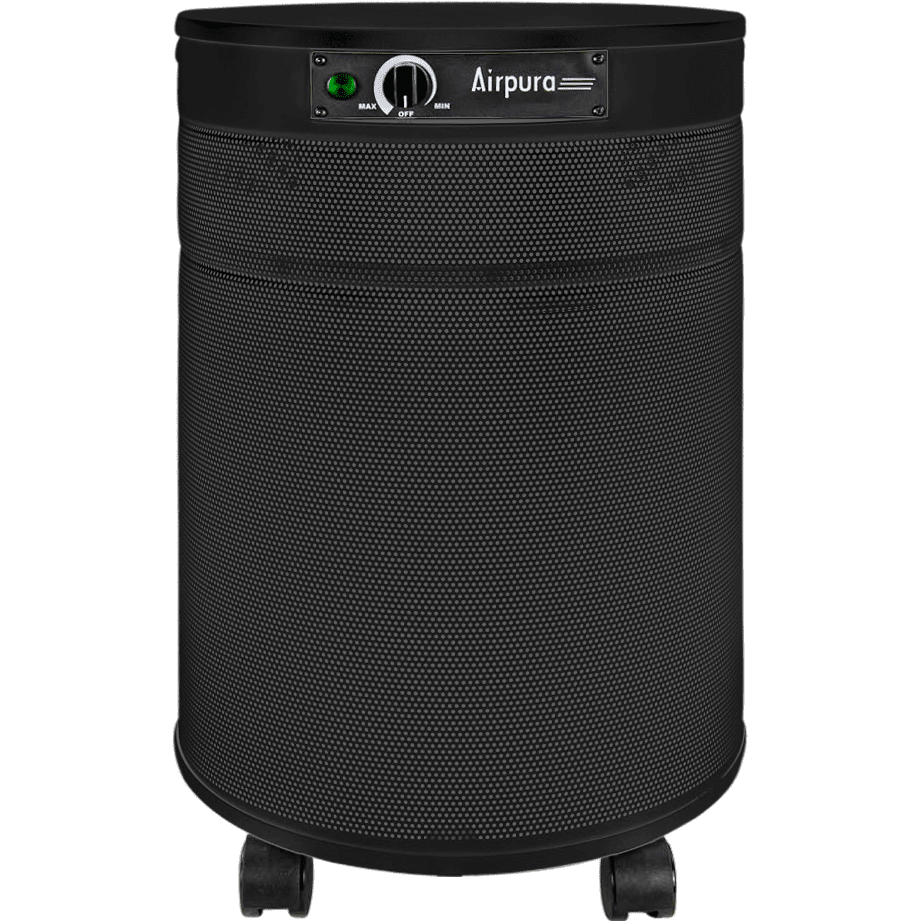 Also, the Airpura G600 is available in 3 different color options: black, white and beige (cream). Our testing unit is black, and I always recommend to use black unit for a full metal housing, as it looks more premium.
Airpura G600 weighs 42 lbs, and I really need these 4 casters to help moving the air purifier anywhere at home.
Related post: Best air purifiers for bedroom.
Airpura G600 Filters
The main reason to buy an Airpura G600 may not be its appearance, but its advanced air filtration system. To decide the performance, we need to check the quantity and quality of the air filters, as well as the air filter types being used. Airpura G600 just uses a simple 3-stage air cleaning system, but each layer of filtration is far more superior than an ordinary air purifier.
Pre-filter – To protect the main filter, Airpura G600 uses a mesh pre-filter, which can trap large particles such as pet hair, human hair and large dust. It can be vacuumed clean and should be changed after 6 months or 1 year.
Activated Carbon Filter – Airpura G600 uses the new and powerful Activated Carbon filter, which is 18 lbs in weight.
True HEPA filter – Airpura G600 upgrades to the True HEPA filter, and can deal with 99.97% of any contaminant particles as small as 0.3 microns in size.
If you are familiar with the Airpura family, you don't need any introduction to its True HEPA filter. Airpura only makes HEPA filter with an area of at least 40 square feet. With a huge amount of filter media, the True HEPA filter can nearly remove 100% of any airborne particles ≥ 0.3 microns. Moreover, the filter's life time is from 3 to 5 years. It can also be upgraded to the HEPA 14 Filter for the better efficiency of 99.99%.
Airpura G600 uses a brand new German-sourced Activated Carbon at 18 lbs. It contains more carbon in its bed, to guarantee completely odor-free. Also, you can upgrade to the Airpura V600's filter with 83% of coconut shell carbon and 17% of potassium iodide, to accelerate the binding of chemicals and gases quicker.
The Airpura G600 has a great efficiency of trapping any airborne particles down to 0.3 microns, even in an extra-large room of 500 square feet. Its efficiency reached 99.97% in our test, which was even better than the AIRMEGA 400S and Oransi EJ120 in the same price range.
Well, the upfront cost of this Airpura G600's filter is quite high, as you need to pay up to $179 for a HEPA filter. However, it can last for 3 to 5 years, so the annual filter cost is negligible.
Related post: Best air purifiers for allergies.
Airpura G600 Room Coverage
Airpura said that you can use any Airpura air purifiers, including of the Airpura G600 in a huge space of 2000 square feet, providing that you have only 2 air exchanges per hour.
The ACH of Airpura G600 is 2X to 4X. If you use this air purifier in the recommended room size, it only changes the air twice per hour.
The CADR of Airpura G600 is 560 cfm in general.
Related post: Best large room air purifiers.
Airpura G600 Sound
The Airpura G600, despite of its high fan power and pure performance, makes a reasonable noise level on lowest speed. The sound level is only 25 decibels (db), and it is just like the whisper for your ears.
On highest speed, however, the noise level can reach 61 decibels. It is reasonable for an air purifier with a CADR rating of 560 cfm. I recommend to only use the highest fan speed when you need quick cleaning.
Related post: Best air purifiers for baby.
Airpura G600 Power Consumption
In Breathe Quality, one of our most FAQs is "Do air purifiers use a lot of energy?". In fact, an air purifier needs to run for a long time (usually more than 8 hours) to be efficient, and therefore, power consumption is an important criteria to decide which air purifier to buy.
There is no Energy Star rating for the Airpura G600, but the device only needs a rated power from 40 watts to 120 watts for a very high fan power. You can compare with a lot of personal air purifiers with a bit higher fan power than average, and you will love the power consumption of this Airpura G600. In short, it saves you more money than any industrial air purifying machines.
To run the Airpura G600 8 hours per day, you need to pay from $15 to $43 annually. Even if you always run the air purifier on highest speed, it would cost you only $0.1 each day.
Related post: Best air purifiers for pets.
Airpura G600 Additional Features
Of course, this isn't the reason to buy the Airpura G600. It is nowhere near the compelling experience that are easy to access from the AIRMEGA 400, Alen BreatheSmart 75i or Blueair Classic 605. Airpura traded off the high-end air cleaning performance for anything "fancy".
That being said, you don't have the Smart Sensor feature in this air purifier. Perhaps we would wait for the next Airpura device to get this necessary option.
Related posts:
1, Best air purifiers for smoke.
2, Best air purifiers for dust.
3, Best air purifiers for mold.
Airpura G600 Customer Service
The Airpura Industries is a strong brand in Canada, and they are active in customer service field. Anyone who demands an air purifier from this brand can take dedicated suggestion about which device to buy, also with a reasonable installation of Central Air System (the latter is only available in local).
You can contact them freely via phone at 866-505-7872, or via email at info@airpura.com. They will get back to you as soon as possible.
Moreover, this company provides a 5-year warranty on parts, and even 10-year warranty on labor. This is one of the best customer services for the air purifier, and you would be happy with it.
Airpura G600 deals right now
Airpura G600 Air Purifier, Black.
Clinical-grade air purification for dealing with household pollen, mold spores, dust and allergens and chemicals. Free shipping. Get one for as low as $36/month.
Our verdict
As the simple version of the Airpura V600, Airpura G600 is enough to getting rid of gases, odors and household smells. If you only want pure performance to get an odor-free environment, you should look for this Airpura G600.
Airpura G600 Air Purifier: Trusted Review in 2023
Airpura G600 Reviews and Specs (Air Purifier Trusted Reviews in 2023). ✓ Cleaning Power: True HEPA filter ✓ Room: 2000 sq ft ✓ Value: 3.4/5 ✓ Certified Review.
Product Brand: Airpura
Product Currency: USD
Product Price: 799
Product In-Stock: https://schema.org/InStock
Performance

Features

Annual Cost

Power Consumption

Price
Summary
A great option to get an environment free of odors, gases and chemicals.