Airpura UV600 is a classic and sophisticated air purifier that remains the traditional look of the industrial product line. It's not a mainstream proposition, but its target audience will demand high for the air purification performance. Are you one of those audiences? Let's read our Airpura UV600 Review to know the answer.
In Breathe Quality, we have reviewed all air purifiers under these sections. Also, we guarantee that:
We do give honest reviews (both pros and cons) so anyone will guarantee to have the wisest choices.
We do not (and never) exaggerate one product just to let you click the links and buy that product blindly.
Sections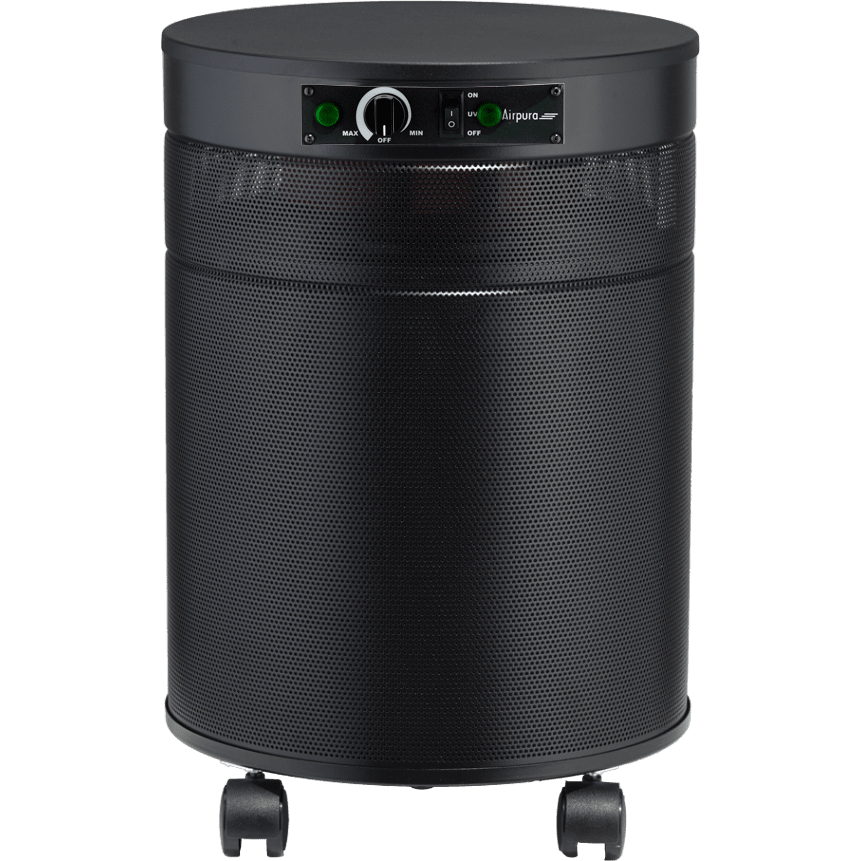 CONS
---
No Smart Features
High power consumption
Since 2004, Airpura has been the best air purifier brand in Canada. They even have the scale to rival the Austin Air, with a very large manufacturer factory to deliver more and more air purifiers that meet your demands. The unique selling point of this brand is the powerful Central Air System, which allows the air flow to reach anywhere in your home. But is that enough to buy the Airpura UV600. If not, please continue with our Airpura UV600 Review.
Airpura UV600 Price
The firm told us the Airpura UV600 was created in response to customer feedback asking for a better protection against all types of disease-causing viruses, bacteria and mold. It is a great idea, as the Airpura air purifiers always have big-sized True HEPA filter to capture the allergens, a 18-lb to 26-lb Activated Carbon filter for adsorbing the smoke, odors, chemicals and VOCs, but there is no complete method for dealing with viruses and bacteria. Though it can deal with a lot of ultra-fine particles with the great HEPA filter, the Airpura UV600 added a very helpful UV lamp to ensure the kill for these impurities.
With an additional stage of filtration, we can easily guess the price tag of Airpura UV600 to be higher. This is a range higher than high-range, and I must confess that it is not easy to own one Airpura UV600. For a much cheaper version, you can look for the Airpura I600, and buy an extra UV lamp to install inside it.
However, it is still a less expensive, more mainstream version of a flagship air purifier in an era that flagships can break the 4-digit number in cost. In Airpura family, the current flagships at the moment are the Airpura P600 and Airpura F600 DLX. This is also a concept that's been tried and proven many times, but we must remember that the Airpura UV600 doesn't seem inferior to these flagships from, at least, the outside appearance.
The Airpura UV600 has a price of $899, such price that matches the total upgraded versions like Airpura T600 DLX or Airpura C600 DLX. We can think of it like a full upgrade of the Airpura G600, but with some minor improvements from the internals.
If you wish to find such air purifier with pure performance like this Airpura UV600 at this price, there are not many options for you to look for. It could be the Oransi EJ120 with an amazing customer support behind, the Molekule Air with exclusive system or the Austin Air Bedroom Machine, a device that could undoubtedly be the inspiration of the whole Airpura family. I hope that you don't miss the AllerAir 5000, IQAir HealthPro Plus or Blueair Classic 680i in this luxury list, as they all have great fan power and high-quality air filters.
In the U.S, it seems the demand for an Airpura air purifier is still low. Maybe no one is going to buy this Airpura UV600 instead of an Austin Air Bedroom Machine or Oransi EJ120, but big companies buying in industrial air purifiers might well see it as a great alternative option.
But do you like the Airpura UV600? If your answer is yes, I have the best deal for you below.
Airpura UV600 deals right now
Airpura UV600 Air Purifier for Airborne Chemicals, Particles, Micro-organisms, Cream.
Protect yourself from disease-causing viruses, bacteria and mold. Sleek machine design that will blend in with all decors. Easy care and maintenance.
Related post: Best air purifier 2023.
Airpura UV600 Design and Size
Sadly, the Airpura UV600 is not a surprising air purifier for anyone who knows a little about this brand. Yes, there could be some changes from the inside, but you can't find any difference from the outside of this air purifiers with others in Airpura family. That's because just like Austin Air company, the Canadian firm wants to keep a main housing so they can upgrade the internals that suits their customer the best. For example, if you buy an Airpura I600, and suddenly you want to upgrade it to the current Airpura UV600, then you are able to do it. Just an extra purchase of the 18-lb Activated Carbon filter and one UV lamp, and the air purifier is ready to go.
The body is made of powder coat steel, a high-quality material that is only applied for the best air purifiers. This main housing of Airpura UV600 can prevent any off-gassing of chemical vapors, both within the clean air stream and in the unit's end-of-life phase. Just like any others with full metal, the Airpura UV600 is 93% recyclable.
With eco-awareness in mind, all the capacitors used in the Airpura UV600 are free of polychlorinated biphenyls, or PCBs, which are toxic to humans, animals, and the environment. Moreover, the UV lamp ballasts are purely electronic, and won't emit any ozone.
There is one pressure seal on the filter chamber ensures that all of the dirty air passes through the filters. Other systems allow leakage and do not achieve the 99.97% HEPA filtration rating. Also, the felt gaskets will seal the filter chamber and maximize the filtration.
The Airpura UV600 has the same shape as others in the whole family of Airpura air purifiers. The height of this air purifier is 23 inches, and the width is 15 inches. If you have one Airpura UV600, you can expect the powerful 360° Distribution system for your air flow. It will not only maximize the air flow, but also utilize the high fan power to distribute the clean air to anywhere in your home. You can further improve the fan power of this Airpura UV600 with a simple installation of Airpura Central Air System.
The code name of Airpura UV600 is quite simple, it is also the core technology of this machine – the "Ultra Violet". Airpura UV600 is proud to take the UV lamp as a selling point, which can last for 10000 hours without replacement. There is also the model Airpura UV614, which is the version with Super HEPA filter.
Again, we have an air purifiers with 3 main color options: White, Black and Beige (Cream). For our testing unit, I used a Cream Airpura UV600, and I found it the most beautiful color options for the air purifier.
Airpura UV600 is also a heavy machine with a weight of 45 lbs. With such heaviness, we should be appreciated of these 4 casters, as they can help us move the Airpura UV600 much easier.
Related post: Best air purifiers for bedroom.
Airpura UV600 Filters
Now, we are reading one of the two most important factors when deciding the performance of one air purifier – its air filters. Basically, we will check the quantity of air filters and what air filter types it used first. Airpura UV600 uses the ultimate 4-stage air cleaning system of this company.
Pre-filter – To protect the main filter, Airpura UV600 uses a poly pre-filter, which can trap large particles such as dust and hair. It can be vacuumed clean and should be changed every 12 months.
Activated Carbon Filter – You get a powerful Activated Carbon filter in this Airpura UV600, to adsorb any types of household chemicals, smoke, odors and even Volatile Organic Compounds (VOCs).
True HEPA filter – The Airpura UV600 also features the top-class True HEPA filter of this company, which can deal with 99.97% of any airborne particles ≥ 0.3 microns.
UV-C light filter – The last line of defense for the Airpura UV600, and also the selling point for this product. You need the potent UV light technology to remove disease-causing viruses, bacteria and mold.
No surprises here, the Airpura UV600 will run the very common air filtration system of Airpura R600 and Airpura G600, only with an additional filter of UV-C light. The poly pre-filter is shared between other product with different model of Airpura, and it is still good enough to deal with large objects of particles. You can vacuum this filter, but do not wash or rinse it. If there is no problem, you can use the pre-filter for 1 year.
For the True HEPA filter, you are having a 40-sq-ft layer of filtration. This size is not as impressive as the Austin Air HealthMate Plus, but it is enough to deal with a huge amount of airborne impurities. With regular use, you can use the True HEPA filter for 5 years without replacement. Moreover, Airpura also offers another upgraded version for the True HEPA filter, which called HEPA 14 filter, to further enhance the efficiency to 99.99% of airborne particles ≥ 0.3 microns.
I hate to repeat, but an Activated Carbon filter with 18 lbs of coconut shell charcoal is just incredible. Though it is not the best activated carbon filter of this brand, it is at least 6 times better than a normal "high-quality" carbon filter. You can upgrade to the impregnated carbon filter, with 17% potassium iodide and can remove the chemicals much quicker. This is one of the best Activated carbon filters in the world, only behind the performance of AllerAir 5000 or AllerAir 6000.
Finally, the UV-C light filter is very, very powerful. It is bigger, and stronger at least 4 times than normal UV bulb. The UV-C light is the ultimate solution against any types of germs, bacteria, viruses and mold infestations. It won't be emitted out of the air purifier, and you should know that this technology is completely harmless to humans and animals.
I'd love to start a performance test for the Airpura UV600 as soon as possible. This time, for a large room air purifier, I put it in a room of 500 square feet, and let it run for a full hour. To help our readers compare the performance between air purifiers in high-range, I chose the Austin Air HealthMate Plus, Oransi EJ120, Blueair Pro L and IQAir HealthPro Plus as the samples. But the result is easy to expect, as they are all the high-end air purifiers, and can deal with 99.9% to 99.99% of any pollutant particles as small as 0.3 microns. This could be one of the most expensive tests in our labs, and I don't recommend you to try it at home.
With up to 4 layers of air filtration, the filter cost replacement of the Airpura UV600 is truly high. The True HEPA filter can last 5 years, but you need to pay $179 for each one. The Activated Carbon filter is about $219, and is able to last for 2 years. Finally, the UV lamp is another $219. Yes, I believe that the investment in Airpura UV600 is a very costly one.
Related post: Best air purifiers for allergies.
Airpura UV600 Room Coverage
As the second important criteria to decide the performance of one air purifier, the fan power is mostly decided by the suggested room coverage and CADR rating. Normally, an air purifier in high-range segment will have a more powerful fan, and can cover a larger room than the low-end devices. The Airpura UV600 is one of the best air purifiers with high CADR rating, and it can cover a space of 2000 square feet.
The ACH of Airpura UV600 is 2X. This is the standard air changes per hour rating of Airpura, and this machine can exchange the air every 30 minutes.
The CADR of Airpura UV600 is 560 cfm in general. This CADR rating is only below the Blueair Pro XL. With such fan power, Airpura UV600 can clean your room very fast.
Related post: Best large room air purifiers.
Airpura UV600 Sound
As a matter of physics, a better fan is bigger, and will create more noise than the smaller one. With a CADR rating of 560 cfm, we can assume that Airpura UV600 will bring lots of troubles about the noise. However, with advanced technology, the Airpura UV600 operates very quietly.
For the lowest noise level, the Airpura UV600 is only 28 decibels, such silence that matches the noise level of the whisper. There is no way you can hear any sound when running it on the lowest speed.
Even when you switch to the highest setting, the noise level is only 62 decibels (db). The sound is obvious, but it is not too high especially as a trade off for the good fan power. Of course, you will notice it, and if you find it annoying, you can always switch to the lower speed.
Related post: Best air purifiers for baby.
Airpura UV600 Power Consumption
In Breathe Quality, one of our most FAQs is "Do air purifiers use a lot of energy?". In fact, an air purifier needs to run for a long time (usually more than 8 hours) to be efficient, and therefore, power consumption is an important criteria to decide which air purifier to buy.
As a result of bigger fan, not only the noise level is higher, but also the power consumption. There is no method to save the energy in the Airpura UV600, just like the IQAir HealthPro Plus or Oransi EJ120. You must experience a very high power consumption from 60 watts to 140 watts.
For running an Airpura UV600 8 hours per day, you need to pay from $22 to $50 annually. Even if you always run the air purifier on highest speed, it would cost you only $0.1 each day.
Related post: Best air purifiers for pets.
Airpura UV600 Additional Features
Both the Airpura and Austin Air families are saying no to any kinds of additional features. It seems that the high-end air purifiers are mostly for air purification, not for some flashy features to show off. You shouldn't be surprise if your Airpura UV600 doesn't have any additional features, just like the Blueair Pro L and Oransi EJ120.
There won't be even the filter replacement indicator or the Timer. There is only one manual knob to change the fan speed of this machine, and another button to change the level of UV lamp.
If you like to add the Smart Sensor, a great feature to automatically adjust the fan power to suit the current indoor air quality, you need to buy the IQAir HealthPro Plus. Or with only $749, you can choose between the AIRMEGA 400S and the Alen BreatheSmart 75i.
Related posts:
1, Best air purifiers for smoke.
2, Best air purifiers for dust.
3, Best air purifiers for mold.
Airpura UV600 Customer Service
The Airpura Industries is a strong brand in Canada, and they are active in customer service field. Anyone who demands an air purifier from this brand can take dedicated suggestion about which device to buy, also with a reasonable installation of Central Air System (the latter is only available in local).
You can contact them freely via phone at 866-505-7872, or via email at info@airpura.com. They will get back to you as soon as possible.
Moreover, this company provides a 5-year warranty on parts, and even 10-year warranty on labor. This is one of the best customer services for the air purifier, and you would be happy with it.
Airpura UV600 deals right now
Airpura UV600 Air Purifier for Airborne Chemicals, Particles, Micro-organisms, Cream.
Protect yourself from disease-causing viruses, bacteria and mold. Sleek machine design that will blend in with all decors. Easy care and maintenance.
Our verdict
Airpura UV600 is a great, great air purifier with a powerful and expensive air filtration system to deal with the airborne contaminants. You won't have the fancy smart features on it, but put it aside and you will have one of the best air purifiers at the moment.
Airpura UV600 Air Purifier: Trusted Review & Specs in 2023
Airpura UV600 Reviews and Specs (Air Purifier Trusted Reviews in 2023). ✓ Cleaning Power: True HEPA filter ✓ Room: 2000 sq ft ✓ Value: 3.2/5 ✓ Certified Review.
Product Brand: Airpura
Product Currency: USD
Product Price: 899
Product In-Stock: https://schema.org/InStock
Performance

Features

Annual Cost

Power Consumption

Price
Summary
You can't go wrong with this beast in destroying viruses.