Claimed to be the Tesla of air purifiers, it seems Oransi is endeavoring to make the Oransi EJ120 to be the best air purifier in our list. Of course, this is the best air purifier Oransi has ever created, but that's not really a surprise – it's the new one. The bigger question is: what's actually changed, given a price and name which is inferior to the previous Oransi Erik 650A? Well, you really need to check our Oransi EJ120 Review to know the answer.
It seems the Oransi EJ120 is discontinued, but don't worry, because you really should aim for the Blueair HealthProtect 7770i in this price range.
Fun fact: EJ means Erik Junior.
In Breathe Quality, we have reviewed all air purifiers under these sections. Also, we guarantee that:
We do give honest reviews (both pros and cons) so anyone will guarantee to have the wisest choices.
We do not (and never) exaggerate one product just to let you click the links and buy that product blindly.
Sections
PROS
---
Top-class performance rating
Better price than the Oransi Erik 650A
Powerful True HEPA filter
Very quiet
10-year warranty
CONS
---
No Smart Sensor
Quite noisy on highest speed
Oransi is developing at a rate that is unmatched by most of the air purifier brands over the North America. They are also the top influencer out of our country, reaching the border of even the giant China. The latest foray into the world of high-range air purifier from this Oransi EJ120 is not bringing anything entirely new, but it comes out with a top-class performance. This is truly the air purifier that you deserve and need. Now, it's time for our Oransi EJ120 Review.
Other Oransi's Air Purifier Reviews:
Oransi EJ120 Price
The Oransi EJ120 sits alongside the Oransi Erik 650A at the top of the illustrious "Made in USA" brand's air purifier range, and for readers outside the U.S, there is an alternative model – the 220V International Oransi EJ.
It is not the most expensive air purifier of this brand, but it is still under the high-range market. A super air purifier with a Medical-grade True HEPA filter and high-quality Activated Carbon filter is the main event this time, though. That's mostly for using at home, but you can bring it to your office as well.
This is the ideal air purifier for anyone who cares about a real protection against allergies and asthma and isn't satisfied with their low-end devices. Of course, the price of this Oransi EJ120 is not cheap, with $899 for the 120V version. You can buy the international version – the Oransi EJ with $699, but you need a power converter to run on 120V.
It isn't the most appealing air purifier in the lineup of Oransi anymore, due to the arrival of the new Oransi mod and Oransi mod Jr. Especially the mod model with the same performance with our today Oransi EJ120, while $200 cheaper, and I must tell you that's a lot.
The price of Oransi EJ120 is comparable with the IQAir HealthPro Plus, Blueair HealthProtect 7770i, Austin Air Bedroom Machine or Blueair Pro L. Other high-end air purifier systems you can install into your home are from Airpura brand – the Airpura UV600, Airpura C600 DLX, and Airpura F600 DLX.
They are all the most capable devices for the price, and whichever brand you put more trust in, will be the ultimate solution for your indoor air quality management.
Top Oransi EJ120 deals right now
Oransi EJ120 HEPA Air Purifier with Carbon Filter, White/Black.
Made in USA. The powerful True HEPA Erik Junior. An ultimate solution for allergies and asthma.
Related post: Best air purifier 2023.
Oransi EJ120 Design and Size
The Oransi EJ120 is the stubby, tubby king of high-end air purifier. Oransi has ignored several recent design trends, and we end up with something quite different to the rest.
But when things come to the high-range market, we don't have so many designs in common. We can differentiate the Blueair or IQAir air purifiers without any problem. So the unique design is not much… an unique selling point.
The Oransi EJ120 remains the style of this brand for designing air purifiers, with sharp cut and solid metal built. Just like the bigger brother – Oransi Erik 650A, this air purifier is much likely body-on-frame construction, and it is mostly for people with basic technical background. Obviously, the high-range air purifier requires such skills to set up them properly.
At 17-inch height and 19-inch width, it also feels smaller than most of the common air purifiers in the market. You will find it much portable and easily to fit in your room, and the white color is perfect to blend in any decoration. I highly appreciate the concept of 4 short legs, and in real-world use, the Oransi EJ120 can stand firmly on the ground.
The Oransi EJ120 makes uses of the 360 Degree air intake grill, with two small air vents in both sides and one main grill on front. Oransi put an end to their strange inverted air flow concept in the Erik 650A, and reverted back to normal in this Oransi EJ120. You will have a normal bottom-to-top air flow concept, with an outlet air grill on top of this air purifier.
Finally, you can find the manual control panel on top of this air purifier. There is not much to tell about the control panel, as there are only one button for HEPA reset, and two more to help change the fan speed.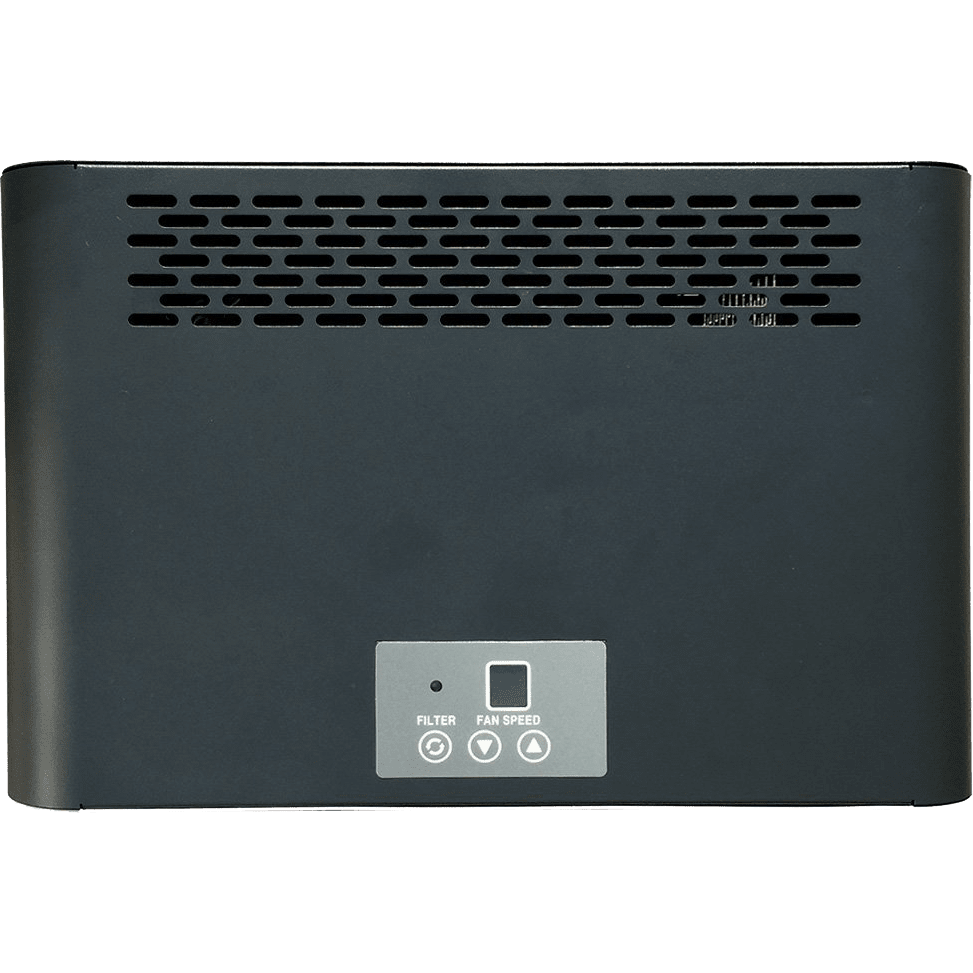 Source: Sylvane
And don't let the small size deceive you, the Oransi EJ120 is more study than its look, with a weight of 29 lbs. You can grab it with a handle from the back, but with only one hand, it is more difficult to move it around than you thought. The power cord is good and durable, and you can find an on/off button near the cord.
Source: Amazon.com
Related post: Best air purifiers for bedroom.
Oransi EJ120 Filters
One again, we have a powerful air purifier in terms of air filters. To decide the performance of one air purifier, we will check how many filters it has and what air filter types are used. The Oransi EJ120 uses the same 2-stage air cleaning system as its bigger brother.
If you are familiar with the Oransi brand, you will know that their air filtration process is the top selling point. All air filters are made with high quality, to be used exactly in the hospitals and labs.
Pre-filter – This is not only the standard pre-filter to capture the large objects of airborne pollutants. It is also an 1-inch Activated Carbon filter to remove gases, smoke and many kinds of chemicals.
True HEPA filter – The main True HEPA filter is MERV-17. It is capable of capturing 99.97% of any allergens as small as 0.3 microns like dust, dust mites, pet dander, mold spores, pollen and even the bacteria and viruses.
The high-quality air filter is always the point of view (valuable marketing content strategy that taps into the minds of consumers) for any high-range air purifiers. Oransi claimed that they build the air filters in-house, and all of them are invented directly in the United States. It isn't technically the best air filter I've tested, yes, the Oransi Erik 650A is much better, but it really shouldn't matter to most people.
Source: Oransi website
For the deodorizing filter, Oransi EJ120 uses an 1-inch deep pleated Activated Carbon filter, which has 50% more carbon surface area than the predecessors, to guarantee better removal of all gases and odors. This is also the industry standard of proprietary carbon for advanced gas control. Through many rigorous tests, we can trust in the statistics: Oransi EJ120 is able to remove nearly 100% of formaldehyde, sulfur dioxide and nitrogen dioxide. However, to get the best carbon filter in the world, you should look for the AllerAir 5000 or AllerAir 6000.
The True HEPA filter is also powerful. It is rated MERV-17 (common True HEPA filter is just rated MERV-16), and has a depth of 3 inches. It has more filter media, up to 36 square feet, and therefore can last longer. However, from the technical aspect, an one-year life is not much. But to test this air purifier for a whole year is really difficult, and only time will tell if the advertisement is true or not.
I gave this Oransi EJ120 a normal test, running it for a full hour in one room of 300 square feet. To help Breathe Quality's readers have a comparison, I also brought the Austin Air Bedroom Machine and IQAir HealthPro Plus into the test. I must confess, this is one of the most expensive tests in our labs. The result, as I expected, Oransi EJ120 can clean 99.97% of any contaminant particles as small as 0.3 microns. This is the great score we can get for one air purification system.
But such high-quality air filters are not cheap, either. The Carbon filter alone is $79, which is even higher than most mid-range True HEPA filter (and you should know, normally the Carbon filter is cheaper than HEPA filter). And don't mention the high-quality True HEPA filter, as it is $95. The IQAir HealthPro Plus costs you more, but it can last 4 years.
Related post: Best air purifiers for allergies.
Oransi EJ120 Room Coverage
Oransi EJ120 is again another American air purifier with huge room coverage for a low CADR rating. This brand suggest us to use this air purifier for a room of 1250 square feet. Such huge room coverage is better than both the IQAir HealthPro Plus and Blueair Pro L, but I don't think the fan power can outmatch these competitors.
The ACH of Oransi EJ120 is 4X. It means your Oransi EJ120 can exchange the air every 15 minutes.
The CADR of Oransi EJ120 is 333 Dust/ 331 Smoke/ 360 Pollen (cfm). Such CADR rating is featured on a $200 Honeywell HPA300, but like we all told you, the CADR rating only tells you how fast the air purifier can clean a specific room size. It is still behind the CADR rating of the new Oransi mod.
Related post: Best large room air purifiers.
Oransi EJ120 Sound
Oransi EJ120 is called the Tesla of air purifiers mostly because of its German engineered motor. Actually, the German motor is a EC (Electrically Commutated) motor that runs cooler and rotate at a speed lower than synchronous speed. As a result, the Oransi EJ120 will start louder and slower, but decrease the noise level as the rotor and field come into sync.
Also, the fan power will cause less noise thanks to a smaller size. The lowest noise level you can get from running this Oransi EJ120 is only 19 decibels, and it is even better than the ultra quiet air purifiers like Rabbit Air BioGS 2.0 or Winix HR1000. It is even lower than the noise level of rustling leaves, by the way.
At the highest setting, the noise level is still 59 decibels (db). It is a bit noisier than other air purifiers in the same price range, however, it is still half as loud as what we call "noise".
That's why you should use this air purifier, even in the places that require the silence.
Related post: Best air purifiers for baby.
Oransi EJ120 Power Consumption
It seems the power consumption is not the advantage of Oransi, which featured in both the Oransi Erik 650A and Oransi Max. Sadly, one of our most FAQs is "Do air purifiers use a lot of energy?" In fact, air purifier must be used for a long time to be efficient. And power consumption is one important criteria to review if this air purifier is good or not.
The Oransi EJ120 has a power consumption of 52 watts. Sure enough, it is better than the predecessors, and it could even rival others with low power consumption like Alen BreatheSmart 75i or AIRMEGA 400S.
You need to pay $20 each year for using this Oransi EJ120 8 hours per day. For the cost of running the Oransi Erik 650A in the same condition, you can completely run the Oransi EJ120 24/7.
Related post: Best air purifiers for pets.
Oransi EJ120 Additional Features
As ever, the Erik series aim to provide the best air filtration system, not the coolest additional features. The Oransi EJ120 is exactly like its brother, and doesn't provide anything but the LED indicator for filter replacement.
It is not the only device with poor additional features in high-range segment. Other machines from Austin Air or Airpura are all the same. Without paying for the integrated air sensor, the Blueair Pro L is exactly similar to the Oransi EJ120.
However, I still believe that the Oransi EJ120 should have a Smart Sensor. This feature will help you run your air purifier in a smarter way, because it can automatically adjust the fan speed to match the current indoor air quality. You can turn on the device, and forget it. If you need this feature, you should go for the IQAir HealthPro Plus.
Related posts:
1, Best air purifiers for smoke.
2, Best air purifiers for dust.
3, Best air purifiers for mold.
Oransi EJ120 Customer Service
Oransi is a brand that being used by the leading companies, medical centers and universities like the American Red Cross or Menlo Medical Clinic. They maintain a very healthy and active community, and that's being a part of their AirLift program. Today, Oransi is a symbol for the air purification solution in the U.S – China Air Purification Technology Forum.
For the shipping policy, Oransi offers a Free Shipping on all products, delivered from Nevada or Pennsylvania warehouse. They assure that there is a 30-day refund for any air purifiers, and you only need to submit a request to receive feedback from their customer service within 24 hours.
Moreover, Oransi will cover you with a 10-year warranty, which is one of the best after sale policies for an air purifier. Normally, an air purifier is only covered by 1-year or 2-year warranty, so Oransi is really confident for their air purifier's quality.
You can either contact them via phone at 888-281-3948, or via email through their "Contact Us" page. The support will be available Monday to Friday, from 9 to 6 pm.
Top Oransi EJ120 deals right now
Oransi EJ120 Hepa Air Purifier with Carbon Filter, White/Black.
Made in USA. The powerful True HEPA Erik Junior. An ultimate solution for allergies and asthma.
Our verdict
It seems the Oransi EJ120 is the best air purifier for value of this American brand. We like this air purifier more than the bigger Oransi Erik 650A, especially when you can get the verified deal from our website. If you are seeking a personal device for your allergies and asthma, you should put faith on the Oransi EJ120.
However, it seems Oransi removed both the Oransi EJ120 and Oransi Erik 650A out of its website, so perhaps the air purifier is discontinued.
Oransi EJ120 Air Purifier: Trusted Review in 2023
Oransi EJ120 Reviews and Specs (Air Purifier Trusted Reviews in 2023). ✓ Cleaning Power: True HEPA filter ✓ CADR: 372 cfm ✓ Value: 3.5/5 ✓ Certified Review.
Product Brand: Oransi
Product Currency: USD
Product Price: 899
Product In-Stock: SoldOut
Performance

Features

Annual Cost

Design

Price
Summary
Deserves the title "The Tesla of air purifiers".