A decent air purifier that doesn't contribute much to the world of air purifiers, Guardian Technologies has built several devices like this – Oransi Finn is still the only tower design of this company. And like it or not, the HEPA filter from Oransi is always the best to buy. Today, we will collect all the knowledge about the Oransi Finn Review to see whether it's worth our money.
Update: The new Oransi mod and Oransi mod Jr is finally released, and Oransi has reduced the price of many old products, including of the Oransi Finn.
In Breathe Quality, we have reviewed all air purifiers under these sections. Also, we guarantee that:
We do give honest reviews (both pros and cons) so anyone will guarantee to have the wisest choices.
We do not (and never) exaggerate one product just to let you click the links and buy that product blindly.
Sections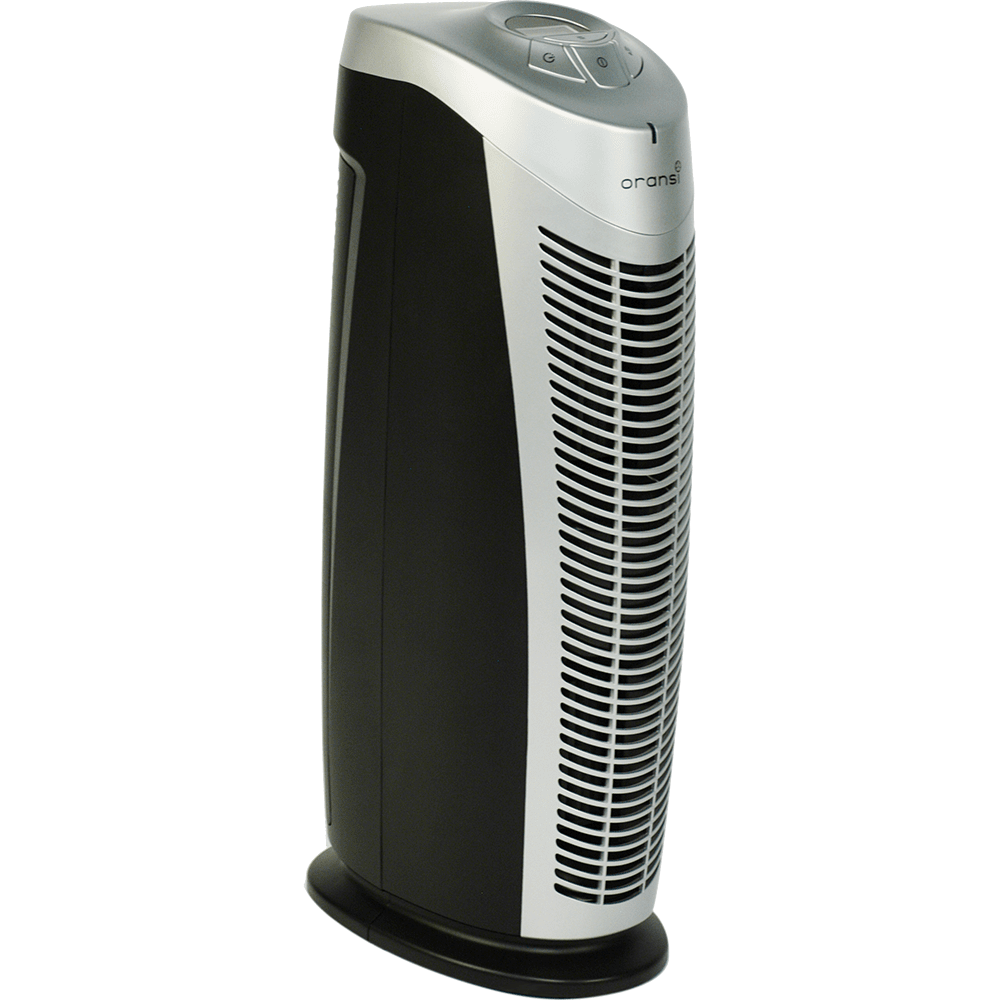 PROS
---
Great True HEPA filter
Solid built
Very lightweight
10-year warranty
CONS
---
Low fan power
Quite noisy at highest setting
Lacks of necessary features
There must be some reasons for the American brand – Oransi, to claim "Best HEPA Air Purifiers" themselves. In fact, the HEPA filter of this company is truly impressive, which is manufactured and tested thoroughly in well-known labs and universities. With more than 15 years of experience, we can't go wrong with this brand. Now, it's time for Oransi Finn Review.
Other Oransi's Air Purifier Reviews:
Oransi Finn Price
Here we are with the most affordable product of Oransi, one thing that's hardly called "budget air purifier". But first, let's look at its key features. A classic tower design, mixed with enough unique characters so you still can differentiate this air purifier. And don't forget to mention the powerful HEPA system, which is amazing for the quality.
Back to the price, the Oransi Finn's cost is too high to be called "budget". The official price tag of it is $279, which is even higher than the "budget" devices of Alen (another high-range air purifier brand of the U.S) like Alen T500 or Alen Paralda. You should know that even the 10-year warranty of Oransi is nowhere near the Forever Warranty set by the closest American rival. It can now be found at only $219, making it a bit better for the money, thanks to the introduction of the new Oransi mod and Oransi mod Jr.
I also make a point for saying that the Oransi Finn "doesn't contribute much to the world of air purifiers", you will find other air purifiers which resemble the appearance but cost you only 1/3. Take a look at the GermGuardian AC5250PT or GermGuardian AC4825 and be surprised.
Again, just like the budget Oransi OV200, Oransi Finn needs something more to compete with the Medify MA-40, Winix NK100 and Winix NK105. They both have Reddot Award design, along with an incredible air filtration process and great Smart Sensor to consider.
Well, the Oransi Finn is still an Amazon's Choice for air purifiers, and if you want one, you can grab the deal below.
Top Oransi Finn deals right now
Oransi Finn HEPA UV Air Purifier.
Made in USA. The combination of great True HEPA filter and UV-C light filter to deal with asthma, mold, dust and allergies. Comes with 2 Free pre-filters.
Related post: Best air purifier 2023.
Oransi Finn Design and Size
Well, when I first looked at the Oransi Finn, I had an exact feeling of the previous PureGuardian air purifiers. You can see the similar design concept in the GermGuardian AC5250PT or GermGuardian AC4825. It's clear that the height of the Oransi Finn is only 22 inches, and it is a bit smaller than these two aforementioned.
It still features a fully metal design that's suitable for a tower air purifier, with an intake air grill from the back and the outlet air grill on the front. This is the classic back-to-front air flow system concept, which is also available in other tower air purifiers as well.
Staying the same concept as a $100 air purifier has reduced the value of Oransi Finn significantly. The black color doesn't feel premium, and have the same close-to-high-end feel as, say, the Honeywell AirGenius 5. Despite the overall finish on Oransi Finn, the metal doesn't feel as satisfying as when you're having a more plastic Winix NK100.
On top of this air purifier, we will have a digital display and 4 function buttons to use. It is quite simple, and I even believe the $150 GermGuardian CDAP4500BCA is much better.
Source: Amazon.com
Oransi Finn is only 10 lbs, and you can easily move it around your home with a helpful handle on the back. Moreover, with the small footprint and compact size, this air purifier can be put in a side table, or anywhere to match your decor style.
Related post: Best air purifiers for bedroom.
Oransi Finn Filters
When we decide to buy an air purifier, we need to know about the air filtration process and what air filter types are used. Oransi Finn is using an unique 4-stage air cleaning system as below.
While being the most budget device, Oransi Finn is running the most complicated air filter system. While there is not much to praise the common pre-filter, the True HEPA filter of Oransi Finn is truly great. It can last more than any tower air purifiers, up to 2 years depending on your use. Therefore, it is more durable than most of others in GermGuardian name.
The UV-C light technology is a valuable add-on for the Oransi Finn. It will further destroy the bacteria and viruses, by disrupting the core DNA of them. Also, the type of UV light (UV-C light) is harmless to human.
Finally, we have the ionizer feature. The negative ions from this built-in ionizer can electrostatically attract the contaminants to the previous HEPA filter. So even if the smaller particles of pollutants can pass the HEPA filter of Oransi, it will soon come back to stay at the filter.
As you can see, the Oransi Finn is one rare air purifier that combines all four air filter types at the moment. But it is only on theory, and we need a practical test to see the performance of this air purifier. This time, I set the Oransi Finn in a room of 150 square feet, and let it run for a full hour. To help our reader have a better perspective, I also compare it with others tower air purifiers in the same price range, the Alen T500 and Honeywell AirGenius 5. The result, the Oransi Finn has the highest efficiency, and can remove 99.9% any particles down to 0.3 microns in size. The Honeywell AirGenius 5 was only 96%, and the Alen T500 dropped to just about 94%.
It seems the combination of Oransi Finn is decent to deal with the allergens in your home. However, with too many air filters inside, the filter replacement cost of the Oransi Finn is what you need to concern. For a set of 3 pre-filters and one v-HEPA air filter, it would cost you $79, and you need to pay $29 more for the UV lamp. Both the Alen T500 and Honeywell AirGenius 4 are weaker, but it is far more affordable in both the unit and the filter cost.
Related post: Best air purifiers for allergies.
Oransi Finn Room Coverage
The Oransi Finn is a compact air purifier, with much smaller fan than its brother. However, as a tradition of this American brand, the Oransi always suggest a room size far larger than the actual fan power of the air purifier. That being said, the "suggested" room coverage is 400 square feet.
The ACH of Oransi Finn is 4X. With this air changes per hour rating, the Oransi Finn can clean your room every 15 minutes.
The CADR of Oransi Finn is only 140 cfm in general. With the low CADR rating, the Oransi Finn will need more time to clean a room of 400 square feet, if you compare with another air purifier using CADR rating of 300 cfm.
Related post: Best large room air purifiers.
Oransi Finn Sound
The Oransi Finn is a very old model, and we shouldn't expect it to operate quietly as stated in Oransi website.
Even with only 3 fan speeds, the Oransi Finn has a lowest noise level of 40 decibels. Though the noise level is the same as one of the library, it is still a bit higher than others in the same price. The Winix NK100 is only 33.7 decibels, which is nearly half of the noise level of this Oransi Finn.
And the nightmare will come at the highest fan speed, it is when the noise level of Oransi Finn reaches 60 decibels (db). It is still fairly quiet, but you can't ignore the sound of this air purifier. Though you still can this air purifier in your office, I quite recommend you not to do so.
Related post: Best air purifiers for baby.
Oransi Finn Power Consumption
One of our most FAQs is "Do air purifiers use a lot of energy?" In fact, air purifier must be used for a long time to be efficient. And power consumption is one important criteria to review if this air purifier is good or not. Sadly, this is the weakest area of Oransi, as all of their products have high to very high power consumption.
The power consumption of this Oransi Finn is about 55 watts, with an additional of the 5-watt UV lamp. Its power consumption is only half of the GermGuardian AC5250PT or GermGuardian AC5350B, but it is still higher than many others in the same price range. The Levoit LV-H133 is one great example, with only 33 watts for energy consuming.
For running the Oransi Finn 8 hours per day, you need to pay $22 each year.
Related post: Best air purifiers for pets.
Oransi Finn Additional Features
The Oransi Finn is released since the beginning of this company, so you shouldn't expect much about the additional features of this air purifier.
And I said "don't expect much", I don't think that you should not expect anything at all. With the removal of the Timer function for the version of 2012, Oransi replaced it with an on/off function for the built-in ionizer, to solve the issue of the ozone emission from active ionizer can irritate asthma.
Other than that, well, you only have one Light function to turn off the light on top of this air purifier. Finally, there is one LED indicator for filter replacement.
Related posts:
1, Best air purifiers for smoke.
2, Best air purifiers for dust.
3, Best air purifiers for mold.
Oransi Finn Customer Service
Oransi is a brand that being used by the leading companies, medical centers and universities like the American Red Cross or Menlo Medical Clinic. They maintain a very healthy and active community, and that's being a part of their AirLift program. Today, Oransi is a symbol for the air purification solution in the U.S – China Air Purification Technology Forum.
For the shipping policy, Oransi offers a Free Shipping on all products, delivered from Nevada or Pennsylvania warehouse. They assure that there is a 30-day refund for any air purifiers, and you only need to submit a request to receive feedback from their customer service within 24 hours.
Moreover, Oransi will cover you with a 10-year warranty, which is one of the best after sale policies for an air purifier. Normally, an air purifier is only covered by 1-year or 2-year warranty, so Oransi is really confident for their air purifier's quality.
You can either contact them via phone at 888-281-3948, or via email through their "Contact Us" page. The support will be available Monday to Friday, from 9 to 6 pm.
Top Oransi Finn deals right now
Oransi Finn HEPA UV Air Purifier.
Made in USA. The combination of great True HEPA filter and UV-C light filter to deal with asthma, mold, dust and allergies. Comes with 2 Free pre-filters.
Our verdict
The Oransi Finn is a decent air purifier, but with the raise of many budget devices like GermGuardian AC5250PT or GermGuardian CDAP5500BCA, why you still stick with this air purifier?
Perhaps, you will like the idea of an all-round air purifier, and you trust the impressive 10-year warranty by the manufacturer, then you would go for the Oransi Finn. Its fan motor is a bit more stable than other low-end tower air purifiers, so it is certainly to run for a longer time. However, this fan power runs at quite high noise level, and if you plan to use it in bedroom, you should think again.
Oransi Finn Air Purifier: Trusted Review in 2023
Oransi Finn Reviews and Specs (Air Purifier Trusted Reviews in 2023). ✓ Cleaning Power: True HEPA filter ✓ Room: 400 sq ft ✓ Value: 3/5 ✓ Certified Review.
Product Brand: Oransi
Product Currency: USD
Product Price: 219
Product In-Stock: https://schema.org/InStock
Performance

Features

Annual Cost

Design

Price
Summary
The only tower air purifier of this company, but it is quite outdated.