Honeywell has made a habit of updating its air purifier every six months or so, and the Honeywell HFD310 is one example, as the 'six-monthly' update to the HFD300. Though being superseded by the HFD320, this air purifier is still good if you can bag one cheap on Amazon. So, are you ready with our today Honeywell HFD310 Review?
If you are looking for the Honeywell HFD flagship, you should look for Honeywell HFD360B.
In Breathe Quality, we have reviewed all air purifiers under these sections. Also, we guarantee that:
We do give honest reviews (both pros and cons) so anyone will guarantee to have the wisest choices.
We do not (and never) exaggerate one product just to let you click the links and buy that product blindly.
Sections
PROS
---
Unique technology of ifD filter with good performance
Washable pre-filter
Quiet
5-year warranty
CONS
---
Low CADR rating
Low fan power
As a big air purifier corporation in the world, Honeywell has released more than 30 specific air purifiers, with two biggest lines of products – the HPA Model and HFD Model. If the HPA Model is typically powerful with great True HEPA filter, especially featured in Honeywell HPA600B – latest flagship of this brand, the HFD Model brings a brand new ifD air filter. Now, let's take a look in Honeywell HFD310 Review.
Other Honeywell's Air Purifier Reviews:
Honeywell HFD310 Price
Honeywell seems intent on sticking to its crazy-short air purifier refresh cycle, with the Honeywell HFD310 arriving just six months after its predecessor, the Honeywell HFD300. Given its speedy turnaround, the question is how much could Honeywell improve? The answer, not a great deal, it seems.
Honeywell HFD310 starts with $259, but reduces to only $197 due to its old age in 2019. However, you can still buy this air purifier from original Honeywell store, not like the predecessor HFD300. Again, thanks to Honeywell different product lines, we will have a better performance Honeywell HPA200 for the same price. This price range is also a playground for lots of well-known air purifier brands, such as Levoit LV-PUR131, or Coway AP-1512HH and even Winix WAC9500.
With lots of strong competitors, will the Honeywell HFD310 still be your choice? If yes, we spare a deal of this Honeywell HFD310 for you below.
Top Honeywell HFD310 deals right now
Honeywell HFD310 – Honeywell AirGenius 4 Air Cleaner/Odor Reducer, Black Edition (with Energy Star qualified).
Recommended for large rooms, 250 sq ft. 4 air cleaning levels: Sleep, General Clean, Allergen and Max for the best performance.
Related post: Best air purifiers in 2019.
Honeywell HFD310 Design and Size
With such short life cycle of the Honeywell HFD310, there is not much difference to expect from the previous HFD300. For looks, it's not a radical departure from the HFD300, though the color is black and the air grills are much thinner. There is an attractive light at the bottom of this Honeywell HFD310, to differentiate with its predecessor.
Just like any HFD Model air purifiers, Honeywell HFD310 makes use of a back-to-front air flow system. This air flow system is mostly for increasing the fan power and fitting its tower-size. With such height of 27 inches, Honeywell HFD310 is a typical tower air purifier to use.
On top of this air purifier, Honeywell HFD310 has a slightly different control panel. Beside the common buttons in HFD300, there is one Timer button and one Dimmer Light button.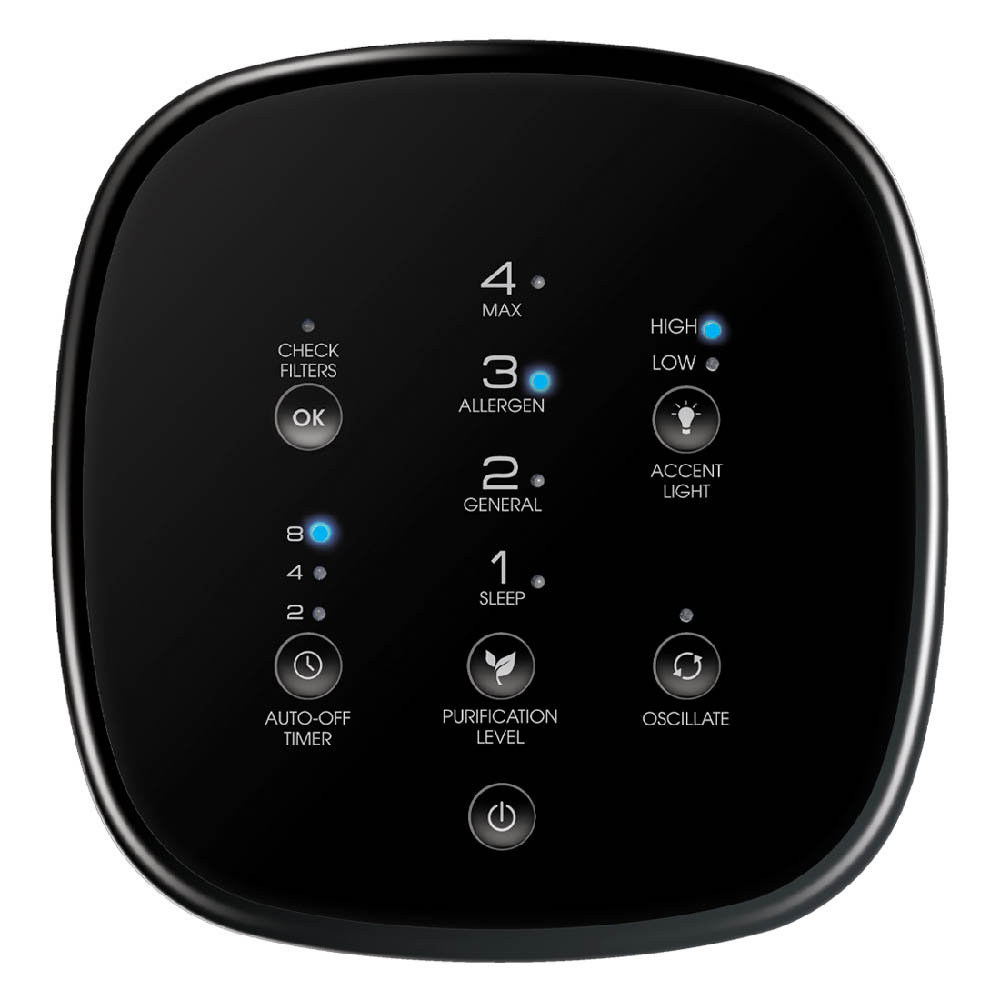 Source: Honeywellstore.com
Honeywell HFD310 keeps the same 13 lbs in weight, just like the predecessor HFD300. This weight will give you the comfort you need when move it around your home.
Related post: Best air purifiers for bedroom.
Honeywell HFD310 Filters
As we stated earlier, Honeywell HFD310 is not a great deal of improvement compared to the HFD300. For the performance, Honeywell HFD310 is keeping the same 2-stage air filtration system with the core of ifD air filter.
Pre-filter – Honeywell HFD310 uses a normal pre-filter. This pre-filter can capture larger particles before they enter the ifD filter. Also, the pre-filter is washable, and therefore, permanent.
ifD filter – The Honeywell HFD310 uses an unique ifD filter to capture up to 99.9% of down to 0.3 microns contaminant particles like pet dander, mold, viruses, bacteria and pollen. This air filter adds an Activated Carbon filter to help deodorize the air and reduce the odors.
Basically, the Honeywell HFD310 is the same HFD300 with more functions, so I don't expect anything in its performance. It still has an ifD filter, which stands for Intense Field Dielectric. This technology is a breakthrough, permanent filtration method that is highly effective against all types of airborne particles which are larger than 0.3 microns. It works like an ionic air filter, and therefore, can emit a trace amounts of ozone. Sadly, with better functions, Honeywell HFD310 still doesn't have an on/off button for ionic feature. If you have asthma or other breathing issues, you should stay away from this Honeywell HFD310.
To test this air purifier, I put both the Honeywell HFD310 and Honeywell HFD300 in a room of 150 sq ft, and run them for one hour. Other samples to test the efficiency of Honeywell HFD310 are Honeywell HFD-010 and Honeywell HFD-120-Q. At first, I expected a better performance of Honeywell HFD310, but this air purifier has nearly the same efficiency against any 0.3 microns particles like its brother HFD300 – just only 90%. The efficiency of the testing samples were much lower, with 78% and 87%, respectively. If you need to put the efficiency of your Honeywell HFD310 further, I suggest that you should run your air purifier for about 2-3 hours.
The ifD air filter HRF-K2 is a permanent air filter, and will remove the inevitable annual filter cost from other True HEPA devices. Also, it is only $17, and if you want to purchase a new filter, you won't need to think twice.
Related post: Best air purifiers for allergies and asthma.
Honeywell HFD310 Room Coverage
Again, Honeywell HFD310 has the same fan power as Honeywell HFD300. The room coverage is only 250 sq ft, which is mostly suitable with the medium rooms.
The ACH of Honeywell HFD310 is 5x. With such high ACH rating, Honeywell HFD310 can clean your room every 12 minutes.
The CADR of Honeywell HFD310 is 160 Dust/ 161 Smoke/ 170 Pollen (cfm). With a little improvement in CADR rating than HFD300, this Honeywell HFD310 is nowhere near the same fan power of Honeywell HPA300, or at least Coway AP-1512HH.
Related post: Best large room air purifiers.
Honeywell HFD310 Sound
There is one advantage for not having True HEPA filter in your air purifier – the silence of its fan. It's really difficult for a good True HEPA air purifier to deliver a quiet noise level. Luckily, thanks to the ifD air filter, Honeywell HFD310 (and others in HFD Models) is really quiet.
With only 4 fan speeds, the Honeywell HFD310 is a must-have air purifier in any quiet places, such as your office or bedroom.
Related post: Best air purifiers for office.
Honeywell HFD310 Power Consumption
One of our most FAQs is "Do air purifier use a lot of energy?". In fact, we need to run an air purifier for a long time to be efficient.
Honeywell HFD310 has the same power consumption as the HFD300, with maximum is only 38W. For doubling the fan power of the Best Seller in 2019 – Levoit LV-H132, this air purifier only consumes the same energy amount. Well, if you really need to reserve the energy, Honeywell HFD310 is good for you.
For using a Honeywell HFD310 8 hours per day, it would cost you up to $14 per year.
Honeywell HFD310 Additional Features
$20 is how you need to pay for more additional features, like Auto-off Timer and Accent Light functions. Also, you still have an unique oscillation function button and one LED indicator for filter replacement in this Honeywell HFD310.
However, $20 can't give you other modern functions, such as Smart Sensor or Wifi connectivity. If you are looking for these features, you should search for GermGuardian CDAP5500BCA or Blueair Sense +. These air purifiers are famous for their low-range smart features, but still as accurate and stable as other high-range ones.
If you are looking for a Smart flagship air purifier of Honeywell, you need to search for Honeywell HPA 600B.
Related posts:
1, Best air purifiers for smoke.
2, Best air purifiers for dust.
3, Best air purifiers for mold.
Honeywell HFD310 Customer Service
Honeywell is a leading brand in air purifier market, with one of the best customer services we could have. They provide a good help desk as well as 14 hours per day and 7 days per week live chat. The warranty policy of Honeywell is also among the longest to guarantee against all defects, with up to 5 years warranty.
Source: Amazon.com
Top Honeywell HFD310 deals right now
Honeywell HFD310 – Honeywell AirGenius 4 Air Cleaner/Odor Reducer, Black Edition (with Energy Star qualified).
Recommended for large rooms, 250 sq ft. 4 air cleaning levels: Sleep, General Clean, Allergen and Max for the best performance.
Our verdict
Honeywell HFD310 may be a good air purifier, but what you lose is too far acceptable for what you gain. Should you need a real deal for air purifying, Honeywell HPA300 is a better option is every aspect.
Cleaning Power

Portability

Features

Power Consumption

Price
Summary
Not to go for in 2019, especially when the True HEPA air purifiers from Honeywell are much better.