Honeywell's new mid-range air purifier – the Honeywell HPA8350B takes the novel smart features from its new flagship range, but how does the rest hold up? Let's find out in our new Honeywell HPA8350B Review.
Although the Honeywell HPA8350B isn't on the list of the best air purifiers anymore, it is still a standard for a budget HEPA air purifier that features amazing performance for even large spaces.
Update: Honeywell's latest air purifier flagship is the Honeywell HPA600B. Also, you should check the Honeywell HPA5300 for a newer design and a better Smart Sensor.
In Breathe Quality, we have reviewed all air purifiers under these sections. Also, we guarantee that:
We provide honest reviews (both pros and cons) so that everyone can make the best decisions.
We do not (and never will) exaggerate one product just to let you click the links and buy that product blindly.
Sections
PROS
---
Finally adds a lot of Smart features
Excellent performance
Lots of fan power
5-year warranty
CONS
---
Quite noisy
More expensive than previous HPA300
No voice control
Honeywell has finally released its latest Bluetooth air purifier online, and the Honeywell HPA8350B is truly the mid-range air purifier that brings Honeywell's flagship style. It's not the cheapest smart air purifier by any means, but if you love the excellent performance of Honeywell products, it may be perfect for you. Okay, let's get back to our Honeywell HPA8350B Review.
Other Honeywell's Air Purifier Reviews:
Honeywell HPA8350B Price
Honeywell has always excelled at making mid-range air purifiers in a way that competitors like GermGuardian and Envion don't: with a high-quality True HEPA filter combining with high fan power. Such high performance is enough to market the Honeywell products, even though they don't have any good smart features like Coway and Winix did with their air purifiers.
However, the company is trying to change that with the new Honeywell HPA250B and today, Honeywell HPA8350B. If you regularly need to change the settings of your air purifier, Honeywell thinks this is the device for you. While the flagship Honeywell HPA600B may have the best True HEPA filter ever, with the same performance as old Honeywell HPA300 and great smart features, this air purifier will be your favorite one soon.
This is unmistakably a mid-range air purifier, though, and you can buy the Honeywell HPA8350B for only $299 in the official Honeywell store. The price may vary from retailer to retailer, and I'm happy to give you a deal on this air purifier below.
If your budget can stretch a bit further, you can look for competitors to this air purifier like the Dyson Pure Cool Link, which also packs great smart features. The Winix AM90 and Blueair Classic 205 are also some prominent alternatives, especially when they can be connected with Alexa.
Top Honeywell HPA8350B deals right now
Honeywell Bluetooth Smart True Allergen Remover, HPA8350 HEPA Air Purifier, Black.
The best mid-range Honeywell air purifier, comes with a lot of high-end smart features like Smart Sensor and Smart control. Energy Star rating.
Related post: Best air purifier 2023.
Honeywell HPA8350B Design and Size
Constant, rapid progress is seen as the natural state for not only air purifiers but any other devices. The Honeywell HPA8350B looks exactly like the Honeywell HPA300 from the outside and inside, which doesn't buck the trend Honeywell started with the previous Honeywell HPA250B.
It only comes in the signature Honeywell color option, the Black version. You won't be able to get the default White from Honeywell this time.
Honeywell has always made air purifiers that revel in a certain angular sturdiness, and the Honeywell HPA8350B doesn't buck that trend. Keeping the same size of 22 inches in height and 21 inches in width, the device ensures that it's firm enough to stand on the ground.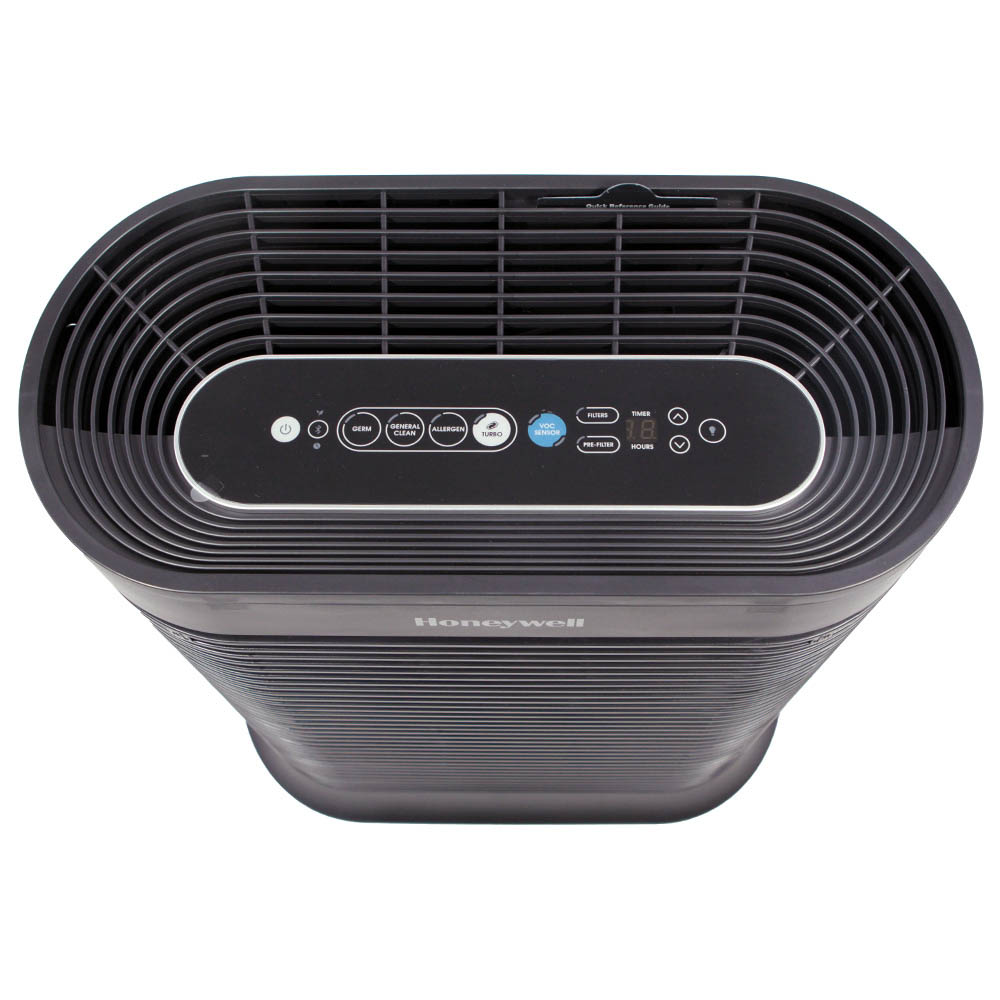 Source: Honeywell website
Like the whole Honeywell family, the Honeywell HPA8350B makes use of the bottom-to-top airflow system concept, which is also the most proper airflow direction for console air purifiers.
The Honeywell HPA8350B has a similar top control panel as the HPA250B, but with new Bluetooth functionality.
It's also relatively heavy, like the HPA300, at 24 lbs. However, you can easily move the Honeywell HPA8350B around your home thanks to two convenient handles.
Related post: Best air purifiers for bedroom.
Honeywell HPA8350B Filters
Like the non-smart Honeywell HPA300, Honeywell HPA8350B runs the exactly powerful air filtration system, with core as the True HEPA filter.
Pre-filter – The pre-filter has an Activated Carbon filter in it. This will both help adsorb VOCs, gases, and odors and trap larger particles. However, in combination with a carbon filter, this pre-filter needs to be replaced after 3 months.
True HEPA filter – The heart of this air purifier is a True HEPA filter that captures up to 99.97% of as small as 0.3 microns of pollutant particles like pet dander, mold, viruses, bacteria, and pollen.
We don't need to discuss more about the high quality of air filters from the Honeywell brand; which is just superior for the price. The performance is too good to be applied to any models in the Honeywell family, even since the first HPA100.
Source: Amazon.com
It's satisfactory, but you may need another test for the performance of this Honeywell HPA8350B, right? In a room of 200 square feet, I let the device run for 1 hour, and it reached a high efficiency of 99.95% without any problems.
The Honeywell HPA8350B sports the same HRF-R3 air filter as the previous HPA300. You will have a pack of three air filters, which will cost you $68. Each air filter can easily last for one year.
Related post: Best air purifiers for allergies.
Honeywell HPA8350B Room Coverage
Honeywell HPA8350B, apart from its obvious smart features, is exactly the same as the popular Honeywell HPA300 at its core. Well, it can easily cover a room of 465 square feet, thanks to its high fan power.
The ACH of Honeywell HPA8350B is 5x. The air changes per hour rating of this air purifier is really impressive, and it can exchange the air every 12 minutes.
The CADR of Honeywell HPA8350B is 320 Dust/ 300 Smoke/ 300 Pollen (cfm).
Related post: Best large room air purifiers.
Honeywell HPA8350B Sound
Again, nothing has changed from the previous models, and the Honeywell HPA8350B is another device with high but noisy fan power. Well, it is the nature of most common air purifiers, so you should expect this weakness.
If you are planning to purchase one air purifier for your office or for when you sleep, you should think again about the Honeywell HPA8350B. Actually, the new device has an auto mode that keeps it mostly on the lowest fan speed, reducing noise to the absolute minimum.
Related post: Best air purifiers for baby.
Honeywell HPA8350B Power Consumption
One of our most FAQs is "Do air purifiers use a lot of energy?" In fact, we need to run an air purifier for a long time to be efficient. And power consumption is one important criterion to review to determine if this air purifier is a must-buy or not.
The Honeywell HPA8350B keeps the same rated power as the HPA300, which is 40 watts at the lowest setting. If you run the device at turbo fan speed, the power consumption can be as high as 130 watts. Yes, 130 watts are pretty high for a common household air purifier. It is still an air purifier with an Energy Star rating, thanks to its efficient CADR/watt rate.
If you run the Honeywell HPA8350B for 8 hours per day, you need to pay from $15 to $47 each year, depending on the most frequently used setting.
Related post: Best air purifiers for pets.
Honeywell HPA8350B Additional Features
This is where the Honeywell HPA8350B differs from the previous models in the Honeywell family. The additional features are also the reason you should buy this air purifier instead of the famous Honeywell HPA300. Of course, the price tag is higher, but it gives you the most complete Honeywell mid-range air purifier.
To put it another way, we will be able to use Smart Control via Bluetooth v4.0 in any Apple or Android device. You can operate your air purifier from another room in your home within 30 feet of the Bluetooth smart device. Within the app, you will have many new features, like an Auto Mode to automatically operate for allergens and VOCs, a proximity sensor to detect when you are in or out of the Bluetooth range, and turn off the air purifier.
The Honeywell HPA8350B also has a timer to schedule time off for your device, with 3 different values of 2 hours, 4 hours, and 8 hours. There are also 3 other fan modes besides turbo: allergen, general clean, and germ.
We also have a dimmer setting to reduce or turn off the light on the top control panel. Finally, you have a LED indicator for filter replacement.
If you are looking for the flagship air purifier from Honeywell, you can look for the Honeywell HPA600B.
Related posts:
1, Best air purifiers for smoke.
2, Best air purifiers for dust.
3, Best air purifiers for mold.
Honeywell HPA8350B Customer Service
Honeywell is a market leader in air purifiers, but its customer service is not as friendly as that of competitors. You can reach customer service via the mailbox at the Honeywell Store at 407 N. Quentin Road, Palatine, Illinois. But I suggest you call 847-701-3038 for any support questions. Or you can email sales@honeywellstore.com for any problems you experience while on the site or after buying a product. Honeywell is available from Monday to Friday.
It doesn't have free shipping like Rabbit Air or Alen, and you must notify customer service within one business day of any problems with a third-party shipping service like USPS or FedEx. Otherwise, it will not accept liability for any merchandise damage during transit. Also, the shipment can take up to 10 business days from the date that the order is shipped.
The hardest part is when you want to return one Honeywell air purifier, as you only have 30 days from the date you receive your item to process your return. If there is no transit damage or workmanship defects, you won't receive the shipping charge (on both the original shipping charge and the return shipping charge) and will have to pay a 10–30% re-stocking fee.
Honeywell's warranty policy is also among the longest in the industry, with up to 5 years of coverage.
Source: Amazon.com
Top Honeywell HPA300 deals right now
Honeywell HPA300 True HEPA Allergen Remover Black Edition (with Energy Star)
The best rated Honeywell HPA300 in black edition. One of the best True HEPA air purifiers in this world.
Our verdict
The Honeywell HPA8350B makes the Honeywell HPA300 a complete air purifier with high-end smart features. It grants all the benefits of having the most popular Honeywell air purifier, but it also keeps all the previous problems, too. The price is also a bit higher, so unless you love the smart features, I advise sticking with the HPA300 instead.
Honeywell HPA8350 Air Purifier: Trusted Review in 2023
Honeywell HPA8350B Reviews and Specs (Air Purifier Trusted Reviews in 2023). ✓ Cleaning Power: True HEPA filter ✓ Bluetooth: Good ✓ Value: 4.1/5 ✓Certified Review.
Product Brand: Honeywell
Product Currency: USD
Product Price: 299
Product In-Stock: https://schema.org/InStock
Performance

Features

Annual Cost

Design

Price