The Winix AM90 is the most basic model in Winix family but still has the unique feature going for it, the Alexa voice control. With tight budget but high demand on an Alexa air purifier, this air purifier is easy to recommend. What will you gain and lose? Let's find out in this Winix AM90 Review.
Updated: If you don't need the Wi-Fi capability feature in Winix AM90, you can select the Winix AM80.
In Breathe Quality, we have reviewed all air purifiers under these sections. Also, we guarantee that:
We do give honest reviews (both pros and cons) so anyone will guarantee to have the wisest choices.
We do not (and never) exaggerate one product just to let you click the links and buy that product blindly.
Sections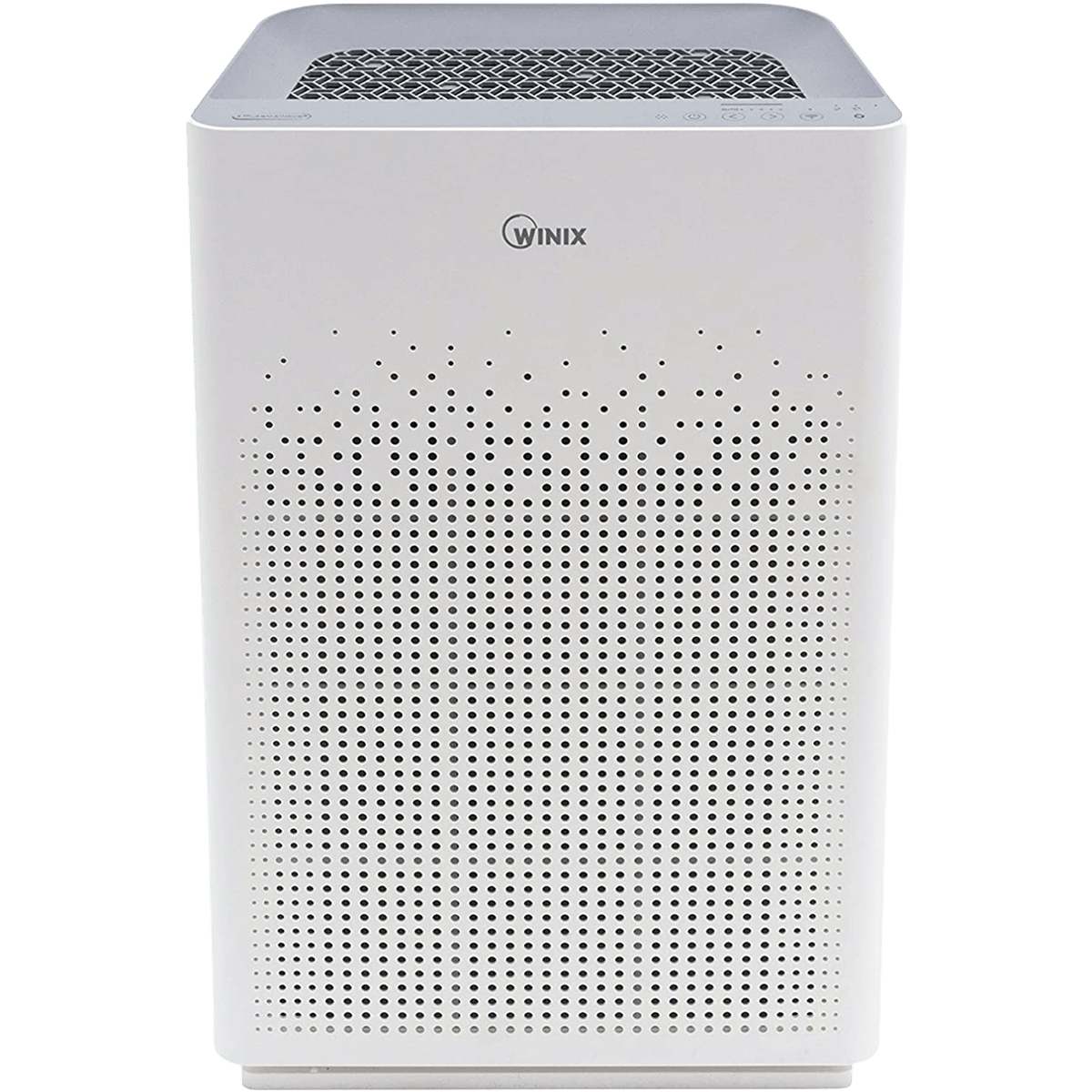 PROS
---
Solid built
Alexa voice control for a budget device
Great performance for the price
Dual air sensors
CONS
---
Old air filtration process of this brand
High filter replacement cost
The Korean brand Winix has finally jumped into the smart air purifier market with the next-gen Winix AM90. From the development of this brand, we can believe in the release of more smart air purifiers in the near future. However, at the moment, you can only look for our Winix AM90 Review for the first Alexa air purifier with an affordable price to welcome.
Winix AM90 Price
One thing that Winix has committed since the very beginning is offering the cheaper alternative to high-end devices from other brands, while playing great performance with the combination of both True HEPA filter and PlasmaWave technology. There is trade-off, of course, but to have a high-quality smart air purifier with such low cost, you won't need to think twice.
Now back to Winix AM90, it is not as cheap as things like Winix C535, Winix 5300-2 and Winix 5500-2, and you can consider a lot of air purifiers at the cost of $349. However, only the Winix AM90 can offer you the smart and convenient way to control your air purifier – Alexa and Wi-Fi control. So to compare with non-Alexa air purifiers like Winix HR900 and Winix NK105, the Winix AM90 still has upper advantage.
What do you lose? The Winix AM90 has only the old 4-stage air cleaning system just like most budget air purifiers of Winix (for example Winix C545), which reduces the actual performance of this air purifier a little bit. The fan power is okay, but it is nowhere near the performance of the Winix U450 or Winix P450. Too many things related to the main reason to buy an air purifier, and are you willing to trade them off?
But this is still the modern and latest air purifier of Winix at the moment, with the price and performance near the same as the old Blueair Classic 205. More than that, you can see a lot of great air purifiers in the market, and the Blue Pure 311 Auto and Levoit Core 400S are the most natural competitors of this air purifier.
At the time of writing, I have found a great deal for this Winix AM90, as it is only $219 for a while. It seems this is the official price tag for this Winix AM90.
Top Winix AM90 deals right now
Winix AM90 Wi-Fi PlasmaWave air purifier, 360 sq ft, Amazon Alexa and Dash Replenishment Enabled.
Suitable for medium and large rooms, bedrooms and kitchens. Works with Alexa for voice commands and air quality information. The best budget smart air purifier you can get.
Related post: Best air purifier 2022.
Winix AM90 Design and Size
The Winix AM90 feels like a solid, high-end piece of kit. It looks like an unibody air purifier, with the 3D rectangular shape and full white color coated housing. The perforated air grill grants the Winix AM90 a similar feeling of the more expensive AIRMEGA 300S, but of course, without the 360° air vent.
When it comes to aesthetics the Winix AM90 really hits the ball out of the park. This air purifier truly combines a premium feel with gorgeous looks which are relatively unique in this price bracket.
For the size, the Winix AM90 is 23.5 inches in height, which is quite similar to the common devices of this brand like Winix C555 and Winix 6300-2. It's also slightly thinner with only 15 inches in width.
Again, we have another Winix air purifier that makes use of the bottom-to-top air flow system concept. This air flow concept is also the most popular one being used by modern air purifier, especially when the home air purifier is made compact to match your home decor.
On top of this Winix AM90, beside the aesthetic outlet air grill, we have a tiny control panel, which is unmistakably learning from the high-range AIRMEGA 300S and AIRMEGA 400S.
Source: Amazon.com
The Winix AM90 weighs 16.5 lbs, making it a bit heavier than the normal Winix air purifiers of same size. The handle is quite inconvenient, and moving this air purifier around your home proves a bit difficulty.
Related post: Best air purifiers for bedroom.
Winix AM90 Filters
For a Winix air purifier, I found the Winix AM90 only with the low performance of previous models. And to decide the performance of an air purifier, we should look for how many air filters and the air filter types are used. I must admit, the 4-stage air cleaning system of Winix AM90 is good, but not the best now.
Pre-filter – The polluted air must pass through a built-in pre-filter. This pre-filter will help capture the large objects of contaminants, such as pet hair and even some kinds of pet dander and skin.
Activated Carbon Filter – The air filter can adsorb household odors from cooking, pets, and smoke and reduce VOCs.
True HEPA filter – The True HEPA Filter that captures 99.97% of as small as 0.3 microns allergens, virus particles, pollen, mold and fungi particles.
Winix PlasmaWave – This technology is one kind of ionizer, which can further reduce the amount of pollutants. Can be switched on/off.
The Winix AM90 has added a physical pre-filter and separated the Activated Carbon filter out, to prolong the lifetime of this odor adsorbing air filter to at least 6 months. Moreover, this pre-filter can catch the large airborne particles, which can weaken the fibers in the True HEPA filter.
So to say, the performance of Winix AM90 is much likely the same with Winix NK100 and Winix NK105. Thanks to the combination of True HEPA filter and PlasmaWave technology, the Winix AM90 can reduce as much as 99.97% of any particles down to 0.3 microns in size.
Even with a low-level air filtration process, the Winix AM90 is able to defeat a lot of air purifiers in the same price range. I have compared the performance of Winix AM90 against those like Philips 2000i, Oransi OV200 and Alen BreatheSmart FLEX in a room of 250 square feet, during 1 hour. The result, the Winix AM90 was a clear winner with high efficiency of 99.92% for trapping any particles as small as 0.3 microns. The Philips 2000i was the runner-up with only 99.8%, while the Oransi OV200 dropped to 99% and Alen BreatheSmart FLEX was only 94%.
At the moment, Winix confirmed the Filter A is the most appropriate one for Winix AM90, and you also need the filter U as a pre-filter. This is also the most budget air filter of this brand with only $79, and if you grab our deal, the price will drop down a lot, to a point of only 50% OFF.
Related post: Best air purifiers for allergies.
Winix AM90 Room Coverage
There is not much to tell about the Winix AM90's room coverage, as it is the same 360 square feet as any other low-range air purifiers of this brand, like Winix C555 and Winix 6300-2.
The ACH of Winix AM90 is 4X. Yet another Winix air purifier that will exchange the air in your room 4 times per hour.
The CADR of Winix AM90 is 240 Dust/ 233 Smoke/ 230 Pollen (cfm). This CADR rating is still higher than the Winix U300, so you can enjoy the fresh air much quicker.
Related post: Best large room air purifiers.
Winix AM90 Sound
With too many air purifiers in one family, it is reasonable for the manufacturer to use the same fan power for every device they have made.
So you shouldn't be surprise if you find the same fan operation in the Winix AM90, just like the previous Winix C535, Winix 5300-2 and Winix 5500-2. Fortunately, the noise level of Winix air purifiers is always great, as it is only 28 decibels (db) – the noise level of the whisper.
If you want to run the Winix AM90 in your bedroom or your office, it is highly recommended to do so.
Related post: Best air purifiers for baby.
Winix AM90 Power Consumption
One of our most FAQs is "Do air purifiers use a lot of energy?" In fact, air purifier must be used for a long time to be efficient. And power consumption is one important criteria to review if this air purifier is good or not.
The power consumption of Winix AM90 is 65 watts, which is quite higher if compared with things like the Levoit LV-H134 or Rabbit Air BioGS 2.0. However, this is one of a few Energy Star air purifier made by Winix, with high CADR/watt rate.
For using Winix AM90 8 hours per day, it would cost you about $23 per year.
Related post: Best air purifiers for pets.
Winix AM90 Additional Features
Finally, we are in the section that we care the most when buying Winix AM90 – the additional features section. That being said, this is also the selling point of our today device, because the Winix AM90 is undeniably the best Smart air purifier of this Korean company.
The Alexa voice control is what I am trying to talk about. If you have Alexa device in your home, you can connect it with the Winix AM90 to deliver the hand-free voice control to your device. The accuracy of the voice control depends on the Alexa device you have used, and for the most part, it saves me a lot of time to reach my air purifier.
Don't have the Alexa device? You can use the Wi-Fi connectivity function instead, and control this Winix AM90 with the Winix Smart app. The Winix app is really my favorite one, as I never experience any major bugs just like in the Philips 2000i or GermGuardian CDAP5500BCA. This feature is also available in the new Winix C545.
Just like any high-end air purifiers, the Winix AM90 utilizes the Smart Sensor to consistently monitor the air in your environment. The scale of your indoor air quality is displayed via the LED indicator, and Winix AM90 then automatically adjusts the fan speed to optimally clean the environment.
The Winix AM90 still has the Sleep Mode, a valuable setting for bedroom. It can detect the amount of ambient light in your room to change the fan speed to lowest setting, as well as dim the indicator light.
The last but not least, Winix AM90 has a LED indicator for filter replacement. Moreover, it will reorder the next filter replacement automatically by Amazon Dash Replenishment.
Related posts:
1, Best air purifiers for smoke.
2, Best air purifiers for dust.
3, Best air purifiers for mold.
Winix AM90 Customer Service
Established over 40 years ago, in 1973, the Winix company is truly an expert in air purifier industry. They have many headquarters, not only from Korea but also from both the U.S and Europe. ou can reach them both via phone or email, from 9 to 5, Monday to Friday. If you have trouble calling them, you can email the Winix America at info@winixinc.com.
In official website, they are selling both new and certified refurbished air purifiers, of course with free shipping in the U.S only. For Winix products, the Winix Limited Warranty is from 1 year to 5 years, depending on the products. During the warranty period, Winix will repair or replace the product if it fails because of a defect in material or workmanship, as determined by Winix. Remember that this warranty will be null and void if the product is used for purposes other than home, consumer purposes.
Top Winix AM90 deals right now
Winix AM90 Wi-Fi PlasmaWave air purifier, 360 sq ft, Amazon Alexa and Dash Replenishment Enabled.
Suitable for medium and large rooms, bedrooms and kitchens. Works with Alexa for voice commands and air quality information. The best budget smart air purifier you can get.
Our verdict
The Winix AM90 is the great response of the Korean brand to the already well-known Blueair Classic 205. This air purifier has better performance, fan power as well as the great Smart Sensor over the Blueair opponent, and these are the main reasons to fall for Winix AM90. Also, we can expect a bright future of Alexa air purifiers, because Winix AM90 still has a lot of rooms to improve.
Performance

Features

Annual Cost

Design

Price
Summary
The best Alexa air purifier of Winix you can get for not much money.