Winix 5500-2 is one of the most successful air purifiers in name of Winix. It also happen to be the first air purifier from the Korean giant to win Amazon's Choice title. Today, we will make a Winix 5500-2 Review to see if this device deserves a spot next to the Winix WAC9500 to be the best air purifier.
In Breathe Quality, we have reviewed all air purifiers under these sections. Also, we guarantee that:
We do give honest reviews (both pros and cons) so anyone will guarantee to have the wisest choices.
We do not (and never) exaggerate one product just to let you click the links and buy that product blindly.
Sections
PROS
---
Improved technology
Well built for the price
Good overall performance
CONS
---
Bad smell
Some still claim that PlasmaWave irritate asthma
Electromagnetic interference from certain electronics may cause product malfunction
Winix is a Korean-based company focusing on the home air quality with 40 years of experience for air filtration. So should the Winix 5500-2 be the wisest choice for a PlasmaWave technology air purifier on a budget in 2019? We put it to the test in this Winix 5500-2 Review.
Related post: Winix WAC9500 Review.
Winix 5500-2 Price
Through the years, the battle in the low-range segment never show a slightest sign of down. More and more manufacturers have enrolled into the playground, with the famous names like Levoit, Winix, Coway and Honeywell. To keep a place in this market segment, Winix has launched Winix 5300-2 and 5500-2. These two devices will guarantee one of the most progressive technologies within an affordable price tag.
Other air purifiers to compete with this Winix 5500-2 in $200 segment is notably the Coway AP-1512HH, Honeywell HPA300 and Levoit LV-PUR131. These air purifiers are offering a great air filtration system, with lots of additional features to hold their places.
Like many air purifiers in the low-range segment, Winix 5500-2 offers only one edition, with an official price of $250. If you want to have a better deal, please scroll a little down below.
Top Winix 5500-2 deals right now
Winix 5500-2 Air Purifier with True HEPA, Odor Reducing Washable AOC Carbon Filter (PlasmaWave Technology enabled)
Don't hesitate to grab the Winix Amazon's Choice Best Deal today.
Related post: Best Air Purifiers in 2019.
Winix 5500-2 Design and Size
The Winix 5500-2 is a well-designed air purifier. It has a plastic body covered with a luxury Black color, so it doesn't look cheap like its previous Winix 5300-2 or the later Winix WAC9500. The fact that an air purifier need to be plugged all day make it better to be plastic than metal.
On the front, we will have 5 function buttons. The button is much easier to press than Winix WAC9500. There is one Smart Sensor LED with 3 different colors to show you exactly the current air quality status in your room. Also, from the front of Winix WAC9500, there is an intake grill to bring in the air. Winix manufacturers have said clearly in the manual that you shouldn't put Winix 5500-2 direct to sunlight in order to avoid failure of product.
The outlet air vent of this Winix 5500-2 has a similar concept with other classic air purifiers, located on top of this device. But the air vent is a bit leaning to the back, which in my opinion, is hard to direct the air flow to users.
Source: Amazon
From the side, we have two handles to help move this Winix 5500-2 anywhere in the house. With only 15.4 lbs, this air purifier is okay to move from one to other locations.
With around 23.6 inches in height, the position of buttons is nearly at the top and we would recommend you to put Winix 5500-2 on hard and plat surfaces. For our comfort, we can easily put Winix 5500-2 on a side table so there is no problem to use this air purifier.
Related post: Best air purifiers for bedroom in 2019.
Winix 5500-2 Filters
The Korean makers always choose the latest technology for their every electronic products. Winix 5500-2 is not an exception with a 4-stage air purification combining all the greatest Winix technology to purify your home air. Sadly, the low-range Winix 5500-2 isn't as good as the Winix WAC9500, but we will expect no less than:
If you are a Winix purist, you will like the power this air purifier could bring. It still utilizes the powerful True HEPA filter with the well-known PlasmaWave Technology to destroy even the smallest pollutant particles. From a week of testing, it is safe to say the power of Winix 5500-2 is nearly the same with the high level Winix WAC9500. However, with no CleanCel Anti-bacterial and a weaker fan, we can not compare the effectiveness between both Winix air purifiers in the long run.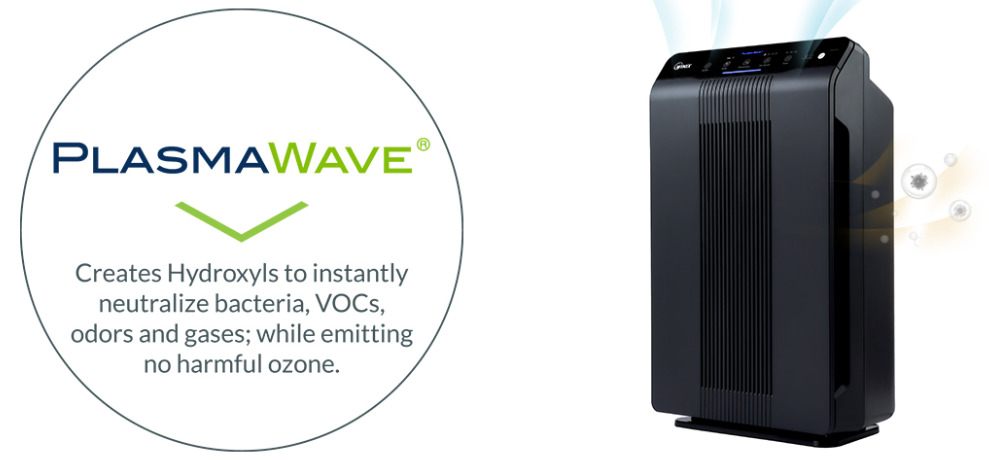 Source: Winix website
There is a high concern of Winix air purifiers having ion generators in their structures. The ozone emission could irritate asthma and respiratory issues. If you worry about the PlasmaWave Technology, you can turn it off anytime.
As usual, the replacement cost of cheaper devices is always better. If you are ranting for the high filter replacement cost of Winix WAC9500, you need to switch to Winix 5500-2 immediately, with only 1/3 the price tag. This Winix 5500-2 needs to replace the air filter once per year.
Related post: Best air purifiers for allergies and asthma in 2019.
Winix 5500-2 Room Coverage
With nearly a same price with Levoit LV-PUR131, Winix 5500-2 also offers similar room coverage, with no less than 360 sq ft. The AHAM verified room size of our Winix 5500-2 is even much better than the successor Winix WAC9500, while has 25% of price reduction.
However, the ACH of Winix 5500-2 is only 4X ACH. While the air changes per hour is not as good as the Winix WAC9500, the fan speed is still far more powerful than the Levoit opponent. Winix 5500-2 can rival with the giant Honeywell HPA200 or even HPA300 air purifiers.
The CADR of Winix WAC9500 is 243 Dust/ 232 Smoke/ 246 Pollen (cfm). CADR tells exactly how well an air purifier can clean the air within a particular size room. We know the power of Winix WAC9500 is slightly better than Rabbit Air BioGS 2.0, but we never expect the power of a cheaper Winix 5500-2 can beat these both $350 air purifiers easily.
At the much lower price, and you have serious problem with allergies and asthma, you should consider Winix 5500-2. This air purifier can cover larger room with a better CADR rating than even the later models of Winix air purifiers.
Related post: Best large room air purifiers in 2019.
Winix 5500-2 Sound
The quietness is never an advantage for a powerful fan speed air purifier like Winix 5500-2. In Turbo setting, the air purifier is really noisy, and is not recommended to use while sleeping. In the Low setting, you can run this air purifier for a noise level of 27.3 db. Though this noise level is okay, it is never stand in line with other brands like Blueair or Rabbit Air in terms of quietness.
Actually, it is not a problem because Winix 5500-2 trades off the power for the quietness. The only notice here is we shouldn't use this air purifier in office at high settings.
Related post: Best air purifiers for office in 2019.
Winix 5500-2 Power Consumption
One of our most FAQ is "Do air purifier use a lot of energy?" In fact, air purifier must be used for a long time to be efficient. And power consumption is one important criteria to review if this air purifier is good or not.
The power consumption of Winix 5500-2 is 70W, which is the same with Winix WAC9500.
For like 8 hours of using per day, it would cost you around $37 to $40 per year. We believe this is not a problem for any household's energy bill.
Winix 5500-2 Additional Features
Winix 5500-2 has been released for many years, so there is not much to expect with additional features in 2019. Like other air purifiers in Winix brands, Winix 5500-2 portraits a good Smart Sensor to help detect the change in air quality. This function is great to help adjust the fan speed according to the real-time air quality, and therefore save the energy.
Like Winix WAC9500, Winix 5500-2 comes with a remote control. It is not much, but we appreciate it.
Winix WAC5500-2 also features a LED life indicator to remind you the date to replace your air filter. However, there are many bad reviews implying that the filter is not working as accurately as expected.
However, there is no Wifi connectivity feature in this Winix 5500-2. If you truly want a smart device, you should strive for GermGuardian CDAP5500BCA and especially, Blueair Sense +. Both these air purifiers are only $200, with a great Wifi capability function and powerful air filtration process.
Related post:
1, Best Air Purifiers for Smoke in 2019.
2, Best Air Purifiers for Dust in 2019.
3, Best Air Purifiers for Mold in 2019.
Winix 5500-2 Customer Service
Winix company has many headquarters, from both US and Europe. They commit with a good 1-year warranty for their products. You can reach them both via phone or email, from 9 to 5, Monday to Friday. It is good to have some support back you up, right?
Top Winix 5500-2 deals right now
Winix 5500-2 Air Purifier with True HEPA, Odor Reducing Washable AOC Carbon Filter (PlasmaWave Technology enabled).
Don't hesitate to grab the Winix Amazon's Choice Best Deal today.
Our verdict
Winix 5500-2 is a good option for low-range air purifiers. You will enjoy the powerful technology of air filtration process within this device, along with lots of potential features. However, you should notice to clean and wash the filter regularly and put your air purifier out of the sunlight, because there are countless reviews confirm the bad smell from Winix 5500-2. Well, may be it is just bad luck.
Cleaning Power

Portability

Features

Power Consumption

Price
Summary
One of the best low-range air purifiers on the market, and a potential candidate to be the leader for value. If all you want is the powerful air filtration process then the Winix 5500-2 is a safe bet.