Winix 5500-2 is one of the most successful air purifiers in the history of Winix. It also happens to be the first air purifier from the Korean giant to get an Amazon's Choice title. Today, we will make a Winix 5500-2 Review to see if this device deserves a slot as the best air purifier.
For years, the Winix 5500-2 still proves to be one of the most reliable air purifiers you can get in the market. It has low price for superb performance and decent smart features. However, we recommend to look for the Winix 9800 and Winix C909, which have better performance.
In Breathe Quality, we have reviewed all air purifiers under these sections. Also, we guarantee that:
We provide honest reviews (both pros and cons) so that everyone can make the best decisions.
We do not (and never will) exaggerate one product just to let you click the links and buy that product blindly.
Sections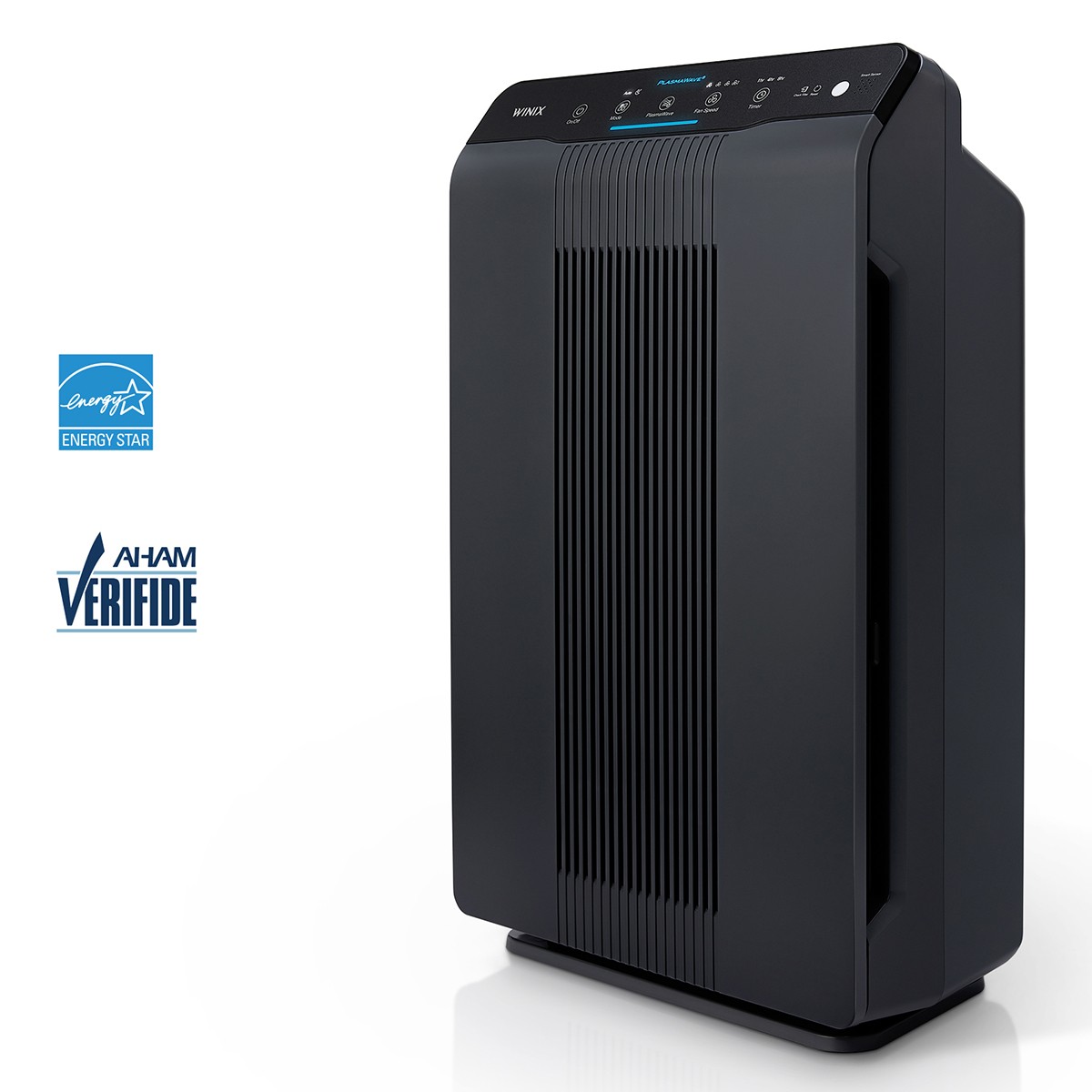 PROS
---
Improved technology
Well-built for the price
Good overall performance
2-year warranty
Winix is a Korean-based company focusing on home air quality with more than 40 years of experience in air filtration. So should the Winix 5500-2 be the wisest choice for a PlasmaWave technology air purifier on a budget right now? We put it to the test in this Winix 5500-2 Review.
Winix 5500-2 Price
Through the years, the battle in the low-range segment has never shown a slightest sign of slowing. More and more manufacturers have enrolled in the market, with the famous names like Levoit, Winix, Coway and Honeywell. To keep a place in this market segment, Winix has launched Winix 5300-2 and 5500-2. These two devices will guarantee one of the most progressive technologies within an affordable price tag.
The Korean brands always have the tradition to make several devices for people who can't afford the flagship air purifiers. First Coway, then Winix also takes away some of the flashy extras, without all that much of a day-to-day compromise in this Winix 5500-2. This cost optimization is what holds the Winix 5500-2 in an aggressively competitive segment – the $200 battle. With only one edition, the Winix 5500-2 comes with an official price of $179.
If you still hesitate to buy the Winix 5500-2, I know, it is simply because the rivals of this air purifier are too strong. Both the Coway AP-1512HH and Honeywell HPA300 are reasons to keep the users from this Winix 5500-2, but luckily, the company change with a tactical discount on this old air purifier. This air purifier is now as affordable as the tower rival device Coway AP-1216L.
If you want to have a better deal, please scroll a little down below and get the Winix 5500-2 as low as $154.
Top Winix 5500-2 deals right now
Winix 5500-2 Air Purifier with True HEPA, Odor Reducing Washable AOC Carbon Filter (PlasmaWave Technology enabled)
Do not hesitate to grab the Winix Amazon's Choice Best Deal today.
Related post: Best air purifier 2023.
Winix 5500-2 Design and Size
The Winix 5500-2 is a well-designed air purifier. It has a plastic body covered with a luxury Black color, so it doesn't look cheap like its previous Winix 5300-2 or even the later Winix WAC9500. The fact that an air purifier need to be plugged all day make it better to be plastic than metal.
On the front, we will have 5 function buttons. The button is much easier to press than the Winix WAC9500. There is one LED Smart Sensor with 3 different colors to show you exactly the current air quality status in your room. Also, from the front of the Winix 5500-2, there is an intake grill to bring in the air. Winix manufacturers have said clearly in the manual that you shouldn't put the Winix 5500-2 direct to sunlight in order to avoid the failure of product.
The outlet air vent of this Winix 5500-2 has a similar concept with other classic air purifiers, located on top of this device. But the air vent is a bit leaning to the back, which in my opinion, is hard to direct the airflow to users. Despite the overall finish on the Winix 5500-2, the user experience doesn't feel as satisfying as when you're using the Coway AP-1512HH.
Source: Amazon.com
We have two handles from the sides and I found it easy to move this Winix 5500-2 anywhere in the house, because the weight is only 15.4 lbs. With around 23.6 inches in height, the position of buttons is nearly at the top and can be used much easier than the successor – the Winix WAC9500.
There is only one recommendation, you should put the Winix 5500-2 on hard and plat surfaces. For our comfort, you can also put the Winix 5500-2 on a side table to reach the buttons easier.
Related post: Best air purifiers for bedroom.
Winix 5500-2 Filters
The Korean makers always choose the latest technology for every electric product. Winix 5500-2 is not an exception with a 3-stage air purification combining all the greatest Winix technology to purify your home air. Sadly, the low-range Winix 5500-2 isn't as good as the Winix WAC9500, but we will expect no less than:
Pre-filter – A pre-filter will help you capture the large particles of contaminants, from pet hair, pet dander, dust and pollen. It attached with an Activated Carbon filter made of high-grade granular activated carbon, to reduce odors and smokes, and protect against VOCs. This pre-filter is washable to be used for a long time.
True HEPA filter – The True HEPA Filter that captures 99.97% of down to 0.3 microns allergens, virus particles, pollen, mold and fungi particles. Can not be washed.
Winix PlasmaWave – This technology is one kind of ionizer, which can further reduce the amount of pollutants. Can be switched on/off.
If you are a Winix purist, you will like the power this air purifier could bring. It still utilizes the powerful True HEPA filter with the well-known PlasmaWave Technology to destroy even the smallest pollutant particles. The PlasmaWave is a great technology, that forms Hydroxyl Radicals to attack airborne pollutants that include viruses, bacteria, germs, odors, and chemical gases (VOCs). The pollutants destroyed in the process will reform into the water vapor or harmless air molecules.
Source: Winix website
But everything needs to be put in a test. I selected the Levoit LV-PUR131 and Winix WAC9500 for the test of this Winix 5500-2. All of three air purifiers are running in the same conditions, within a same duration of 1 hour and for a room of 200 square feet. Unbelievable, the result showed that they all share the same performance rating of around 99.93% of as small as 0.3 microns particles. Though the performance rating of the Winix WAC9500 is varied from different tests, we can all agree that the power of the Winix 5500-2 surpasses Winix WAC9500. However, with no CleanCel Anti-bacterial treatment, we cannot compare the effectiveness between both Winix air purifiers in the long run.
There is still a high concern of Winix air purifiers having ion generators in their structures. Theoretically, the PlasmaWave technology doesn't emit ozone, and therefore can't irritate asthma and respiratory issues. However, if you worry about this ionizer, you can turn it off anytime.
However, there is one downside. The Winix 5500-2's air filter cost is $79, which is even higher than a $68 Honeywell HPA300 or $39 Levoit LV-PUR131. Given that the performance rating is just the same with the air purifier from Levoit, we need to consider a lot when buying this Winix 5500-2. Also, you need to replace the air filter once per year, pushing the annual filter cost of this $150 air purifier nearly the same as a $619 high-range Rabbit Air MinusA2.
Related post: Best air purifiers for allergies.
Winix 5500-2 Room Coverage
With nearly a same price with the Levoit LV-PUR131, the Winix 5500-2 also offers similar room coverage, with no less than 360 square feet. The AHAM verified room size of our Winix 5500-2 is even much better than the successor Winix WAC9500, while has 25% of price reduction.
However, the ACH of Winix 5500-2 is only 4X ACH. While the air changes per hour is not as good as the Winix WAC9500, it is still reasonable to exchange the air in your room every 15 minutes.
The CADR of Winix 5500-2 is 243 Dust/ 232 Smoke/ 246 Pollen (cfm). CADR rating tells exactly how fast an air purifier can clean the air within a particular size room. We know the CADR of the Winix WAC9500 is slightly better than the Rabbit Air BioGS 2.0, but we never expect the power of a cheaper Winix 5500-2 can beat these both $350 air purifiers easily.
At the much lower price, and you have serious problem with allergies and asthma, you should consider the Winix 5500-2. This air purifier can cover larger room with a better CADR rating than even the later models of Winix air purifiers.
Related post: Best large room air purifiers.
Winix 5500-2 Sound
Personally, I don't expect any air purifier could be quiet with 5 fan speeds, especially for a high fan power air purifier like the Winix 5500-2. The Korean brand has to do everything as possible to reduce the noise level, but the Winix 5500-2 can't go lower than 28 decibels. This is the noise level of the Sleep setting, which in real world is very quiet, though still inferior to other brands like Coway or Rabbit Air in terms of quietness.
In Turbo setting, the Winix 5500-2 Air Purifier has a much higher noise level. I measured the highest noise level of 58 decibels (dB), which is fairly quiet, but can't be ignored the sound. If you are going to use this air purifier in office, it is still okay. Keep in mind that you need to switch to lower setting when the noise is unbearable.
Related post: Best air purifiers for baby.
Winix 5500-2 Power Consumption
One of our most FAQs is "Do air purifiers use a lot of energy?" In fact, air purifier must be used for a long time to be efficient. And power consumption is one important criteria to review if this air purifier is good or not.
Practically, an air purifier is a powerful fan, which has high power consumption. To serve an air purifier with 5 fan speeds like the Winix 5500-2, I can easily imagine the high power consumption. Honestly, just a simple power consumption of 70 watts unshackle me a lot. With that power consumption, a Winix 5500-2 is the same with the Winix WAC9500, and only half of the power consumption from the Honeywell HPA300. If you can run this air purifier at the lowest setting for most of the time, the power consumption can even be lower.
For like 8 hours of using per day, the Winix 5500-2 would cost you around $25 per year. I believe this is not a problem for any household's energy bill, as $25 is just like how you pay for a light bulb each year.
Related post: Best air purifiers for pets.
Winix 5500-2 Additional Features
Winix 5500-2 has been released for many years, so there is not much to expect with additional features at the moment. Like other air purifiers in Winix brands, the Winix 5500-2 portraits a good Smart Sensor to help detect the change in air quality. This function is great to help adjust the fan speed according to the real-time air quality, and therefore save the energy.
It doesn't have the Smart Wi-Fi Connectivity feature, and if you want to have this high-end taste, you need to look for the Winix AM90 or Winix C545 instead.
Like the Winix WAC9500, the Winix 5500-2 comes with a remote control. It is not much, but we appreciate it.
Winix 5500-2 also features a LED life indicator to remind you the date to replace your air filter. However, there are many bad reviews implying that the filter is not working as accurately as expected.
However, there is no Wi-Fi connectivity feature in this Winix 5500-2. If you truly want a smart device, you should strive for the GermGuardian CDAP5500BCA and especially, the Levoit Vital 200S. Both these air purifiers are only $200, with a great Wi-Fi capability function and powerful air filtration process.
Related posts:
1, Best air purifiers for smoke.
2, Best air purifiers for dust.
3, Best air purifiers for mold.
Winix 5500-2 Customer Service
Established over 40 years ago, in 1973, the Winix company is truly an expert in the air purifier industry. It has many headquarters, not only in South Korea but also in both the U.S and Europe. You can reach its customer service from 9 a.m to 5 p.m, Monday through Friday, via phone or email. If you have trouble calling its service, you can email Winix America at info@winixinc.com.
On its official website, the company is selling both new and certified refurbished air purifiers, of course with free shipping in the U.S only. The Winix limited warranty is two years for most of its products. During the warranty period, Winix will repair or replace the product if it fails because of a defect in material or workmanship, as determined by Winix. Remember that this warranty will be null and void if the product is used for purposes other than home, consumer purposes.
Top Winix 5500-2 deals right now
Winix 5500-2 Air Purifier with True HEPA, Odor Reducing Washable AOC Carbon Filter (PlasmaWave Technology enabled).
Don't hesitate to grab the Winix Amazon's Choice Best Deal today.
Our verdict
Winix 5500-2 is a good option for low-range air purifiers. You will enjoy the powerful technology of air filtration process within this device, along with lots of potential features. However, you should notice to clean and wash the filter regularly and put your air purifier out of the sunlight, because there are countless reviews confirm the bad smell from the Winix 5500-2. Well, maybe it is just bad luck.
Winix 5500-2 Air Purifier: Trusted Review in 2023
Winix 5500-2 Reviews and Specs (Air Purifier Trusted Reviews in 2023). ✓ Cleaning Power: True HEPA ✓ Large room: 360 sq ft ✓ Value: 4/5 ✓ Certified Review.
Product Brand: Winix
Product Currency: USD
Product Price: 179
Product In-Stock: https://schema.org/InStock
Performance

Features

Annual Cost

Design

Price
Summary
One of the best low-range air purifiers on the market, and a potential candidate to be the leader for value. If all you want is the powerful air filtration process then the Winix 5500-2 is a safe bet.