Rabbit Air MinusA2 is the latest technology of Rabbit Air and one of the best air purifiers in 2018. Today, we will make a Rabbit Air MinusA2 review to see if this air purifier is good or not.
In Breathe Quality, we have reviewed all air purifiers under these sections. Also, we guarantee that:
We do give honest reviews (both pros and cons) so anyone will guarantee to have the wisest choices.
We do not (and never) exaggerate one product just to let you click the links and buy that product blindly.
Sections
PROS
---
Top-notch True HEPA filter
Outstanding filtration process
Attractive design
Can be mounted on wall
Overall great performance
CONS
---
No Android app for Wifi version – SPA-780N
No Timer control
Rabbit Air is one of the leaders in air purifier industry since 2004. Given that, many people put trust in the brand of Rabbit Air and of course, their signature product Rabbit Air MinusA2, SPA-780 edition. This air purifier is the most elegant, powerful and excellent in nearly every aspect of an air purifier. Let's find out why in this Rabbit Air MinusA2 review.
Related post: Rabbit Air BioGS 2.0 Review.
Rabbit Air MinusA2 Price
Rabbit Air MinusA2 has 3 main editions. The SPA-700A is the smallest one, which has the smallest air purifying area coverage, up to 700 square ft. The SPA-780A and the SPA-780N both have the same area coverage of 815 sq ft, but the latter also feature Wifi functions.
In air purifier market, Rabbit Air aims directly at mid-level budget. The price for the Rabbit Air MinusA2 (their latest technology) has been set from $549 to $619.
Top Rabbit Air MinusA2 deals right now
Rabbit Air MinusA2 Ultra Quiet SPA-780A Black Edition (with Energy Star)
The most powerful MinusA2 with the popular black edition. If you are actually in need of a good air purifier, you should get this one.
Related post: Best air purifiers list.
Rabbit Air MinusA2 Design and Size
Rabbit Air MinusA2 comes with two standard color edition of Black and White for SPA-780A/N models. You can only have the white edition for the smaller SPA-700A.
Visually, MinusA2 is nothing like any other Rabbit Air air purifiers, new or old, in term of design or how you interact with it everyday. It comes with a square shape, and is mainly made out of metal with good build. On the front of MinusA2, we have one LED panel at the center to show if it is turned on or off. On the right side are the function buttons. My one slight annoyance is that the button is quite difficult to push down. To make their MinusA2 unique, Rabbit Air offers variable of artist series, from Claude Monet, Van Gogh to Hello Kitty Special Edition. It is nice to have one art in your home, right?
Source: Amazon.com, Starry Night By Vincent Van Gogh.
MinusA2 could be the slimmest air purifier, with only 7″ in depth. Though the size of Rabbit Air MinusA2 is not portable as other small air purifiers, you can easily mount it to the wall, and therefore save some precious space for your home. To compare with other air purifier brands like Blueair, Whirlpool or Honeywell, I prefer the design of Rabbit Air MinusA2. It is simple, but elegant.
Whenever you have a change of mind to move your MinusA2 to another room, it is okay with about 19.4 lbs in weight. With the advantage of being mountable, it is safe to say Rabbit Air MinusA2 is the best air purifier to pick for any kinds of room.
Related post: Best air purifiers for bedroom.
Rabbit Air MinusA2 Filters
The most important criteria to decide one air purifier's power is through how many filters it has and what types of air filters are used. In this Rabbit Air MinusA2 air purifier, a Six-stage air filtration works to help you remove almost any allergies and asthma problems.
Pre-filter – The polluted air must pass through a pre-filter, there it will capture all large particles, along with dust mites and some of pet hair. It is washable and permanent.
Medium Filter – Traps large pollen, pet dander, mold and dust particles that is small enough to bypass the Pre-filter.
Advanced BioGS HEPA Filter – It is a True HEPA Filter that captures 99.97% of down to 0.3 microns allergens, virus particles, pollen, mold and fungi particles. Rabbit Air advances their air filter process, therefore prolong optimal filter efficiency and filter life of their HEPA Filter.
Activated Carbon Filter – Eliminates odors, smokes and chemical vapors.
Customized Filter – Let's you customize the product and choose from a variety of customized filters including Germ Defense, Pet Allergy, Odor Remover, or Toxin Absorber.
Ion Generator – allows the particles to get trapped more easily by your air purifier's filters, or to settle onto the floor where they can be picked up by your vacuum instead of accidentally inhaled. Can be switched on/off.
Most low-cost flagships don't go far with their True HEPA filter. They only last for months. But note that Rabbit Air MinusA2 has longer life time due to their True HEPA filter (a certified air filter to help capture contaminant particles) so that it could take 2-3 years to be replaced for a new one.
Also, a small but nonetheless important upgrade is the Advanced BioGS filter (up from BioGS on previous machine models). This means better air filtration against any pollutants and the air purifier is now happy in up to 2 years without replacing. If you really focus on the air filters, you must admit that MinusA2 is a unstoppable winner.
Another problem that many consumers worry is the amount of ozone emission in Rabbit Air MinusA2 could cause asthma. However, it can be switched off easily to give zero ozone emission. Even when you turn on the Ion generator (for more cleaning power), we have recorded that the amount of ozone is about 0.002 ppm, which is 25 times less than the 0.05 ppm maximum ozone safety standard set by California Air Resource Board.
Related post: Best air purifiers for allergies and asthma.
Rabbit Air MinusA2 Room Coverage
One thing you want to know before purchasing any air purifier is the room coverage. Also some terms like ACH (air changes per hour) and CADR (cleaning air delivery rate) will also come into your mind.
Rabbit Air MinusA2 has two editions with different room coverage. While the SPA-780 A/N can cover up to 815 square ft in your room, the smaller SPA-700A can only cover 700 square ft. You should check the area size of your room before making any decisions, because 700 to 815 square feet is typically for a large room. If you have a lot smaller room, buying MinusA2 could be a waste of money.
The ACH of Rabbit Air MinusA2 is 2X for normal residential use and up to 4X for allergy sufferer. Note that a 4X ACH translates to an air purifier can clean a room 4 times in a hour, which means this Rabbit Air MinusA2 will clean a room at least once every 15 minutes.
The CADR of Rabbit Air MinusA2 is 200 Dust/ 193 Smoke/ 208 Pollen (cfm). CADR tells exactly how well an air purifier can clean the air within a particular size room. With this CADR, MinusA2 is not really good as an air purifier for large room because it takes more time to clean the whole room.
Related post: Best large room air purifiers.
Rabbit Air MinusA2 Sound
The downside of an air purifier is that it literally is a fan with filters. Because it is a fan, people will want to know if it is quiet or not. For this criteria, we must give Rabbit Air MinusA2 an upvote.
Many air purifier brands were keen to shout out about their Quiet Mode, utilizing a thinner filter, a lower speed fan. Rabbit Air instead uses a Brushless Direct Current Motor technology that uses coiled copper wires along the outside in order to move the electric current along. If the current motor is not overheating, the fan will run very quietly.
That's why it is called Ultra Quiet Air purifier not just for commercial. In fact, with 5 fan speeds, Rabbit Air MinusA2 is virtually no sound at lowest settings. The noise level is 20.8 dBA for SPA-700 models and 25.6 dBA for SPA-780, which means SPA-700 is one of the most quiet air purifiers and SPA-780 is somehow good to no sound.
Related post: Best air purifiers for office.
Rabbit Air MinusA2 Power Consumption
One of our most FAQ is "Do air purifier use a lot of energy?" In fact, air purifier must be used for a long time to be efficient. And power consumption is one important criteria to review if this air purifier is good or not.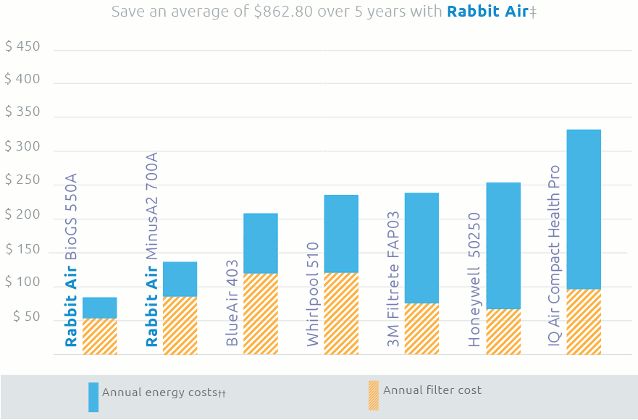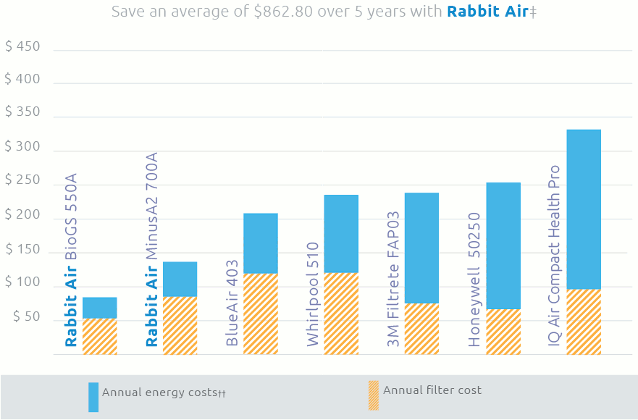 The Power Consumption of Rabbit Air MinusA2 is just 7 to 47 watts (for SPA-700) and 7 to 61 watts (for SPA-780). This difference from the lowest to highest is due to the speed of fan settings. With the Energy Star certification, Rabbit Air MinusA2 normally costs you from $17 to $25 a year for running it 8 hours per day in highest settings.
Rabbit Air MinusA2 Additional Features
Rabbit Air MinusA2 might have a lot going on, but we found it to be highly responsive and easy to live with. The device model has the Smart Sensor on it, to have adjust the fan speed automatically based on air quality in your room. With this technology, your air purifier will be more energy-efficient and help you save energy better.
Rabbit Air MinusA2 is also designed to be an air purifier for bedroom. With a light sensor, MinusA2 will automatically transition to sleep mode in a dark room. If you need some source of light in the dark, MinusA2 will also provide a series of LED mood light on the front panel.
One of the smart functions in only high-end air purifiers is the wifi function. With a single iOS application, you can control your MinusA2 anywhere and anytime. However, one minus point is Android users will not have their own app to control MinusA2.
Also, you don't need to remember the date to replace your air filters. Rabbit Air MinusA2 has a LED life indicator to remind you.
Related post: Best air purifiers for smoke.
Rabbit Air MinusA2 Customer Service
This is one of the best reasons to choose Rabbit Air as your air purifier brand. They provide friendly customer services representatives for 24/7 to help answer any problems you could ask. The warranty policy of Rabbit Air is one of the longest in air purifier market to guarantee against all defects, with up to 5 years warranty.
Top Rabbit Air MinusA2 deals right now
Rabbit Air MinusA2 Ultra Quiet SPA-780A Black Edition (with Energy Star)
The most powerful MinusA2 with the popular black edition. If you are actually in need of a good air purifier, you should get this one.
Our verdict
Rabbit Air MinusA2 is our top choice for the best air purifier in 2018 for both their design and power. It could easily be the number one choice for people who are willing to spend as much as it takes to have the latest and greatest features. While it is a middle-budget level and the filter replacement cost is high as well, it is a good investment if you are serious in need of a good air purifier.
Cleaning Power

Portability

Features

Power Consumption

Price
Summary
PROS
Top-notch True HEPA filter
Outstanding filtration process
Attractive design
Can be mounted on wall
Overall great performance
CONS
No Android app for Wifi version – SPA-780N
No Timer control