Winix has managed to ripples in the American air purifier market with their sub $200 air purifiers such as Winix C535 and the duo Winix 5300-2 and Winix 5500-2. One would have thought that the low-range market would be the most active play field of Winix, and ignored any mid-range devices like Winix QS or Winix HR1000. The fact that Winix is putting more effort into this segment with the series of low-range devices, continues to show the impact of this company to the consumers with low on budget. So far, we have done the Winix C535 Review to help you know whether to buy it or not.
UPDATED: The Winix C535 is now superseded by the next-gen Winix C545 and Winix C555. The Winix C545 can be connected to a smart app for easy control. It is also compatible with Alexa for voice control.
In Breathe Quality, we have reviewed all air purifiers under these sections. Also, we guarantee that:
We do give honest reviews (both pros and cons) so anyone will guarantee to have the wisest choices.
We do not (and never) exaggerate one product just to let you click the links and buy that product blindly.
Sections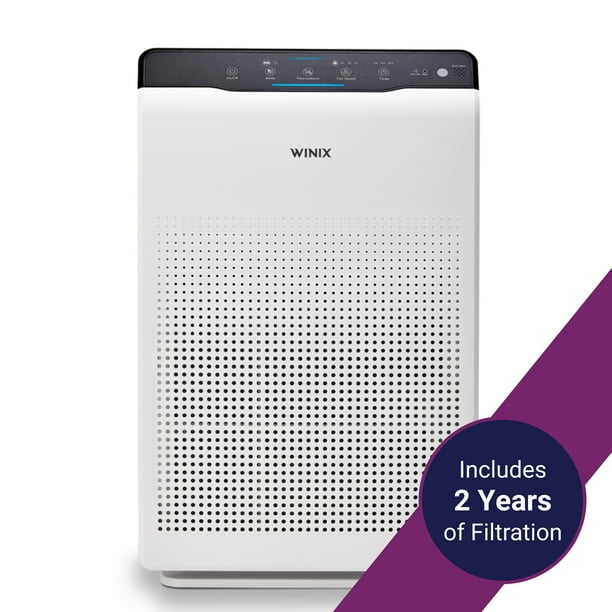 PROS
---
Solid built
Great performance with PlasmaWave technology
Low cost
CONS
---
Some still claim that PlasmaWave irritate asthma
High filter replacement cost
Together with the Winix 5500-2, the Winix C535 comes to the bang-for-buck with the impressive PlasmaWave technology. Both these air purifiers consolidate the foothold of Winix in low-range market, where the competition is the most aggressive, with names like Coway, Guardian Technologies and Honeywell. Now, let's read the Winix C535 Review if you plan to go for a low-range device at the moment.
Winix C535 Price
The Winix C535 is an interesting model. In native Korean borders, it first comes up with a strange name "Winix AFS300-WC". The purpose of this air purifier is mostly to replace the old 5300 model, but it is not the Winix 5300-2. The result, we call it the Winix C535 in the U.S market.
Winix decided to keep the price of the Winix C535 as the same with the Winix 5300-2. The Winix C535 launched at $199, and will drop down a lot if you follow our deal later.
With that price, the Winix C535 is left to fight it out price wise against the ageing Honeywell HPA200, the newer AirGenius 4 and even the powerful Coway AP-1512HH.
It will also have to prove it has the means to overcome the Alen T500, Honeywell 50250 and AIRMEGA 200M, devices that have already established themselves at the base end. Oh, and lets not forget about the excellent Levoit LV-PUR131.
But if Winix wants to sell a device based on their unique PlasmaWave technology, a sleek and beautiful design from the previous 5300 Model, it would be the Winix C535. However, it's hard to find a new Winix C535 at the moment, but if you love it, you can try to take our deal.
Top Winix C535 deals right now
Winix C535 True HEPA Air Cleaner with PlasmaWave Technology.
The Air Purifier designed for any home environment and ready to capture any allergens.
Related post: Best air purifier 2022.
Winix C535 Design and Size
The design of the Winix C535 isn't as impressive as it is on the Winix 5300-2, and I truly don't understand the reason why. Perhaps the white color is something that's unfamiliar with the previous 5300 users.
All of that said, it's still the same structure as both the Winix 5300-2 and Winix 5500-2 thereafter. This air purifier has plastic covered the body, standing in a small but solid base. It is enough for the 23.6-inch air purifier to be firmly put anywhere in your home without weirdness.
For the air flow system, you still have a normal bottom-to-top concept, with a huge front air intake grill. If you are familiar with air purifiers with front air intake, you will be surprise because there are 2000 holes on the front panel of Winix C535. However, from the engineer perspective, I don't find these holes make any sense.
On top of the Winix C535, we will have the traditional control panel, as well as the air outlet grill. The control panel is a bit leaning to the front, which is hard to press the buttons properly. Personally, I would prefer a classic top control panel, which I could easily bend to reach the buttons.
Below is the LED light indicator, which indicate the current indoor air quality.
Source: Amazon.com
The Winix C535 is only 15.4 lbs, and with two handles from both sides, you can move this air purifier easily. Also, because of the small base, the Winix C535 must be put on hard and plat surfaces to work properly.
Related post: Best air purifiers for bedroom.
Winix C535 Filters
Winix C535 is one old and budget model of this brand, and we can't expect to see the latest air filtration process in this device. To decide the performance of an air purifier, we should look for how many air filters and the air filter types are used. For that, the Winix C535 is using a 3-stage air cleaning system as below.
Pre-filter – The polluted air must pass through a built-in pre-filter. This pre-filter will help capture the large objects of contaminants, such as pet hair and even some kinds of pet dander and skin. The pre-filter is also attached with an Activated Carbon filter to help reduce the pet odors and smoke, as well as some common household chemicals.
True HEPA filter – The True HEPA Filter that captures 99.97% of as small as 0.3 microns allergens, virus particles, pollen, mold and fungi particles.
Winix PlasmaWave – This technology is one kind of ionizer, which can further reduce the amount of pollutants. Can be switched on/off.
We all know that nigh on every Winix air purifier released will have the PlasmaWave feature, which is also the unique selling point of this brand. The Winix C535 is no different, and the combination of both True HEPA filter and PlasmaWave Technology is pretty on the top of general air filtration in low-range.
Talking a bit about the PlasmaWave Technology, this is one kind of ionizers. However, the normal ionizer will emit only negative ions to charge the pollutants back to something like a collector plate. The PlasmaWave, however, emits both negative and positive ions, to form hydroxyls that attack airborne pollutants such as viruses, bacteria, germs, odors, and chemical gases (VOCs).
Source: WinixAmerica.com
With double the certified protection, the Winix C535 can score an amazing efficiency. Put it in a test with the Honeywell 50250 and the Honeywell AirGenius 4, we can see how great our today air purifier is. Both the Honeywell 50250-S and Winix C535 had the efficiency of 99.93% for trapping any airborne particles down to 0.3 microns, while the AirGenius 4 dropped to only 92%.
My testing conditions: a room of 200 square feet, duration of 1 hour.
Again, we will have to cry for the air filter cost of a Winix air purifier. With the Winix C535, you need to pay for $69 each year. This price is at least $20 higher than the average of other air purifiers in the low-range.
Related post: Best air purifiers for allergies.
Winix C535 Room Coverage
Aside from the innovative air filtration process, the fan power of this Winix C535 is decent for the price. The room coverage of this air purifier is 360 square feet, which is nearly the same with Honeywell 50250 and GermGuardian AC5900W.
The ACH of Winix C535 is 4X. I believe that this air changes per hour rating is good, because you will receive the fresh air once every 15 minutes.
The CADR of Winix C535 is 243 Dust/ 232 Smoke/ 246 Pollen (cfm). With the higher CADR rating than most of other Winix devices. Honestly, you will enjoy the fresh air as soon as you turn on the device.
Related post: Best large room air purifiers.
Winix C535 Sound
I'd consider myself one who find it difficult to sleep, and love a device that can run with little to no sound. Sadly, the more powerful an air purifier is, the louder it become.
However, in the case of Winix C535, the noise level is only 28 decibels (db), which is lower than even the whisper. Of course, when you run the air purifier on Turbo setting, you will hear the sound, but it is just one kind of white noise and won't distract you.
Related post: Best air purifiers for baby.
Winix C535 Power Consumption
One of our most FAQs is "Do air purifiers use a lot of energy?" In fact, air purifier must be used for a long time to be efficient. And power consumption is one important criteria to review if this air purifier is good or not.
In day to day use I found the power consumption of this Winix C535 is about 70 watts. I am not surprise with this result, as the Winix air purifiers have history of consuming more energy than other brands in the same price range. For a better power saving air purifier, you should look for the Levoit LV-PUR131 or the Coway AP-1512HH.
For using Winix C535 8 hours per day, it would cost you about $25 per year.
Related post: Best air purifiers for pets.
Winix C535 Additional Features
In the world of low-range air purifiers, the brands are competing against others mostly with some flashy additional features. Winix is such brand. With most of their devices are under the low-range, clearly Winix needs something to win the loyal of the customers.
First is the necessary Smart Sensor, a more and more popular feature which is a must-have in high-end air purifiers. With this sensor, the Winix C535 can tell you exactly the current indoor air quality, using the LED indicator on front of this air purifier. But the Smart Sensor is not only for report, it also triggers the Auto Mode to adjust the fan speed automatically to clean the air better. With this mode, you can just turn on the air purifier, and then you can forget it totally.
However, one downside is the dust sensor of Winix C535 needs to be cleaned regularly. I have read many reviews of it stop functioning properly after a while, and I will update this review as soon as I find any problems.
Source: WinixAmerica.com
If you are fond of the Wi-Fi Enabled Connectivity feature, you should look for the Winix C545 and Winix AM90 instead, as they both offer this high-end feature while keeping the price to be nearly the same as Winix C535.
As usual, the Winix C535 has a LED indicator for filter replacement and a basic Timer to control the device. This air purifier also comes with a remote control so you can stay in one place and still have full control with your air purifier.
Related posts:
1, Best air purifiers for smoke.
2, Best air purifiers for dust.
3, Best air purifiers for mold.
Winix C535 Customer Service
Established over 40 years ago, in 1973, the Winix company is truly an expert in air purifier industry. They have many headquarters, not only from Korea but also from both the U.S and Europe. ou can reach them both via phone or email, from 9 to 5, Monday to Friday. If you have trouble calling them, you can email the Winix America at info@winixinc.com.
In official website, they are selling both new and certified refurbished air purifiers, of course with free shipping in the U.S only. For Winix products, the Winix Limited Warranty is from 1 year to 5 years, depending on the products. During the warranty period, Winix will repair or replace the product if it fails because of a defect in material or workmanship, as determined by Winix. Remember that this warranty will be null and void if the product is used for purposes other than home, consumer purposes.
Top Winix C535 deals right now
Winix C535 True HEPA Air Cleaner with PlasmaWave Technology.
The Air Purifier designed for any home environment and ready to capture any allergens.
Our verdict
Winix C535 and Winix 5500-2 are the most popular air purifiers from this brand. Despite lacking some key features with the new Winix air purifiers, the Winix C535 is a successful device from this Korean brand, especially when it has lots of convenient smart features, as well as a great perfection in air filtration process.
Performance

Features

Annual Cost

Design

Price
Summary
In this price bracket it has some stiff competition. Still, there is little to not choose the Winix C535, unless it goes out of stock.