The Winix 5300-2 is one the three Winix air purifiers that gives you the 5300 Model styling on a budget, but with a different color and no remote control (come on, why). This lack of a remote control won't hold you back from true greatness, but at this low price, both the Winix 5500-2 and Winix C535 are possible alternatives for you. Today, our Winix 5300-2 Review is the most trusted review for you to know if you still need this air purifier or not.
For years, the Winix 5300-2 has proven to have better ranking than both the Winix 5500-2 and Winix C535. It is reasonably priced for excellent performance and reasonable smart features. You should also look for the Winix 9800 and Winix C909, which have better performance.
In Breathe Quality, we have reviewed all air purifiers under these sections. Also, we guarantee that:
We provide honest reviews (both pros and cons) so that everyone can make the best decisions.
We do not (and never will) exaggerate one product just to let you click the links and buy that product blindly.
Sections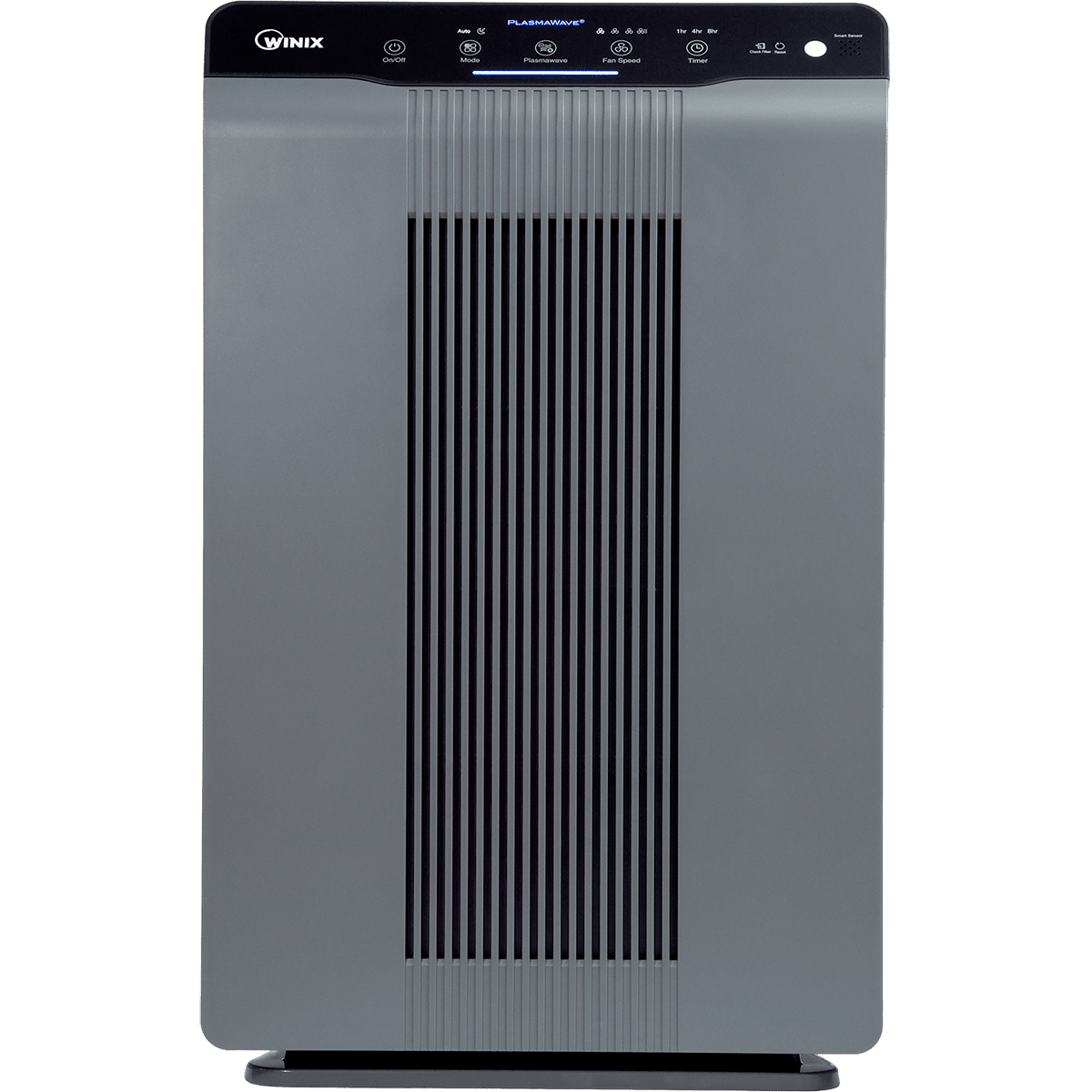 PROS
---
Smart features
Great performance with PlasmaWave technology
Low cost
2-year warranty
CONS
---
No remote control
High filter replacement cost
I must admit, Winix is doing the best at selling its old products. The near 30-year-old air purifier brand has the superior air purifiers for mid-range and high-range, but almost all the eyes are on the low-range devices. So to say, before moving on with the new device of this brand, a Winix 5300-2 Review is necessary to know why the old model is so hot in the market.
Winix 5300-2 Price
Winix has always served the budget end of the air purifier market well and this old model – a replacement for the older 5300 Model – continues that trend with a reasonable price point.
The Winix 5300-2 is a great success as one of the top Amazon's Choice of this brand, along with the successor Winix 5500-2. For that you will get a decent room coverage, a True HEPA filter and the unique powerful technology named Winix PlasmaWave. But, as the first to start a continuous design and appearance, the Winix 5300-2 is the only device without a remote control out of the box.
That means at times the Winix 5300-2 feels a little on the cheap side, despite the enviable stature of the Winix brand, both in its native South Korea and the United States. For now, the price of this Winix 5300-2 is only $199 at the official website of Winix America. However, you can find a huge 40% OFF with our below deal, to the point it is only $129.
Put both the similar Winix 5500-2 and Winix C535 aside, with that price you can get many powerful air purifiers like the Levoit LV-PUR131, Airmega 150 or Coway AP-1512HH. They all have high performance in air cleaning, especially the Coway AP-1512HH as one of the best air purifiers right now. Or, from the American brands, the Honeywell AirGenius 4, Alen T500 and GermGuardian AC5350B are all top purchased tower air purifiers for the price.
If you are in the U.S, you will find the Winix 5300-2 at a much lower price, for example you can grab this below deal.
Top Winix 5300-2 deals right now
Winix 5300-2 Air Purifier with True HEPA, PlasmaWave and Odor Reducing Carbon Filter.
AHAM and Energy Star verified. The most affordable PlasmaWave air purifier with strong True HEPA filter. 5 different fan speeds.
Related post: Best air purifier 2023.
Winix 5300-2 Design and Size
Now, you may find the design of the Winix 5300-2 too boring, as it stays mostly the same in 4 continuous models: the Winix 5500-2, Winix C535, Winix C555 and Winix 6300-2. But back in 3 years, the Winix 5300-2 is a total change from the previous 5300 model, mostly in terms of design concept.
The Winix 5300-2 keeps the small base and plastic body as the predecessor, while removes the two gaps from both sides, making this air purifier much slimmer and of course, lighter. It also ends the ancient old Winix logo with new ones, which this company continues to use up until now.
One of the strange things that Winix 5300-2 resembles the most from its predecessor is the front air intake grill. Winix trims down the grill to be aligned center, and from engineer perspective, I don't know any reasons for doing it. The Winix C535 improves the intake air grill better, with 2000 holes, to bring in more polluted air into the air purifier. I guess that the design doesn't matter a lot, especially when the Winix 5300-2 is still one of the most popular devices from this brand.
Winix 5300-2 remains the traditional bottom-to-top airflow system from this company. Personally, I love this airflow system the most, especially when home air purifiers have very compact sizes. Winix 5300-2 is not an exception, with only 23.6 inches in height. Put this air purifier beside me while I was writing this review, and I can breathe the fresh air directly.
On top of the Winix 5300-2, we will have a new control panel from the old 5300 model. Instead of placing the button on front of the air purifier, which is ridiculous because you must kneel to press the buttons, the Winix 5300-2's control panel leans a little on top. It helps us press the buttons much easier, and I can easily remove the front panel without any trouble.
There is only one LED light indicator for the Smart Sensor of the Winix 5300-2, and in my simple review, it is more attractive.
Source: Amazon.com
For the weight, the Winix 5300-2 is only 15.4 lbs. You can comfortably move this air purifier anywhere in your home.
Related post: Best air purifiers for bedroom.
Winix 5300-2 Filters
Most budget air purifiers come with quite poor quality air filters, but in the mess of low budget devices with cheap ionic features, the Winix 5300-2 is one of the rare pearls to get. It has a 3-stage air cleaning system, which is more than respectable-looking spec for a low-end air purifier.
Pre-filter – The polluted air must pass through a built-in pre-filter. This pre-filter will help capture the large objects of contaminants, such as pet hair and even some kinds of pet dander and skin. The pre-filter is also attached with an Activated Carbon filter to help reduce the pet odors and smoke, as well as some common household chemicals.
True HEPA filter – The True HEPA Filter that captures 99.97% of as small as 0.3 microns allergens, virus particles, pollen, mold and fungi particles.
Winix PlasmaWave – This technology is one kind of ionizer, which can further reduce the amount of pollutants. Can be switched on/off.
On the plus side, the combination of True HEPA filter and PlasmaWave technology truly works. The True HEPA filter from the Winix 5300-2 is made of high-quality materials, and the PlasmaWave technology is the most innovative air purifying science I've ever seen. It emits both the positive and negative ions to create hydroxyls and destroy the airborne pollutants such as viruses, bacteria, and germs.
Source: WinixAmerica.com
On the negative side, it is still a type of ionizer, and I've heard many reviews that the PlasmaWave can irritate asthma and breathing issues. However, my testing unit doesn't release any ozone at all, so there is no way to tell if the reviews are false alarm or not.
To test the actual performance, I put the Winix 5300-2 in a room of 200 square feet and let it run for 1 hour. The challengers for this Winix 5300-2 today is the Honeywell 50250 and the Honeywell AirGenius 4. The result was 99.92% for our Winix 5300-2, while the Honeywell 50250 can score 99.93% of trapping any pollutants as small as 0.3 microns. The AirGenius 4 was the lowest of the three, with an efficiency of only 92%.
Sadly, the filter replacement cost is disappointing, as it is $69. For a low-range device like the Winix 5300-2, the annual filter cost can be something that hold you back from buying this air purifier.
Related post: Best air purifiers for allergies.
Winix 5300-2 Room Coverage
The Winix 5300-2 doesn't upgrade any fan power from this previous 5300 model. That being said, the room coverage is still 360 square feet, which is the typical in this price range. You can find the Honeywell 50250 and GermGuardian AC5900W that can deliver enough fan power for such room size.
The ACH of Winix 5300-2 is 4X. For an air purifier in this price range, this ACH rating is great. The Winix 5300-2 will exchange the air in your room once every 15 minutes.
The CADR of Winix 5300-2 is 243 Dust/ 232 Smoke/ 246 Pollen (cfm). The CADR rating is better than the previous 5300 model, and you can expect the Winix 5300-2 to clean your room slightly faster.
Related post: Best large room air purifiers.
Winix 5300-2 Sound
28 decibels (dB) is really impressive for the noise level of any air purifier, and for this Winix 5300-2, we are not surprised at all.
Winix is an air purifier brand with fame in making low noise level air purifiers. Even with a much better fan power, this company improves the fan to reduce the noise level as low as possible. This is also the effort Winix tries to do to reduce the ozone emission from its PlasmaWave technology.
If you plan to run this Winix 5300-2 in your bedroom or your office, I believe that you won't be distracted by the noise it makes.
Related post: Best air purifiers for baby.
Winix 5300-2 Power Consumption
One of our most FAQs is "Do air purifiers use a lot of energy?" In fact, air purifier must be used for a long time to be efficient. And power consumption is one important criteria to review if this air purifier is good or not.
The Winix 5300-2's power consumption is about 58 watts, which is quite higher than others in the market. The Levoit LV-PUR131 only run with 40 watts, or the Honeywell AirGenius 4 with maximum of 38 watts. Still, the Winix 5300-2 is the only one in the trio of Winix to have an Energy Star rating, for being energy efficient.
For using the Winix 5300-2 8 hours per day, it would cost you about $21 per year.
Related post: Best air purifiers for pets.
Winix 5300-2 Additional Features
Winix 5300-2 is the pioneer in adding the high-quality dust sensor to its products, raising the bar for every low-range air purifiers after that. It is more popular right now, and therefore no longer be the unique selling point of the Winix 5300-2. Now, we have the Levoit LV-PUR131, Coway AP-1512HH and especially the Blueair Sense+ to offer such luxury things.
But I still like the Smart Sensor in this Winix 5300-2. Every time it detects the change in your indoor air quality, it will notify you via a beautiful LED indicator. Moreover, if you are running your Winix 5300-2 in Auto Mode, it can automatically adjust the fan speed to match the environment. With this function, you don't need the remote control anymore. You only need to turn on the air purifier, and forget it.
This Smart Sensor function is once the top advantage to buy the Winix 5300-2 over the strong competitors like Honeywell HPA200 or Blueair Classic 203. These air purifiers are powerful in a large room, but can't operate automatically as you wish.
However, you need to clean the dust sensor regularly. After all, this sensor is one component of a budget air purifier, and you can't expect it to last forever without any mistakes.
Source: WinixAmerica.com
It doesn't have the Smart Wi-Fi Connectivity feature, and if you want to have this high-end taste, you need to look for the Winix AM90 or Winix C545 instead.
Just like the Winix C535 and Winix 5500-2, our Winix 5300-2 features the basic Timer and one LED indicator for filter replacement. You don't have a remote control for this device, but admit it, you won't need it much.
Related posts:
1, Best air purifiers for smoke.
2, Best air purifiers for dust.
3, Best air purifiers for mold.
Winix 5300-2 Customer Service
Established over 40 years ago, in 1973, the Winix company is truly an expert in the air purifier industry. It has many headquarters, not only in South Korea but also in both the U.S and Europe. You can reach its customer service from 9 a.m to 5 p.m, Monday through Friday, via phone or email. If you have trouble calling its service, you can email Winix America at info@winixinc.com.
On its official website, the company is selling both new and certified refurbished air purifiers, of course with free shipping in the U.S only. The Winix limited warranty is two years for most of its products. During the warranty period, Winix will repair or replace the product if it fails because of a defect in material or workmanship, as determined by Winix. Remember that this warranty will be null and void if the product is used for purposes other than home, consumer purposes.
Top Winix 5300-2 deals right now
Winix 5300-2 Air Purifier with True HEPA, PlasmaWave and Odor Reducing Carbon Filter.
AHAM and Energy Star verified. The most affordable PlasmaWave air purifier with strong True HEPA filter. 5 different fan speeds.
Our verdict
Winix 5300-2 is still a viable option to buy, especially when the next Winix 6300-2 is not worth the money for the upgrade. If you have problems with allergies and asthma, you should consider this Winix 5300-2 as a low budget air purifier specifically for you.
Winix 5300-2 Air Purifier: Trusted Review in 2023
Winix 5300-2 Reviews and Specs (Air Purifier Trusted Reviews in 2023). ✓ Cleaning Power: True HEPA ✓ Large room: 360 sq ft ✓ Value: 4.1/5 ✓ Certified Review.
Product Brand: Winix
Product Currency: USD
Product Price: 199
Product In-Stock: https://schema.org/InStock
Performance

Features

Annual Cost

Design

Price