Blueair is a popular air purifier brand from all price range segments. Blueair Sense+ is now the ace to secure a slot in mid-range smart air purifier market. We are writing the Blueair Sense+ Review to help you find out why this air purifier is still the best bang for your buck at the moment.
UPDATED: The Blueair HealthProtect 7470i and HealthProtect 7770i are the best air purifiers you can get from this Swedish brand right now.
In Breathe Quality, we have reviewed all air purifiers under these sections. Also, we guarantee that:
We provide honest reviews (both pros and cons) so that everyone can make the best decisions.
We do not (and never will) exaggerate one product just to let you click the links and buy that product blindly.
Sections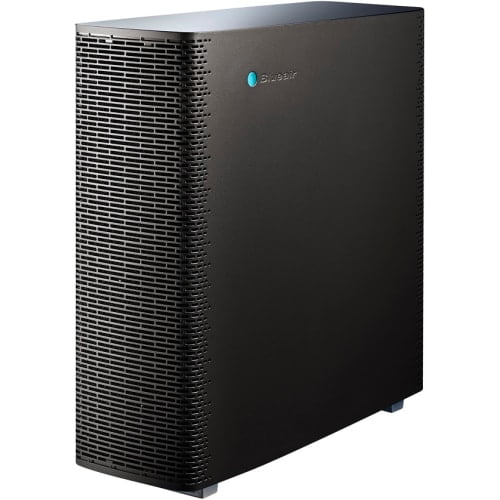 PROS
---
Amazing performance rating
Sleek design, certified quality
Smart air purifier in low-range
5-year warranty
CONS
---
Voice command seems bad
Higher starting price
High filter cost
As a giant in air purifier industry with 20 years' experience, Blueair is not only famous for its huge and expensive air purifiers, but also stumble into the low-range and small devices. The Blueair Sense+ is exactly what the company needs to conquer the most competitive segment in the market. Let's see if Blueair can do it through our Blueair Sense+ Review.
Other Blueair's Air Purifier Reviews:
Blueair Sense+ Price
What if I told you that you could get an air purifier with the unique Smart features that no high-end devices could have, but for a fraction of the price? You'd probably think I was the guy who creates those web ads that say "Click here and get $10 million with your email" or something similar.
But here's the thing: the Blueair Sense+ is exactly that air purifier, with a powerful HEPASilent Technology and high-quality air filter that's not the price of your average flagship. Look at the Blueair Classic 405, Blueair Classic 480i and even Blueair Classic 680i, they are all in the mid-range and high-range level.
This is one of those air purifiers that you have to track down yourself, find the good retailer and hope that the price stays the same as on Blueair official website. The question is, is the Blueair Sense+ worth seeking out?
Spoiler alert: yes it is. At least that's my opinion, although there are some caveats with this air purifier too, and we'll get to those as we take a closer look at this interesting device. But for now, you need to buy the Blueair Sense+ with a bit higher price tag of $399.
However, it seems the air purifier isn't available on Blueair website, so perhaps getting the Blue Pure 211 Auto is the most suitable air purifier in this pricer range. The competition is also high, as the Airmega 250, Winix 9800 and Levoit Core 600S all do better than the Blueair Sense+. If you want a more affordable air purifier with the same performance, perhaps the new Honeywell HPA5300 and GermGuardian AC5109W can nail it.
If not for the price, what does Blueair make use to gain the advantage in such high competitive segment? We will find out soon.
Top Blueair Sense+ deals right now
Blueair Sense+ Air Purifier, HEPASilent Technology Particle and Odor Remover, Graphite Black edition.
The most affordable Smart Home ALEXA compatible air purifier available in the market. Also comes with a great air filtration process
Related post: Best air purifier 2023.
Blueair Sense+ Design and Size
The first competitive edge of this Blueair Sense+ we want to praise is its beautiful and sleek design. Comes with 6 options of colors, you can easily choose the best Blueair Sense+ that fits your home decor and lifestyle. All of the Blueair Sense's colors available are Graphite Black, Leaf Green, Midnight Blue, Polar White, Ruby Red and Warm Grey. Our testing unit is a Midnight Blue model, but others are using the same design concept.
As the next generation of a Blueair device, this Blueair Sense+ is truly an expression of modern style. The whole body is steel exterior, with a luxury range of color to please the eyes, this design received many compliments and award winning for design by reputable organizations like Plus X and Reddot. The bottom line is the Blueair Sense+ is the result of the internationally acclaimed Swedish designers CKR – winners of more than 60 international design awards.
Source: Amazon.com
Using the same airflow like the Blueair Classic 405, the Blueair Sense+ also has the air intake grill and air outlet grill from each side respectively. This is the notable airflow concept that makes Classic 405 as one of the Best Buy air purifiers in the United Kingdom. However, the air grill is bigger, but also more stylish than ever in Blueair history of making air purifiers.
From the front, you will have the classic Blueair logo followed with an LED on/off indicator. If you look in the back of this Blueair Sense+, you will find a handle to help you move this air purifier easier.
But the reason why Blueair called Blueair Sense+ as the future device is all staying on top of this air purifier. Blueair Sense+ is assembled with meticulous attention to detail. The glass top is cut by hand to mate seamlessly with the cabinet. And with no gaps, it is both beautiful and effective in not letting any polluted air escape without being purified.
Most importantly, the control panel of this Blueair Sense+ is operated through motion-sensing controls and without no physical buttons. With a swipe of hand on top of this air purifier, you can turn it on/off and change the fan speeds. I must admit that the touchless control is only featured in this Blueair Sense+.
Source: Amazon.com
This Blueair Sense+ is only 19 inches in height and 18.5 inches in width, which is even smaller than the Classic 203. I find this air purifier placing easily anywhere in my house. However, there is one slight disadvantage of this Blueair Sense, that we don't have any casters. Luckily, with only 25 lbs, the Blueair Sense+ is a lot lighter than other Blueair Classic air purifiers, and also looks smaller with its round edge. Personally, I love the design and the color of this Blueair Sense+ the most from the Blueair brand.
Related post: Best air purifiers for bedroom.
Blueair Sense+ Filters
Blueair has a tradition to make the same air filter (of course with different size and name) for all of its Sense, Classic and Pro families. This proves a great advantage, to reduce the confusing for its customers when choosing the air filter types. Moreover, you will be assured to have a latest HEPA technology in even a low-range air purifier like the Blueair Sense+.
Particle Filter – Blueair Sense+ has only the Particle Filter with the power to capture 99.97% of pollutants such as pollen, dust, pet dander, mold spores, viruses and bacteria down to 0.1 microns. Added an extra sheet of Activated Carbon filter to deal with smoke, odors and VOCs.
The powerful Particle filter from Blueair is an improvement to the common True HEPA filter combined with the electrostatic ions to purify more air faster. Its efficiency is at the moment one of the best for the low-range segment. Only a few air purifiers in this segment could reach the performance rating of this Blueair Sense+, such as the Honeywell HPA300 or the Coway AP-1512HH.
Source: Amazon.com
The Particle filter is made of thermally bonded fibers containing polypropylene and polyethylene which is free of chemicals and naturally anti-bacterial. Due to the filter frame material is paper, it can be recyclable.
Also, the Blueair Sense's Particle filter has added activated carbon sheets to help you remove the smoke, odors, cooking smells and VOCs.
In Breathe Quality, we believe that everything needs to be tested for the performance. Putting the Blueair Sense+ in a room of 150 square feet and let it run for one hour, I also brought the Levoit LV-PUR131 and GermGuardian AC5900W to compare with our Blueair Sense+. As a result, all of them scored a high efficiency of 99.9 – 99.92% for capturing any particles as small as 0.3 microns. This test show exactly how powerful the Particle air filter of the Blueair Sense+ is, especially when it has the weakest fan power of all three.
With an addition of activated carbon, the Particle filter from the Blueair Sense+ is more expensive than the filter of the Classic 405, with $79. If you compare with the total change of both True HEPA filter and Activated Carbon filter in other brands, the Blueair Sense+ is still better, only lose to the flagship of Guardian Technologies – the GermGuardian CDAP5500BCA.
Related post: Best air purifiers for allergies.
Blueair Sense+ Room Coverage
Stays in low-range segment, we can't expect the Blueair Sense+ to clean a large room like its brothers. That being said, the room coverage of Blueair Sense+ is only 186 square feet, which is a lot less than the average of 360 square feet by the Honeywell HPA300, Airmega 200M, Levoit LV-PUR131, or Winix 5500-2.
The ACH of Blueair Sense+ is still 5X. With this high ACH rating, the Blueair Sense+ can clean your room 5 times per hour.
The CADR of Blueair Sense+ is 140 Dust/ 120 Smoke/ 150 Pollen (cfm). This CADR rating is just only the same with the Levoit LV-PUR131, and can't compare with other higher fan speed air purifiers from Honeywell or Coway brand. However, CADR rating is not the criteria to decide the performance of one air purifier, only to check the power of its fan. And the CADR rating of the Blueair Sense+ suits perfectly for its room coverage.
Related post: Best large room air purifiers.
Blueair Sense+ Sound
Again, we must thank the HEPASilent technology from Blueair brand to manage the noise level of this Blueair Sense+ at as low as possible.
With 3 fan speeds, the Blueair Sense+ has only 29 decibels (dB) at lowest setting. This is the best noise level if compared with the Classic family from this brand, like the Bluaeir Classic 405 with 32 decibels (dB). You should know that the library noise level is 40 decibels, and this Blueair Sense+ can run very quietly that you hardly hear a sound.
At the highest setting, the Blueair Sense+ only runs with 50 decibels, and therefore is a good recommendation for quiet places like your office. To help you imagine easier, the 50 decibels (db) is just the noise level of quiet suburb, or normal conservation at home. Also, the white noise from the highest setting consists of every audible frequency, and is able to help you sleep faster.
Related post: Best air purifiers for baby.
Blueair Sense+ Power Consumption
As one of the most criteria when deciding to buy an air purifier, one of our most FAQs is "Do air purifiers use a lot of energy?" In fact, air purifiers must be used for a long time to be efficient. And for this criteria, there is hardly any opponent to compete with Blueair brand.
With HEPASilent technology, the power consumption of the Blueair Sense+ is just 7 watts at the lowest setting. If you switch to the maximum fan speed, the power consumption is still 45 watts, which is one of the best air purifiers for power consumption right now. Only the Coway AP-1512HH can compete with this Blueair Sense+ in the same price range, but also only for the lowest setting.
With the Energy Star certification, you only need to pay from $3 to $16 annually for running a Blueair Sense+ 8 hours per day. Just $3 for an air purifier in the whole year is truly incredible, right?
Related post: Best air purifiers for pets.
Blueair Sense+ Additional Features
Blueair Sense+ is an air purifier for the future, so beside the famous touchless controls, you can control this device from a mobile app named Blueair Friend App (available both for iOS and Android). The Wi-Fi connectivity is compatible with 802.11 b/g/n router on 2.4GHz Wi-Fi Network band. Network security is open, WEP, WPA, & WPA2.
Like any air purifiers in Blueair Classic family, this Blueair Sense+ can be controlled via Alexa voice commands. This is one of the top reasons why the Blueair Sense+ is the Amazon's Choice for air purifier, especially with a lovely price tag of around $200.
If you really want an air quality monitor for the Blueair Sense+, you need an additional Blueair Aware Indoor Air Quality Monitor. However, the air quality monitor only alert you, and it can't adjust the fan power of the Blueair Sense+ automatically.
In addition, you will have a Timer and a LED indicator to remind you when to change the air filter.
With so many additional features, it is safe to say the Blueair Sense+ is currently the best Smart air purifier for the low-range.
Related posts:
1, Best air purifiers for smoke.
2, Best air purifiers for dust.
3, Best air purifiers for mold.
Blueair Sense+ Customer Service
As one of the best air purifier brands, Blueair focuses strongly on customer service. With a lot of local stores and dedicated support via phone and email, you are guaranteed to reach its customer service as soon as possible.
If you need to find a local store of Blueair anywhere in the world, you can use the store locator function on its website. To reach customer service, you can choose between calling 888-258-3247 or emailing info@blueair.com. Customer service is available for you from Monday to Friday, with the exception of U.S. holidays.
Remember only one thing: you need to complete the Product Registration form within 60 days of purchase or register through the Blueair Friend mobile app to secure the 5-year warranty. Otherwise, you only benefit from a 1-year warranty. Moreover, do not attempt to bring the air purifier outside of the United States or Canada, or your warranty will be void immediately. All Blueair warranties are non-transferable.
Blueair air purifiers from the Blue family have only a 2-year warranty from the date of purchase (with valid proof of purchase). One quick reminder: Blueair doesn't cover warranties from third-party sellers, so buying from Breathe Quality's deals is highly recommended.
Top Blueair Sense+ deals right now
Blueair Sense+ Air Purifier, HEPASilent Technology Particle and Odor Remover, Graphite Black edition.
The most affordable Smart Home ALEXA compatible air purifier available in the market. Also comes with a great air filtration process
Our verdict
For a good smart air purifier, you might reconsider splurging on your next upgrade. Blueair Sense+ could be perfect if it has a better fan power, especially when its price tag is double from the launching?
Blueair Sense+ Air Purifier: Trusted Review in 2023
Blueair Sense+ Reviews and Specs (Air Purifier Trusted Reviews in 2023). ✓ Cleaning Power: True HEPA filter ✓ Wi-Fi: Good ✓ Value: 4/5 ✓ Certified Review.
Product Brand: Blueair
Product Currency: USD
Product Price: 399
Product In-Stock: SoldOut
Performance

Features

Annual Cost

Design

Price
Summary
Blueair Sense+ packs in everything, but the price has been doubled.