The Winix NK105 is a new upgraded version of the Winix NK100 with this season's must-have: the Wi-Fi connectivity that most people desire. And that is, for the most part, it. But thanks to it, we are having one device with all of the Smart features which are normally seen in the $600 air purifiers. Now, it's time for our Winix NK105 Review.
The Winix NK105 is discontinued, so if you want a great performer at the same price point, you don't need to find anywhere because the Winix AM90 is so great to be your best companion. Also the latest Winix 9800 is released, packing with more power. If you like tower design, the Winix XLC is the best you could get.
In Breathe Quality, we have reviewed all air purifiers under these sections. Also, we guarantee that:
We provide honest reviews (both pros and cons) so that everyone can make the best decisions.
We do not (and never will) exaggerate one product just to let you click the links and buy that product blindly.
Sections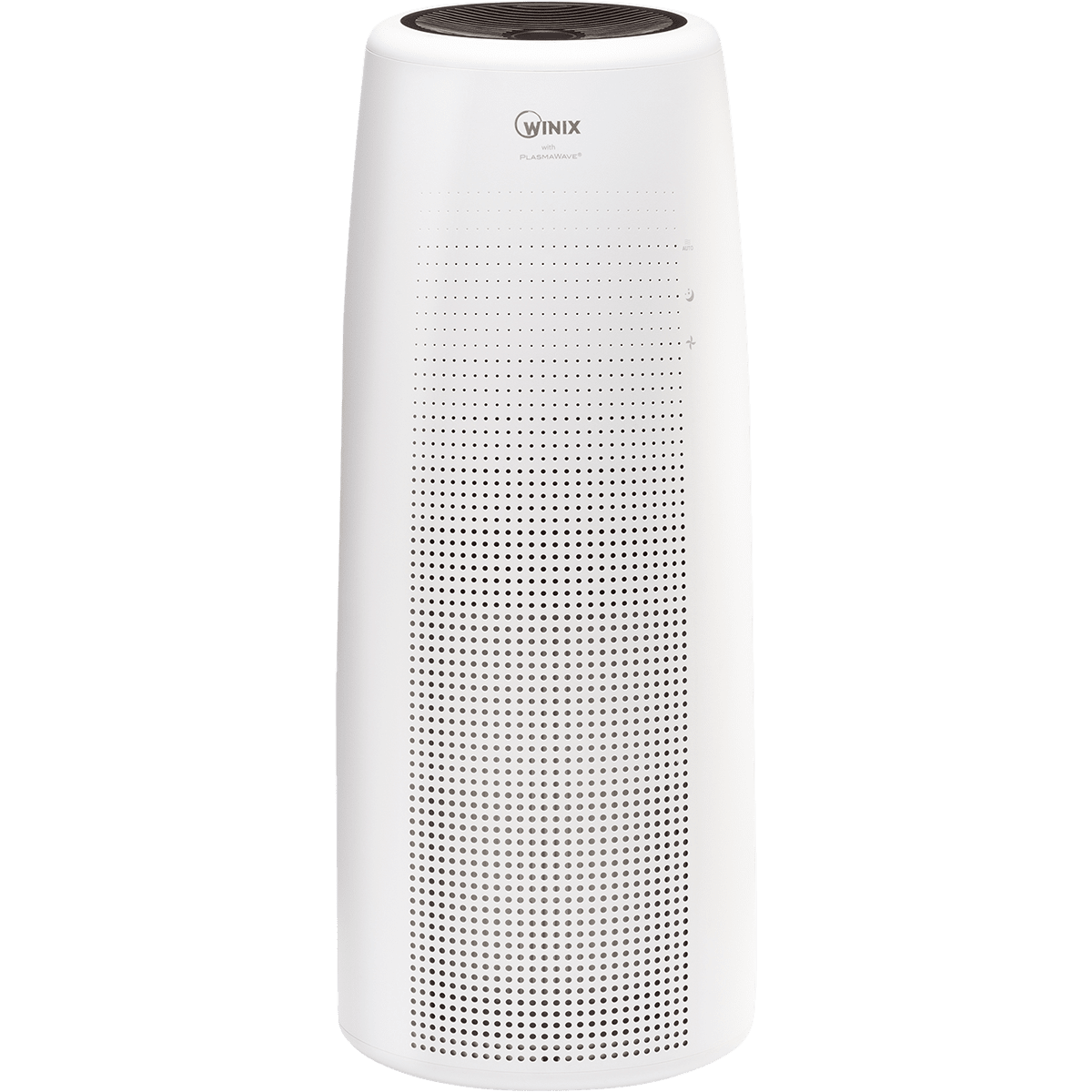 PROS
---
Advanced features
Powerful performance for the price
Good Design Award
CONS
---
Some still claim that PlasmaWave irritate asthma
High filter replacement cost
Discontinued
Winix is one of the first brands to make the air purifier history, with no less than 40 years of experience for air filtration. Its air purifiers aim at being the high quality ones, packed with the most modern features and unrivaled air filtration process to challenge any other air purifier brands. The company is more well-known in its home country, South Korea, the same as another giant named Coway. But believe me, the history Winix has built for the U.S air purifier market can beat, well, lots of native American brands. Today, we are happy to take a look at a solid choice that will meet most buyers' needs, the Winix NK105 Review.
Winix NK105 Price
If Winix previous line-up never appealed, the Winix NK105 will definitely have something new to awake your interest. This is an air purifier as good as you could hope for, with an impressive and unique design that is continued by the Levoit's flagship – the Levoit LV-H134, a Winix innovation in air filtration and lots of Smart features.
Those have purchased the Winix NK100 and love the air purifier will of course set an eye on this new Winix NK105. I bet that some of them will regret why not wait more for this Smart device. This is a top-quality air purifier with a high-quality app to control, not like the negligent and bugged apps from Guardian Technologies or even Coway and Blueair.
While the Winix NK100 is unavailable in the official website of Winix America, the Winix NK105 is a great alternative with only $329 as the starting price. Sadly, at the moment of 2022, the Winix NK105 is discontinued.
This is a top-end air purifier, the kind that deserves some research and thought before clicking the "checkout" button. However, it isn't quite as expensive as the Rabbit Air BioGS 2.0, Medify MA-40 or the Alen BreatheSmart FLEX. In fact, if you're a fan of Winix above all other air purifier manufacturers, you can probably skip this whole review and just buy the thing with our deal below.
The competition never stops, and you can look for the Levoit Core 600S and Airmega 250 at the moment, packing with high performance and great smart features.
Whispering, the price drops to a level you can't ignore. Yes, it is only $209 from our deal, and it is only for a limited time. You can also look for the Winix C545 and Winix C909 as the best alternatives, if you prefer the console air purifier type more.
Top Winix NK105 deals right now
Winix NK105 Wi-Fi Enabled Large Area True HEPA Tower Air Purifier (PlasmaWave Technology enabled).
The Red Dot and Good Design Award air purifier – Winix NK105. Best air filtration, along with an amazing Wi-Fi connectivity function to control the device.
Related post: Best air purifier 2023.
Winix NK105 Design and Size
At first glance, the Winix NK105 doesn't look like a huge departure from the Winix NK100. There is no obvious difference between the two. Unless you check the additional Wi-Fi button on the Winix NK105's control panel, you're unlikely to notice the changes, even if you just put the two back to back.
But this is indeed a great compliment for the Winix NK105, especially when the Winix NK100 is Red Dot Design Award and Good Design Award winner. For your information, Red Dot Award: Design Concept searches good designed inventions from around the globe every year.
Both air purifiers have the same tower design concept that debuted on the Levoit LV-H134. It replaces the tradition of same shape from bottom to top which was well-known in the Honeywell HFD360B or Alen T500 devices.
While I can see from an engineering perspective the reason Winix has opted to make such a move (Winix never made any tower air purifier), a strong base and bigger body at the bottom to hold a relatively bigger air filter, and improve the performance of Winix NK105. That's why I'm completely sold on the new look for variety of reasons.
The heights of both Winix NK105 and Winix NK100 are 29.5 inches, which are taller than common tower air purifiers, only smaller compared with the Levoit LV-H134. Build quality of the Winix NK105 is solid. Despite being tall, the air purifier has enough weight to stand firm on the ground, with 17 lbs in total.
The 360 Degree air intake, too, remains key selling point for the Winix NK105. Like the original Winix NK100, the Winix NK105 features air intake grills from both front and back of the air purifier. As before, this design language is a cut above the normal one-sided grill, making airflow system operate quicker and more powerful. The only tower device to offer better efficiency is the Levoit LV-H134.
On top of both these Winix NK105 and Winix NK100, there is an outlet air grill. The smaller shape grill is better at concentrating the airflow and moving the air consistently around your home.
Source: WinixAmerica.com
Like I said earlier, the only way you can differentiate the two is the top control panel. The Winix NK100 includes a Child lock function button, while the Winix NK105 replaces this button for a new Wi-Fi connectivity button. In real-world use, the Child lock function prevents your children to accidentally press button and change the control. Meanwhile, a Wi-Fi connectivity button is necessary to help the Winix NK105 join the league of high-end machines.
Source: WinixAmerica.com
There is a good handle in the back of both the Winix NK105 and Winix NK100, allowing you to move it around your home.
Related post: Best air purifiers for bedroom.
Winix NK105 Filters
When it comes to the internals of an air purifier, we must look for how many air filters and the air filter types are used. It looks like Winix is in love with the multiple-stage air filtration system, as in its marketing strategy, the smallest number is 3. In both Winix NK105 and NK100, we are having these 4-stage air cleaning system as below.
Pre-filter – The polluted air must pass through a built-in pre-filter. This pre-filter will help capture the large objects of contaminants, such as pet hair and even some kinds of pet dander and skin.
True HEPA filter – The True HEPA Filter that captures 99.97% of as small as 0.3 microns allergens, virus particles, pollen, mold and fungi particles.
Activated Carbon filter – The Coated deodorization carbon filter will eliminate kitchen and pet odors as well as smokes, also reduce the common household chemicals.
Winix PlasmaWave – This technology is one kind of ionizer, which can further reduce the amount of pollutants. Can be switched on/off.
Air filtration system is an area in which Winix has excelled in recent years. This is because of the combination of True HEPA filter with PlasmaWave Technology has far better efficiency than other common physical layer of filtration. In the Winix NK100 and Winix NK105 models, this company push the limitation as far as going all-in-one filter.
Many top-class brands are positioning their air purifiers with only one physical filter like that, for example Coway, and especially Blueair. You don't need to know the difference between common air filter types, or which one to change.
Beside that, the Winix NK105 runs using the same PlasmaWave Technology. Although many people are now having high concern about the ionizers could irritate asthma issues, the PlasmaWave approaches in a different way. It creates positive and negative ions that combine with natural water vapor to form hydroxyls, which cleans the indoor air. All Winix air purifiers are tested and certified by the California Air Resources Board (CARB) to comply the standard safety level.
In my real-world test, the Winix NK105 has the same efficiency as the Sharp FP-F60UW (which has a similar technology named Plasmacluster) and Levoit LV-H133 in the same price range. Along with the Winix NK100, they all capture 99.93% any allergen particles as small as 0.3 microns. The $349 Alen BreatheSmart FLEX reduces the efficiency to only 96%, due to the use of HEPA-type filter.
Missing the AntiCel Treatment from the Winix WAC9500 doesn't break the current performance of the Winix NK105, as next to all low mid-range air purifiers I've tested, the Winix NK105 offers great performance. However, an all-in-one air filter N needs to be changed after one year, with a fairly higher cost of $119. The Levoit LV-H133 only costs you $84 for its air filter, and even the Alen BreatheSmart FLEX just keep it ceiling at $89.
Related post: Best air purifiers for allergies.
Winix NK105 Room Coverage
One promise that Winix makes for its community is no ozone emission with the PlasmaWave Technology, therefore the manufacturer needs to reduce the voltage and fan power to fulfill the promise. As a result, both the Winix NK105 and Winix NK100 feature a 320 square feet room coverage. Though it is a little bit better than the Winix WAC9500, on an air purifier this size, it is still small.
The ACH of Winix NK105 is as high as 5X ACH. With high air changes per hour, this air purifier can clean your room as often as possible, once every 12 minutes.
The CADR of Winix NK105 is 221 Dust/ 207 Smoke/ 218 Pollen (cfm). The CADR rating of this Winix NK105 is a little bit lower than Levoit LV-H133, indicating that it will take more time to clean a room than the opponent from Levoit brand.
Related post: Best large room air purifiers.
Winix NK105 Sound
With regular use I found the Winix NK105 is generally silent. Using the new advanced fan, the Winix NK105 can reduce the fan size while keeping the same performance. In this case, I tested a noise level of 33.7 decibels (dB) at normal use. This noise level is far lower than the standard library noise level, and as you can see, is perfect for any quiet places.
Winix NK105 has 4 fan speeds, but this noise level is better than many expensive air purifiers, like the Alen BreatheSmart FLEX or Honeywell AirGenius 6.
Related post: Best air purifiers for baby.
Winix NK105 Power Consumption
One of our most FAQs is "Do air purifiers use a lot of energy?" In fact, air purifier must be used for a long time to be efficient. And power consumption is one important criteria to review if this air purifier is good or not.
Power consumption is not a strong field of Winix brand, but I've seen the serious improvement on both the Winix NK105 and Winix NK100. Using a higher CADR rating fan power, these air purifiers have only 55 watts for the highest setting, which is better than the current 70 watts from the Winix 5500-2 and Winix WAC9500.
With real-world use, for like 8 hours of using per day, it would cost you around $20 per year. Imagine that a dozen of eggs is $2, the annual cost to operate this Winix NK105 air purifier is lower than how you need to pay for eating eggs.
Related post: Best air purifiers for pets.
Winix NK105 Additional Features
Winix NK105 doesn't just only offer the brilliant design and amazing performance, it also comes with tons of additional features. Sacrificing the Child lock function from the previous Winix NK100, the Winix NK105 adds a high-end feature instead – the Wi-Fi connectivity function. Now you can connect to your Winix Smart App (available on both Android and iOS), turn on your air purifier, and start to control it anywhere and anytime.
But that is not the only Smart feature you get in this device, as the Winix NK105 operates with an accurate Smart Sensor. An indicator light is showed on top of this Winix NK105, to tell you exactly the current air quality in your home. When the Winix NK105 senses the quality change, it automatically adjusts the speed at which it's running to equalize the pollutants and create clean pure air. We called this function Auto Mode, meaning you never need to run your air purifier manually again.
Source: WinixAmerica.com
Both these smart features are normally the signs of high-end air purifiers, and even the $349 Blueair Classic 205 doesn't include both Smart features like Winix NK105. You need to pay for at least $600 Rabbit Air MinusA2 for both smart features and the same fan power as Winix NK105. So, when an air purifier ticks almost all of the boxes, why you need to pay more?
To answer this question, you still need to check the review of this aforementioned air purifier. However, the Winix NK105 is still the next generation of today air purifiers, especially when you can get a discount deal for this device.
Thanks to the App Control, you don't need an useless Timer on this Winix NK105. The LED indicator for filter replacement is much necessary, and of course the Winix NK105 will let you know when it's time to change.
Related posts:
1, Best air purifiers for smoke.
2, Best air purifiers for dust.
3, Best air purifiers for mold.
Winix NK105 Customer Service
Established over 40 years ago, in 1973, the Winix company is truly an expert in the air purifier industry. It has many headquarters, not only in South Korea but also in both the U.S and Europe. You can reach its customer service from 9 a.m to 5 p.m, Monday through Friday, via phone or email. If you have trouble calling its service, you can email Winix America at info@winixinc.com.
On its official website, the company is selling both new and certified refurbished air purifiers, of course with free shipping in the U.S only. The Winix limited warranty is two years for most of its products. During the warranty period, Winix will repair or replace the product if it fails because of a defect in material or workmanship, as determined by Winix. Remember that this warranty will be null and void if the product is used for purposes other than home, consumer purposes.
Top Winix NK105 deals right now
Winix NK105 Wi-Fi Enabled Large Area True HEPA Tower Air Purifier (PlasmaWave Technology enabled).
The Red Dot and Good Design Award air purifier – Winix NK105. Best air filtration, along with an amazing Wi-Fi connectivity function to control the device.
Our verdict
There is nothing to hesitate about this Winix NK105. Red Dot design award, intelligent and excellent air filtration process, high-end Smart features, this Winix NK105 could be the dream of any households for the humble budget of around $300. If you can check our deal and find out it is only $200, you could go full no-brainer and buy this air purifier straight away.
Sadly, the Winix NK105 is discontinued, and we can't buy this very good air purifier. However, you have the Winix AM90 with the same great performance and much better features.
Winix NK105 Air Purifier: Trusted Review in 2023
Winix NK105 Reviews and Specs (Air Purifier Trusted Reviews in 2023). ✓ Cleaning Power: True HEPA ✓ Large room: 320 sq ft ✓ Value: 4.3/5 ✓ Certified Review.
Product Brand: Winix
Product Currency: USD
Product Price: 329
Product In-Stock: SoldOut
Performance

Features

Annual Cost

Design

Price
Summary
Winix NK105 is a great air purifier, but it's discontinued.