When we are looking for the top performers in air filtration, the Winix air purifiers are one of those great candidates. Today, we will make a Winix WAC9500 Review to help Breathe Quality's readers make better decision of buying a good air purifier.
In Breathe Quality, we have reviewed all air purifiers under these sections. Also, we guarantee that:
We do give honest reviews (both pros and cons) so anyone will guarantee to have the wisest choices.
We do not (and never) exaggerate one product just to let you click the links and buy that product blindly.
Sections
PROS
---
Improved technology
Feels great
Great performance
CONS
---
Quite noisy
Some still claim that PlasmaWave irritate asthma
Winix is a Korean-based company focusing on the home air quality with 40 years of experience for air filtration. Winix WAC9500 targets directly at pet owners and is attempt to bring low-range features to the budget segment and keep up with the times.
Related post: Winix 5500-2 Review.
Winix WAC9500 Price
The budget segment is usually where the air purifier companies move the most volume, and in order to maintain its dominance, Winix has launched Winix WAC9500. Together with other Winix air purifiers, we will have the very low-budget air purifier with a good and certified quality.
With only one edition, Winix WAC9500 can be found from $215 to $330, depends on the status.
Top Winix WAC9500 deals right now
Winix WAC9500 Ultimate Pet True HEPA Air Cleaner (PlasmaWave Technology enabled)
The powerful Winix WAC9500 with white edition. If you are actually in need of a good air purifier, you should get this one.
Related post: Best air purifiers list.
Winix WAC9500 Design and Size
There are two common design types of Winix air purifiers. Winix WAC9500 looks like, well, most other Korean air purifiers. Once being the key target in low-budget market, the company has chosen materials to keep the price down. Winix WAC9500 is primarily made out of plastic and is built well.
On the front, we will have an user interface with a large LCD display to help you know what is going on in your home. There are two buttons on the machine to help you cycle through all the functions (Timer and Function). This design concept is as minimalism as possible. Problem is, many people said that the buttons are hard to press and cycle. Also, the on-device controls are not helpful to turn off the PlasmaWave technology, since not all of the users are happy to use an ionizer. You can find both dust sensor and auto sensor that's tucked on the front as well.
The back of Winix WAC9500 has nothing special. It is made of plastic and designed to hold the fan on it. Yes, nothing special.
With around 21″ in height, the position of buttons is a really low for our comfort, especially it can only be placed on the ground. Luckily, Winix WAC9500 only weighs 18.8 lbs, making this air purifier quite easy to move from one to other locations.
Related post: Best air purifiers for bedroom.
Winix WAC9500 Filters
When it comes to the internals of an air purifier, we must look for how many air filters and what types of air filters are used. Compared to the 3 stages air cleaning process of the older versions, Winix WAC9500 upgrades to a better 5-stage process:
Pre-filter – The polluted air must pass through a pre-filter. This pre-filter will help capture the large objects of contaminants, such as pet hair and even some kinds of pet dander. This filter can be washable to work permanently.
True HEPA filter – The True HEPA Filter that captures 99.97% of down to 0.3 microns allergens, virus particles, pollen, mold and fungi particles.
CleanCel Anti-Bacterial Treatment – Though this is not a physical filter, the treatment also provides a layer of protection to your air quality.
Activated Carbon Filter – Made of high-grade granular activated carbon, this Activated Carbon filter will eliminate odors and smokes, also reduce the common household chemicals.
Winix PlasmaWave Technology – This technology is one kind of ionizers, which can further reduce the amount of pollutants. Can be switched on/off.
Most of Winix's lineup so far is proud to present the PlasmaWave Technology, but Winix WAC9500 is powered with both the PlasmaWave Technology and CleanCel Anti-bacterial to help trap the smallest bacteria and virus.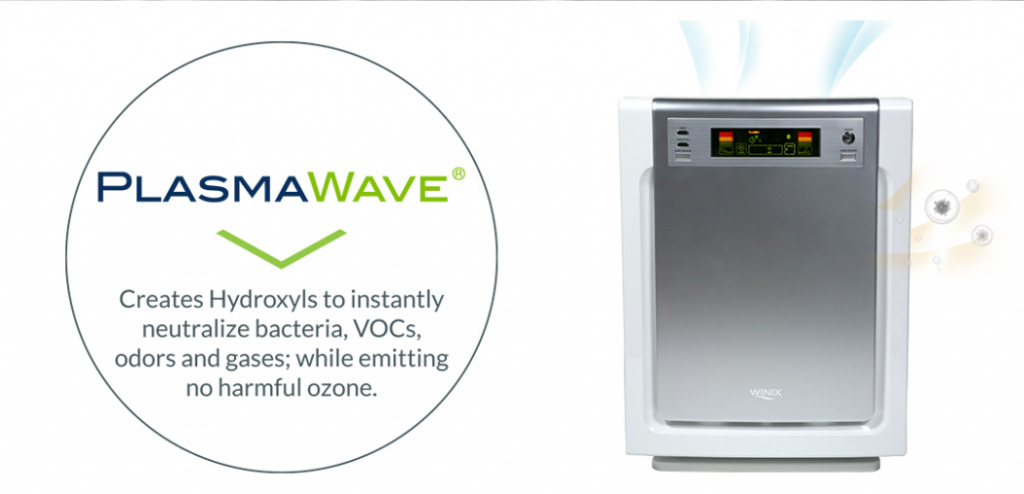 Source: Winix website
There is a high concern of Winix air purifiers having ion generators in their structures. The ozone emission could irritate asthma and respiratory issues. If you worry about the PlasmaWave Technology, you can turn it off anytime.
Related post: Best air purifiers for allergies and asthma.
Winix WAC9500 Room Coverage
It is hard to find a entry-level air purifiers with a large room coverage. 284 square ft is the AHAM verified room size of our Winix WAC9500. While the room coverage is not too small, it can be defeated easily by other products at the same price range, for example Levoit LV-PUR131 or Honeywell HPA300.
We ran a couple of benchmark to gauge the performance of Winix WAC 9500, and got some interesting results. Its cfm in High settings is 124, and Turbo is 184, which is perfectly suitable for a room of around 300 sq ft. However, we must admit that for a larger room, Winix WAC9500 has not enough power.
The ACH of Winix WAC9500 can reach as high as 5X ACH. With high air changes per hour, this air purifier can clean your room as often as possible.
The CADR of Winix WAC9500 is 182 Dust/ 183 Smoke/ 194 Pollen (cfm). CADR tells exactly how well an air purifier can clean the air within a particular size room. At the much lower price than the Rabbit Air BioGS 2.0, this CADR is still slightly better than the Rabbit Air opponent. Combining with a great 5X ACH, Winix WAC9500 will work at maximum capacity to help your home out of polluted air.
Related post: Best large room air purifiers.
Winix WAC9500 Sound
With a high ACH like this Winix WAC9500, it is common to trade off the noise level with the capacity. This situation happens more often if you are fan of Honeywell air purifiers. However, Winix WAC9500 managed to surprise us with its noise level. We have no serious sleep problems and we glad to have the Winix WAC9500 in our bedroom. However there are many negative reviews show that Winix WAC9500 is quite loud when running at highest settings.
With 5 different fan speeds, you can run this air purifier at lowest settings for a noise level of 26 db. This noise level is quite acceptable, though it is still not as good as brands like Rabbit Air or Levoit.
Related post: Best air purifiers for office.
Winix WAC9500 Power Consumption
One of our most FAQ is "Do air purifier use a lot of energy?" In fact, air purifier must be used for a long time to be efficient. And power consumption is one important criteria to review if this air purifier is good or not.
When considering the power consumption, we expected that Winix WAC9500 will consume a lot to run its fan. Luckily, we were pleased with the power consumption of 70W from Winix WAC9500.
For like 8 hours of using per day, it would cost you around $37 to $40 per year. It is reasonable for a good air purifier.
Winix WAC9500 Additional Features
Like other air purifiers in Winix brands, Winix WAC9500 delivers good Smart Sensor to help detect the change in air quality. This function is great to save the energy in your home. Other common functions like Auto Sleep or Timer is found in this air purifier.
Out of the box, Winix WAC9500 comes with a remote control. Well, we could live easier with this remote control, especially when the in-device buttons are so hard to press.
Also, you no need to remember the date to replace your air filters. Winix WAC9500 also features a LED life indicator to remind you.
Related post: Best air purifiers for smoke.
Winix WAC9500 Customer Service
Winix company has many headquarters, from both US and Europe. They commit with a good 1-year warranty for their products. You can reach them both via phone or email, from 9 to 5, Monday to Friday. It is good to have some support back you up, right?
Top Winix WAC9500 deals right now
Winix WAC9500 Ultimate Pet True HEPA Air Cleaner (PlasmaWave Technology enabled)
The powerful Winix WAC9500 with white edition. If you are actually in need of a good air purifier, you should get this one.
Our verdict
Winix WAC9500 has great performance for the price and it offers better performance than the air purifiers it replaces (Winix 5300 and 5500). The washable pre-filter and True HEPA filter works great with pet problems like pet hair and pet dander. Also, the real deal of activated carbon filter with 93% effective does not have a lot of competition to compare. However, if you are eyeing the Winix WAC9500, you should consider both the PlasmaWave problems and the noise level. If you are free to use ionizers, then Winix WAC9500 may be a good choice for you.
Cleaning Power

Portability

Features

Power Consumption

Price
Summary
PROS
Improved technology
Feels great
Great performance
CONS
Quite noisy
Some still claim that PlasmaWave irritate asthma