The Oransi OV200 is a good air purifier, no one could deny that. But it falls into a pit with full of potential rivals in the low mid-range segment. Though it is cheaper than the Oransi Max, what you need to sacrifice may be much more than what you save. To know the answer, let's read our Oransi OV200 Review.
Update: The new Oransi mod and Oransi mod Jr is finally released, and Oransi has reduced the price of many old products, including of the Oransi OV200.
In Breathe Quality, we have reviewed all air purifiers under these sections. Also, we guarantee that:
We do give honest reviews (both pros and cons) so anyone will guarantee to have the wisest choices.
We do not (and never) exaggerate one product just to let you click the links and buy that product blindly.
Sections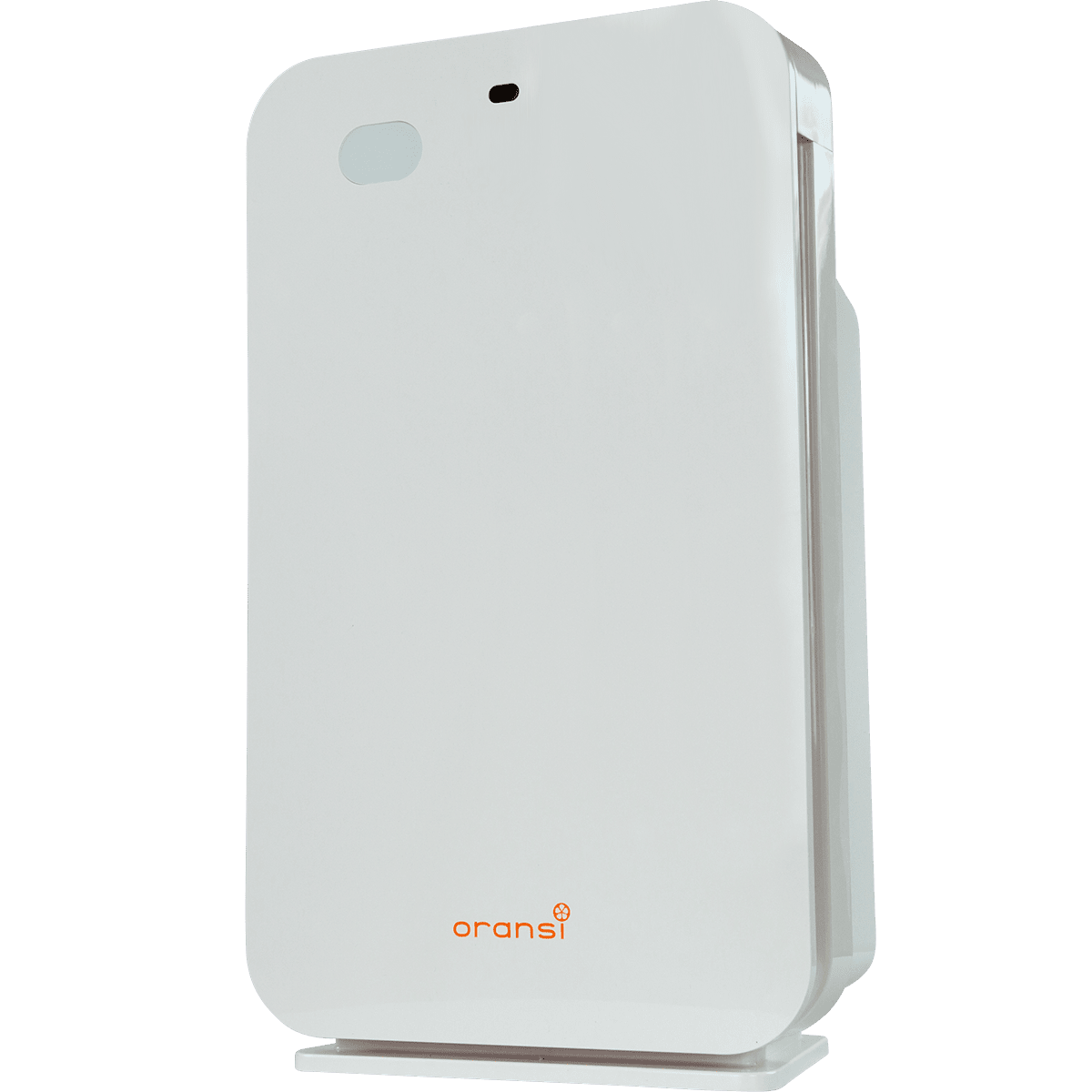 PROS
---
Great True HEPA filter
Elegant design
Smart features like Smart Sensor
Very lightweight
10-year warranty
CONS
---
Low fan power
High power consumption
Oransi is an American brand that dares to claim "Best HEPA Air Purifiers" and they have many things to back up this title. When their CEO, Peter Mann, decided to build an air purifier company to save his asthmatic son, he swore that the high quality of products is something at utmost importance. With global offices from the United States to China, Oransi is now one of the top leader in air purifier and air cleaner industry. Today, in our Oransi OV200 Review, we will share with you one Amazon's Choice air purifier. Are you ready?
Other Oransi's Air Purifier Reviews:
Oransi OV200 Price
Oransi makes many air purifiers for people who can't afford their high-end devices: the Oransi EJ120 and Oransi Erik 650A. To do that, the Oransi OV200 only needs to take away some of the flashy extras, without all that much of a day-to-day compromise.
The Oransi OV200 on the other hand has a few more obvious cuts, made in order to lower the price further. Its HEPA filter is much narrower, and the fan power is also weaker. The compromise here are similar to the Alen BreatheSmart FLEX, a significantly cheaper air purifier than the flagship. But these lacking areas for an air purifier of $329 right now is disappointing, and actually the Oransi OV200 highlight the limited fan power more than a cheaper device, like Honeywell HPA300, Coway AP-1512HH, Medify MA-40 or Blue Pure 211.
The Oransi OV200 is dropped to a more accessible $249, thanks to the arrival of the new Oransi mod and Oransi mod Jr. However, its position in low-range market is far behind the powerful Blue Pure 311 Auto.
It could be the budget alternative to the Oransi Max, however, both the Levoit LV-H133 and Winix NK105 can get you more in almost every area for less money. That's too difficult to ignore, and you had better think more before buying this device.
Otherwise, we are happy to give you a deal for this air purifier.
Top Oransi OV200 deals right now
Oransi OV200 Air Purifier White.
Made in USA. Great True HEPA filter + Air Quality Sensor + Night Mode in one air purifier.
Related post: Best air purifier 2023.
Oransi OV200 Design and Size
First, let's take a look at the build and design of this Oransi OV200. In short, it is too… common. You can find the exact design in other American brands, like the Alen BreatheSmart FLEX (followed by the Alen BreatheSmart 45i) or the GermGuardian AC5900. They all use the plastic body, a front panel to cover the intake air vents, and a large space on the back to store the air filters and fan.
That being said, this is not the high point of this air purifier. However, we can't complain anything about such mainstream design concept. It saves cost for less time of innovation, and actually, a bottom-to-top air flow system is the most used concept at the moment. And yes, the air intake grills is under the front panel, mainly for the beauty of this Oransi OV200.
Also, with a height of 23 inches and a depth of 7 inches, the Oransi OV200 feels slim and thin. It will be easy to handle or install than the Oransi Max, and it fits against a wall or in a corner perfectly. The white color is attractive, and with the small footprint, the Oransi OV200 can blend nicely with your room.
On top of the air purifier, there is a simple control panel. In my opinion, the buttons of Oransi OV200 is much easier to press than the Oransi Max, which is a bit harder.
Source: Amazon.com
This could be the most lightweight air purifier of this brand, as the Oransi OV200 is only 10 lbs. Thanks to the small handle behind the device, you can move it around your home, or bring with you when traveling without any trouble. There is a convenient remote holder above the carrying handle.
Related post: Best air purifiers for bedroom.
Oransi OV200 Filters
When we decide to buy an air purifier, we need to know about the air filtration process and what air filter types are used. Oransi OV200 is very simple with an only 2-stage air cleaning system as below.
True HEPA filter – Acts as the pre-filter, too. The True HEPA filter is rated MERV-16, and capable of dealing with 99.9% of any contaminant particles as small as 0.3 microns like dust, dust mites, pet hair, pet dander, pollen, mold spores and fungi.
Activated Carbon Filter – This filter will help protect you against any types of light smoke and light odors, such as kitchen odors or pet odors.
The HEPA filter from Oransi is invented in the U.S, with high quality which was tested in many independent studies by Clemson University. Because of that, Oransi OV200 guarantees to capture at least 99% of any airborne allergens and particulates. Moreover, the ionizer from the Oransi Max is completely removed, so there will be no ozone emission for any asthma sufferers and even bird owners (birds have very sensitive respiratory systems against the ozone).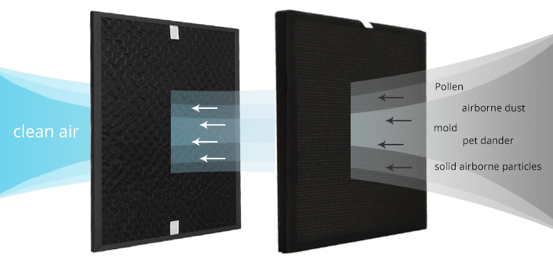 Source: Oransi website
To test the performance of this air purifier, I chose the Alen T500 and Honeywell AirGenius 5 to compare the results. All three air purifiers were running in a room of 150 square feet in 1 hour. As the result, the Oransi OV200 was the best with 99.8% of trapping any airborne particles with 0.3 microns in size. The Honeywell AirGenius 5, without True HEPA filter, was only able to clean 96%, while the Alen T500 dropped to only 94%.
As you can see, even with a high-quality air filter, the Oransi OV200 will take much time to clean your room because of weaker fan. The HEPA air filter only lasts for 6 to 9 months, depending on the frequency of using. The air filter cost is $79 for a 24-sq-ft air filter. The air filter cost is not too high if compared with other rivals, however, because of its short lifespan, the annual filter cost is still one thing that you should concern.
Related post: Best air purifiers for allergies.
Oransi OV200 Room Coverage
The manufacturer's suggested room size for this Oransi OV200 is 400 square feet. However, you should know that just like any other American air purifier brands, Oransi always increase the real room coverage, mostly for marketing purpose. You need to check both the ACH and CADR ratings to see if the Oransi OV200 is sufficient for 400 square feet or not.
The ACH of Oransi OV200 is 4X. With this air changes per hour rating, the Oransi OV200 can clean your room every 15 minutes.
The CADR of Oransi OV200 is only 160 cfm in general. The CADR rating of this air purifier is nearly half of the Winix HR900, and I won't believe it can match the exact room coverage of the aforementioned air purifier. In the same condition, the Oransi OV200 will need double the time to clean a same room size as the rival from the South Korean brand.
Related post: Best large room air purifiers.
Oransi OV200 Sound
Luckily, a weak fan power generally means a better noise level. With only 3 fan speeds, you can expect an acceptable sound from this Oransi OV200.
And indeed, the noise level on the lowest fan speed is only 30 decibels. This is the noise level of the whisper, and you won't be able to hear the sound. It is even better than the Alen BreatheSmart FLEX (with 39 decibels) or GermGuardian AC9200WCA.
The highest noise level of this Oransi OV200 is 54 decibels (db), which is just the standard highest noise level from many brands, like Rabbit Air, Blueair and Levoit. I bet that you can run this air purifier all day without noticing any interrupted noise. That's why you need to use this air purifier in quiet places, like your office or your bedroom.
Related post: Best air purifiers for baby.
Oransi OV200 Power Consumption
One of our most FAQs is "Do air purifiers use a lot of energy?" In fact, air purifier must be used for a long time to be efficient. And power consumption is one important criteria to review if this air purifier is good or not. Sadly, this is the weakest area of Oransi, as all of their products have high to very high power consumption.
The Oransi OV200 is not an exception, as it will run at 60 watts. The power consumption is even worse than the Oransi EJ120 – an air purifier with double the fan power of our today Oransi OV200. It is quite unreasonable because Oransi OV200 used such a good fan, and should use less energy to operate.
However, for running the Oransi OV200 8 hours per day, you need to pay $22 each year. Even with a high power consumption device like Oransi OV200, the cost to save your life is really, really small. So you should not think too much and just let your air purifier run all day.
Related post: Best air purifiers for pets.
Oransi OV200 Additional Features
For the first time, you will have a remote control to easily change the setting of one Oransi air purifier from the distance. The remote control of Oransi OV200 is even much easier to use than the manual control panel on top.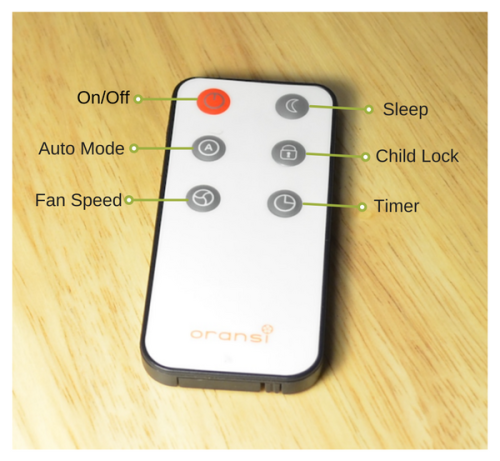 Source: Oransi website
As you can see from the above picture, Oransi OV200 will have an Auto Mode. This mode means this air purifier is integrated with a Smart Sensor, and it can measure your indoor air quality, then displays in color codes: green, yellow and red. You can see how it corresponds to the particle count as measured by the air quality sensor.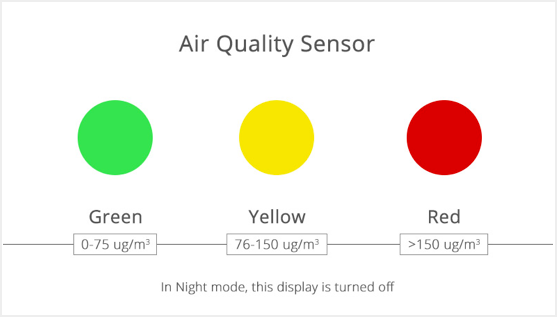 Source: Oransi website
But it is not only for display, the Auto Mode can also adjust the fan speed as needed to bring your room to a good air quality. It will need about 10 minutes to warm up to reach its maximum sensitivity. As far as I know, the Smart Sensor of Oransi is quite… below average, especially if compared with the Winix HR1000 or Levoit LV-H134.
The Night Mode is also a valuable feature, as it reduces the fan speed to the quietest level and turns off the air quality display. It also dims the blue light on top of this Oransi OV200. Moreover, there is a basic Timer with 4 settings, to turn off the device after the set time on the timer.
There is no need to talk about the electronic LED indicator for filter replacement. It will alert you whenever it is time to check the filters.
Edited: I forgot the Child lock function. To use this function manually, you need to press both the Timer and Fan speed function buttons simultaneously. It will lock in your current setting, so your children can't accidentally change it.
Related posts:
1, Best air purifiers for smoke.
2, Best air purifiers for dust.
3, Best air purifiers for mold.
Oransi OV200 Customer Service
Oransi is a brand that being used by the leading companies, medical centers and universities like the American Red Cross or Menlo Medical Clinic. They maintain a very healthy and active community, and that's being a part of their AirLift program. Today, Oransi is a symbol for the air purification solution in the U.S – China Air Purification Technology Forum.
For the shipping policy, Oransi offers a Free Shipping on all products, delivered from Nevada or Pennsylvania warehouse. They assure that there is a 30-day refund for any air purifiers, and you only need to submit a request to receive feedback from their customer service within 24 hours.
Moreover, Oransi will cover you with a 10-year warranty, which is one of the best after sale policies for an air purifier. Normally, an air purifier is only covered by 1-year or 2-year warranty, so Oransi is really confident for their air purifier's quality.
You can either contact them via phone at 888-281-3948, or via email through their "Contact Us" page. The support will be available Monday to Friday, from 9 to 6 pm.
Top Oransi OV200 deals right now
Oransi OV200 Air Purifier White.
Made in USA. Great True HEPA filter + Air Quality Sensor + Night Mode in one air purifier.
Our verdict
For the price, I can't suggest the Oransi OV200 as the top rated air purifier. Of course, the Levoit LV-H133 and its upgrade – the Levoit LV-H134, are better in every aspect, and I should recommend you to get these air purifiers instead.
However, Oransi has a great warranty policy of 10 years, and they provide a Free shipping for any products. Sometimes, a better customer service is the most important, but I don't know for sure.
In fact, this Oransi OV200 is the most convenient and modern air purifier of the family. If you favor the high-end additional features, you shouldn't miss the Oransi OV200.
Oransi OV200 Air Purifier: Trusted Review in 2023
Oransi OV200 Reviews and Specs (Air Purifier Trusted Reviews in 2023). ✓ Cleaning Power: True HEPA ✓ Large room: 400 sq ft ✓ Value: 3.3/5 ✓ Certified Review.
Product Brand: Oransi
Product Currency: USD
Product Price: 329
Product In-Stock: https://schema.org/InStock
Performance

Features

Annual Cost

Design

Price
Summary
It is quite overpriced, but if you love Oransi and can't afford the Oransi Max, you can buy the Oransi OV200.