Oransi Max (OVHM80), even now, lives up to the "#1 rated air purifier" by the Clemson University Microbiology Lab. It has valuable power against any types of airborne allergies and asthma, great fan power and lots of things to go on. Since launch, this air purifier is always the top performer that Oransi needs to claim the top 1 air purifier brand in the United States, a consumers' choice air purifier in many years. Is it convinced to you? Let's find out in our Oransi Max Review today.
Update: The new Oransi mod and Oransi mod Jr is finally released, and Oransi has reduced the price of many old products, including of the Oransi Max.
In Breathe Quality, we have reviewed all air purifiers under these sections. Also, we guarantee that:
We do give honest reviews (both pros and cons) so anyone will guarantee to have the wisest choices.
We do not (and never) exaggerate one product just to let you click the links and buy that product blindly.
Sections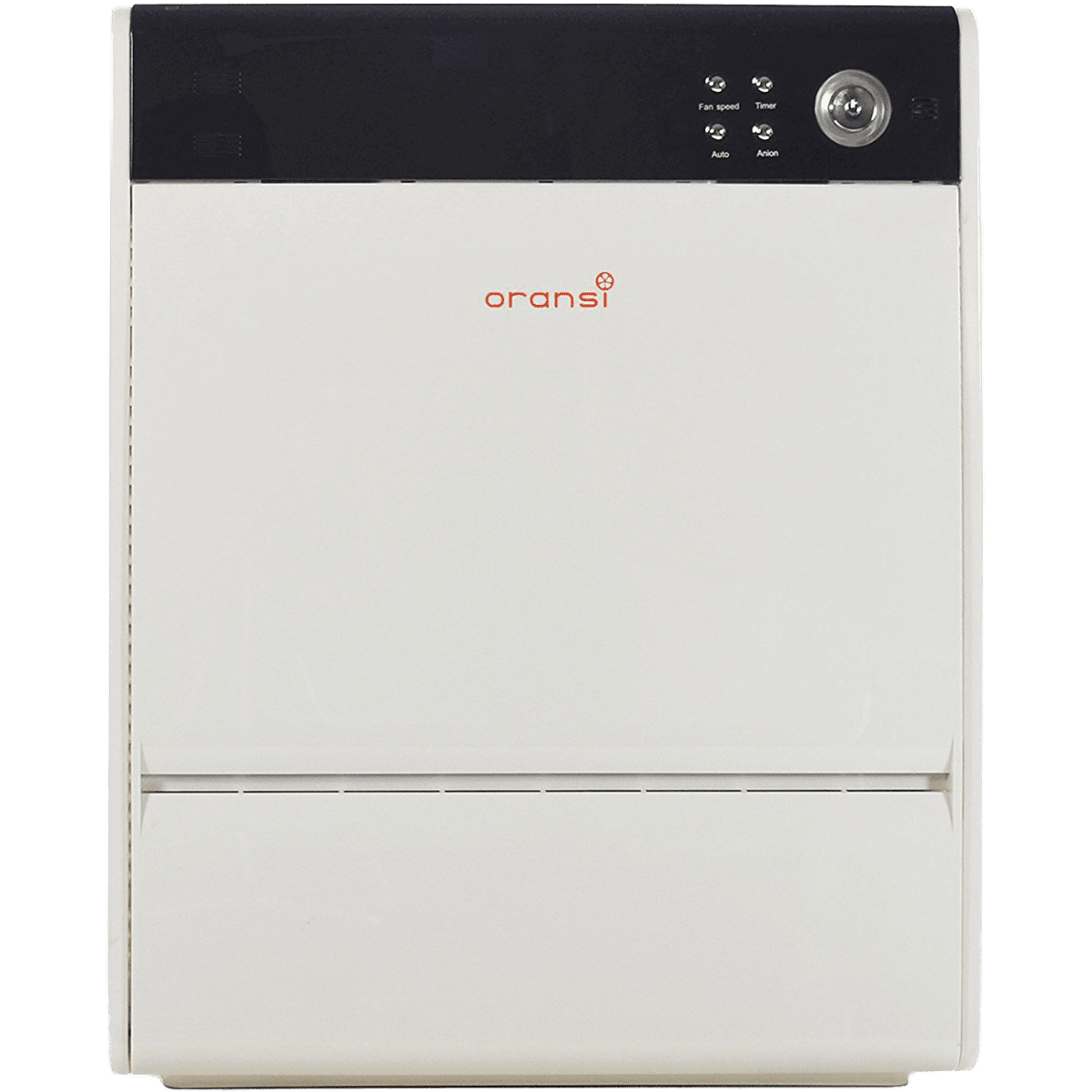 PROS
---
Awesome performance
Stunning Smart features
Simple, but convenient to use
10-year warranty
CONS
---
Low CADR for the room coverage
High power consumption
Oransi is another leader in American air purifier industry, with more than 15 years of experience. They have founded and sponsored a social program – AirLift Clean Air Solutions – to provide and encourage people to realize the problems of many air quality issues. Through their AirLift program, this company has saved thousands of children, with collaboration of the Los Angeles Unified School District (LAUSD) Nursing Services Asthma Program. By far, we can trust in this brand as one of the most active air purifier brands. And in our Oransi Max Review, you can understand why this air purifier is the chosen one Oransi has provided to support their AirLift program.
Other Oransi's Air Purifier Reviews:
Oransi Max Price
We're seeing more Oransi Max deals now that the Oransi EJ120 has been finally out for nearly a year, and the previous Oransi Pro is completely discontinued at the moment. The latest device is recommended for smoke removal (as in Oransi website) and be even more expensive, making this the ideal time to have the well-known Oransi Max.
This air purifier was something quite special when it launched. And it's not because Dr Bob Martin recommended it as "the best air purifier you are going to find" (seriously, I don't believe much in commercial advice), it is the strong influence of this company and their AirLift program that makes the Oransi Max a symbol of asthma reliever in my heart. And even now, almost two years on, it's still the amazing air purifier that you will need, especially for many great deals today by both Amazon and Sylvane (the authorized dealer for all air cleaning products, which is selling the Oransi Max in both its website and Amazon).
Thanks to the passage of time, and the introduction of new air purifier from the same brand, Oransi Max is now only $479, which is shown public in Oransi website. It is the mid-range air purifier of Oransi, and after it, you can only find the high-end expensive devices. So, Oransi Max is definitely a good start for newcomers. Now, it is only $349, meaning it will be cheaper than the new Oransi mod and Oransi mod Jr.
Today, an Oransi Max has far lower price point than others like Rabbit Air MinusA2, Medify MA-112 or Alen BreatheSmart FIT50. And considering both the great air filtration process and fan power of the Oransi Max, it is safe to say buying this air purifier is a great deal. Also for the price, we can find the Sharp KC-850U or Alen BreatheSmart 45i. They all have advantages and disadvantages over the Oransi Max, but for helping the serious allergies and asthma, I will go for the Oransi Max without a blink.
We also notice the presence of the Dyson Pure Cool Tower and Dyson Pure Cool Link Desk in the same price range. These air purifiers, besides the True HEPA filter, are having an amazing cooling fan power to help you survive the summer time. The Dyson Pure Hot+Cool, with a little bit higher cost, will come with the heating power as well.
If you are curious to know why, let's scroll to the next part in our Oransi Max review.
Top Oransi Max deals right now
Oransi Max HEPA Large Room Air Purifier for Asthma Mold, Dust and Allergies (Energy Star certified).
Made in USA. The top-notch performance and quiet operation of this Oransi Max is why you should install it in your home.
Related post: Best air purifier 2023.
Oransi Max Design and Size
Out of all the compliments I gave for this Oransi Max, we must face the fact that on the outside, this isn't a very pretty or strong air purifier. It feels more cheaply made than it looks. As a nearly $500 device, this Oransi Max has a very small stand base, and more than one I had made it fall down. The broader front panel also makes it off-balance, and yes, gives us a feeling that this air purifier is far from being called "pretty".
The Oransi Max is 22 inches in height and 17 inches in width, and because of that, it is bigger than many other air purifiers with the similar design concept. By comparison, the Levoit LV-PUR131 is only 18 inches in height, or the GermGuardian AC5900 is 21 inches. But I feel the Levoit LV-PUR131 is much more elegant, and it doesn't have a ridiculously large front panel like Oransi Max.
Despite this cheaper construction, the Oransi Max makes use of the common bottom-to-top air cleaning system. Instead of having a gap between the intake air grill and the front panel, Oransi Max is likely to be an unibody, with two side air vents to help suck the air in. The air vents are a little bit near the outlet air grill on top, and I believe that this construction is not optimized for the best performance. However, for most common users, you won't notice any changes for this design.
And you can ignore the signature V-Seal of this Oransi Max. This company assures that "no air by-pass so all the air is filtered", and they have good point for saying that. The V-Seal around the filter media is high-quality, without any leakage at all.
Oransi has moved the top control panel from the previous Oransi OV200 to the front, and in my opinion, this change has so many disadvantages. The Oransi Max is only 22 inches, and to turn it on, you need to kneel. This is a similar concept of Winix WAC9500, and I rated both air purifiers a bit low for the control panel. The buttons is also hard to press, and the electronic control is not so visible to see clearly.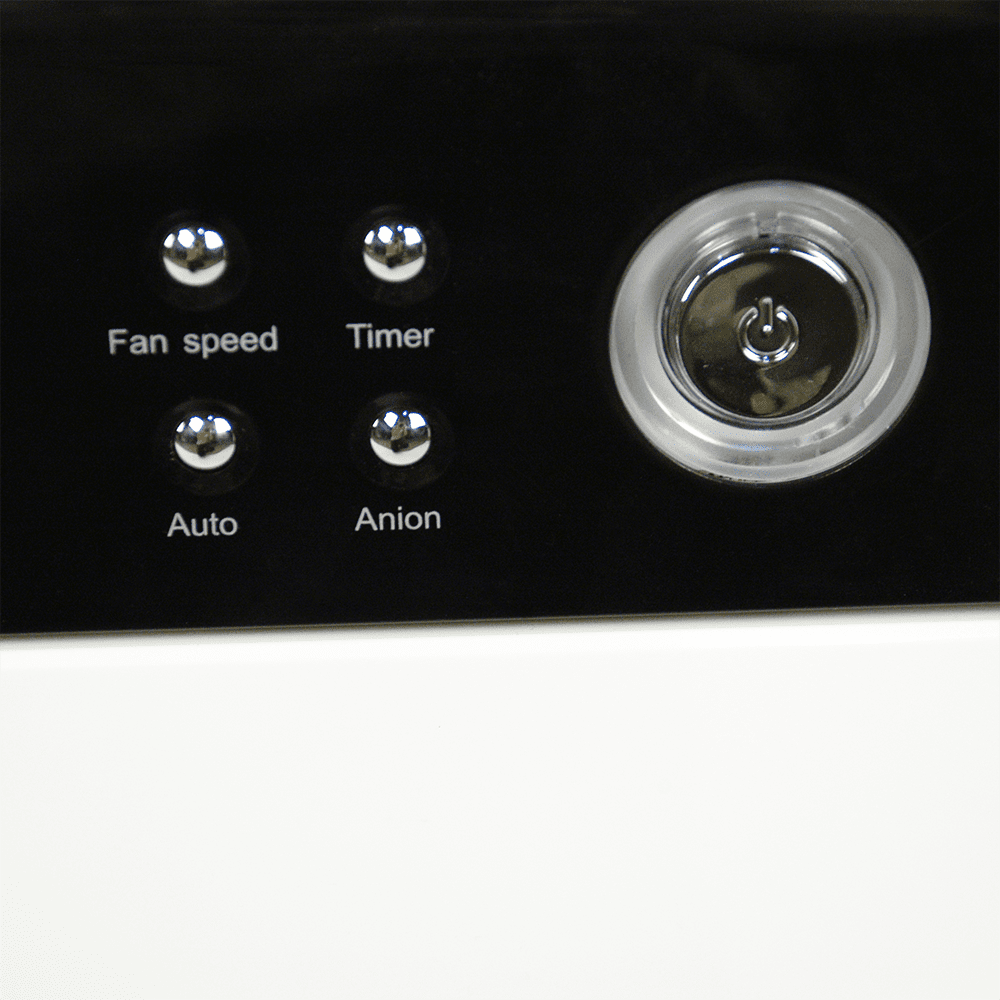 Source: Sylvane
Above the outlet air grill, you can find a convenient handle to move this air purifier. The Oransi Max is only 18.5 lbs, and for most of us, we won't find any problem in moving this air purifier around home. The cord is quite strong and long enough to connect with the power supply. Remember to not run the power cord under carpets, or cover it with throw rugs.
Related post: Best air purifiers for bedroom.
Oransi Max Filters
The rest of the review for Oransi Max are actually competitive. Especially the performance of its air filters, which is announced to be tested by the top comprehensive university study – the Clemson University. To decide the performance of one air purifier, we mostly rate from both the quantity and quality of its air filtration process, as well as the air filter types are used. Oransi Max features a very signature Oransi 4-stage air cleaning system.
Pre-filter – The air must first bypass the pre-filter, where it removes the largest airborne particles. This pre-filter is quite durable and you can clean with a vacuum cleaner if needed. We need a pre-filter to help improve the HEPA filter life and enhance the performance of the other filters.
True HEPA filter – One of the best True HEPA filters, which can capture 99.97% of any airborne pollutant particles that pass through the system like pet dander, pet hair, mold spores, dust mites, pollen, allergens and other solid particles as small as 0.3 microns. Moreover, the Oransi Max can remove even the airborne impurities with 0.1 microns in size.
Activated Carbon filter – A stand-alone carbon filter which can remove light odors, light smoke and smells.
Ionizer – The nano piezo-electric ions (anion) which can trap the allergens and improve the efficiency of its True HEPA filter. Can be switched on/off.
With a strong certified True HEPA filter, this is truly where the Oransi Max shines. This company has shown a lab result for their True HEPA filter performance, conducted by holding a sterile petri dish in front of the exhaust of the Oransi Max. After 5 minutes, the petri dish is completely clean. And together with the ionizer, the Oransi Max can guarantee a solid performance, to trap 99.97% particles in just 30 seconds (only in standard conditions).
Moreover, the ions of Oransi Max is under the safety level of ozone emission set by the California Air Resources Board (CARB). Even if you have a serious asthma or respiratory problems, you can always turn this ionizer off at your will. This function is better than most of the ionizers in the market.
These results really trigger my curiosity, and I need a real test of Breathe Quality to decide the power of Oransi Max's air filters. To conduct the test, I put this Oransi Max in a room of 200 square feet, and let it run for a full hour. To give you a more comprehensive comparison, I also run the more expensive devices, the Alen BreatheSmart FIT50 and Sharp KC-860U. And the final result, both the Oransi Max and Sharp KC-860U had a high efficiency of trapping 99.95% of any allergens as small as 0.3 microns, while the Alen BreatheSmart FIT50 is only 98%.
200 square feet is quite common for a room in the U.S, and I can believe this Oransi Max will be good for you.
Oransi gave its device some nice overhead when it comes to the air filter, as a set of filter replacement costs you only $89. Unfortunately, with a lifetime of only 1 year, the annual filter cost of this Oransi Max is much higher than the Rabbit Air MinusA2, or even Sharp KC-860U.
Related post: Best air purifiers for allergies.
Oransi Max Room Coverage
We are in love with the large room air purifiers, even if our room is much smaller than the manufacturer-suggested room size. Room coverage, therefore, is boasted by almost all of the American brands. The Levoit LV-H134 can cover a room of 710 square feet, while the Alen BreatheSmart can even clean a room of 1100 square feet.
Such thing has rooted in the customer's mind, as the better air purifier, the larger room coverage. So far, the Oransi Max is not an exception. It can cover a room size of 1100 square feet, but that's just how Oransi talked to their customers.
The ACH of Oransi Max is 2X to 4X. For a smaller room, the Oransi Max will exchange the air more frequently, as much as once every 15 minutes.
The CADR of Oransi Max is 196 Dust/ 182 Smoke/ 208 Pollen (cfm). But we can't deny the fact that most of American air purifier brands are hiding the real CADR rating behind such large room coverage. With only 200 cfm for the CADR, the Oransi Max is quite insufficient in cleaning a room of 1100 square feet. I recommend you to use it in a room of 300 square feet, for better performance. It is also a lot lower than the new Oransi mod Jr, but their performances are quite similar.
Related post: Best large room air purifiers.
Oransi Max Sound
The quiet operation is also a selling point for any air purifiers. In fact, air purifier operates with the fan power, and the higher fan power, the more increasing capability it will have. And if you look at the CADR rating of the Oransi Max, you can easily imagine the fan power, and therefore, the sound of its fan.
With 4 fan speeds, Oransi Max keeps the noise level as low as 34 decibels, which is even lower than the noise level in the library. However, this noise level won't grant this air purifier any records for being the most silent device. The Rabbit Air MinusA2 reduces the noise level much better, and so does the Sharp KC-850U.
When running on the highest speed, Oransi Max has a noise level of only 53 decibels (db). It is considered acceptable for the fan power, and you won't find it more annoying than the normal conversation at home. So to say, running an Oransi Max in public places like your office is highly recommended.
Related post: Best air purifiers for baby.
Oransi Max Power Consumption
Air purifiers which is "made in USA" vary for the power consumption. Brands like Rabbit Air or Levoit values the low power consumption, and use it as their selling point. Others, like Honeywell, Austin Air and of course, our today Oransi are not keeping the power consumption as low as possible.
Testing the power consumption of this Oransi Max, I recorded a shocking result – 93 watts. With lower fan power, this air purifier still consume double the energy rate of the Levoit LV-H134. And in real-world use, such high power consumption means you need to pay more for cleaning air. It is stripped the Energy Star rating after a while, and the Oransi EJ120, Oransi mod and Oransi mod Jr are taking this mantle.
To use the Oransi Max at least 8 hours per day, you must pay $32 for a year. Of course, it is only lower than $0.1 per day for your allergies and asthma reliever, so you should not think too much.
Related post: Best air purifiers for pets.
Oransi Max Additional Features
The better news is that, when it really matters, Oransi packs many great additional features into their air purifiers. We can say goodbye to the era of big and bulky air purifier, with nothing but the fan power and True HEPA filter. We need more to make our lives easier, right?
The most important feature for high-end air purifiers at the moment is the Smart Sensor, which is also available in the Oransi Max. It gives you a visual sign of the indoor air quality in your room, and then, the Auto Mode of this air purifier will adjust the fan speed automatically to match the current environment.
Night Mode is also a good feature on Oransi Max. It happens when you press and hold the power button for 3 seconds, and the light around the power button will turn off. To reactivate the light, you need to do the same process again.
Finally, Oransi Max has all basic features like Timer or LED indicator for filter replacement.
Related posts:
1, Best air purifiers for smoke.
2, Best air purifiers for dust.
3, Best air purifiers for mold.
Oransi Max Customer Service
Oransi is a brand that being used by the leading companies, medical centers and universities like the American Red Cross or Menlo Medical Clinic. They maintain a very healthy and active community, and that's being a part of their AirLift program. Today, Oransi is a symbol for the air purification solution in the U.S – China Air Purification Technology Forum.
For the shipping policy, Oransi offers a Free Shipping on all products, delivered from Nevada or Pennsylvania warehouse. They assure that there is a 30-day refund for any air purifiers, and you only need to submit a request to receive feedback from their customer service within 24 hours.
Moreover, Oransi will cover you with a 10-year warranty, which is one of the best after sale policies for an air purifier. Normally, an air purifier is only covered by 1-year or 2-year warranty, so Oransi is really confident for their air purifier's quality.
You can either contact them via phone at 888-281-3948, or via email through their "Contact Us" page. The support will be available Monday to Friday, from 9 to 6 pm.
Top Oransi Max deals right now
Oransi Max HEPA Large Room Air Purifier for Asthma Mold, Dust and Allergies (Energy Star certified).
Made in USA. The top-notch performance and quiet operation of this Oransi Max is why you should install it in your home.
Our verdict
The Oransi Max was one of our best air purifiers list, with a MERV-16 True HEPA filter and great fan power. One thing that you would likely to buy, except that you can afford the Oransi EJ120 without troubles.
Still, the Oransi Max excels many low-end air purifiers with its unstoppable air filtration system and a decent fan power. It is also covered with 10-year warranty by the manufacturer, and I suggest you to always choose the deal of Breathe Quality, so you can get full guarantee for your purchase.
Oransi Max Air Purifier: Trusted Review in 2023
Oransi Max Reviews and Specs (Air Purifier Trusted Reviews in 2023). ✓ Cleaning Power: True HEPA ✓ Large room: 1100 sq ft ✓ Value: 3.5/5 ✓ Certified Review.
Product Brand: Oransi
Product Currency: USD
Product Price: 349
Product In-Stock: https://schema.org/InStock
Performance

Features

Annual Cost

Power Consumption

Price
Summary
The signature air purifier of Oransi is not the best device at the moment.