A Canadian friend of ours has recently sent us three new air purifiers, all from Honeywell. The Honeywell HFD140 is an air purifier that resembles the old Honeywell HFD-120-Q that we reviewed a long time ago. They look so alike, I can't believe it is another model. So again, if you are a Honeywell HFD-120-Q user, perhaps you can skip the whole Honeywell HFD140 Review at all.
In Breathe Quality, we have reviewed all air purifiers under these sections. Also, we guarantee that:
We provide honest reviews (both pros and cons) so that everyone can make the best decisions.
We do not (and never will) exaggerate one product just to let you click the links and buy that product blindly.
Sections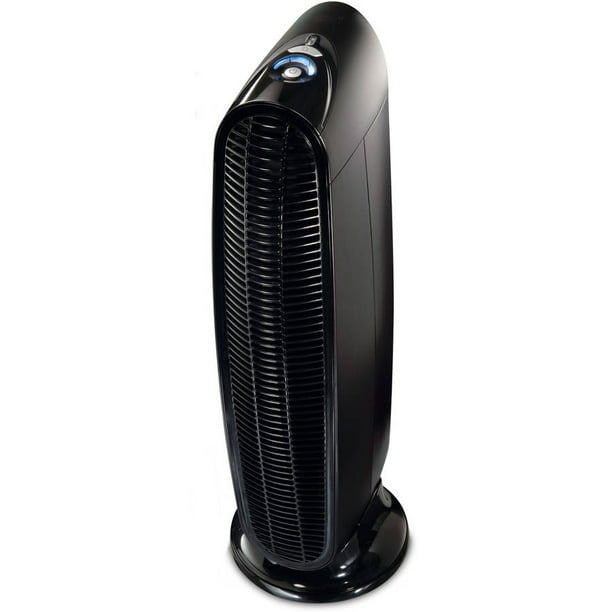 PROS
---
Improved performance
Washable pre-filter
5-year warranty
CONS
---
Low CADR rating
Hard-to-push buttons
Quite noisy at highest setting
Not available on official Honeywell website
Honeywell celebrates its 30 years of making air purifiers. The Honeywell HFD140 looks so alike to the Honeywell HFD-120-Q that anyone in Breathe Quality has a tempting to lump two reviews into one. Well, the Honeywell HFD140 Review is still here, to celebrate the Lunar New Year.
Other Honeywell's Air Purifier Reviews:
Honeywell HFD140 Price
Perhaps this is the most concerning section for the Honeywell HFD140.
The Honeywell HFD140 hasn't been officially sold on the U.S. market, so many people will think of it as a counterfeit. However, Honeywell did release the model, with a different boxing. Perhaps the Honeywell HFD140 is the exclusive version for Canadian residents.
So, the Honeywell HFD140 is sold at $159 on Amazon Canada, which is quite similar to the current Honeywell HFD-120-Q. The air purifier should be the main competitor to the GermGuardian AC5250PT and Coway AP-1216L. But with so many good things at the moment like the smart Levoit Vital 200S, TCL Breeva A5, and Winix AM80, it's hard to recommend this old air purifier.
Even loyal Honeywell customers will stay away from this air purifier. The Honeywell HPA030 and Honeywell AirGenius 6 do better with more features. Even new air purifiers like the Honeywell HPA830 and HPA180 are getting more attention than this one.
Top Honeywell HFD140 deals right now
Honeywell HFD140 QuietClean Tower Air Purifier with Permanent Washable Filters (with Energy Star qualification).
The Honeywell Oscillating Air Purifier with Washable Air Filter for Permanent Use.
Related post: Best air purifier 2023.
Honeywell HFD140 Design and Size
Honeywell HFD140 is the same as Honeywell HFD-120-Q. You can't find anything different between these two models. Of course, a reduced-price version of an earlier air purifier is bound to have some omissions, but Honeywell doesn't care to change.
So this is the classic design of a Honeywell HPA model, featuring the back-to-front airflow system concept, which was really common in the past. Yes, if you are a new user, an air purifier once looked exactly like a tower fan. The Honeywell HFD140 has a good height at 28 inches, which allows it to maximize its fan power.
Source: Amazon.com
With the exception of the HFD-120-Q, the Honeywell HFD140's top control panel doesn't have an old knob for changing fan speed. You get only one button to operate the whole air purification system.
There is an oscillation option, which is not very common at the moment. The air purifier has only one mode for the oscillation, just so you know.
The Honeywell HFD140 weighs 12.3 lbs, and this air purifier is really lightweight to carry around your home. It has a convenient handle, which is nice to have.
Related post: Best air purifiers for bedroom.
Honeywell HFD140 Filters
Honeywell doesn't seem to use the ifD air filter in its next models, but the Honeywell HFD140 has one of the most famous air filtration systems from this company. It sports a 2-stage air cleaning system.
Pre-filter – The Honeywell HFD140 features high-efficiency air cleaning with permanent, washable filters, saving you money on expensive replacement filter costs.
ifD filter – The Honeywell HFD140 distinguishes itself substantially by properly utilizing iFD filters that trap particles without interrupting or disrupting the flow of air. Moreover, the air filter is also attaching an Activated Carbon filter to help reduce odors and tobacco smoke in the air.
While the True HEPA filter has more advantages with its performance and manufacturing cost, it can last for only 6 to 12 months. The ifD filter, which stands for Intense Field Dielectric, is an ionizer sticking to the mechanical air filter. It has a high efficiency, and the filter can last permanently.
As I did with the recent Honeywell HPA050, I'll use the performance test of the old Honeywell HFD-120-Q to showcase our current Honeywell HFD140. It is better than the Honeywell Compact AirGernius 4 and the Honeywell HFD-010.
The ifD filter, which is named HRF-K2, is one of the most affordable filters from Honeywell, with only a $17 price tag. Moreover, this air filter is permanent because it can be washed. The company still recommends changing the pre-filter every 3 months, but it's up to you.
Related post: Best air purifiers for allergies.
Honeywell HFD140 Room Coverage
The Honeywell HFD140 boasts very good fan power for its age. The AHAM approved it for a 170 square foot room coverage. Sadly, newer products like the Honeywell HPA5100 or Honeywell HPA175 can do better.
The ACH of Honeywell HFD140 is 5x. The Honeywell HFD140 can clean your room every 12 minutes with the required room coverage.
The CADR of Honeywell HFD140 is 100 Dust/ 110 Smoke/ 132 Pollen (cfm). This CADR rating is not as good as the later tower Honeywell HPA030B.
Related post: Best large room air purifiers.
Honeywell HFD140 Sound
Sadly, the QuietClean air purifier isn't the quietest device on the market, as the Honeywell HFD140 produces a noise level ranging from 40 to 51.5 decibels (dB). It is not really loud at all, but for its performance, you can get better air purifiers with a lower noise level. The Coway AP-1512HH, Airmega 150, and Winix 5500-2 are good examples.
But remember that 40 decibels is the noise level of a common library, so you can definitely use this Honeywell HFD140 on its lowest speed while sleeping.
Related post: Best air purifiers for baby.
Honeywell HFD140 Power Consumption
One of our most FAQs is "Do air purifiers use a lot of energy?" In fact, we need to run an air purifier for a long time to be efficient.
Honeywell receives Energy Star ratings for all of its air purifiers, and the Honeywell HFD140 was no exception. With a rated power of 43 watts, the Honeywell HFD140 has okay performance for its rated power, though it is nowhere near the best.
For using a Honeywell HFD140 for 8 hours per day, it would cost you up to $16 per year.
Related post: Best air purifiers for pets.
Honeywell HFD140 Additional Features
The Honeywell HFD140 has the same control panel as the Honeywell HFD-120-Q, so it isn't a surprise to see all the old additional features back. I find the oscillation function the most interesting feature, which dates back to the days when we used air purifiers the same way we use tower fans.
There is a LED indicator for filter replacement, and you should reset it after cleaning your air filter.
Related posts:
1, Best air purifiers for smoke.
2, Best air purifiers for dust.
3, Best air purifiers for mold.
Honeywell HFD140 Customer Service
Honeywell is a market leader in air purifiers, but its customer service is not as friendly as that of competitors. You can reach customer service via the mailbox at the Honeywell Store at 407 N. Quentin Road, Palatine, Illinois. But I suggest you call 847-701-3038 for any support questions. Or you can email sales@honeywellstore.com for any problems you experience while on the site or after buying a product. Honeywell is available from Monday to Friday.
It doesn't have free shipping like Rabbit Air or Alen, and you must notify customer service within one business day of any problems with a third-party shipping service like USPS or FedEx. Otherwise, it will not accept liability for any merchandise damage during transit. Also, the shipment can take up to 10 business days from the date that the order is shipped.
The hardest part is when you want to return one Honeywell air purifier, as you only have 30 days from the date you receive your item to process your return. If there is no transit damage or workmanship defects, you won't receive the shipping charge (on both the original shipping charge and the return shipping charge) and will have to pay a 10–30% re-stocking fee.
Honeywell's warranty policy is also among the longest in the industry, with up to 5 years of coverage.
Source: Amazon.com
Top Honeywell HFD140 deals right now
Honeywell HFD140 QuietClean Tower Air Purifier with Permanent Washable Filters (with Energy Star qualification).
The Honeywell Oscillating Air Purifier with Washable Air Filter for Permanent Use.
Our verdict
Well, I should say thanks to my friend. The Honeywell HFD140 could be reminiscent of an old and popular Honeywell product, but as the brand is moving on, why shouldn't we?
Honeywell HFD140 Air Purifier: Trusted Review in 2023
Honeywell HFD140 Reviews and Specs (Air Purifier Trusted Reviews in 2023). ✓ Cleaning Power: ifD filter ✓ Size: Only 12 lbs ✓ Value: 3.2/5 ✓Certified Review.
Product Brand: Honeywell
Product Currency: USD
Product Price: 159
Product In-Stock: InStock
Performance

Features

Annual Cost

Design

Price
Summary
You should look for a modern Honeywell air purifier, not this one.