The Honeywell HPA050 is such an old model that I don't really think that any of the Breathe Quality readers will look for it. However, after a few hours with the air purifier, I feel compelled to write a brief Honeywell HPA050 Review in case anyone is looking for a used, inexpensive air purifier to use.
Update: The Honeywell HPA050 is discontinued, so perhaps you should look for the newer Honeywell HPA060 or Honeywell HPA5100 for better performance.
In Breathe Quality, we have reviewed all air purifiers under these sections. Also, we guarantee that:
We provide honest reviews (both pros and cons) so that everyone can make the best decisions.
We do not (and never will) exaggerate one product just to let you click the links and buy that product blindly.
Sections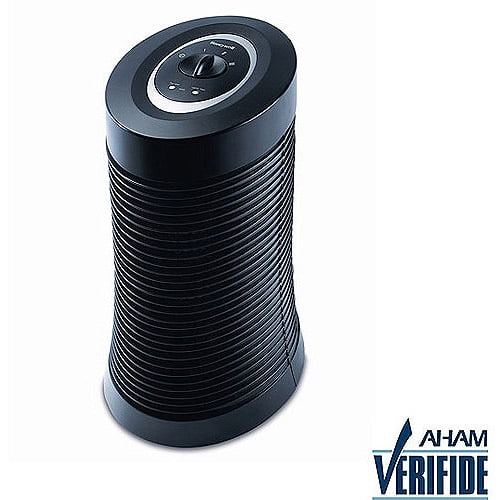 PROS
---
Good performance for the price
High-quality air filter
CONS
---
Quite noisy with high fan speed
Only from 3rd party dealers
High power consumption
Lacks of features
Lacks of support
Honeywell is the brand name of Kaz, and the company has made great air purifiers with high-quality air filters, great performance for the price, and exceptional customer service. The Honeywell HPA050, however, isn't sold officially anymore. So, if you want to buy this product, you should read our Honeywell HPA050 Review.
Other Honeywell's Air Purifier Reviews:
Honeywell HPA050 Price
The Honeywell HPA050 is a forgotten product from this company. Indeed, the older Honeywell HPA060 is flushed out of stock, and we predict that you can't buy either models very soon. The Honeywell HPA020 and Honeywell HPA080 will take the mantle as the most affordable products of this brand, while the newer Honeywell HPA5100 will soon replace the Honeywell HPA100, too.
So why bother writing a review for a discontinued product? Mostly because we have access to the Honeywell HPA050 through a very close friend, and I like writing. I've even scheduled reviews for the Honeywell HFD140 and HFD230B in order to complete the Honeywell classic series reviews.
Well, as an old product, it's quite difficult to trace down the official price of the Honeywell HPA050. But looking at how it ties in with the HPA060, I believe it was $79 on its launch day. It could be lower right now, especially if you visit our deal.
It was a competitor of the Levoit LV-H132 in the past. Not anymore, as the Levoit Core 200S is the best budget option from the popular brand, and don't forget that Guardian Technologies is doubling its effort with the GermGuardian AC4200W and GermGuardian AC4700. So, the Honeywell HPA050 doesn't have a chance, especially when its overall ranking is lower than its brothers.
It's the inevitable rule as successors take over predecessors, so you can say goodbye with the Honeywell HPA050.
Top Honeywell HPA050 deals right now
Honeywell HPA050 True HEPA Allergen Remover Black Edition
The Compact air purifier Honeywell HPA050 in black edition. Save your air in a small room.
Related post: Best air purifier 2023.
Honeywell HPA050 Design and Size
It's the inevitable rule as successors take over predecessors, so you can say goodbye with the Honeywell HPA050. The classic HPA air purifier from Honeywell sure has a design language. In fact, the most compact ones of the line, for example, the Honeywell HPA050, keep the same design over and over. You can compare it to the Honeywell HPA060, and the only difference is its top control panel.
If you are a HPA060 user, you will see the similarity. The Honeywell HPA050 has dimensions of 15 x 10.5 x 10.1 inches. It is more like a tower air purifier with a front-to-back airflow system concept. Yes, I know, it is not the most functional airflow for your air purifier, and that's why air purifier manufacturers make devices with a bottom-to-top airflow system concept at the moment. The two most popular examples are the Levoit Core 300S and the Blue Pure 411 Auto, both of which are on our list of the best air purifiers.
The horizontal parallel grills are very good for vacuuming dust later. However, the lack of convenient handles is a minus in the Honeywell HPA050's design. Thankfully, the air purifier is only 6.76 lbs.
The only difference between it and its brother, the HPA060, is the top control panel. Electronic filter reset buttons are smaller, and they're below the fan speed knob. It doesn't affect the number of additional features in this air purifier.
Related post: Best air purifiers for bedroom.
Honeywell HPA050 Filters
To test the performance of the Honeywell HPA050, one can simply check the review of the later Honeywell HPA060. Because you will get the same 2-stage air cleaning system.
Pre-filter – The pre-filter contains an Activated Carbon filter. This will both help adsorb VOCs, gases, and odors and trap larger particles. You will need to replace this filter after 3 months of usage.
True HEPA filter – The Honeywell HPA050 uses a True HEPA filter to capture up to 99.97% of particles down to 0.3 microns, like pet dander, mold, viruses, bacteria, and pollen.
As one of the best air purifier brands, Honeywell makes very high-quality air filters; even the current models use the same air filters. The True HEPA filter of the Honeywell HPA050 is amazing because it can capture even the fine particles down to 0.3 microns, far smaller than the PM2.5 particles.
Source: Amazon.com
In my quick test, the Honeywell HPA050 did the same as the Honeywell HPA020B and HPA050. You can use the same reference as the previous test, which was a room of 100 square feet with a duration of 1 hour. The performance of the Honeywell HPA050 can match the modern Levoit Vista 200. It is a lot better than the GermGuardian AC4150.
The HRF-R1 filter's cost of the Honeywell HPA050 is not the best in this price range, but it is still very good. You only need to change the main filter once per year.
Related post: Best air purifiers for allergies.
Honeywell HPA050 Room Coverage
Honeywell HPA050 isn't listed in AHAM or Energy Star listings anymore, but the air purifier insists on being AHAM verified. Well, the later Honeywell HPA060 is being removed from these lists as well, so we can trust the suggestion of 75 square feet from Honeywell.
The ACH of Honeywell HPA050 is 4x. As an old AHAM-verified air purifier, the Honeywell HPA050 must clean four times per hour in the suggested room size.
The CADR of Honeywell HPA050 is 66 Dust/ 48 Smoke/ 68 Pollen (cfm). This CADR rating was competitive, but with the presence of things like the Levoit Core 300, the Honeywell HPA050 is far from the best.
Related post: Best large room air purifiers.
Honeywell HPA050 Sound
The old problem of a Honeywell air purifier: its noise level is nowhere near tolerable. Even for a compact air purifier like the Honeywell HPA050, it can run at 42 decibels (dB). Perhaps our testing unit is quite old, or there is unit variation, but the result is far worse than its competitors. It is, however, tolerable while sleeping.
The highest noise level of the Honeywell HPA050 is decent at 51 decibels. I suggest you to regularly clean the air filters of Honeywell HPA050 to reduce the noise of the fan could make.
Related post: Best air purifiers for baby.
Honeywell HPA050 Power Consumption
One of our most FAQs is "Do air purifiers use a lot of energy?" In fact, we need to run an air purifier for a long time to be efficient. And power consumption is one important criterion to review to determine if this air purifier is good or not.
The Honeywell HPA050 isn't listed in the Energy Star rating anymore, but its rated power is measured at 35 watts, which is not really good if we account for its CADR rating.
It would cost up to $12.5 per year to use a Honeywell HPA050 for 8 hours per day. It is still reasonable for you, right?
Related post: Best air purifiers for pets.
Honeywell HPA050 Additional Features
Old air purifiers don't typically have as many additional features as modern products, so you can skip this section completely.
The Honeywell HPA050 only has a knob to change fan speeds, as well as reset buttons and LED indicators for filter replacement. It doesn't have Smart Sensor like the AeraMax 100, or even the simple Nightlight feature of the Levoit LV-H132.
Related posts:
1, Best air purifiers for smoke.
2, Best air purifiers for dust.
3, Best air purifiers for mold.
Honeywell HPA050 Customer Service
Honeywell is a market leader in air purifiers, but its customer service is not as friendly as that of competitors. You can reach customer service via the mailbox at the Honeywell Store at 407 N. Quentin Road, Palatine, Illinois. But I suggest you call 847-701-3038 for any support questions. Or you can email sales@honeywellstore.com for any problems you experience while on the site or after buying a product. Honeywell is available from Monday to Friday.
It doesn't have free shipping like Rabbit Air or Alen, and you must notify customer service within one business day of any problems with a third-party shipping service like USPS or FedEx. Otherwise, it will not accept liability for any merchandise damage during transit. Also, the shipment can take up to 10 business days from the date that the order is shipped.
The hardest part is when you want to return one Honeywell air purifier, as you only have 30 days from the date you receive your item to process your return. If there is no transit damage or workmanship defects, you won't receive the shipping charge (on both the original shipping charge and the return shipping charge) and will have to pay a 10–30% re-stocking fee.
Honeywell's warranty policy is also among the longest in the industry, with up to 5 years of coverage.
Source: Amazon.com
Top Honeywell HPA050 deals right now
Honeywell HPA050 True HEPA Allergen Remover Black Edition
The Compact air purifier Honeywell HPA050 in black edition. Save your air in a small room.
Our verdict
Well, the only reason I wrote this review is to tell you not to buy this Honeywell HPA050. If you're a current user of this product and by any chance you're reading this article, please consider the newer Honeywell HPA5100.
Honeywell HPA050 Air Purifier: Trusted Review in 2023
Honeywell HPA050 Reviews and Specs (Air Purifier Trusted Reviews in 2023). ✓ Cleaning Power: True HEPA ✓ Size: 6 lbs ✓ Value: 3.1/5 ✓ Certified Review.
Product Brand: Honeywell
Product Currency: USD
Product Price: 79
Product In-Stock: InStock
Performance

Features

Annual Cost

Design

Price
Summary
The old product of Honeywell is predicted to be discontinued this year.