The AllerAir 6000 (former name of AllerAir AirMedic Pro 6) is the sixth generation of the leading American air purifier company. Its jaw-dropping performance is a huge satisfaction and sees the company overwhelm Austin Air and IQAir in terms of price tags. We came to here to check the new standard for AllerAir, right, then let's finish the AllerAir 6000 Review.
In Breathe Quality, we have reviewed all air purifiers under these sections. Also, we guarantee that:
We do give honest reviews (both pros and cons) so anyone will guarantee to have the wisest choices.
We do not (and never) exaggerate one product just to let you click the links and buy that product blindly.
Sections
PROS
---
Top-notch performance
Deepest carbon beds on the market
Solid built
Extra durability
High fan power
CONS
---
No Smart Features
Really noisy on highest speed
High power consumption
AllerAir approached to the air purifier industry in a very different way, to value the performance of Activated Carbon filters in order to solve any chemicals, smoke and VOC problems. Since 1996, this company has introduced more than 100 types of air purifiers, so their air quality experts can install the best air purifier for your needs. The AllerAir 6000 is the flagship of this family, one with enough power to outmatch even the closest competitors. Are you ready, as we will finish the (probably) last AllerAir trusted review in 2020 with this AllerAir 6000 Review.
Other AllerAir's Air Purifier Reviews:
AllerAir 6000 Price
After the release of the previous AllerAir 5000, the American company has set a strong foothold, and their products have been the top of mind in many years. The idea of improving Activated Carbon filter, in the era of many unfortunate events, is really outstanding.
With the introduction of AllerAir AirMedic Pro 6 (formerly AllerAir 6000), the company tries to extend the options for users, simply by making the taller air filter. The result, the AllerAir 6000 is said to have at least 35% higher performance than the predecessors.
But most importantly, the flagship of AllerAir family isn't more expensive than the high-end version of old AllerAir 5000. If you surf the AllerAir website, you will be quite surprise because AllerAir 6000 can even be more affordable than the Ultra Series of AllerAir 5000.
However, this pricing gives us a little confusion. Should we buy the AllerAir 5000 or AllerAir 6000? I have no idea, it still depends on your requirements to select the right one. But for the price of the flagship AllerAir 6000, it is still in range of $799 to $1599, with the standard version is $100 higher than the 5000 counterpart.
You can also check the table below to see all options possible of AllerAir 6000. If you want to know more information, you can check on the website, or continue reading my review.
The AllerAir 6000 is widely available from major air purifier retailers in the United States and Canada, something that pushes things like Austin Air Bedroom Machine, Airpura UV600 and even Airpura P600 into stiff competition. Other high-end air purifier brands like IQAir and Oransi are also able to compete with the AllerAir 6000, with their flagships at above $1000 range.
AllerAir 6000 deals right now
AllerAir AirMedic Pro 6 MG Exec UV, Medium.
The flagship of AllerAir company, with standard Exec carbon version plus UV-C light as an additional filter. Top performance and high fan power. CARB certified.
Related post: Best air purifier 2020.
AllerAir 6000 Design and Size
The AllerAir AirMedic Pro 6 design has been developed and refined over the old AllerAir 6000, but there is not much from the outside to spot. It is also the taller version of the previous AllerAir 5000, with 23.5 inches in height. If you put the AllerAir 6000 next to Austin Air HealthMate Plus or Airpura UV600, this air purifier will be slightly bigger.
There's not much to tell more about the AllerAir design, it is still the full-metal housing with powder-coated paint, to prevent any off gassing. The classic air purifier still uses the powerful 360° air distribution system to utilize its fan the most.
For the color options, we will have there basic colors: white, black and sandstone. It is certainly derived from the predecessors, and I like the high-quality color in this metal coat, as it can catch the light beautifully.
The AllerAir 6000 weighs up to 58 lbs, and this air purifier could be one of the heaviest air purifiers in the world. Luckily, we still have the casters, and you can move this device around easily.
Related post: Best air purifiers for bedroom.
AllerAir 6000 Filters
One of the many main reasons to buy an air purifier from AllerAir, Austin Air or Airpura is the top-notch quality of their air filtration systems. The AllerAir 6000 maintains the 4-stage air cleaning system from the previous models.
What should we say more about this high-end air purifier? The AllerAir 6000 has the latest Super HEPA filter at its heart, and it's coated with the customized Activated Carbon filter. The air cleaning system is not so different to the AllerAir 5000, except for the bigger size.
That being said, the AllerAir 6000 can last longer than the predecessors. In the same conditions, you can use the AllerAir 6000 for 20% more time, and it would be really great.
Apart from the standard AllerAir AirMedic Pro 6, all air purifiers under the AllerAir 6000 Series will use the Super HEPA to filter the contaminants, from the Plus, HD and even Ultra. The Super HEPA is much more capable than the medical-grade HEPA filter, because it is made of self-contained, strong mesh of fibers that does not require any chemical binders or casings, so it won't release any more chemicals into the air.
The canister of AllerAir 6000 will also bigger than the predecessor, and this air purifier can hold up to 40 lbs of carbon in its canister (the AllerAir AirMedic Pro 6 Ultra S). This amount of carbon nearly doubles any Airpura counterparts, thus making the AllerAir 6000 the best carbon filter in the market.
And don't forget the UV-C lamp of AllerAir 6000, with the power of 10 watts. You just can't go wrong with this $131 lamp, it is one of the best UV-C lamp possible to help you kill the germs, mold and viruses.
The AllerAir 6000 is sent to us in a really bad day, as I didn't have both the Oransi Erik 650A and Blueair Pro XL to compare with the efficiency of this high-range air purifier. Our testing unit is an AllerAir AirMedic Pro 6 Ultra, and I run it in the most advanced air purifier test of Breathe Quality, a large space of 400 square feet and a duration of 1 hour. I just used the old results of these high-end flagships from Oransi and Blueair, also I chose the Austin Air HealthMate Plus and Airpura UV600 as the testing samples. You can see the superior performance of our today AllerAir 6000, as it can reach the highest efficiency of 99.99% for trapping any particles as small as 0.3 microns in just only 1 hour.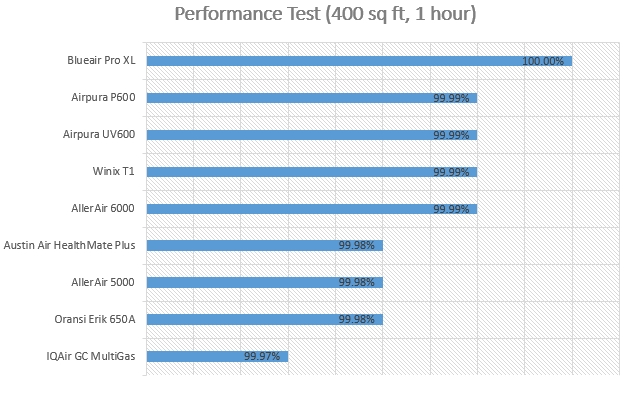 There is only one problem for the high-end products like AllerAir 6000, the very high replacement cost. You need to buy the HEPA filter for $113, but for the ultimate carbon filter, you must pay up to $569, which is nearly the cost of a brand new AllerAir 5000. It's just… too high for an air purifier, right?
Related post: Best air purifiers for allergies.
AllerAir 6000 Room Coverage
Running a top-end air filtration system with an (at least) $700 upfront cost, you'd expect the AllerAir 6000 to be an air purifier for large rooms, and this is again the major world of AllerAir air purifier.
As it turns out, there's no reason to worry. The AllerAir 6000 can clean a room up to 1500 square feet with no problem, thanks to high fan power.
The ACH of AllerAir 6000 is 4X. This AllerAir 6000 can clean your room every 15 minutes.
The CADR of AllerAir 6000 is 400 cfm in general. This is one of the highest CADR ratings possible, and you will need such fan power to clean large rooms. However, the fan power is still below the trio of Dyson Pure Cool Link, Dyson Pure Hot+Cool and Dyson Pure Cool Tower, because the Dyson air purifiers are designed to be the cooling fan as well.
Related post: Best large room air purifiers.
AllerAir 6000 Sound
Generally, the high fan power of air purifier may cause inevitable noise. You can't both manage your machine to clean large rooms with a big fan, and only generate quiet sound. With a bigger build, the AllerAir 6000 is supposed to torture you with much higher noise level than any average air purifiers.
The lowest noise level I can measure is as high as 50 decibels (db), which is actually the highest noise level of many air purifiers. If you want the AllerAir 6000 to run with maximum power, you need to stand its noise level of 75 decibels. It is really, really noisy.
Related post: Best air purifiers for office.
AllerAir 6000 Power Consumption
In Breathe Quality, one of our most FAQs is "Do air purifiers use a lot of energy?". In fact, an air purifier needs to run for a long time (usually more than 8 hours) to be efficient, and therefore, power consumption is an important criteria to decide which air purifier to buy.
AllerAir 6000 also has power consumption from 115 to 150 watts. This device is one of the highest power-consuming air purifiers, and you can't expect to save energy with such huge power.
If you run the AllerAir 6000 for 8 hours per day, you need to pay $41 to $55 annually.
Related post: Best air purifiers for pets.
AllerAir 6000 Additional Features
Just like all air purifiers in the AllerAir family, the AllerAir AirMedic Pro 6 or AllerAir 6000 comes with no additional features. Classic high-end air purifiers like this machine tends to improve the actual performance, or the technology of air filtration, rather than adding some new features.
Sadly, today we love to have the Smart Sensor and some even consider this feature as necessary. The Smart Sensor will be the perfect way to ease our lives, as we only need to turn on the air purifier, and let it do the task entirely.
We only have one simple knob to control this AllerAir 6000. And no more.
Related posts:
1, Best air purifiers for smoke.
2, Best air purifiers for dust.
3, Best air purifiers for mold.
AllerAir 6000 Customer Service
As the leading air purifier company in the North America, AllerAir strongly focuses on the customer service. They ensure to give you not only the finest product in the world, but also the most comprehensive support policy as possible.
Their main selling point is the deepest carbon beds on the market, with up to 40 different proprietary carbon blends. To back up the high-quality air filters, they dare to give you difference back PLUS one air purifier for free, for any competitor's unit with more relevant carbon + HEPA filtration at a lower price. So to say, AllerAir is really confident about their pricing policy.
Do you need help? AllerAir provides a toll free customer support phone-line (available Monday to Friday from 8 AM to 5 PM) and you can either call them at 888-852-8247, or live chat with them. If you contact them outside the business hours, you can email them via the Contact Us page.
Just like any air purifier brands located in the United States, AllerAir allows us to return the air purifier within 30 days, but you must take a 25% restocking charge. If you want to avoid the charge, be sure to return the products unused and unopened within 15 days. The filters can also be returned, but only in unopened condition, within 15 days.
AllerAir is one of the few brands that offers the 5-year warranty, for all air purifiers in the Pro 4 (formerly 4000), Pro 5 (formerly 5000) and Pro 6 (formerly 6000) series, as well as a 10-year warranty on parts (such as motor, cord, switch, wheels, etc). All air purifiers in the AirMed 1 and AirMed 3 only receive an 1-year warranty on both parts and labor.
AllerAir 6000 deals right now
AllerAir AirMedic Pro 6 MG Exec UV, Medium.
The flagship of AllerAir company, with standard Exec carbon version plus UV-C light as an additional filter. Top performance and high fan power. CARB certified.
Our verdict
Well, with a price tag quite similar to some models of AllerAir 5000 series, the AllerAir 6000 is good enough to go for. It is still a high-end device, possibly for people who need serious treatment for their allergies and heath problems. However, just like any classic high-end air purifiers, the AllerAir 6000 consumes lots of energy, and produces high noise level.
Cleaning Power

Portability

Features

Power Consumption

Price
Summary
The high-end flagship of AllerAir comes with a lot of disadvantages, but do you still need an extreme solution for allergies?
AllerAir 6000 Air Purifier: Trusted Review & Specs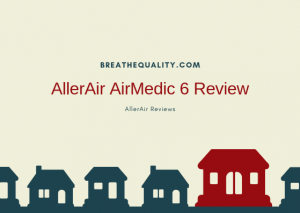 The AllerAir 6000 (former name of AllerAir AirMedic Pro 6) is the sixth generation of the leading American air purifier company. Its jaw-dropping performan
Product Brand: AllerAir
Product Currency: USD
Product Price: 799
Product In-Stock: 1