If you want a simple powerhouse of air purifier, with high quality air filters above the fancy features, the AllerAir AirMed is one of your best options. You can get an air purifier that rivals those from Austin Air, and customize it to fit your demands. Want such air purifier? Check out our AllerAir AirMed Review.
In Breathe Quality, we have reviewed all air purifiers under these sections. Also, we guarantee that:
We do give honest reviews (both pros and cons) so anyone will guarantee to have the wisest choices.
We do not (and never) exaggerate one product just to let you click the links and buy that product blindly.
Sections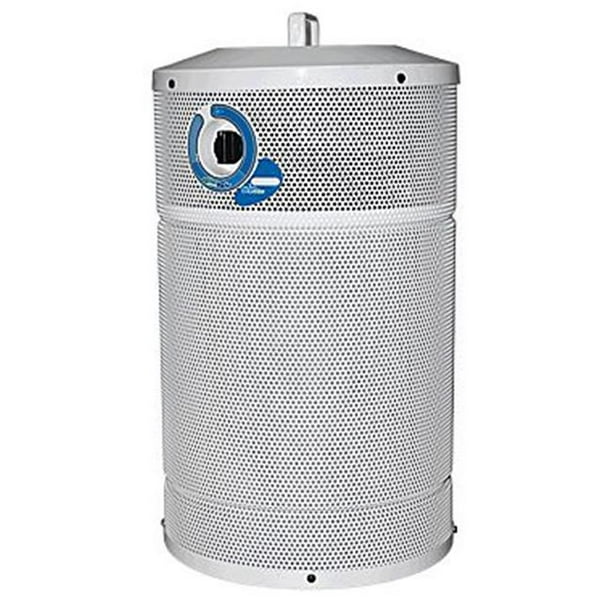 PROS
---
High-quality air filters
Customized options to buy
Especially for someone who requires serious air cleaning
CONS
---
No Smart Features
Low fan power
We all know the Austin Air as the top 1 air purifier brand in the United States, but AllerAir is the closest challenger in the same market. With over 40 blends of Activated Carbon, this company is the best air purifier brand for dealing with the complex pollutants such as formaldehyde, benzene, fumes, VOCs, cigarette smoke, as well as other harmful and hazardous chemicals. Now, let's get back to the first review of AllerAir air purifiers, the AllerAir AirMed Review.
Other AllerAir's Air Purifier Reviews:
AllerAir AirMed Price
Well, while the high-end brand Austin Air has recently made the "budget" compact air purifiers – Austin Air HealthMate Jr or Austin Air HealthMate Plus Jr to compete in the mid-range market, AllerAir has started with the compact ones for a long time. In fact, the AllerAir AirMed is their first model, which is also called the AllerAir AirTube in the original version.
The AllerAir AirMed is such an altogether more practical proposition than normal air purifiers in the market. For the price of this air purifier, you may want some smart features on it, like Smart Sensor or even Smart app control. However, none of these modern features are available in this device, as the AllerAir AirMed follows exactly the pattern of the American high-end air purifiers, which put high-quality air filtration system above all.
Just like Austin Air and Airpura, AllerAir makes use of the full metal housing air purifiers, with an addition of casters to move anywhere in your home. Actually, this design concept is only for the main parts of this brand, like AllerAir 5000 or AllerAir 6000 Series. In our today AllerAir AirMed, we only have a tube-like air purifier with a handle on top.
Here I will give you a table of all AllerAir AirMed air purifiers possible, including of the old AllerAir AirTube (first version of today modern AirMed). The price of these air purifiers are ranging from $349 to maximum of $559, as shown on the AllerAir website. This is the most budget air purifier of AllerAir, and you can upgrade to the AllerAir AirMed 3 for better performance.
AllerAir AirMed price puts it directly against the compact air purifiers of Austin Air, for example Austin Air Allergy Machine Jr or Austin Air Baby's Breath. If you select the Austin Air AirMed Supreme, the price can be as high as a full-size Austin Air HealthMate or Medify MA-112.
We also notice the presence of the Dyson Pure Cool Tower and Dyson Pure Cool Link in the same price range. These air purifiers, besides the True HEPA filter, are having an amazing cooling fan power to help you survive the summer time. The Dyson Pure Hot+Cool, with a little bit higher cost, will come with the heating power as well.
AllerAir AirMed deals right now
AllerAir AirMed 1 Supreme UV, Medium, White.
The metal-housing air purifier of AllerAir, also the smallest unit of this company.
Related post: Best air purifier 2023.
AllerAir AirMed Design and Size
AllerAir AirMed is the smallest device of this company, and it is built rather different than the most common AllerAir air purifiers like AllerAir 5000 or AllerAir 6000. If you are familiar with the old AllerAir AirTube version, you will recognize the AllerAir AirMed instantly, because it seems the new name doesn't bring any innovation in design.
The first reason for its mid-range price is the material of its housing, the AllerAir AirMed is completely metal. The metal housing is designed with powder-coated paint to prevent any off gassing. As a result, the performance of the air filtration system greatly increases, and it can extend the life of the True HEPA filter.
Secondly, we will have a 360° air distribution system in this AllerAir AirMed, with perforated holes to increase the efficiency of trapping small contaminants. The white color option is also applied in this device, so you can spot any stacks of dirt or hair on the surface of the grills, and can clean them up immediately.
We will have a simple knob to change the fan speed of this air purifier. The air purifier is truly ease of use, and I believe that every metal air purifier has only one knob to do the whole control task.
Finally, let's talk about the size of this device. It is 16 inches in height and 11 inches as diameter for the original AllerAir AirMed, and 19 inches in height for the AllerAir AirMed Supreme. The compact AirMed version weighs around 14 lbs, while the Supreme version weighs 17 lbs.
Related post: Best air purifiers for bedroom.
AllerAir AirMed Filters
One of the many main reasons to buy an air purifier from AllerAir, Austin Air or Airpura is the top-notch quality of their air filtration systems. Even for the entry-level device of AllerAir, we will have one of the best air cleaning systems, with the core of a True HEPA filter and customized Activated Carbon filter.
Pre-filter – First, we will have a poly pre-filter to capture large particles and prevent the main filters from clogging with pollutants. The pre-filter is necessary to extend the life of the main filters, and you need to change it every 3 months.
True HEPA filter – The AllerAir AirMed uses a basic True HEPA filter to remove fine airborne particulates, with high efficiency of 99.97% for any particles down to 0.3 microns.
Activated Carbon Filter – The high-quality Activated Carbon filter, either of virgin coconut (Exec) or virgin bituminous coal (Vocarb) to deal with chemicals, gases and odors.
UV-C light filter – You can optionally choose the UV-C light bulb, to neutralize biological contaminates with ease.
At the center of its air filtration system, AllerAir AirMed uses a True HEPA filter to remove ≥ 99.97% of any airborne particles as small as 0.3 microns such as dust, dust mites, pollen, pet dander, mold spores and fungi. In the series of AllerAir AirMed 1, the Supreme version will come up with a bigger-size HEPA filter, and can capture more pollutants than the standard version (our testing unit).
But the main selling point of this American air purifier company is their Activated Carbon filter, which is told to be one of 40 different proprietary carbon blends, and can be customized from 5 lbs to 120 lbs. As the smallest unit of the family, AllerAir AirMed only contains a 5.5 lbs granular carbon, which is about 12-sq-ft area. The Supreme version can be a lot stronger, with 7 lbs of granular carbon in a surface of 16 square feet. That being said, the AllerAir AirMed has the same high-quality carbon filter as a $899 Oransi EJ120, and the Supreme version can be compared with an IQAir GC MultiGas.
You will have two options: either the Exec version, with virgin coconut carbon to deal with normal odors from pets, cooking or smoke. Or you can upgrade to the Vocarb version, which is the high-quality virgin bituminous coal that can adsorb any gasses, odors and chemicals (including of VOCs and formaldehyde, etc). I think only high-end air purifiers like Airpura F600 or Airpura V600 that are able to give you such high-quality Activated Carbon filter.
Finally, we have an optional UV-C air filter to buy with the AllerAir AirMed 1. This 5-watt UV bulb will cost you $52, but it is necessary to ensure the highest performance of the whole air filtration system.
With our testing unit is the AllerAir AirMed Exec with UV-C bulb, I made an extreme test for the high-quality air purifier, but only in a room of 100 square feet and in 1 hour. The test is conducted with the participation of the Austin Air HealthMate Jr and Oransi Max, to compare with the performance of our today air purifier. With so weak fan power, of course the AllerAir AirMed is the weakest of all three, but it can reach such high efficiency of exactly 99.97% for trapping any particles down to 0.3 microns in this test.
In the company website, the AllerAir AirMed costs you quite much for the filter replacement. For example, you need to pay at least $39 for 1 year of pre-filter. For the standard version, you need to pay $105 for the HEPA filter, which can last for 2 years. The Activated Carbon is even more expensive for the Vocarb version, which is $131. However, depending on use, the Activated Carbon filter can last for up to 5 years.
Related post: Best air purifiers for allergies.
AllerAir AirMed Room Coverage
Sadly, AllerAir AirMed is not really good for the fan power. This company said that the slow fan power is mainly to improve the air flow for capturing smoke, but with low CADR rating as well, the AllerAir AirMed is not a good option for larger rooms. However, the manufacturer still suggest to use the device in a room of 375 square feet, based on the ceiling of 8 ft as usual.
The ACH of AllerAir AirMed is 2X to 4X. The highest air changes per hour rating is applied for the AllerAir AirMed Supreme, to exchange the air every 15 minutes.
The CADR of AllerAir AirMed is 100 cfm in general. This CADR rating is really, really low for a mid-range air purifier, and for some reviews I have read, they complained that the AllerAir AirMed is too slow as if it was not working.
Related post: Best large room air purifiers.
AllerAir AirMed Sound
First main problem for a classic air purifier like AllerAir AirMed is always the noise level. The fan could be slow, but it whirls with a noise that you can easily hear it on highest speed. In fact, the noise level of 60 decibels (db) is rather high for an air purifier with CADR of only 100 cfm.
But if you find the compact air purifier too loud to withstand, you can easily switch to the lowest fan speed, because the noise level at this setting is only 40 decibels. Well, this is just only the noise level of the library, and I bet you barely hear it.
Related post: Best air purifiers for baby.
AllerAir AirMed Power Consumption
In Breathe Quality, one of our most FAQs is "Do air purifiers use a lot of energy?". In fact, an air purifier needs to run for a long time (usually more than 8 hours) to be efficient, and therefore, power consumption is an important criteria to decide which air purifier to buy.
Well, AllerAir AirMed is only a compact air purifier with so little fan power, and we can believe in its low power consumption. Our today air purifier has a rated power of only 34 watts, which is quite considerable for a device with this level of fan power.
For running an AllerAir AirMed 8 hours per day, you need to pay only $12 annually.
Related post: Best air purifiers for pets.
AllerAir AirMed Additional Features
This section is similar in all air purifiers of AllerAir family. As the leading company in high-end air purifiers, the AllerAir said no to any kinds of fancy features, be it the Smart Sensor or anything else. We all know that the AllerAir AirMed is not the first one to do that, and probably not the last one.
There won't be even the filter replacement indicator or the Timer. There is only one manual knob to change the fan speed of this machine.
Related posts:
1, Best air purifiers for smoke.
2, Best air purifiers for dust.
3, Best air purifiers for mold.
AllerAir AirMed Customer Service
As the leading air purifier company in the North America, AllerAir strongly focuses on the customer service. They ensure to give you not only the finest product in the world, but also the most comprehensive support policy as possible.
Their main selling point is the deepest carbon beds on the market, with up to 40 different proprietary carbon blends. To back up the high-quality air filters, they dare to give you difference back PLUS one air purifier for free, for any competitor's unit with more relevant carbon + HEPA filtration at a lower price. So to say, AllerAir is really confident about their pricing policy.
Do you need help? AllerAir provides a toll free customer support phone-line (available Monday to Friday from 8 AM to 5 PM) and you can either call them at 888-852-8247, or live chat with them. If you contact them outside the business hours, you can email them via the Contact Us page.
Just like any air purifier brands located in the United States, AllerAir allows us to return the air purifier within 30 days, but you must take a 25% restocking charge. If you want to avoid the charge, be sure to return the products unused and unopened within 15 days. The filters can also be returned, but only in unopened condition, within 15 days.
AllerAir is one of the few brands that offers the 5-year warranty, for all air purifiers in the Pro 4 (formerly AllerAir 4000), Pro 5 (formerly AllerAir 5000) and Pro 6 (formerly AllerAir 6000) series, as well as a 10-year warranty on parts (such as motor, cord, switch, wheels, etc). All air purifiers in the AirMed 1 and AirMed 3 only receive an 1-year warranty on both parts and labor.
AllerAir AirMed deals right now
AllerAir AirMed 1 Supreme UV, Medium, White.
The metal-housing air purifier of AllerAir, also the smallest unit of this company.
Our verdict
AllerAir AirMed is the first member of the AllerAir family, and it is meant for serious air cleaning process. However, the unacceptable low fan power draws it back severely, and its performance is overall weaker than most air purifiers in the same price range, for example Honeywell HPA300 or Winix HR1000. If you demand a full metal air purifier with better fan power, maybe the Austin Air Allergy Machine Jr or Austin Air HealthMate Jr is still better.
AllerAir AirMed Air Purifier: Trusted Review in 2023
AllerAir AirMed Reviews and Specs (Air Purifier Trusted Reviews in 2023). ✓ Cleaning Power: True HEPA filter ✓ Room: 375 sq ft ✓ Value: 3.1/5 ✓ Certified Review.
Product Brand: AllerAir
Product Currency: USD
Product Price: 349
Product In-Stock: https://schema.org/InStock
Performance

Features

Annual Cost

Design

Price
Summary
Mini air purifier and low fan power of the AllerAir.