The Airpura R600 is the starter unit of Airpura brand, but it is not a start of a collection. Instead, you can get a powerful version of Airpura H600 with the Hi-C Carbon filter inside. Who might be interested with the Airpura products shouldn't forget the Airpura R600, which I happily introduce to you in our today Airpura R600 Review.
In Breathe Quality, we have reviewed all air purifiers under these sections. Also, we guarantee that:
We do give honest reviews (both pros and cons) so anyone will guarantee to have the wisest choices.
We do not (and never) exaggerate one product just to let you click the links and buy that product blindly.
Sections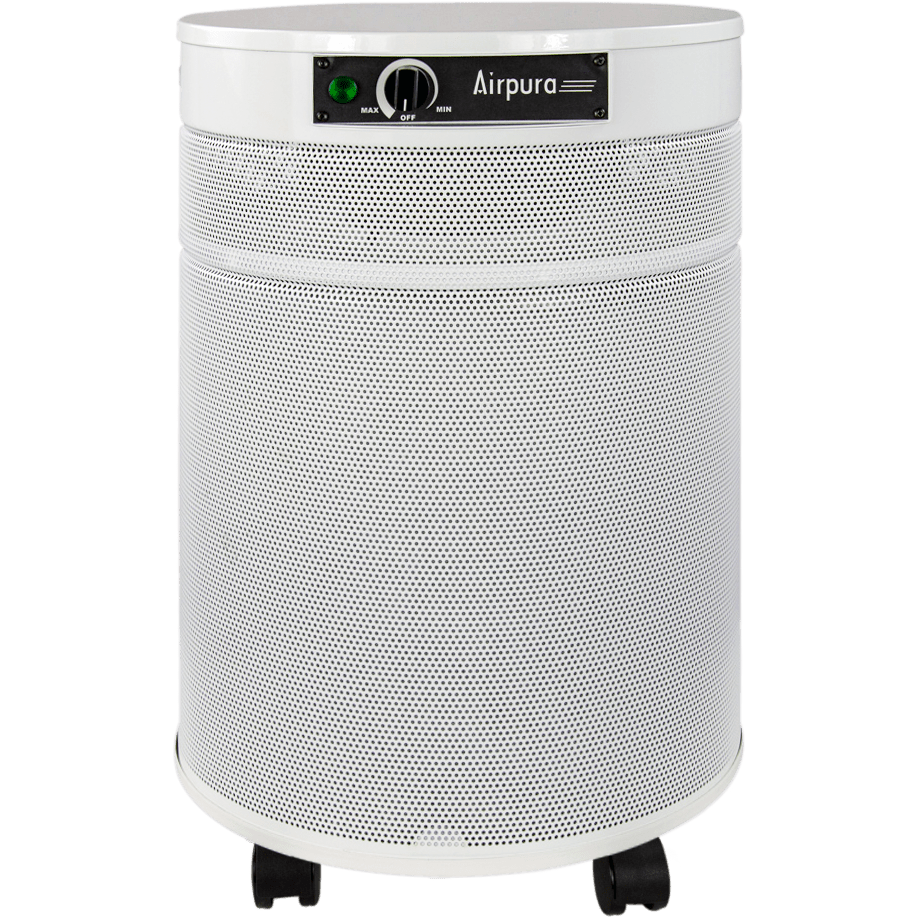 CONS
---
No Smart Features
High power consumption
Very high cost for filter replacement
Since 2004, the Airpura is the largest air purifier manufacturer in Canada. The Airpura R600 is the everyday clean for your home, which is suitable for both the individuals prone to allergies and breathing problems and families who want clean and healthy air at home. Find out the power of this air purifier in our Airpura R600 Review.
Airpura R600 Price
As the starter air purifier, the Airpura R600 is more affordable than other Airpura machines. It has a great air filtration process with the powerful True HEPA filter and 18-lb carbon filter, and can deal with airborne chemicals and everyday pollutants.
The Airpura R600 starts at $699, which is $60 higher than the Airpura H600. With an upgrade from the common carbon filter to an Activated Carbon filter with 2-inch depth, the Airpura R600 is capable of dealing with smoke and odors better.
$699 is also the price of the flagships from other high-end brands like Honeywell HPA600B, Molekule Air or Philips 5000i. These devices are for a much smaller room, but they all have great smart features to live up to the customers' expectations. We have also finished reviews for the Dyson HP04 and Dyson TP04, which are the flagships of the series of Dyson Pure Hot+Cool and Dyson Pure Cool Tower – the powerful air purifiers with fancy cooling and heating features.
So why you need to pay for this air purifier, while you can just purchase the Austin Air HealthMate Plus or Austin Air Bedroom Machine with less cash? We will find out right away.
Below is the best deal of the Airpura R600 you should get.
Top Airpura R600 deals right now
Airpura R600 HEPA Air Purifier, Carbon Filter Bed, Portable, White.
The Everyday Air purifier for all your problems with household chemicals, pollen, mold spores, dust, allergens, and odors.
Related post: Best air purifier 2023.
Airpura R600 Design and Size
If you buy the Airpura R600, you will have an air purifier with a look exactly like any other Airpura machines. It still features the all-steel housing, to prevent any off-gassing of chemical vapors, both within the clean air stream and in the unit's end-of-life phase. With this housing, the Airpura R600 is 93% recyclable.
Just like the Airpura H600 or Airpura G600, the Airpura R600 can be upgraded to the Airpura R614, with the H14 Super HEPA filter. You will get the ultimate protection from one of the most powerful HEPA filters in the world.
There is one pressure seal on the filter chamber ensures that all of the dirty air passes through the filters. Other systems allow leakage and do not achieve the 99.97% HEPA filtration rating. Also, the felt gaskets will seal the filter chamber and maximize the filtration.
The Airpura R600 is 23 inches in height and 15 inches in depth. The air flow system concept in this Airpura R600 is a 360° Distribution air flow, which can maximize the air flow and direct it to anywhere in your home.
Airpura R600 weighs 45 lbs, which is similar to Airpura F600, Airpura T600 and Airpura C600. You still have the helpful casters to move the air purifier around your home easier.
Related post: Best air purifiers for bedroom.
Airpura R600 Filters
Now, we are reading one of the two most important factors when deciding the performance of one air purifier – its air filters. Basically, we will check the quantity of air filters and what air filter types it used first. Airpura R600 make use of the standard 3-stage air cleaning system of this company.
Pre-filter – To protect the main filter, Airpura R600 uses a poly pre-filter, which can trap large particles such as pet hair, human hair and large dust. It can be vacuumed clean and should be changed after 6 months or 1 year.
Activated Carbon Filter – Airpura R600 uses a powerful Activated Carbon filter, with 18 lbs of coconut shell charcoal inside.
True HEPA filter – Airpura R600 upgrades to the True HEPA filter, and can deal with 99.97% of any contaminant particles as small as 0.3 microns in size.
With a 40-sq-ft True HEPA filter, the Airpura R600 can easily remove any pollutants with the smallest size of 0.3 microns. Moreover, you can upgrade the True HEPA filter to the HEPA 14 filter, to remove 99.99% of airborne particles ≥ 0.3 microns.
The Airpura R600 also brings back the 18-lb Activated Carbon filter, instead of the inferior Hi-C carbon filter. With 100% made of coconut shell, the Airpura R600 can deal with all types of cigarette smoke, household odors, chemicals and even VOCs. And the carbon filter is 100% made of natural materials, and you shouldn't worry about the problem of chemical leakage from this filter. Moreover, it can last for 2 years. This is one of the best Activated carbon filters in the world, only behind the performance of AllerAir 5000 or AllerAir 6000.
For this air purifier's performance test, I used the Austin Air Allergy Machine and Austin Air HealthMate Plus to compare the performance. I also chose the Oransi EJ120 and IQAir HealthPro Plus, which are more expensive than our today Airpura R600. The result, they all shared the same efficiency of dealing with 99.97% to 99.99% any particles as small as 0.3 microns.
You need to pay $179 for the True HEPA filter, and $219 for the Activated Carbon filter. Luckily, you only need to change the True HEPA filter after 3 to 5 years.
Related post: Best air purifiers for allergies.
Airpura R600 Room Coverage
The room coverage of Airpura R600 is 2000 square feet, according to the technical standard of Airpura air purifiers. However, in Airpura website, they stated the room coverage of this air purifier to be 2500 square feet.
The ACH of Airpura R600 is 2X. For a room of 2000 square feet, it will exchange the air every 30 minutes.
The CADR of Airpura R600 is 560 cfm in general. You get another Airpura air purifier with high CADR rating again.
Related post: Best large room air purifiers.
Airpura R600 Sound
The Airpura R600 shares the same fan power as others in the Airpura family, and we can believe in such quiet fan power.
From the measurement, our testing unit is only 28 decibels at the lowest setting, and this is exactly the noise level of the whisper. There is no way you can hear a sound from such low noise level. However, if you are running the Airpura R600 at the highest setting, the noise level is 62 decibels (db), which is 8 times higher than the lowest noise level. For me, it is reasonable for an industrial air purifier. But this Airpura R600 is mostly designed for home, and if you have problems with the consistent noise, you should avoid the Airpura R600.
Related post: Best air purifiers for baby.
Airpura R600 Power Consumption
In Breathe Quality, one of our most FAQs is "Do air purifiers use a lot of energy?". In fact, an air purifier needs to run for a long time (usually more than 8 hours) to be efficient, and therefore, power consumption is an important criteria to decide which air purifier to buy.
Keep it in mind that an air purifier with better performance, will commonly consume more energy. The Airpura R600 has a lowest power consumption of 40 watts. When you run the device on highest fan speed, it would consume 120 watts. If you care about your energy bill, you should switch to the Honeywell HPA600B or Philips 5000i.
To run the Airpura R600 8 hours per day, you need to pay from $15 to $43 annually. Even if you always run the air purifier on highest speed, it would cost you only $0.1 each day.
Related post: Best air purifiers for pets.
Airpura R600 Additional Features
Both the Airpura and Austin Air families are saying no to any kinds of additional features. It seems that the high-end air purifiers are mostly for air purification, not for some flashy features to show off. You shouldn't be surprise if your Airpura R600 doesn't have any additional features.
There won't be even the filter replacement indicator or the Timer. There is only one manual switch to change the fan speed of this machine.
If you like to add the Smart Sensor, a great feature to automatically adjust the fan power to suit the current indoor air quality, you need to buy the Alen BreatheSmart. Or if you need both the Smart Sensor and Smart Wi-Fi connectivity, you should look for the top dogs of high-range segment – the Dyson Pure Cool Link or Blueair Classic 480i.
Related posts:
1, Best air purifiers for smoke.
2, Best air purifiers for dust.
3, Best air purifiers for mold.
Airpura R600 Customer Service
The Airpura Industries is a strong brand in Canada, and they are active in customer service field. Anyone who demands an air purifier from this brand can take dedicated suggestion about which device to buy, also with a reasonable installation of Central Air System (the latter is only available in local).
You can contact them freely via phone at 866-505-7872, or via email at info@airpura.com. They will get back to you as soon as possible.
Moreover, this company provides a 5-year warranty on parts, and even 10-year warranty on labor. This is one of the best customer services for the air purifier, and you would be happy with it.
Top Airpura R600 deals right now
Airpura R600 HEPA Air Purifier, Carbon Filter Bed, Portable, White.
The Everyday Air purifier for all your problems with household chemicals, pollen, mold spores, dust, allergens, and odors.
Our verdict
If you need a long-term investment on air purifier, the Airpura R600 is a great-to-go one. However, I suggest to use the Airpura I600, which has more available options to upgrade than this air purifier.
Airpura R600 Air Purifier: Trusted Review & Specs in 2023
Airpura R600 Reviews and Specs (Air Purifier Trusted Reviews in 2023). ✓ Cleaning Power: True HEPA filter ✓ Room: 2000 sq ft ✓ Value: 3.4/5 ✓ Certified Review.
Product Brand: Airpura
Product Currency: USD
Product Price: 699
Product In-Stock: https://schema.org/InStock
Performance

Features

Annual Cost

Design

Price