A great update to the Whole House Air Cleaners line, thanks to the original MERV-16 air filter. The Aprilaire Model 5000 is the only option to buy in 5000 series – the latest whole-home air cleaning system series of Aprilaire. Today, we will make the latest Aprilaire 5000 Review to see if we should pay that much for a cabinet of air filter.
Updated: If you are looking for a common console air purifier for large rooms, you should check the Aprilaire Clean9550, Aprilaire Allergy9550, Aprilaire Allergy+Pet9550.
In Breathe Quality, we have reviewed all air purifiers under these sections. Also, we guarantee that:
We do give honest reviews (both pros and cons) so anyone will guarantee to have the wisest choices.
We do not (and never) exaggerate one product just to let you click the links and buy that product blindly.
Sections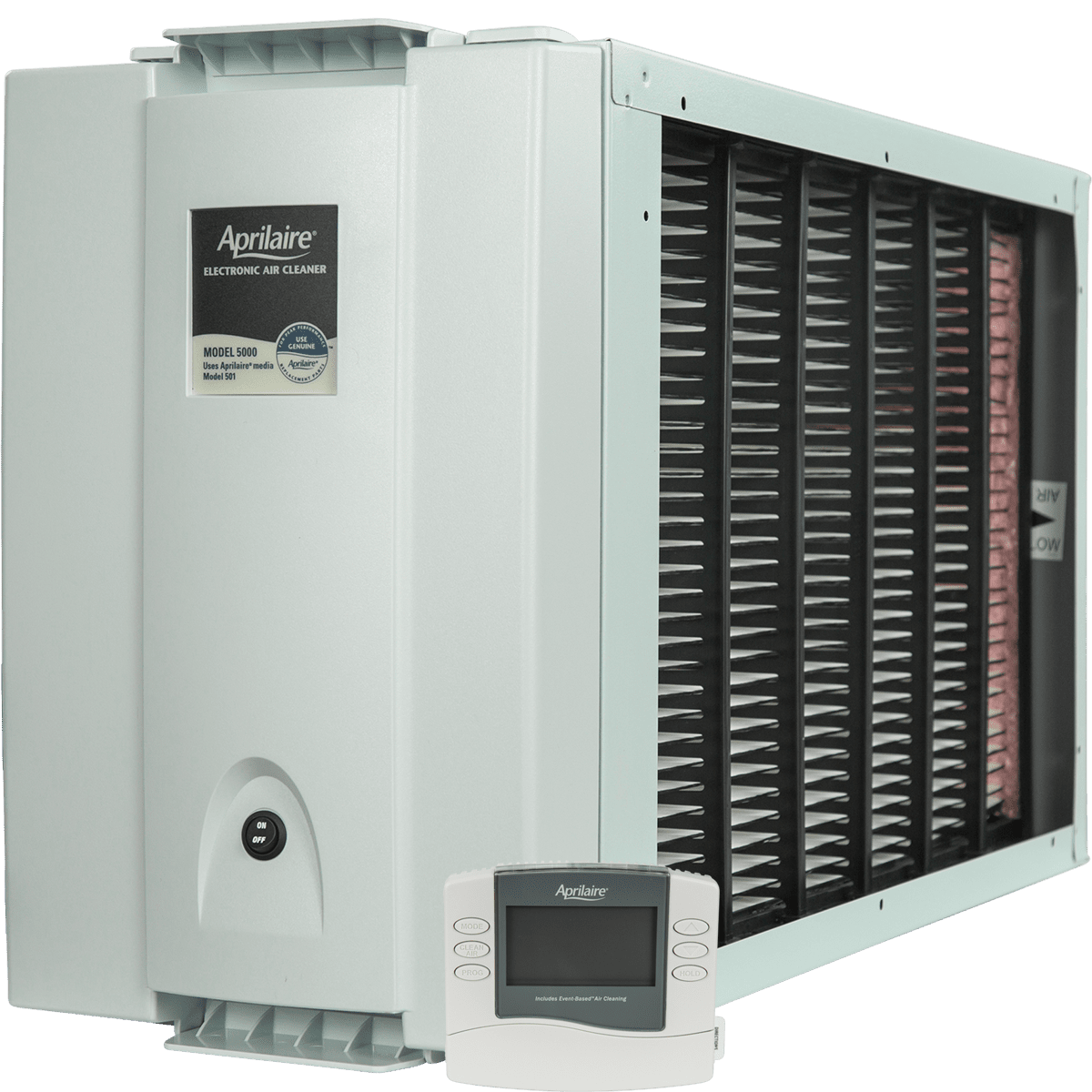 PROS
---
Great value for money
Huge coverage
Solidly built
Adds new thermostat for easier whole-system installation
New tech for better filtration
Aprilaire is a big American air purifier brand, with the invention of their whole-home air cleaners to be the ultimate solution for keeping expensive HVAC system working. The Aprilaire 5000 is the latest model in this whole-home lineup, and in our today Aprilaire 5000 Review, we will check every section of this air purifier, to see whether it's worth buying or not.
Other Aprilaire's Air Purifier Reviews:
Aprilaire 5000 Price
With the arrival of Aprilaire 5000, fans of the Aprilaire 3410 will no doubt be jumping at the chance to see how good Aprilaire's latest flagship air purifier is.
It has a lot of physical changes for the design from any of its predecessor, the big new is the Aprilaire 5000 will originally pack with the MERV-16 air filter, together with electrostatic technology to remove even the particles with 0.01 microns in size.
But that huge jump in the cost? You need to spend $559 to have one Aprilaire 5000. Sure, it can last permanently but other Aprilaire predecessors can last the same, while keeping the price below $159. So, for the extra $400, what should we expect from the Aprilaire 5000?
The top challenger for the Aprilaire 5000 is obviously Honeywell F300, as Honeywell is the first company to apply the electrostatic filter in their whole-home air cleaning system.
Top Aprilaire 5000 deals right now
Aprilaire 5000 Electronic Air Cleaner.
The whole-home air cleaning system to help remove pollen, dust and mold spores. For room up to 2000 sq ft.
Related post: Best air purifiers 2022.
Aprilaire 5000 Design and Size
Take a look at the Aprilaire whole-home air cleaning systems. For years, they were the HVAC system's protectors – a strong cabinet with air filter inside to trap any pollutants in the air.
The Aprilaire 5000 feels like a quality product. Yes, we still have an UL classified cabinet, made of corrosion-resistant heavy gauge galvanized steel.
This air cleaner can load up to 400 lbs of air thanks to its big size. Its height is 18.4 inches at front and 17.75 inches at back. The width is around 12 inches and the depth is 31 inches, making this air cleaner a lot bigger than the Aprilaire 3410, even though the size is quite similar and the unit also uses a 16 x 25 air filter.
Just like any whole-home air cleaner in Aprilaire family, the Aprilaire 5000 will have proprietary door design and Self-Seal technology to eliminate unfiltered air bypass, thus delivers MERV performance as rated.
Aprilaire 5000 weighs 38 lbs, but you only need to install it for once, and then you can totally forget it.
Related post: Best air purifiers for bedroom.
Aprilaire 5000 Filters
The Aprilaire 5000 is an electronic air cleaner, which is the first whole-home air cleaner to have a 2-stage air cleaning system as below.
HEPA filter – Just like other HVAC system's filter, Aprilaire 5000 will use the MERV-16 air filter, which can remove 99% of pollen, mold and spores, 98% of airborne bacteria-sized particles and fungi, 98% of pet dander and dust, 95% of tobacco smoke and smog, 80% of virus and ultra-fine particles down to 0.01 microns in size.
Electrostatic filter – With electrostatic technology, the Aprilaire 5000 enhances the performance of air filtration. This is, in fact, one kind of ionizer. Can be switched on/off.
Aprilaire 5000 packs with a MERV-16 air filter, which is the standard of True HEPA filter. You can see the removal efficiency of MERV-16 air filter below.
| | | | |
| --- | --- | --- | --- |
| | 0.3 – 1 microns | 1 – 3 microns | 3 – 10 microns |
| MERV-16 | 89% | 95% | 98% |
| MERV-13 | 63% | 88% | 93% |
Together with the electrostatic filter, the Aprilaire 5000 can increase the efficiency of trapping airborne particles down to 0.01 microns from 80% to 98%. Such performance is better than a lot of True HEPA air purifiers at the moment.
You should replace the filter annually, for optimal performance. It is quite interesting that the genuine 501 air filter for Model 5000 (rated MERV-16) costs only $49, which is $10 less than a MERV-13 air filter.
Related post: Best air purifiers for allergies.
Aprilaire 5000 Room Coverage
The Aprilaire 5000, just like other brothers in Aprilaire family, is able to work with the whole-home HVAC system, and can clean the room up to 2000 square feet easily.
The Aprilaire 5000 is not a common air purifier with fan power, so we can't measure its ACH and CADR rating.
Related post: Best large room air purifiers.
Aprilaire 5000 Sound
Without fan power, Aprilaire 5000 won't produce any noise. And actually the Aprilaire 5000 will work in unison with your existing heating, ventilating, and cooling system (HVAC) to filter all contaminants in your air, so no way you can see it in your living areas.
It will perform silently and invisibly 24 hours a day on demand, and you won't hear any "snapping" or "popping" that's common with plate-type EACs.
Related post: Best air purifiers for baby.
Aprilaire 5000 Power Consumption
One of our most FAQs is "Do air purifiers use a lot of energy?" In fact, air purifier must be used for a long time to be efficient. And power consumption is one important criteria to review if this air purifier is good or not.
Being the Electronic Air Cleaner, the Aprilaire 5000 has a power consumption of 60 watts. The unit is equipped with a 6-ft grounded cord with plug, so make sure to place the Aprilaire 5000 near any socket to use the electrostatic filtration.
If you use the Aprilaire 5000's electrostatic technology for 8 hours each day, you need to pay $22 each year.
Related post: Best air purifiers for pets.
Aprilaire 5000 Additional Features
Aprilaire 5000 comes with an Air Cleaner Control, which can be installed anywhere you choose. This control unit has a size of a thermostat, features a digital display of 4 air cleaning options.
Continuous 24/7 Cleaning – For constant cleaning day and night.
Auto Cleaning – Runs for 30 minutes every hour to help reduce the energy consumption.
Event-based Cleaning – Runs for 3 hours then shut down.
Allergy Cleaning – Runs for 24 hours then shut down.
Related posts:
1, Best air purifiers for smoke.
2, Best air purifiers for dust.
3, Best air purifiers for mold.
Aprilaire 5000 Customer Service
Aprilaire is one of the top air purifier brands in the U.S, and they are happy to assist you for any problems. Just call them toll-free at 800-334-6011, from Monday to Friday, 7:00 a.m – 5:00 p.m CST. You can also email them out of working hours, right in their Contact Us page.
Aprilaire grants you a 5-year warranty for any whole-home air cleaners, the warranty is on cabinet from the date of installation. Moreover, you are guaranteed by Clean Coil, to commit the professional cleaning in the next 10 years, at the cost of $100.
In case of Aprilaire 9550 series, the limited warranty is only effective for 1 year, and you don't have the Clean Coil Guarantee.
Top Aprilaire 5000 deals right now
Aprilaire 5000 Electronic Air Cleaner.
The whole-home air cleaning system to help remove pollen, dust and mold spores. For room up to 2000 sq ft.
Our verdict
Aprilaire 5000 is a high-quality whole-home air cleaner, that combines both HEPA filter and electrostatic technology to filter 98% of any airborne particles down to 0.01 microns. However, the price of this air cleaner is a bit too high, making it a high-range budget for your HVAC system.
Cleaning Power

Portability

Features

Power Consumption

Price
Summary
Strong flagship of Aprilare's whole-home air cleaners.