The Aprilaire 2275 Portable Air Purifier, which is just like its bigger brothers, is overpriced for nothing to recommend. For anyone who looks for a compact HEPA air purifier, you can get plenty of other options. But first, let's check out our Aprilaire 2275 Portable Review.
However, it seems the product has been discontinued.
Update: If you are looking for the flagships of Aprilaire with higher performance, I recommend reading the reviews of Aprilaire 9550V, Aprilaire Allergy9550 and Aprilaire Allergy+Pet9550.
In Breathe Quality, we have reviewed all air purifiers under these sections. Also, we guarantee that:
We provide honest reviews (both pros and cons) so that everyone can make the best decisions.
We do not (and never will) exaggerate one product just to let you click the links and buy that product blindly.
Sections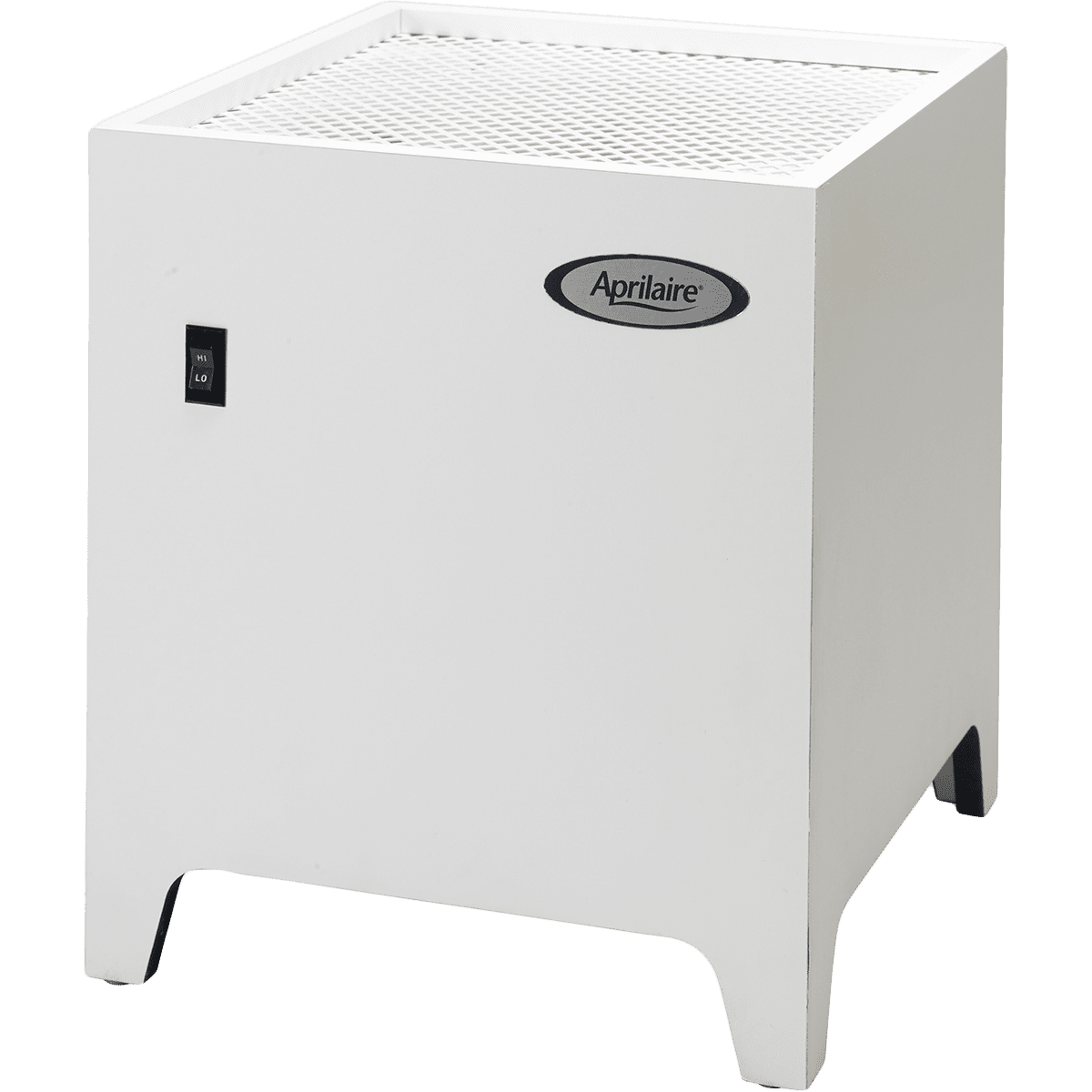 PROS
---
Sturdy design
Compact size
Zero ozone emission
CONS
---
No True HEPA filter
Low fan power
Terrible value for money
Aprilaire is one of the biggest air purifier brands in North America. Since 1954, the company has provided both personal and whole-house air cleaning solutions. Well, the Aprilaire 2275 fits the bill as a portable air cleaner, but it is lacking in many key areas, even at its price. Well, to learn more, you should read our Aprilaire 2275 Portable Review.
Other Aprilaire's Air Purifier Reviews:
Aprilaire 2275 Price
The Aprilaire 2275 could be a better air purifier if it weren't for the price. At its official price tag, the air purifier simply doesn't make much sense. It happens again for its bigger brother – the Aprilaire Clean9550, with its ridiculously high price for a HEPA-type air filter.
The air purifier industry has a lot to thank Aprilaire for; the whole-house air cleaners were classics. The powerful Aprilaire Allergy9550 and Aprilaire Allergy+Pet9550 were premiums that impressed us a lot.
Unfortunately, though, its portable air purifier business is just scraping by, and nowhere is this more evident than in the Aprilaire 2275. It is tagged with an official price of $309 on the Aprilaire website, and even if you get a much lower price from our deal, it is still ridiculous.
While there are no other Aprilaire air purifiers that offer more for less, the competition still blows them out of the water. Let's take a look at the Medify MA-40, Rowenta Intense Pure Air XL PU6020, Airthereal AGH550 or Bissell air320, they all outperform each other in even much larger rooms.
Do you want to spend a lot on a simple, compact air purifier? If you still want an Aprilaire air purifier, you should get one from our deal, as the price can go as low as just $249.
Top Aprilaire 2275 deals right now
Aprilaire 2275 Portable High Efficiency Air Cleaner.
High efficiency filter media to capture 98% of allergy causing particles like pollen, dust, dirt, and pet dander. Pay as low as $11/month. Free Shipping.
Related post: Best air purifiers 2023.
Aprilaire 2275 Design and Size
The Aprilaire 2275, with its durable, sturdy construction and simple, subtle design, isn't a bad-looking or bad-feeling air purifier. I love the white color in this Aprilaire 2275, and it can make our bedroom much nicer.
Its body stands well on its four legs, with the same quality and craftsmanship as even the bigger products like the Aprilaire Allergy9550 or Aprilaire Allergy+Pet9550. Perhaps the design is the star of this Aprilaire 2275, leading to such a high cost.
At only 13.75 inches in height and 11.9 inches in width, the Aprilaire 2275 is portable and compact. It runs on a simple bottom-to-top airflow system concept, with a protective screen acting as a pre-filter at the bottom before the polluted air contacts the HEPA filter.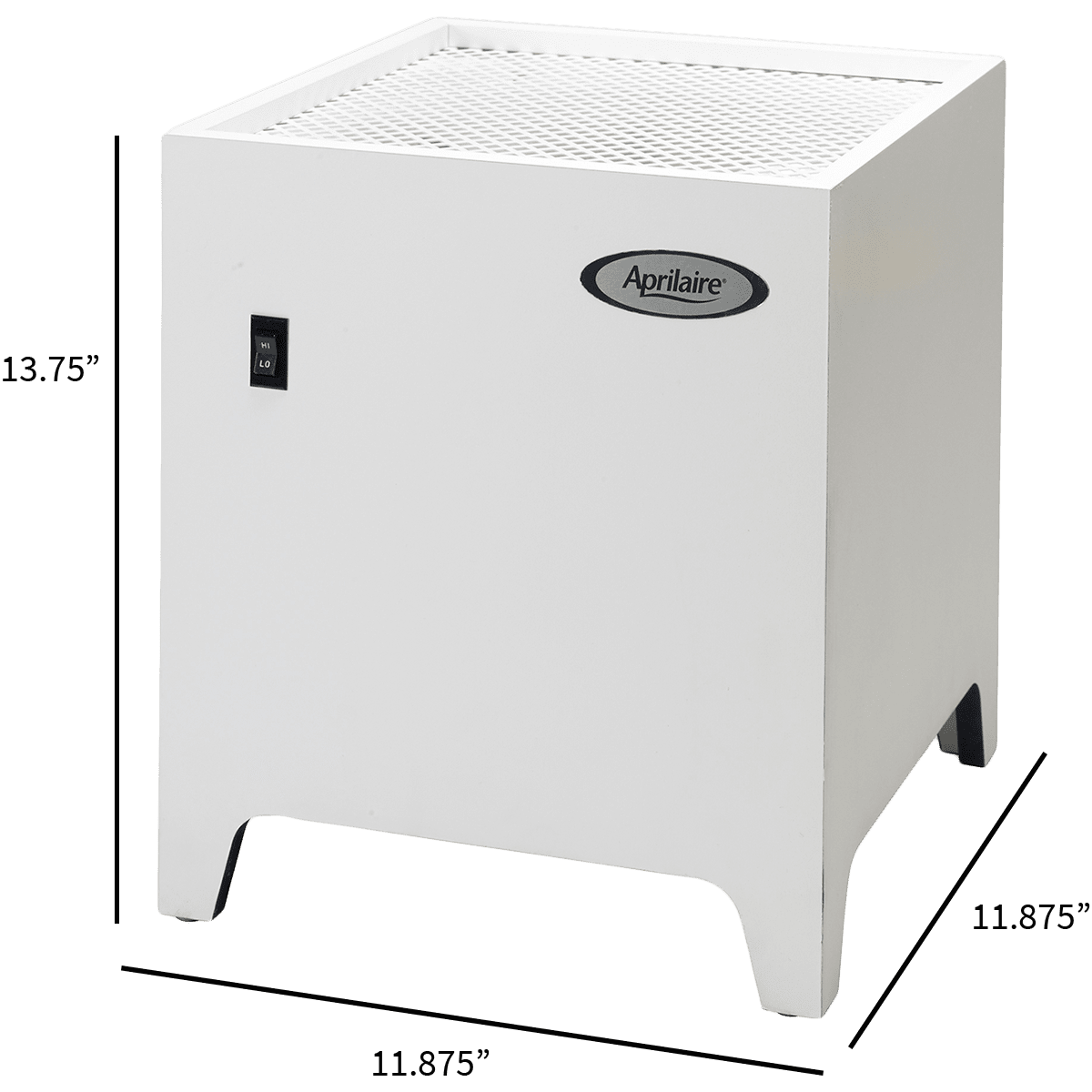 Source: Sylvane.com
This Aprilaire 2275 has an easy-to-use side mounted switch control, which the company stated that it's toddler and pet proof. Well, I think it's simple, but it can't hide from curious eyes.
Still, the Aprilaire 2275 blends in perfectly, like a small piece of furniture. It weighs only 13 lbs, and you can bring it anywhere in your home or office.
Related post: Best air purifiers for bedroom.
Aprilaire 2275 Filters
To make the Aprilaire 2275 simple enough, the American company only uses one filter for this system.
HEPA filter – Aprilaire 2275 only uses a MERV-10 HEPA filter, which removes 98% of airborne particles as small as 0.3 microns like dust, pollen, dirt and pet dander.
Well, it seems Aprilaire doesn't want to let us have a True HEPA filter for a portable device. With the MERV 10 air filter, this Aprilaire 2275 has much lower performance compared with other air purifiers in the same price range. In our test of 100 square feet, it had an efficiency of only 99%. In comparison, it loses against any other air purifiers meant for small rooms in the same price range, like the Rowenta PU3040, Sharp FP-F50UW, Oransi OV200 or Oreck Airvantage.
The annual filter cost isn't cheap, either. At $29, the filter replacement for Aprilaire 2275 can last only 6 months, resulting in $58 for a full year.
Related post: Best air purifiers for allergies.
Aprilaire 2275 Room Coverage
The Aprilaire 2275 does still manage to deliver decent fan power, and the manufacturer suggests a room size of 256 square feet for this air purifier.
The ACH of Aprilaire 2275 is 2X to 4X. On highest speed, the air purifier can clean and replace the air 4 times per hour.
The CADR of Aprilaire 2275 is 103 Dust/ 53 Smoke/ 130 Pollen (cfm). Such fan power is insufficient to compete even in the sub-$150 range, and it doesn't make any sense in the $300 range.
Related post: Best large room air purifiers.
Aprilaire 2275 Sound
With low fan power in mind, it will come as no surprise that the Aprilaire 2275 is really silent, and it allows you to run it at its highest speed while sleeping. The average noise level of this air purifier is only 35 decibels (dB), and I believe such a sound level is even quieter than the library mode.
To put it another way, if you use the Aprilaire 2275 in your bedroom or nursery, it will clean the air without disturbing you.
Related post: Best air purifiers for baby.
Aprilaire 2275 Power Consumption
One of our most FAQs is "Do air purifiers use a lot of energy?" In fact, air purifiers must be used for a long time to be efficient. And power consumption is one important criterion to review to determine if this air purifier is good or not.
Again, we don't have an Aprilaire Energy Star air purifier, but the power consumption of this Aprilaire 2275 is still too low. It is only 35 watts at the lowest speed and 51 watts at the highest speed.
If you run the Aprilaire 2275 for 8 hours each day, you need to pay $12.5 to $18 each year.
Related post: Best air purifiers for pets.
Aprilaire 2275 Additional Features
The Aprilaire 2275 has nothing to look for. Aprilaire wants to introduce an air purifier to clean the air without stealing the show. The company also said that there are no blinking lights, beeps, or sci-fi appearances.
If you want more additional features, I highly recommend to look for the Airmega 200M or Sharp FP-K50UW instead.
Related posts:
1, Best air purifiers for smoke.
2, Best air purifiers for dust.
3, Best air purifiers for mold.
Aprilaire 2275 Customer Service
Aprilaire is one of the top air purifier brands in the U.S., and the company will assist you with any problems. Just call its customer service toll-free at 800-334-6011, from Monday to Friday, 7:00 a.m.–5:00 p.m. CST. You can also email outside of working hours; the address is right on the "Contact Us" page.
Aprilaire grants you a 5-year warranty for any whole-home air cleaners; the warranty is on the cabinet from the date of installation. Moreover, you are guaranteed by Clean Coil to have the professional cleaning done within the next 10 years, at a cost of $100.
In the case of the Aprilaire 9550 series, the limited warranty is only effective for 1 year, and you don't have the Clean Coil Guarantee.
Top Aprilaire 2275 deals right now
Aprilaire 2275 Portable High Efficiency Air Cleaner.
High efficiency filter media to capture 98% of allergy causing particles like pollen, dust, dirt, and pet dander. Pay as low as $11/month. Free Shipping.
Our verdict
The Aprilaire 2275 Portable Air Purifier doesn't make much sense to me, given the fact that it has a starting price of $300. Perhaps making competitive personal air purifiers is still a difficult task for this U.S.-based company. You can look for Winix AM90, Honeywell HPA300 or Coway AP-1512HH at a much cheaper price, and they all wipe the floor with it from a specs and real-world use point of view.
While its design isn't bad, unless you can get this air purifier at a fantastic price with such great alternatives available today, it's a no from us.
Aprilaire 2275 Portable Air Purifier: Trusted Review in 2023
Aprilaire 2275 Portable Reviews and Specs (Air Purifier Trusted Reviews in 2023). ✓ Cleaning Power: HEPA filter ✓ Value: 1.9/5 ✓ Certified Review.
Product Brand: Aprilaire
Product Currency: USD
Product Price: 249
Product In-Stock: https://schema.org/InStock
Performance

Features

Annual Cost

Design

Price
Summary
An Aprilaire air purifier with a ridiculously high price for the actual value.