The Oreck Airvantage offers better air cleaning system, especially in the Plus and Elite versions. And it comes with a price that puts many other Oreck air purifiers to shame. Let's find out in our latest Oreck Airvantage Review.
It seems the Oreck Air Response Turbo has been discontinued, as we can't find the product in Oreck website for a long time. We recommend you to look for the Oreck Air Response Large instead. However, you should check the Levoit Core 400S for a much better device.
In Breathe Quality, we have reviewed all air purifiers under these sections. Also, we guarantee that:
We do give honest reviews (both pros and cons) so anyone will guarantee to have the wisest choices.
We do not (and never) exaggerate one product just to let you click the links and buy that product blindly.
Sections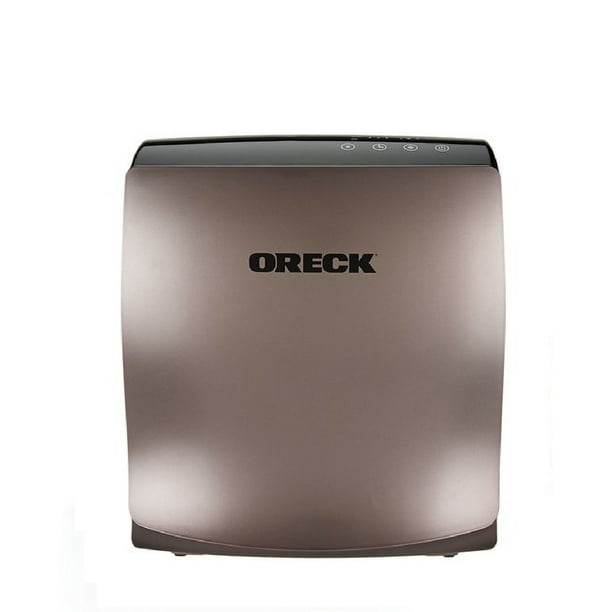 PROS
---
High-quality True HEPA filter
Variety color options
New VOC filter
Remote control
CONS
---
Quite noisy
Low CADR rating
Lacks of necessary features
Oreck has gained advantage with this new Oreck Airvantage, as it introduces the high-end True HEPA filter for small rooms. The Amazon's Choice air purifier also comes with many fancy color options, so it is a nice portable air purifier to use. Okay, let's dig deep in the Oreck Airvantage Review.
Other Oreck's Air Purifier Reviews:
Oreck Airvantage Price
We have seen some fascinating air purifier innovations from Oreck family, be it the Oreck Air Refresh with humidification function, or the Oreck XL Professional and Oreck DualMax with permanent Truman Cell filter. But if there's one evolution that has gone on to become a genuine head-turner, it would be the Oreck Airvantage.
With this Oreck Airvantage, American firm Oreck made a striking statement, not just from a design perspective but from a real air cleaning system with high-quality air filter, too. They now are having a device that matches the performance rating of other big players in the global air purifier arena.
The Oreck Airvantage has officially launched the Plus and Elite versions, to add a new Volatile Organic Compound (VOC) filter, enhancing the current air cleaning system. The original model costs you $249, and Oreck always has a plan to discount the price to only $199 on their official website.
Its pricing places it firmly in the top of low-range sector of the market, where it is likely to face stiff competition from the Coway AP-1512HH, AIRMEGA 200M, Medify MA-40 or Honeywell HPA300, which all are the top-notch challengers.
In such an aggressively competitive segment, will the Oreck Airvantage truly gain advantage? We will find out later, but first, here is the best deal we could offer you for this air purifier.
Top Oreck Airvantage deals right now
Oreck AirVantage Air Purifier, Bronze.
Compact and Quiet, with real True HEPA filter and additional VOC filter. Designed for small rooms.
Related post: Best air purifier 2023.
Oreck Airvantage Design and Size
Nice and compact design would be the best described words for this Oreck Airvantage. It is shorter than other HEPA brothers like Oreck Air Response Small or Oreck Air Response Medium by 13.8 inches, and narrower by 12 inches.
All of this trimming has resulted in an overall weight of 12 lbs, which is 2 lbs lighter than the Oreck Response Large. It is the suitable size for a compact air purifier for bedroom.
Oreck Airvantage looks amazing with 3 different color options: Black, Silver and Red. Below is a link of the silver version, which is only available for the Oreck Airvantage Elite.
This air purifier runs a common bottom-to-top air flow system concept, with the air intake grill under the front cover. Turn the device to the back, you can find a top air outlet, which is right behind the top control panel bezel.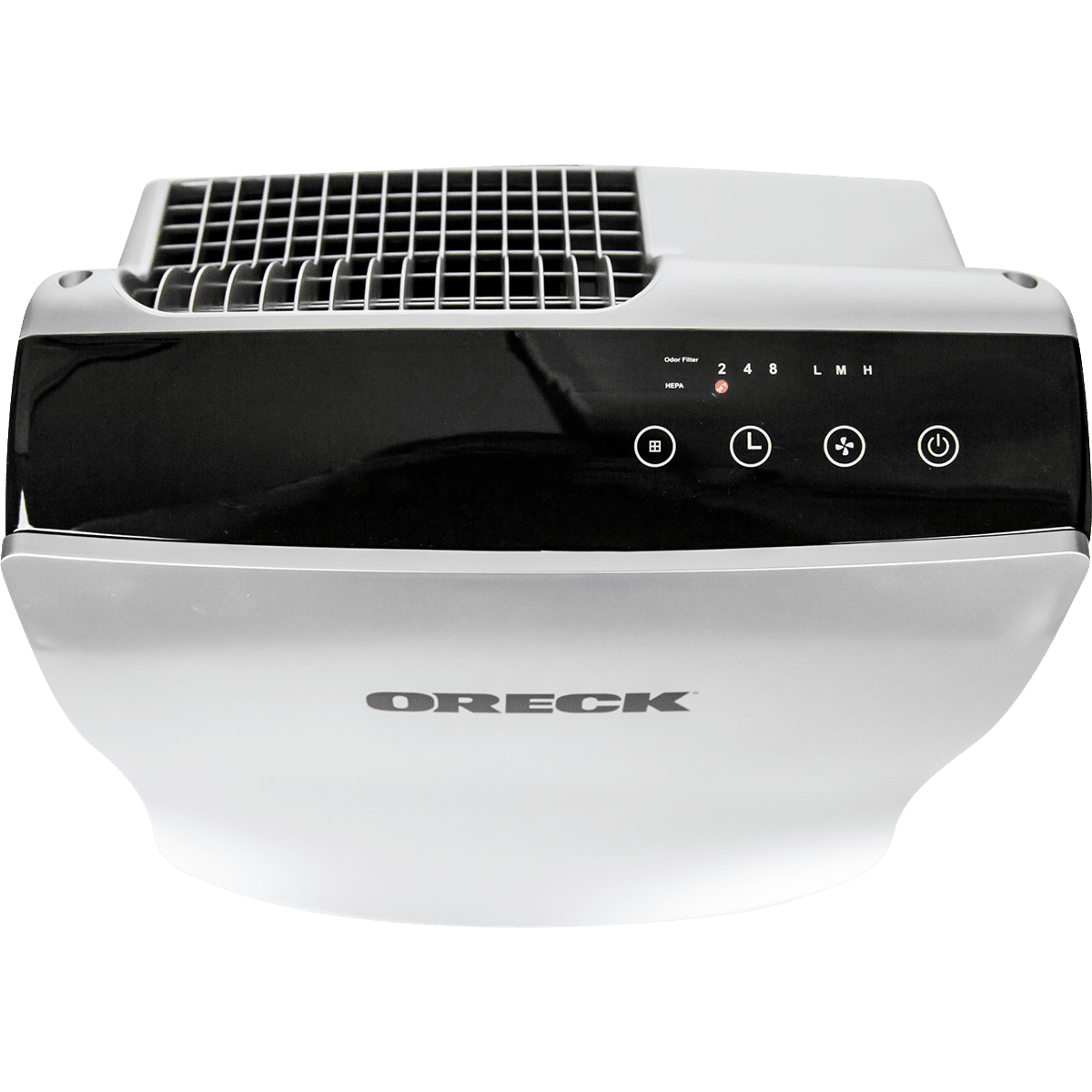 Source: Sylvane
Related post: Best air purifiers for bedroom.
Oreck Airvantage Filters
To decide the performance of one air purifier, normally we will check the quality and quantity of the air filters inside it, as well as the air filter types. With the formidable 3-stage air cleaning system, the Oreck Airvantage Plus is the best performer from this family in low-end market.
Activated Carbon filter – Oreck Airvantage has an Odor filter to remove unwanted odors from the air.
True HEPA filter – The main HEPA media filter can capture 99.97% of any particles down to 0.3 microns like pollen, dust mites, allergens, pet dander, and cooking smoke.
VOC filter – An optional filter for Elite and Plus versions, which removes all chemicals that can't be filtered by the HEPA and Odor filters.
While some may grumble about the lack of a True HEPA filter in Oreck devices, the Oreck Airvantage will introduce to you the most efficient air filter, which can capture up to 99.97% of any allergens in the air.
Moreover, the Elite and Plus versions also include the VOC filter, adding more carbon to enhance the chemical adsorption. The additional layer of filter isn't too expensive, so it won't be your problem.
Source: Amazon.com
Compared to others in Oreck family, the efficiency of Oreck Airvantage is a bit higher. I made a test for this air purifier in the same room as the Oreck Air Refresh, Oreck DualMax and Oreck Air Response Small, for a space of 100 square feet. The result, as you can see from the chart below, the Oreck Airvantage was the best performer with 99.92% for trapping any particles down to 0.3 microns.
Oreck Airvantage filter costs you $39, and it only lasts for 6 months. If you get a deal from our website, it is more likely you get a Plus or Elite version, so you should look for the VOC filter, too.
Related post: Best air purifiers for allergies.
Oreck Airvantage Room Coverage
As marketed to be designed for small rooms, the Oreck Airvantage is capable of cleaning areas of 120 square feet.
The ACH of Oreck Airvantage is 4X. With this air changes per hour rating, the air purifier can clean your room every 15 minutes.
The CADR of Oreck Airvantage is 76 cfm in general, which is just like the Oreck Air Refresh. This air purifier will work perfectly in the suggested room size.
Related post: Best large room air purifiers.
Oreck Airvantage Sound
With Oreck's new True HEPA filter, the Oreck Airvantage doesn't have many advantages at keeping the fan quiet. It is hardly ideal for anyone who demand a silent personal air purifier.
Having said that, the highest noise level of this air purifier is 60 decibels (db). It is too high for an air purifier with such low fan power. I believe the marketing term of "quiet operation" is false for the Oreck Airvantage.
Related post: Best air purifiers for baby.
Oreck Airvantage Power Consumption
One of our most FAQs is "Do air purifiers use a lot of energy?" because we need to run an air purifier for a constant long time, and power consumption is really a thing to consider.
Oreck Airvantage has a power consumption of 70 watts, which is equal to a Winix 5500-2 with triple the fan power. When you run it regularly, you will get a high electricity bill for sure.
If you run the Oreck Airvantage for 8 hours per day, you will need to pay $25 each year.
Related post: Best air purifiers for pets.
Oreck Airvantage Additional Features
The Oreck Airvantage doesn't bring anything new for the additional features. It only has one built-in Timer, to help you schedule the time off for 2, 4 or 8 hours.
If you have the Elite or Plus model in your home, you can use the remote control to change the setting of this Oreck Airvantage. It is as convenient to use as Oreck DualMax, of course.
Other than that, you only have one LED indicator for filter replacement, nothing more. If you prefer some high-end features, you should look for the Oreck AirInstinct or Oreck Air Response Turbo.
Related posts:
1, Best air purifiers for smoke.
2, Best air purifiers for dust.
3, Best air purifiers for mold.
Oreck Airvantage Customer Service
As one of the biggest air purifier brands in the world, Oreck maintains a very strong customer service, which is truly the top selling point of this manufacturer.
That's why Oreck not only commits with many global responsibilities, this American company also provides everything to help their customer buy and use their product easily. If you purchase an air purifier from Oreck, you are ensured to find the closest store or monitor the whole order status. For every problem, you can contact them via live chat, or call them at 800-289-5888, from Monday to Friday.
They also give you a 2-day express shipping, and Oreck usually promotes with a discount, as well as free shipping for most of their products. Note that the shipping will be quicker if the order is placed in the U.S.
Oreck is the rare company that allows full refund for their air purifiers, providing that the unit is still within the trial period. You should contact 877-533-2019 for more information. Also, you can ask for warranty at 800-989-3535, which lasts for 3 year in case of residential products. For commercial products, Oreck only provides a 1-year warranty.
Top Oreck Airvantage deals right now
Oreck AirVantage Air Purifier, Bronze.
Compact and Quiet, with real True HEPA filter and additional VOC filter. Designed for small rooms.
Our verdict
The Oreck Airvantage is one of a few air purifiers using True HEPA filter from Oreck family, but it doesn't have enough fan power and many other specs to keep on competing in this highly-challenged segment.
It seems to be discontinued, so you should steer your attention to the Levoit Core 400S instead.
Oreck Airvantage Air Purifier: Trusted Review in 2023
Oreck Airvantage Reviews and Specs (Air Purifier Trusted Reviews in 2023). ✓ Cleaning Power: True HEPA + VOC filters ✓ Value: 2.8/5 ✓ Certified Review.
Product Brand: Oreck
Product Currency: USD
Product Price: 249
Product In-Stock: SoldOut
Performance

Features

Annual Cost

Design

Price
Summary
Oreck Airvantage needs more to gain advantage in this price range.