In an era of modern tower air purifiers with all-in-one air filter, the GermGuardian AC9400W is the response of Guardian Technologies to this trend, which is quickly followed by the new Levoit LV-H134. As an air purifier brand that rises from the tower air purifiers lineup, we will have many expectations for this flagship GermGuardian air purifier. Today, we can finally deliver to you the GermGuardian AC9400W Review.
Other flagship of Guardian Technologies is the GermGuardian AC9200WCA, which has the UV-C light filter. Also, if you look for the compact version of this air purifier, you should search the GermGuardian AC4200.
In Breathe Quality, we have reviewed all air purifiers under these sections. Also, we guarantee that:
We do give honest reviews (both pros and cons) so anyone will guarantee to have the wisest choices.
We do not (and never) exaggerate one product just to let you click the links and buy that product blindly.
Sections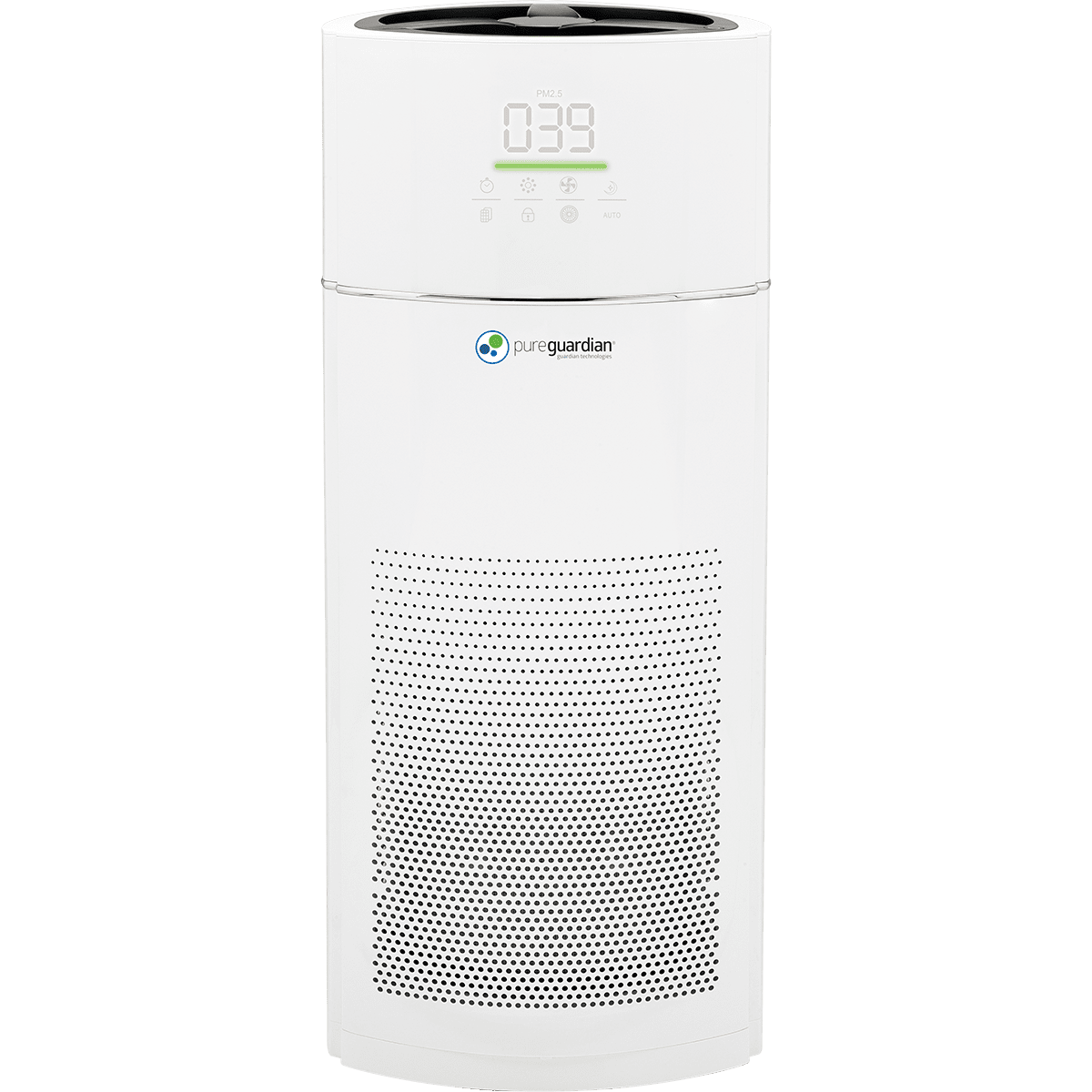 PROS
---
Great price for the specs
Well balanced CADR rating and ACH rating
Unique 360° air filtration
3-year warranty
CONS
---
Quite noisy at highest setting
High filter replacement cost
Although Guardian Technologies is a big name in the home country of the United States, they are still looking to make a mark in the mid-range to high-range segment, just like how Honeywell, Levoit and Rabbit Air are trying to do. And that's set to change in these years, as the firm gets serious about mid-range expansion, with the kinds of GermGuardian AC9400W and GermGuardian AC9200WCA. We will see if this new flagship can stand out in our GermGuardian AC9400W Review.
Other GermGuardian's Air Purifier Reviews:
GermGuardian AC9400W Price
GermGuardian AC9400W is the first try of this brand to test the new all-in-one HEPA air filter and remove the old UV-C light filter. It has some flagship specs to get people easily pay for a flagship-level price, too.
But this latest device is also the attempt of Guardian Technologies to serve those who love the tower air purifier concept in mid-range segment. This is a playfield of things like Levoit LV-H134, Blue Pure 121 and Honeywell AirGenius 6 for so long, and it is likely that GermGuardian AC9400W can stay out of the race.
As the name implies, GermGuardian AC9400W is a different product line from the previous GermGuardian's air purifiers, starting with number "9". For that upgrade, the GermGuardian AC9400W comes with $399, which is double the price of these "5" flagships, like GermGuardian AC5900WCA and GermGuardian CDAP5500BCA.
So to say, the price of GermGuardian AC9400W is $399 in the official website of Guardian Technologies. This price is the same with the GermGuardian AC9200WCA, and you should know that the GermGuardian AC9400W is one flagship of this famous American brand.
With a pretty much better specs than its brothers, the GermGuardian AC9400W is also against many flagship air purifiers of mid-range like Sharp FP-A80UW, Alen BreatheSmart 45i, Rabbit Air BioGS 2.0 or even Oransi Max. Keep in mind that the GermGuardian AC9400W is without the traditional UV-C light filter, which could be a limiting factor for some.
You can also consider either the Dyson Pure Cool Tower or Dyson Pure Cool Link Desk. Though they don't have the ionizer like the GermGuardian AC9400W, these Dyson air purifiers have a strong fan power that no other devices can match in the same price range. Mostly because these air purifiers are also the cooling fan, and they can keep the air flow continuously.
Top GermGuardian AC9400W deals right now
GermGuardian AC9400W Large Room Air Purifier for Home, 360° True HEPA Filter.
GermGuardian AC9400W Hi-Performance Tower Console Air Purifier with HEPA Filter, Odor Control & Air Quality Sensor.
Related post: Best air purifier 2022.
GermGuardian AC9400W Design and Size
You may be accustomed to the traditional 28-inch air purifiers from Guardian Technologies, be it the old GermGuardian AC5000 and GermGuardian AC5250PT, or the modern GermGuardian AC5350B. These tower air purifiers mainly deliver the traditional back-to-front air flow concept, too. Then you will be surprise with the brand new GermGuardian AC9400W, a tower air purifier with revolutionary design.
This air purifier is attractive, looks very much like the Levoit LV-H134, with a white skin and broad body. You won't realize anything inherited from the old predecessors in this 28-inch air purifier, starts with the new shape looking from top down. It is some kind of triangle, and I am curious about this new design. Of course, it is unique, and some people will like it immediately because it is different.
Source: Amazon.com
This new shape will help you remove the front plate more easily, but I find this design really difficult when I need to move the GermGuardian AC9400W around. Even with the two handles behind, I mostly skip it and just grab this air purifier. Someone really need to learn the UX course before designing this air purifier, I suppose. Fortunately, the GermGuardian AC9400W is only 18 lbs, and I can move it without trouble.
Another difference is the new logo. You won't see the traditional "GermGuardian" name on this air purifier, instead Guardian Technologies wrote the name of their old product line – PureGuardian. There is no confirmation for this change of GermGuardian AC9400W, but maybe we can expect more "PureGuardian" air purifier later. Also, just a guess.
For the air filtration process, this GermGuardian AC9400W uses a real 360° air intake grill, to maximize its fan power. This is also the notable air flow system from the Levoit LV-H134 and Blue Pure 121, and GermGuardian AC9400W is the next tower device to use it. The most-used bottom-to-top air flow concept indicates the top air outlet grill, where you will enjoy the fresh air. If you like this concept, you can also look for a reference in Austin Air HealthMate Jr, or Austin Air Allergy Machine Jr.
Source: Amazon
And it seems Guardian Technologies finally falls for the white color, which is the best color option for the plastic body.
You will also see the control panel display on front of this GermGuardian AC9400W. The digital display is bright and beautiful, but I find any air purifier with control panel on front really hard to use, as you need to kneel to change the settings. Without the remote control or Smart Wi-Fi connectivity function, there is only the manual way left to control this air purifier.
Related post: Best air purifiers for bedroom.
GermGuardian AC9400W Filters
When it comes to raw performance of an air purifier, we decide based on how many filters it has and the air filter types are used. The GermGuardian AC9400W uses the unique 2-stage air cleaning system of this brand.
True HEPA filter and Activated Carbon Filter – GermGuardian AC9400W uses an all-in-one mechanical air filter to both remove 99.97% of any airborne particles as small as 0.3 microns such as household dust, pet dander, mold spores and plant pollen. The carbon filter reduces odors from pets, smoking, cooking along with many VOCs emitted from a variety of household products and chemicals.
Ionizer – Instead of using the UV-C light filter, this GermGuardian AC9400W will use an ozone-safe ionizer function to enhance the ability to remove particles and keep the air fresh. Can be switched on/off.
Finally, GermGuardian AC9400W joins the premium air cleaner devices to combine all air filter types into one. This is first the idea of air purifiers like Blueair Classic 205 and Alen BreatheSmart FLEX, then we can see it more often as featured in GermGuardian AC9400W. The users can install the filter much easier, and they don't need to remember the date to change each type of air filter.
With the combination of both high-quality True HEPA filter and Activated Carbon filter, GermGuardian AC9400W deploys a brand new ionizer to further increase the efficiency of trapping airborne allergens. This new technology emits the negative ions to stick the pollutants into the physical air filter. It is widely used by many air purifiers in the same price range, like Rabbit Air BioGS 2.0, Alen BreatheSmart 45i, Winix HR1000 and Sharp FP-A80UW.
Just like all air purifiers above, this GermGuardian AC9400W is certified by California Air Resources Board (CARB), to comply the standard that its ozone emission is only less than 0.05 parts per million (ppm). If you have serious asthma or other breathing issues, you can always turn this feature off.
To test the performance of this flagship, I put the GermGuardian AC9400W in a room of 300 square feet, and let it run for one hour. I also used the Sharp FP-A80UW, AeraMax 300 and Winix HR950 to compare with this air purifier, in the same conditions. As you can see from the chart below, this GermGuardian AC9400W had similar result with Winix HR950, to trap 99.92% any particles as small as 0.3 microns. The AeraMax 300, with lower fan power, can only deal with 99.9%.
This GermGuardian AC9400W uses the latest Filter K FLT9400 from this brand, and for an all-in-one air filter like this, you need to pay $99. This air filter will also last from 6 to 8 months, depending on the use of the product. With short life time, the annual filter cost of this GermGuardian AC9400W is quite higher than normal, especially when compared with Rabbit Air BioGS 2.0, Austin Air HealthMate Jr, Austin Air Baby's Breath or Austin Air Allergy Machine Jr.
Related post: Best air purifiers for allergies.
GermGuardian AC9400W Room Coverage
This GermGuardian AC9400W is the air purifier with the best fan power of this brand, which means you will have a larger room coverage than even the GermGuardian AC5900WCA or GermGuardian AC9200WCA. The manufacturer's suggested room size for this air purifier is 400 square feet.
The ACH of GermGuardian AC9400W is 5X. This is the highest air changes per hour rating from this brand, too. This GermGuardian AC9400W will exchange the air in your room every 12 minutes.
The CADR of GermGuardian AC9400W is 263 Dust/ 259 Smoke/ 275 Pollen (cfm). This CADR rating is quite similar to the Winix HR950, and it it even better than the more expensive air purifiers like Oransi Max or Austin Air HealthMate Plus Jr.
Related post: Best large room air purifiers.
GermGuardian AC9400W Sound
On paper, this company never specify the noise level, or add the title of Quiet air cleaner for marketing. With no confirmation of these things, it's easy to assume that this GermGuardian AC9400W is not a silent air purifier. That is reasonable, because with a higher fan power, the sound is undeniable.
Even at the lowest setting, the noise level of GermGuardian AC9400W can reach 40 decibels, which is higher than most of the normal air purifiers in the market. For example, the AeraMax 300 is only 35 decibels, the Sharp FP-A80UW with 23 decibels or the Rabbit Air BioGS 2.0 with only 22.8 decibels.
And when you switch to the highest setting, the noise level of GermGuardian AC9400W can reach as high as 60 decibels (db). This is such a noise level of the public restaurant, or an air conditioning unit at 100 feet. I bet most of our beloved readers won't find this noise level acceptable.
With only 3 fan speeds, the GermGuardian AC9400W produces lots of noise at highest setting. If you need this air purifier when you sleep, or when you need to work in silence, you should only run it at lowest setting. Or else, I believe the Rabbit Air BioGS 2.0 is a much better choice.
Related post: Best air purifiers for baby.
GermGuardian AC9400W Power Consumption
One of our most FAQs is "Do air purifiers use a lot of energy?" In fact, air purifier must be used for a long time to be efficient. And power consumption is one important criteria to review if this air purifier is good or not.
Without the common UV-C light bulb, this GermGuardian AC9400W will consume only 48 watts. The power consumption is still higher than Rabbit Air BioGS 2.0, but it is better than the rated power of 52 watts from the brother GermGuardian AC9200WCA. If you manage to run the air purifier mostly in low setting, you don't need to pay much for your energy bill. That's why we need to buy an Energy Star air purifier like the GermGuardian AC9400W.
For using a GermGuardian AC9400W 8 hours per day, it would cost you up to $17 per year. As you can see, the annual cost is small, and you shouldn't think about it all the day.
Related post: Best air purifiers for pets.
GermGuardian AC9400W Additional Features
Like I said earlier, the GermGuardian AC9400W doesn't come with a remote control, or the Wi-Fi connectivity function. This is reasonable, because this American air purifier brand has received many mixed reviews for their Smart app, but mostly negative. We can hope for the Wi-Fi connectivity function in a future device of this brand, but for now, you can only get the previous models: GermGuardian CDAP4500BCA and GermGuardian CDAP5500BCA.
But unlike the partner AC9200WCA, this GermGuardian AC9400W comes with a handy Smart Sensor. They called this function the AQM, to detect the change in the indoor air quality instantly, and feedback with the light bar under the display monitor. Then, this air purifier will use the Auto Mode to automatically adjust the fan speed depending on the air quality level in the room.
GermGuardian AC9400W has the brand new Sleep Mode, so you can turn the display light on or off. Moreover, it will run in the lowest setting, to keep the noise level as low as possible. This can also be achieved with the optical sensor of Auto Mode, when the room is dark for over 1 minute, the GermGuardian AC9400W will enter the Sleep Mode.
You will have the Child Lock function, to lock control panel so your children won't accidentally change the settings. Press again to turn this feature off.
Finally, you still have the basic Timer and one LED indicator for filter replacement. These functions are so common for any air purifiers, and there is no way Guardian Technologies will miss them.
Related posts:
1, Best air purifiers for smoke.
2, Best air purifiers for dust.
3, Best air purifiers for mold.
GermGuardian AC9400W Customer Service
There is not much to say about the brilliant support from Guardian Technologies's customer service. The American brand is providing a very active support for anyone contacting them. They also put the Instruction Manuals online to help you solve the common questions by yourself. But if you can't find a solution, just contact the customer service via phone at 866-603-5900 or via email at support@guardiantechnologies.com. Just like any other brands, they will be available for you from Monday to Friday.
They have occasional Free Shipping policy, as well as a great discount on all products (most popular 10% to 20%). Whenever you find their air purifiers not as great as you previously thought, you can return them within 30 days of your original receipt of the order. And don't worry about the warranty policy of Guardian Technologies, as they warrant their products to be free of defects in materials or workmanship. You can register for a warranty in up to 5 years.
Top GermGuardian AC9400W deals right now
GermGuardian AC9400W Large Room Air Purifier for Home, 360° True HEPA Filter.
GermGuardian AC9400W Hi-Performance Tower Console Air Purifier with HEPA Filter, Odor Control & Air Quality Sensor.
Our verdict
There are many compliments for this new flagship of Guardian Technologies. The GermGuardian AC9400W is more powerful, more reliable and easier to install. With the similar price to the GermGuardian AC9200WCA, this air purifier is usually the better pick. Its only drawback is its high annual filter cost.
Performance

Features

Annual Cost

Design

Price
Summary
The flagship of Guardian Technologies' army, and you will be happy to use it.