While its performance and design won't blow away users of high-end air purifiers, the AeraMax 300's high-quality air filtration system and specs make it a compelling option for users on a budget. Not all its features are immediately competitive against other brands, which holds the air purifier back from greatness. Today, we are pleased to present the AeraMax 300 Review.
In Breathe Quality, we have reviewed all air purifiers under these sections. Also, we guarantee that:
We provide honest reviews (both pros and cons) so that everyone can make the best decisions.
We do not (and never will) exaggerate one product just to let you click the links and buy that product blindly.
Sections
PROS
---
Great performance
Better room coverage
Accurate Smart Sensor
Slightly quiet
CONS
---
Quite high power consumption on highest fan speed
Lacks common features
AeraMax is the proud child of Fellowes, an American family business that has exists for more than 100 years and invented many important office accessories. Their name even reaches outside the borders of the U.S., with 17 subsidiaries worldwide. All of their air purifiers have achieved the Asthma and Allergy Friendly Certification from the Asthma and Allergy Foundation of America (AAFA). The AeraMax 300 is their flagship personal air purifier, and it has a very comfortable price tag to pay for. If you are interested, continue with our AeraMax 300 Review.
Other AeraMax's Air Purifier Reviews:
AeraMax 300 Price
The international name of AeraMax 300 is AeraMax DX95.
AeraMax personal series air purifiers may not have all the bells and whistles of top-range air purifiers, but they don't have the price tag of a Rabbit Air MinusA2 or AIRMEGA 300S either. Each member of this family is designed to meet the needs of a particular room size, without breaking the bank and in this regard, they're attractive devices.
AeraMax 300 is – the clue's in the name – all for a large room of at least 300 square feet. It's able to clean quicker than both the Levoit LV-PUR131 and Honeywell AirGenius 5, and in that regard, it feels reminiscent of a classic air purifier with a core of fan power rather than flashy additional features.
But the AeraMax 300 is not just an air purifier that emphasizes only room coverage. That said, the AeraMax 300 has enough fancy features to please even the hardest person to buy it. It also has an air filtration system, which is nothing to turn the nose up at, and on paper, it is impressive for a budget air purifier.
It is on sale worldwide, and you can find the AeraMax 300 for only $269 on the official Fellowes website. The AeraMax 300 is just $30 more expensive than the AeraMax 200, and with nearly double the fan power, you will be more happy to buy this air purifier.
However, it doesn't have the performance to compete with the trio of Winix: Winix C535, Winix 5300-2, or Winix 5500-2. They all have increased fan power while keeping the powerful air filtration process and an affordable price tag. There will be the Coway AP-1512HH, AIRMEGA 200M and Honeywell HPA300 that always stay high on our list of the best air purifiers. The list of competitors will go on forever, as this is the most aggressive segment in the air purifier market.
So, why should you buy the AeraMax 300, if not only for the price? We will find out soon.
Top AeraMax 300 deals right now
AeraMax 300 Air Purifier for Home with True HEPA Filter and 4-Stage Purification, White Edition.
Certified asthma & allergy friendly by the Asthma and Allergy Foundation of America. Recommended for large-sized rooms, from 300 – 600 square feet. Free shipping. Pay as low as only $10/month.
Related post: Best air purifier 2023.
AeraMax 300 Design and Size
A quick comparison of the design of AeraMax 300 with AeraMax 100 and AeraMax 200.
| | | | |
| --- | --- | --- | --- |
| | AeraMax 300/290/DX95 | AeraMax 100/90/DX5 | AeraMax 200/190/DX55 |
| Height (inches) | 25 | 27.25 | 20.5 |
| Width (inches) | 16 | 7.25 | 13 |
| Depth (inches) | 8 | 8.5 | 7 |
| Weight (lBs) | 13.5 | 9.24 | 9.9 |
The AeraMax 300 is a bulky device, especially when compared with the previous AeraMax 100 and AeraMax 200. Its 25-inch height and 16-inch width make the AeraMax 300 at least 1.5 times broader than its little brother, and that's why it feels a lot more durable and sturdier. And, yes, it's important to have that feeling, especially since there are more and more negative reviews for AeraMax 200's weak and low durability.
But this is still the core of the predecessor with a bigger size, in other words, the AeraMax 300 needs more material to build up. Here you have the same plastic body, a distinct base, and an easy-to-use touch screen for controlling the air purifier. The plastic body still doesn't feel as impressive or protective as the metal in the Honeywell HPA300 or Blueair Sense+, but at least it feels solid enough to be in no danger if you drop it.
For the airflow concept, AeraMax 300 will stick with the classic bottom-to-top. You can find the intake air grill on both sides of this AeraMax 300, which is hidden behind the front plate. The outlet air grill, just like many common air purifiers like the Honeywell HPA300 or Blue Pure 211, is on top of the AeraMax 300.
Also, the touch-screen control panel is located on the front of this air purifier.
Source: Amazon
The AeraMax 300 is the name of the more popular White version, and if you prefer the Black version, you should search for the AeraMax 290, or grab our link below.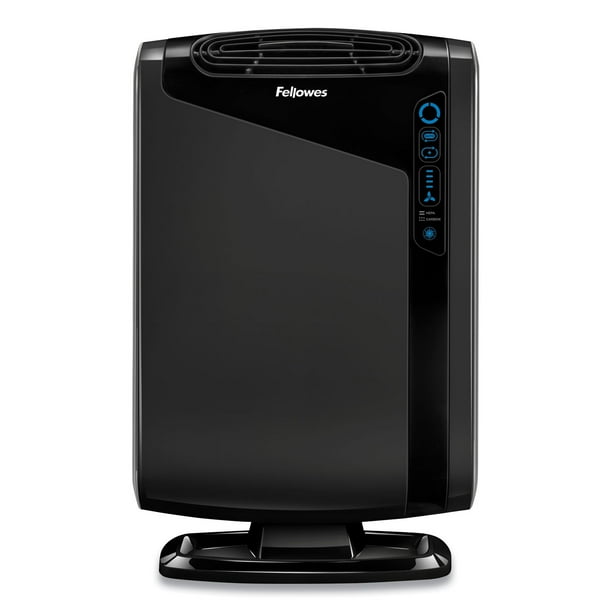 The AeraMax 300 weighs 13.5 lBs, making it light enough to pick up and move around your home.
Related post: Best air purifiers for bedroom.
AeraMax 300 Filters
To decide the performance of one air purifier, the air filtration system is the most important factor. We will generally examine both the quantity and quality of the air filters to determine the effectiveness of the air purifier against the airborne pollutants. We also take the air filter types into account. The AeraMax 300, being the flagship of the AeraMax personal air purifier family, uses the traditional 4-stage air cleaning system as below.
Activated Carbon Filter – First, AeraMax 300 uses an Activated Carbon filter to act as a pre-filter, and can capture both large particles and household odors including pet odors, cooking odors, and cigarette smoke.
True HEPA filter – Next, all airborne contaminants must rest in the True HEPA filter of this air purifier, which has a high efficiency of trapping 99.97% of any particles as small as 0.3 microns, like pollen, ragweed, and other allergens, viruses, germs, dust mites, mold spores, and pet dander.
AeraSafe Antimicrobial Treatment – Its True HEPA filter's built-in protection prevents the growth of odor-causing bacteria, mildew, and fungi.
PlasmaTrue Technology – This is one kind of ionizer that creates an ionized field to safely remove airborne pollutants. Can be turned on or off.
The AeraMax 300 still brings the powerful True HEPA filter to the table, coupled with an antimicrobial treatment and, of course, the PlasmaTrue technology. The materials used to make this air purifier's True HEPA filter are the same as those used in the previous AeraMax 100 and AeraMax 200, which are high-quality and dense enough to filter the tiniest particles. The antimicrobial treatment is comparable to what you get from the more expensive devices like Winix WAC9500 and Winix HR950.
In real-world conditions, the performance of this AeraMax 300's ionizer is great, and there is very little difference between the AeraMax 300 and the famous Coway AP-1512HH, especially when they both share nearly the same fan power.
There are many studies which show that the ionizer is one of the main reasons for emitting ozone, which can irritate asthma and many other breathing issues. The AeraMax 300 is certified, both by the California Air Resources Board (CARB) and the Asthma and Allergy Foundation of America, to comply with the standard ozone emission concentration of less than 0.05 ppm. You can still turn off the PlasmaTrue function anytime you like.
Source: Amazon
I have higher expectations for this AeraMax 300. This time, I pushed the limit of this air purifier in a room of 200 square feet and let it run continuously for 1 hour. I also made a comparison with the Honeywell 50250, Levoit LV-PUR131S, Blueair Sense+ and Coway AP-1512HH. The result was that the Coway AP-1512HH was the best performer, with an efficiency of trapping 99.95% of any airborne particles down to 0.3 microns. The AeraMax 300 and Honeywell 50250 were only 99.93%, and the Levoit LV-PUR131S dropped to only 99.7%.
The AeraMax 300, however, doesn't have the best bang for the buck when mentioning the air filter's cost. You need to pay $53 for a True HEPA filter that lasts one year, while the Coway AP-1512HH is only $45 and the Honeywell AirGenius 5 costs you only $17 for a permanent air filter.
Related post: Best air purifiers for allergies.
AeraMax 300 Room Coverage
A quick comparison of the room coverage of AeraMax 300 with that of AeraMax 100 and AeraMax 200.
| | | | |
| --- | --- | --- | --- |
| | AeraMax 300/290/DX95 | AeraMax 100/90/DX5 | AeraMax 200/190/DX55 |
| Room coverage (sq ft) | 600 | 100 | 400 |
| ACH | 5X | 3X | 5X |
| CADR – Dust (cfm) | 196 | 65 | 129 |
| CADR – Pollen(cfm) | 191 | 68 | 126 |
| CADR – Smoke (cfm) | 188 | 75 | 124 |
The AeraMax 300 stands out from the rest of the AeraMax personal family for its massive room coverage. The manufacturer is confident enough to suggest a room size of 300 square feet to 600 square feet for this air purifier. This is even larger than the Blue Pure 211 or Honeywell HPA300 could do, but is that really true?
AeraMax 300 has an ACH of 3X-5X. The ACH of AeraMax 300 is 3X-5X. The AeraMax 300 can clean a room of 300 square feet five times per hour, meaning it will exchange the air every 12 minutes at the maximum.
Source: Amazon
AeraMax 300 has a CADR of 196 Dust/ 191 Smoke/ 188 Pollen (cfm). The CADR rating of this AeraMax 300 has improved a lot from its predecessors, but it is still weaker than air purifiers from other brands. To achieve the rate of 99.97% performance, you need to run this air purifier for a longer time.
Related post: Best large room air purifiers.
AeraMax 300 Sound
The AeraMax 300 is quite better than the previous AeraMax 100 in terms of noise. And from the Amazon reviews' perspective, I can believe we finally have one silent air purifier from the brand of AeraMax and Fellowes.
The range of noise level for this AeraMax 300 is measured from 35 decibels to 55 decibels (dB), which is quite normal for a portable air purifier. Even at the highest fan speed, the noise level is just like a normal conversation at home, and you won't be annoyed by that sound. At the lowest setting, this is only the noise level of the library, and I bet that you can hear any sound from this AeraMax 300.
So, I recommend using this AeraMax 300 in any environment where silence is required, such as your office or bedroom.
Related post: Best air purifiers for baby.
AeraMax 300 Power Consumption
One of our most FAQs is "Do air purifiers use a lot of energy?" In fact, air purifiers must be used for a long time to be efficient. And power consumption is one important criterion to review in order to determine if this air purifier is good or not.
The AeraMax 300 can reduce the rated power to only 6 watts on the lowest setting, which impresses me just as much as the AeraMax 200's low power consumption. However, if you run this air purifier at its highest speed, you will experience a power consumption of 86 watts, which is even higher than the Winix 5500-2 or Honeywell HPA200. I recommend you always set the Smart Sensor on, as it will help keep the air purifier running mostly at low speed and reduce the overall power consumption.
But for many people who don't look much at the specifications, you should know that the AeraMax 300 gained an Energy Star rating for being energy efficient.
You must pay $0.2 to $31 per year to run the AeraMax 300 for 8 hours per day.
Related post: Best air purifiers for pets.
AeraMax 300 Additional Features
AeraMax 300 is an air purifier with lots of additional features. It is reasonable, as in the low-range segment, all air purifiers must use their selling points to compete against each other. The AeraMax 300, staying in the $200 range, does not surprise me with exactly the same features as a $100 AeraMax 100.
Undoubtedly, you still have the Smart Sensor, named AeraSmart, of this brand in the AeraMax 300. In the end, this is one of the signature names that Fellowes sets for their products. The Smart Sensor is always required in low-end devices and even the most expensive air purifiers. It automatically detects the current indoor air quality and then adjusts the fan power to best match the situation. This function is featured in many Asian air purifier brands, like Winix, Coway or Sharp.
AeraMax 300 also features the unique Aera+ Mode, which is the only button that you need to increase the air turnover rate and clean your room much faster. This function is similar to the Turbo Mode from Honeywell HPA300, or the Quick Clean Mode in Sharp FP-A80UW or Sharp FP-F60UW.
You will also have one filter replacement indicator to tell you exactly when you need to change your True HEPA filter.
Related posts:
1, Best air purifiers for smoke.
2, Best air purifiers for dust.
3, Best air purifiers for mold.
AeraMax 300 Customer Service
Fellowes is a long-established brand in the U.S., and one of the main reasons for their popularity is their great customer service. You can expect full support from Monday to Friday, via phone at 800-955-0959 or via live chat on their FAQ page.
They do not offer Free Shipping, and orders are only shipped one to two business days after they are placed. You can return or exchange your air purifier within 14 days of receipt. Orders may be subject to a 20% restocking fee, and all shipping and handling charges are the responsibility of the customer. If you discover what you believe is a product defect, you need to contact customer support within 48 hours of delivery. Fellowes will investigate the claim and notify the freight company of the damage, then they will process the replacement if possible.
About the warranty, all AeraMax air purifiers are covered by a 3-year warranty. It is enough for you to trust in the name of AeraMax.
Top AeraMax 300 deals right now
AeraMax 300 Air Purifier for Home with True HEPA Filter and 4-Stage Purification, White Edition.
Certified asthma & allergy friendly by the Asthma and Allergy Foundation of America. Recommended for large-sized rooms, from 300 – 600 square feet. Free shipping. Pay as low as only $10/month.
Our verdict
Though the AeraMax 300 can't be sold for its attractive design, its biggest selling point is also its finest feature: the fan power that is better than its predecessors. You might think it's not enough to compete with other popular air purifiers on the market. But the AeraMax 300 provides such a high-quality air filtration system, and to be honest, the anti-microbial coating is truly precious in this price range. To summarize, this air purifier is still a great option to consider when looking for a cleaning solution for a much larger room.
AeraMax 300 Air Purifier: Trusted Review in 2023
AeraMax 300 Reviews and Specs (Air Purifier Trusted Reviews in 2023). ✓ Cleaning Power: True HEPA + ionizer ✓ Smart Sensor ✓ Value: 3.9/5 ✓Certified Review.
Product Brand: AeraMax
Product Currency: USD
Product Price: 269
Product In-Stock: https://schema.org/InStock
Performance

Features

Annual Cost

Design

Price
Summary
AeraMax 300 is popular among mid-range air purifiers, but you should know that it's just an old device, lacking of smart features.