With the GermGuardian AC4625, we know how Guardian Technologies sells one air purifier with two different design, something that you're feeling from the range of GermGuardian air purifiers, each one is similar to the others. Let's check it out in our GermGuardian AC4625 Review.
In Breathe Quality, we have reviewed all air purifiers under these sections. Also, we guarantee that:
We provide honest reviews (both pros and cons) so that everyone can make the best decisions.
We do not (and never will) exaggerate one product just to let you click the links and buy that product blindly.
Sections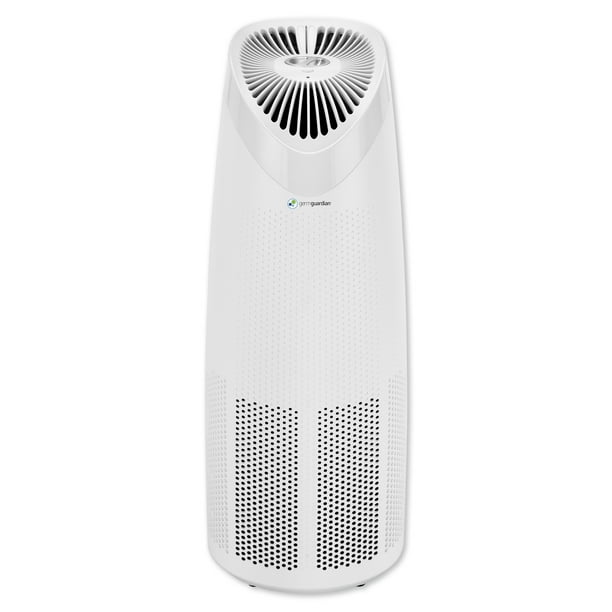 PROS
---
Great UV-C light filter for competition
Smaller design
3-year warranty
CONS
---
Still lacks additional features
Back to traditional design
Guardian Technologies was famous for offering high-quality air purifiers with UV-C light bulb at low-range cost. With the GermGuardian AC4625, the company want to keep a backup design for the latest GermGuardian AC4700, so if you've finished the review of the aforementioned device, you can skip our today GermGuardian AC4625 Review.
Other GermGuardian's Air Purifier Reviews:
GermGuardian AC4625 Price
GermGuardian AC4625 is one of the latest Guardian Technologies' air purifiers, again targeting low-range segment of the market, with key selling point is the combination of True HEPA filter and a good UV-C light bulb to deal with various types of viruses and germs.
The GermGuardian AC4625 is what you want to buy if you like the traditional Guardian Technologies' design. It resembles the GermGuardian AC4825 to some extent, but it is nevertheless the GermGuardian AC4700.
And while the GermGuardian air purifier is truly similar to its other siblings, what matters the most is the price. GermGuardian AC4625's price is officially $149, but you can get one at around $89 from our deal. Well, that makes the GermGuardian AC4625 truly interesting.
So to say, its natural competitor is just the TruSens Z-1000 with lower performance, and it does have UV-C light filter, which you can't get from the top dogs like the Levoit Core 300, Blue Pure 411 Auto or TCL Breeva A2. Well, maybe the TCL device could get UV-C light filter some day, but not today.
Top GermGuardian AC4625WDLX deals right now
GermGuardian True HEPA filter air purifier for home, office, bedrooms, Activated Carbon eliminates odors and deodorizes, AC4625WDLX.
Traditional design, completely 100% ozone-free with True HEPA filter and Activated Carbon filter.
Related post: Best air purifier 2023.
GermGuardian AC4625 Design and Size
Perhaps the only thing to consider this GermGuardian AC4625 over the new GermGuardian AC4700 is the traditional design. It does resemble the design you remember from the old ones like the GermGuardian AC4825 or GermGuardian AC5000. So it is a tower air purifier, with back-to-front airflow system concept, simple control panel and no ring of light.
However, GermGuardian AC4625 keeps up with its siblings with two models: black and white. The black version is actually a full matte black device, unlike the old AC4825 with its blue ring around the top. You can get the AC4625BDLX model if you like.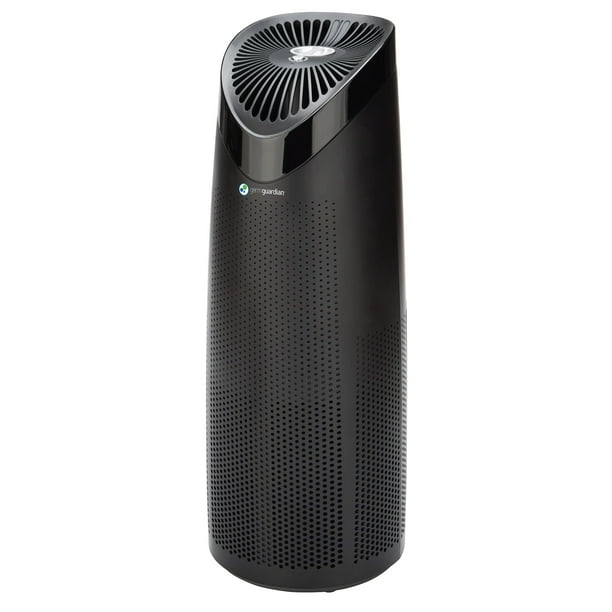 But keep in mind that the GermGuardian AC4625 isn't as compact as its AC4700 counterpart. It is even bigger than the old AC4825 at 22.5 inches in height and 8.5 inches in width. That's also the reason why I said the back-to-front air flow system concept isn't the most optimal anymore.
Still on top is the traditional GermGuardian control panel with only a power knob, UV-C light LED indicator and a filter indicator. Nothing fancy, and you don't buy a GermGuardian air purifier for its additional features, right?
The extra size means the GermGuardian AC4625 weighs a bit more than the AC4700, at 8.2 lbs. Thanks to its bigger handle, you can easily carry it anywhere.
Related post: Best air purifiers for bedroom.
GermGuardian AC4625 Filters
GermGuardian AC4625 remains the very traditional air filtration system of the company with a new all-in-one air filter. Still, you get the same 3-in-1 air cleaning system.
Pre-filter – Using the Activated Carbon filter, this layer of air filter can remove most of the large particles of pollutants and reduce odors created from smoke, cooking, and pets.
True HEPA filter – GermGuardian AC4625 makes use of a True HEPA Filter to capture 99.97% of microscopic allergens, dust and mold spores down to 0.3 microns in size.
UV-C light filter – The UV-C light helps to reduce germs, bacteria and mold spores.
GermGuardian AC4625 uses the latest 3.5-watt UV-C light bulb to reduce airborne bacteria, viruses, and mold spores. It also works with Titanium Dioxide to reduce volatile organic compounds (VOCs). This is also the bulb you use in the pluggable air sanitizer GermGuardian GG1000.
Again, the Association of Home Appliance Manufacturers verifies the performance of this air purifier. In just 1 hour, the GermGuardian AC4625 can clean a 100-square-foot room of 99.9 percent of all particles smaller than 0.3 microns. The Medify MA-14 has the same effect, and it works better than the Envion Allergy Pro AP200.
GermGuardian AC4625 may use the old design, but it is still the GermGuardian AC4700 on its core, with the new air filter M FLT4700. This air filter is quite affordable at only $34.
Related post: Best air purifiers for allergies.
GermGuardian AC4625 Room Coverage
The GermGuardian AC4700 is in the low-end market, so its room coverage won't catch anyone's eye, but it's a great enough spec at this price point, according to the AHAM. It is intended for rooms up to 150 square feet, making it slightly smaller than its tower counterparts, the GermGuardian AC4300BPTCA and GermGuardian AC4825.
The ACH of GermGuardian AC4625 is 4X. Even for a compact air purifier, Guardian Technologies enhances the fan to let it exchange air in your room 4 times per hour.
The CADR of GermGuardian AC4625 is 109 Dust/ 100 Smoke/ 102 pollen (cfm). This CADR rating is for both black and white models of GermGuardian AC4625.
Related post: Best large room air purifiers.
GermGuardian AC4625 Sound
GermGuardian AC4625 is a classic air purifier from the lineup of Guardian Technologies, and its noise level is a bit higher than the GermGuardian AC4700 at 42 decibels (dB) on lowest fan speed. It is still at the same level as library mode of some air purifier models.
On highest fan speed, the noise level could reach 56 decibels, and I don't recommend to run this fan power when sleeping.
Related post: Best air purifiers for baby.
GermGuardian AC4625 Power Consumption
To be one of the best air purifiers, one device must strictly pass our Breathe Quality test after a long time use. Also, one of the most asked questions in Breathe Quality is: "Do air purifiers use a lot of energy?". We can all agree that power consumption is one important criteria to review if this air purifier is worth your money or not.
GermGuardian AC4625 is still an Energy Star air purifier, just like its siblings, with 55 watts rated power. In fact, its CADR per watt point is even better than the GermGuardian AC4300BPTCA and GermGuardian AC4825.
For using a GermGuardian AC4625 8 hours per day, it would cost you $20 per year.
Related post: Best air purifiers for pets.
GermGuardian AC4625 Additional Features
If you're thinking Guardian Technologies are moving on to better additional features with the release of the GermGuardian CDAP5500BCA, or the latest budget GermGuardian AC4200, you will be disappointed with the GermGuardian AC4625.
So to say, no Timer, no Nightlight. You will have a LED indicator for filter replacement, and that's all.
Related posts:
1, Best air purifiers for smoke.
2, Best air purifiers for dust.
3, Best air purifiers for mold.
GermGuardian AC4625 Customer Service
There is not much to say about the brilliant support from Guardian Technologies's customer service. The American brand is providing a very active support for anyone. The company also puts the Instruction Manuals online to help you solve the common questions by yourself. But if you can't find a solution, just contact the customer service via phone at 866-603-5900 or via email at support@guardiantechnologies.com. Just like any other brands, the office will be opening from Monday to Friday.
Guardian Technologies has occasional Free Shipping policy, as well as a great discount on all products (most popular 10% to 20%). Whenever you find the air purifiers not as great as you previously thought, you can return them within 30 days of your original receipt of the order. And don't worry about the warranty policy of Guardian Technologies, as it warrants its products to be free of defects in materials or workmanship. You can register for a warranty in up to 5 years.
For the GermGuardian AC4625, you will have a 3-year warranty.
Top GermGuardian AC4625WDLX deals right now
GermGuardian True HEPA filter air purifier for home, office, bedrooms, Activated Carbon eliminates odors and deodorizes, AC4625WDLX.
Traditional design, completely 100% ozone-free with True HEPA filter and Activated Carbon filter.
Our verdict
GermGuardian AC4625 isn't different from the GermGuardian AC4700, so the only thing you need to compare is their price points.
GermGuardian AC4625 Air Purifier: Trusted Review in 2023
GermGuardian AC4625 Reviews and Specs (Air Purifier Trusted Reviews in 2023). ✓ Cleaning Power: HEPA + UV-C ✓ Size: 8.2 lbs ✓ Value: 3.3/5 ✓Certified Review.
Product Brand: Guardian Technologies
Product Currency: USD
Product Price: 89
Product In-Stock: InStock
Performance

Features

Annual Cost

Design

Price
Summary
The same ranking as the GermGuardian AC4700, as they are only one device in two different designs.