Does budget portable Dayton 2HPD4 justify the price tag? It is a simple air purifier, with only one HEPA filtration stage. But at least this is what you need to deal with actual airborne allergies from Dayton. So, get ready for our today Dayton 2HPD4 Review.
Updated: Want to know the best Dayton air purifier? Let's check the Dayton 2HPB2 and Dayton 2HPB1. They are expensive, though.
In Breathe Quality, we have reviewed all air purifiers under these sections. Also, we guarantee that:
We do give honest reviews (both pros and cons) so anyone will guarantee to have the wisest choices.
We do not (and never) exaggerate one product just to let you click the links and buy that product blindly.
Sections
PROS
---
Portable size
Quiet operation
CONS
---
Only one stage of air filtration system
Low fan power
Is still overpriced
Dayton, just like many old air purifier brands like Envion and Holmes, is struggling in finding a position in the modern air purifier market. No longer an independent brand, it seems the Dayton personal air purifiers are being forgotten. Today, with our Dayton 2HPD4 Review, we will check one of the most famous budget air purifiers of this company.
Other Dayton's Air Purifier Reviews:
Dayton 2HPD4 Price
The Dayton 2HPD4 is the second simple air purifier with only one stage of air filtration system, next to the UV air cleaner Dayton 2KXN9. It gives a True HEPA filter, meaning it can trap airborne allergens much better.
This is also the most popular air filter implemented in the current modern air purifiers. And the Dayton 2HPD4 manages to slip in this popularity. As a type with lots of fans, Dayton didn't forget to raise the price tag of this Dayton 2HPD4.
So to say, the official price tag of Dayton 2HPD4 is $128, and I believe it is a bit overpriced. The next portable air purifiers of this company, the Dayton 2HPB8 and Dayton 2HPB9 are even more expensive than our today air purifier, but it just includes more air filters.
If you don't particularly like the design of the Dayton 2HPD4, perhaps the Dayton 2HPE1 is a good alternative. It is still a bit more expensive than our today unit, however.
For the price, the Dayton 2HPD4 is directly against the Vornado QUBE50 and Vornado AC350 from Vornado, Levoit Core 300 and Levoit Vital 100 from Levoit, GermGuardian AC4825 and GermGuardian AC5000 from GermGuardian. These are all the top air purifier brands at the moment, with much better popularity. With only one HEPA filter inside, clearly the Dayton 2HPD4 isn't a good option to go for.
It's worth mentioning the new Chinese air purifiers for the same price range, because they also offer an impressive performance on first impression. You should look for the Okaysou AirMax8L and Elechomes EPI236. Finally, you also should check the VEVA ProHEPA 9000, and see whether you need the strong performance or fancy additional features.
Top Dayton 2HPD4 deals right now
Dayton 2HPD4 Portable Air Cleaner, HEPA.
Free shipping for the HEPA air cleaner of Dayton. Very compact.
Related post: Best air purifier 2023.
Dayton 2HPD4 Design and Size
Dayton 2HPD4 uses a very unique and special design, and honestly I love to have this design of air purifier on my tabletop or shelf. Really.
Some would describe the Dayton 2HPD4 looks like a classic radio speaker, and you get all the button on front. The design is small by today's standards at just 10 inches in height, and 11.8 inches in width.
It runs a simple bottom-to-top air flow system concept, with the perforated holes at the bottom. The top air outlet is covered with a black plate, and the overall body is painted with gray color. There is a fragrance canister on top of this air purifier.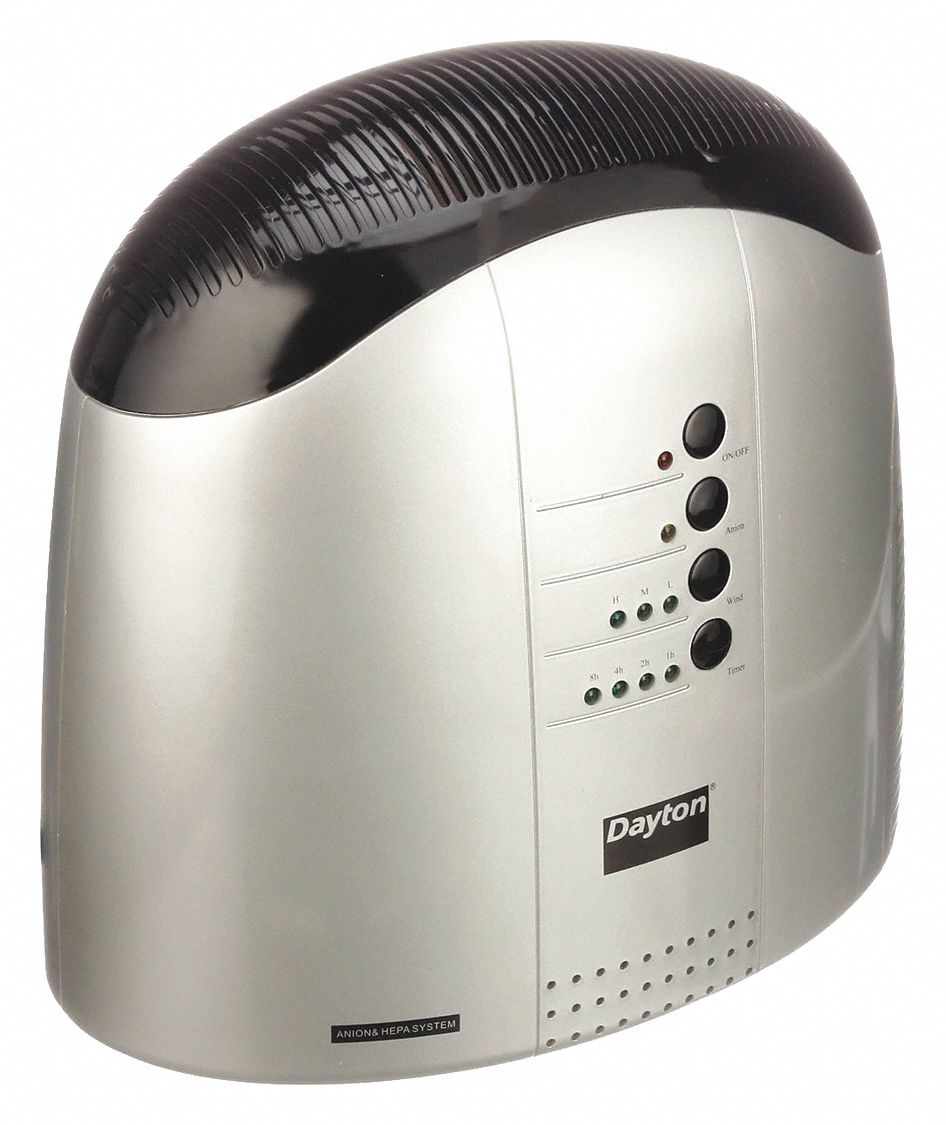 Source: Grainger website
Dayton 2HPD4 weighs only 6.2 lbs, so you can bring it anywhere you want.
Related post: Best air purifiers for bedroom.
Dayton 2HPD4 Filters
You get a real deal air filtration system in the Dayton 2HPD4, with two stages of cleaning. Also, thanks to the new Dayton 2HPD5, you can attach a pre-filter in this old air purifier.
Pre-filter – A layer of pre-filter to remove large particles.
True HEPA filter – Traps 99.97% of any particles as small as 0.3 microns, like pollen, mold spores, pet dander, dust or dust mites.
Ionizer – Anions charge the pollutants back to the mechanical air filter. Can be switched on/off.
I only make a quick comparison test for all Dayton air purifiers, because they are so similar in terms of performance and air filters. As you can see from the chart below, the Dayton 2HPD4 got the lowest score, as it trapped only 99% airborne particles down to 0.3 microns, in 1 hour.
Actually, the result was disappointing. You can get a lot more for using a Blue Pure 411 or Levoit Vista 200, with a much cheaper price than Dayton 2HPD4.
At the moment, Dayton implements the new HEPA Carbon filter for the Dayton 2HPD4, with model name 2HPD7. It is thick, up to 2 inches for a True HEPA filter, so I guess it can last at least 1 year without replacement. Sadly, at the moment it is unable to find a deal for the True HEPA filter, but I will update for you guys as soon as possible.
Related post: Best air purifiers for allergies.
Dayton 2HPD4 Room Coverage
Dayton 2HPD4, just like any Dayton compact air purifiers, has a weak fan power. While Grainger suggests to run it in a room from 215 to 322 square feet, I recommend to run it in a room size of only 100 square feet.
The ACH of Dayton 2HPD4 is 1X to 3X.
The CADR of Dayton 2HPD4 is just 66 cfm in general. It is one of the HEPA air purifiers with lowest fan power in Dayton family.
Related post: Best large room air purifiers.
Dayton 2HPD4 Sound
An air purifier with low fan power has a clear advantage – it would be really quiet while operating. The average noise level of Dayton 2HPD4 is only 25 decibels (db), and I believe it is just like the rustling leaves' noise level.
If you suppose to have one Dayton 2HPD4, you can even run it on highest speed while sleeping. I guess that all Dayton air purifiers's noise level will be just fine to live with.
Related post: Best air purifiers for baby.
Dayton 2HPD4 Power Consumption
One of our most FAQs is "Do air purifiers use a lot of energy?" because we need to run an air purifier for a constant long time, and power consumption is really a thing to consider.
Dayton 2HPD4 has a rated power of 50 watts, which is somehow a bit high for a simple portable air purifier.
If you run the Dayton 2HPD4 for at least 8 hours per day, it would cost you only $18 each year. I recommend you to look for the Levoit LV-H132 for a much more energy-saving device.
Related post: Best air purifiers for pets.
Dayton 2HPD4 Additional Features
Though the Dayton 2HPD4 is only a budget air purifier from old Dayton family, it still has some additional features. Its canister can contain some drops of fragrance, to deliver aroma together with fresh, clean air.
Moreover, the air purifier features a basic Timer setting, to schedule the time off for 1, 2, 4 or 8 hours. However, it lacks the necessary LED indicator for filter replacement.
Related posts:
1, Best air purifiers for smoke.
2, Best air purifiers for dust.
3, Best air purifiers for mold.
Dayton 2HPD4 Customer Service
The Dayton products are now distributed by the W. W. Grainger Inc only, so actually, you won't get proper support if you buy from other vendors. You should contact Grainger at 800-472-4643, or live chat with them online to ask more questions.
So far, Grainger offers 1-year warranty for all products sold by them. If you get a Dayton air purifier from other source (for example our deal), you won't be covered with this warranty.
Top Dayton 2HPD4 deals right now
Dayton 2HPD4 Portable Air Cleaner, HEPA.
Free shipping for the HEPA air cleaner of Dayton. Very compact.
Our verdict
Again, you should avoid this Dayton 2HPD4, especially when it is too old to compete with many good air purifiers in the same price range, like Airthereal APH260, Blue Pure 411 or Levoit Core 300.
Dayton 2HPD4 Air Purifier: Trusted Review & Specs in 2023
Dayton 2HPD4 Reviews and Specs (Air Purifier Trusted Reviews in 2023). ✓ Cleaning Power: HEPA filter ✓ Value: 3/5 ✓Certified Review
Product Brand: Dayton
Product Currency: USD
Product Price: 128
Product In-Stock: https://schema.org/InStock
Performance

Feature

Annual Cost

Design

Price
Summary
It's time to look for another air purifier brand.