Featured in the International Home + Housewares Show in Chicago, the Airdog X5 is the most advanced air purifier to have at the moment, and is tested to prevent COVID-19 viruses, along with its big brother Airdog X8. This air purifier is the hope to get rid of the waste and expense of disposable filter cartridges, which is the most common used True HEPA filter. It helps disrupt the sameness of the last few generations of air purifiers, and tries to be a new 'everything air purifier'. Do these new perks settle a good position for this high-range air purifier? We will see in our Airdog X5 Review.
After so many years of testing, the Airdog X5 seems to be a real product rather than the old prototype. We will update the review as soon as we've new Airdog X5 to compare with the data of its latest brothers.
In Breathe Quality, we have reviewed all air purifiers under these sections. Also, we guarantee that:
We do give honest reviews (both pros and cons) so anyone will guarantee to have the wisest choices.
We do not (and never) exaggerate one product just to let you click the links and buy that product blindly.
Sections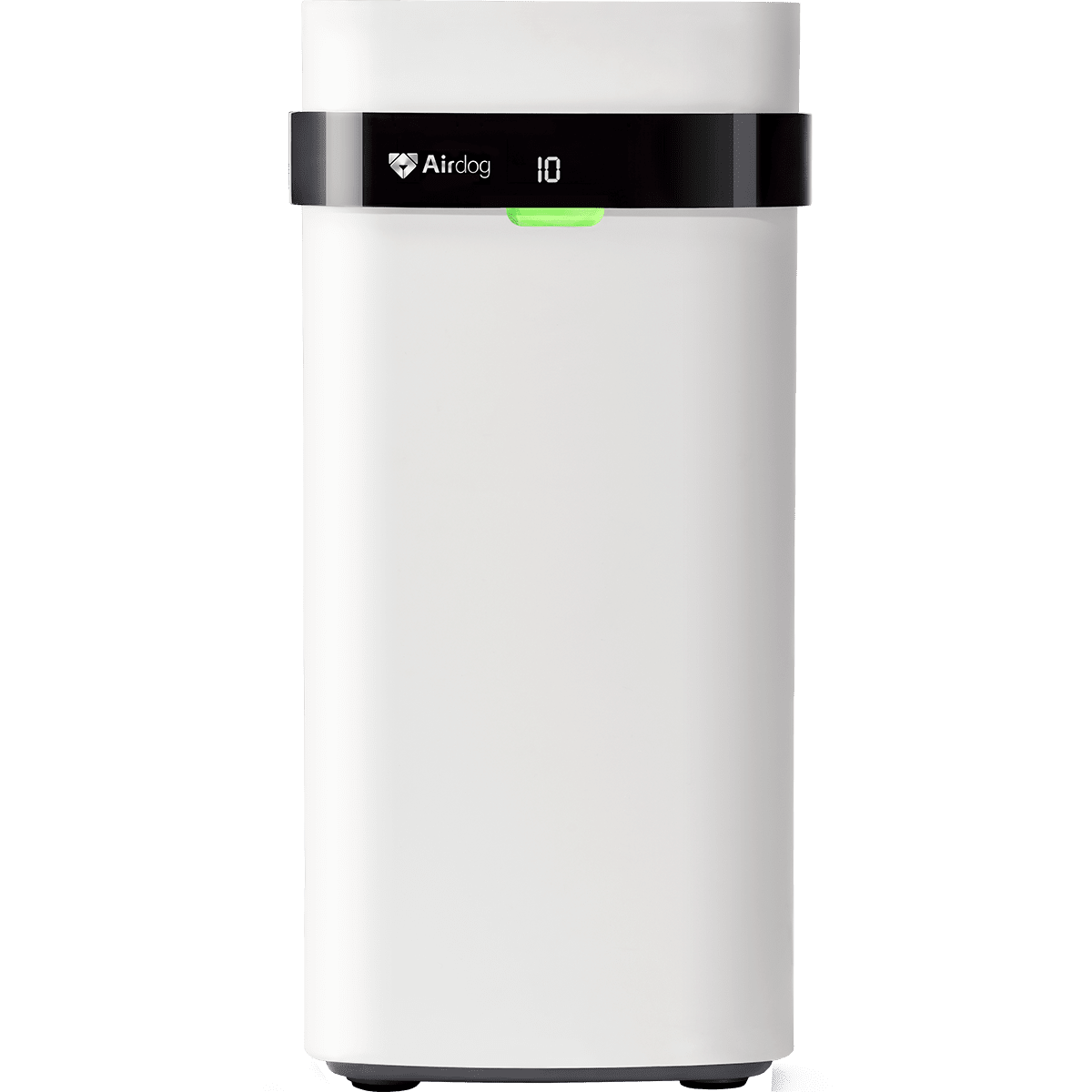 PROS
---
Reduces the waste of filter replacement
Solid built for the price
Great additional features
Very quiet
CONS
---
Low CADR rating for the price
Overall low performance
Only free 1-year warranty
Airdog is the product of Silicon Valley Air Expert company, which once was the child company of Xiaomi. After the necessary break, the company raised fund in Indiegogo to support their iconic air purifier – the Airdog X5. From the increasing positive reviews on Amazon, it is safe to say the Airdog X5 should be considered as your home or office air purifier. But if you still have doubt, don't worry, we will cover everything you need to know in this Airdog X5 Review.
Other Airdog's Air Purifier Reviews:
1, Airdog X8 Review.
2, Airdog X3 Review.
Airdog X5 Price
The Airdog X5 (or Airdog KJ300F-X5) is the great successor of the previous Xiaomi Airdog KJ300F-X3, which enhances the use of its ionizer, instead of the True HEPA filter. I am immediately drawn to it as the bigger and better ionizer version that I never once experience in high-end range.
We've seen this air filtration ideas from the type of Honeywell and Blueair. The Honeywell AirGenius 5 with an ifD air filter, or the Blueair Classic 605 with Particle filter, both use the ionic feature to charge the contaminants into their physical filters. But the Airdog X5 is an improved version of hallmark features in rival devices with only a collecting plate to do the task. We can see this air purifier as a really strong ionizer, which you can compare with the industrial ionizer.
However, the Airdog X5 is totally safe, thanks to the ozone remover process at the last composite catalyst filter. This air purifier complies with the standard certification of California Air Resources Board (CARB) to meet an ozone emission concentration limit of 0.05 parts per million. So, it won't trigger your asthma or other breathing issues like cheap non-certified ionizers.
Sold? To complicate your buying decision, you should know the Airdog X5 price is about $649, which isn't a easy pay for an air purifier. If you can handle the price and is interest in the new technology of air purifier, you should get this best Airdog air purifier of the moment.
There is not many air purifiers with safe ionic technology in this price range, except the Rabbit Air MinusA2, which is also our current best air purifier, Medify MA-112 and the Blueair Classic 480i. These air purifiers both offer better fan power and great Wi-Fi technology to rely on, and would be the main competitors of this Airdog X5. Or if you still prefer the classic True HEPA filter, there are many classic power air purifiers in this price range, like the Austin Air Allergy Machine, Dyson Pure Cool Tower or Dyson Pure Cool Link. As recommended, whichever air purifier you will purchase, it will be your lifetime device to maintain better indoor air quality.
Top Airdog X5 deals right now
Air purifier for home or office – Airdog X5 Ionic air purifier with washable filter.
Beyond HEPA filtration with two pole active (TPA) tech that kills microscopic mold, bacteria, smoke & pet allergies. Smart design and low noise operation. Strictly certified by the California Air Resources Board (CARB). Pay as low as $27/month. Free Shipping.
Related post: Best air purifier 2023.
Airdog X5 Design and Size
The Airdog X5 design first surprises me, but after I knew the design of the previous Airdog X3, I can confirm that any old Airdog users will have the same experience when using the Airdog X5. It is both new and old in this air purifier.
With the bottom-to-top air flow system concept, the Airdog X5 works similarly to the high-end IQAir HealthPro Plus. It will draw the polluted air from the bottom, then through every process of the air filtration system, until release the fresh air on top of Airdog X5. But it has a straight shape, with the height of 22.5 inches and the width and depth of both 10.7 inches. These dimensions are a little bit smaller than the signature air purifier of IQAir, and to open the back shroud of this Airdog X5, you need to bend down a little bit.
Source: Airdog website
From the front or the back, the Airdog X5 looks simple, and clean with the white color option. It gives me the pure feeling from many Xiaomi devices, like Xiaomi Mi Air Purifier 2S, with the white tone as main color. It has highlighted the black bezel, with the digital display and LED indicator at the center.
Another influence from Xiaomi brand is the simple control, as the Airdog X5 uses only one button to start. You can find the button on top, which gives me a different feeling of the AIRMEGA 300S or AIRMEGA 400S of Coway brand.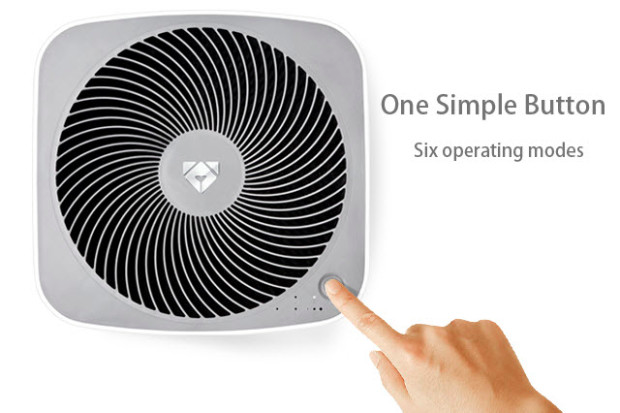 Source: Indiegogo
As a high-range air purifier, the Airdog X5 is heavy, and it weighs 22.5 lbs. You can't easily move this air purifier around your home, even with the two convenient handles from the sides.
Related post: Best air purifiers for bedroom.
Airdog X5 Filters
We mostly decide the performance of one air purifiers based on the quantity and the quality of its air filters, as well as what air filter types are used. However, the Airdog X5 is a pure ionizer, which can only be described with a new 4-stage air cleaning system.
Pre-filter – The polluted air must pass through a pre-filter screening, where it traps large particles of pollutants like hair and dander.
Ionizer – The ionic field is created on the surface of the generating wires (or emitter wires) and also the main filtration method of the Airdog X5. It can destroy even the 0.0146 microns ultra-fine particles, such as bacteria, germs and viruses. In addition, it is also effective in removing the pet dander, pollen, dust and other particles that are larger than 0.3 microns.
Collecting Plate – While not being a layer of protection, the collecting plate is necessary to collect the harmful particles inside. Completely washable and reusable.
Composite Catalyst – The last filter of this Airdog X5 is actually an Activated Carbon filter, which removes odors, smoke and smells. This is also where the Airdog X5 remove the ozone emission, to guarantee the cleanest air quality for your home.
If you set eyes on the Airdog X5, you must be attracted by the announcement of no HEPA filter, to reduce the waste and disposal of the physical filter layers. Instead of using the most common HEPA filter, Airdog X5 brings to you the most advanced ionizer, calling Ionic Wind technology (or Two Pole Active technology) to destroy even the smallest particles. Yes, many experiments showed that the Airdog X5 can even clean H3N2 influenza viruses with size of only 0.0146 microns, 20 times smaller than the standard of HEPA filtration.
Other air filters of this Airdog X5 are truly permanent. You should check and wash the collector plate regularly, but for the composite catalyst, you should put it directly under the sunlight for 1-2 hours to refresh it. However, for heavy users, you are recommended to change the composite catalyst every 6-12 months. This is reasonable for a common carbon filter.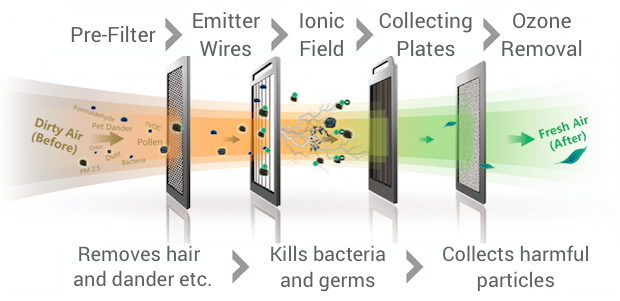 Source: Indiegogo
I only made the performance test for short-term use, and the Airdog X5 is no exception. In a room of 300 square feet full of smoke, I let the Airdog X5 run in 1 hour. This time I used the Austin Air HealthMate and Alen BreatheSmart as the testing samples to compare with the performance of this Airdog X5. The result, Airdog X5 can score the efficiency of 99.9% for trapping any particles down to 0.3 microns. This result was impressive, but it was not as good as the Austin Air HealthMate, because it can clean 99.97% thanks to higher fan power.
Like I said earlier, you don't need to replace any filters in this Airdog X5, but if you are looking for all the Airdog X5's accessories replacement, you can get it on Breathe Quality.
Related post: Best air purifiers for allergies.
Airdog X5 Room Coverage
The Airdog X5 is competing in a high-range race, and this air purifier should be a large room air purifier. It can clean up to 1400 square feet, but only with less frequency. The suggested recommendation for the room coverage of this Airdog X5 is only 450 square feet.
The ACH of Airdog X5 is 1X to 3X. As you can see from the image below, the Airdog X5 can exchange the air in your room 5 times per hour only when it is in a room of 450 square feet.
Source: Airdog website
The CADR of Airdog X5 is 200 cfm in general. This CADR rating quite low, even if compared with the Rabbit Air MinusA2 or Philips 5000i. That's why the Airdog X5 can't clean a huge amount of pollutants in just only 1 hour.
Related post: Best large room air purifiers.
Airdog X5 Sound
There is one clear advantage for not having the True HEPA filter, your air purifier will run smoothly without any noise from the high fan power. The Airdog X5 is truly the best performer with low noise level, with 5 different options of fan speed.
I experienced the lowest setting of the Airdog X5 – the Sleep Mode to have a noise level of only 22 decibels (db), which is the same noise level of the rustling leaves. This air purifier is easily one of the quietest air purifiers in this price range.
When you run on Turbo Mode, however, the noise level of Airdog X5 can reach 57 decibels. For most people, 57 decibels is just the normal conversation in a public restaurant, and somehow it won't disturb you much. The downside is the inevitable cracking or zapping noise from the inside ionizer, and to avoid it, you should regularly wash and clean the collecting dust.
Related post: Best air purifiers for baby.
Airdog X5 Power Consumption
One of our most FAQs is "Do air purifiers use a lot of energy?" In fact, air purifier must be used for a long time to be efficient. And power consumption is one important criteria to review if this air purifier is good or not.
With the great DC brushless motor, the Airdog X5 has a power consumption of only 55 watts. I believe this is the normal power consumption for a high-range air purifier like this device.
For using the Airdog X5 at least 8 hours per day, it would cost you $20 each year.
Related post: Best air purifiers for pets.
Airdog X5 Additional Features
One another reason to choose the high-range air purifiers is because of their variety of additional features. Do you feel like using a Smart air purifier much better? Then the Airdog X5 totally suits your taste. It has the capable Smart Sensor, with numeric value for Air Quality Index (AQI) which follows the World Health Organization (WHO) digital display. It also gives you the warning of your indoor air quality through a LED indicator right below the AQI.
Source: Airdog website
But the Airdog X5 not only shows the AQI for you to check the real-time air quality, but also automatically adjusts the fan speed according to the pollution levels that the AQI is reading thanks to the Auto Mode option. With this Smart function, you don't need to keep control of your air purifier, you just need to set it and let it run by itself.
Like many other high-end air purifiers, the Airdog X5 has Child lock function, to prevent your children from accidentally change the settings. Moreover, the Sleep Mode is specially designed for bedroom, as it reduces the fan power and stops the light, so you can sleep easily.
The most anticipated feature of this Airdog X5, and also the best part, is the Smart control. You can either control this air purifier via a remote control, or use the Smart app in your smartphone to both track air quality and give the air purifier commands.
Related posts:
1, Best air purifiers for smoke.
2, Best air purifiers for dust.
3, Best air purifiers for mold.
Airdog X5 Customer Service
The Airdog is the new kid on the block of air purifier industry, so Silicon Valley Air Expert really cares about the customer service. They make a vow to not make profit from shipping, and they try everything to keep the Free Shipping policy within 48 states of the U.S, excluding only Alaska and Hawaii. Moreover, you can get a 30-day free trial of their product, and if you don't satisfy, you can make a refund easily.
If you need support, you can contact their customer service from 9 to 5 at 800-958-9609 via phone, or anytime at support@siliconvalleyairexperts.com via email. They will try to contact you back as soon as possible.
However, you will only get a free 1-year warranty for the Airdog air purifiers. To get an additional year of warranty, you need to pay $49, and for two additional year, the cost will be $99.
Top Airdog X5 deals right now
Air purifier for home or office – Airdog X5 Ionic air purifier with washable filter.
Beyond HEPA filtration with two pole active (TPA) tech that kills microscopic mold, bacteria, smoke & pet allergies. Smart design and low noise operation. Strictly certified by the California Air Resources Board (CARB). Pay as low as $27/month. Free Shipping.
Our verdict
Airdog X5 in an interesting air purifier, which is claimed to stop the waste and dispose of HEPA filter. Practically it is good to use, especially when the ozone emission is only 0.0467 ppm, which is the standard certification of the California Air Resources Board (CARB). Moreover, this air purifier can remove even the tiniest particles, down to only 0.0146 microns (14.6 nm). Such performance rating is impressive for the price, and without the annual filter cost, you will get a lifetime investment to improve your indoor air quality.
Airdog X5 Air Purifier: Trusted Review & Specs in 2023
Airdog X5 Reviews and Specs (Air Purifier Trusted Reviews in 2023). ✓ Cleaning Power: Ionizer ✓ Large room: 1400 sq ft ✓ Value: 4/5 ✓ Certified Review
Product Brand: Airdog
Product Currency: USD
Product Price: 649
Product In-Stock: https://schema.org/InStock
Performance

Features

Annual Cost

Design

Price
Summary
The Airdog X5 ranks the lowest among Airdog's line up in Breathe Quality.