The Airdog X8 is an expensive air purifier, but like the LG Signature AM501YWM1 that we've reviewed recently, this air purifier is meant for a permanent use without constant replacement of HEPA filters. Though it's still far from making a non-filter air purifier possible, it's a huge step upon reducing waste on our beloved Earth. So, grab our today Airdog X8 Review, and take a glimpse at one best air purifier in our ranking list.
In Breathe Quality, we have reviewed all air purifiers under these sections. Also, we guarantee that:
We do give honest reviews (both pros and cons) so anyone will guarantee to have the wisest choices.
We do not (and never) exaggerate one product just to let you click the links and buy that product blindly.
Sections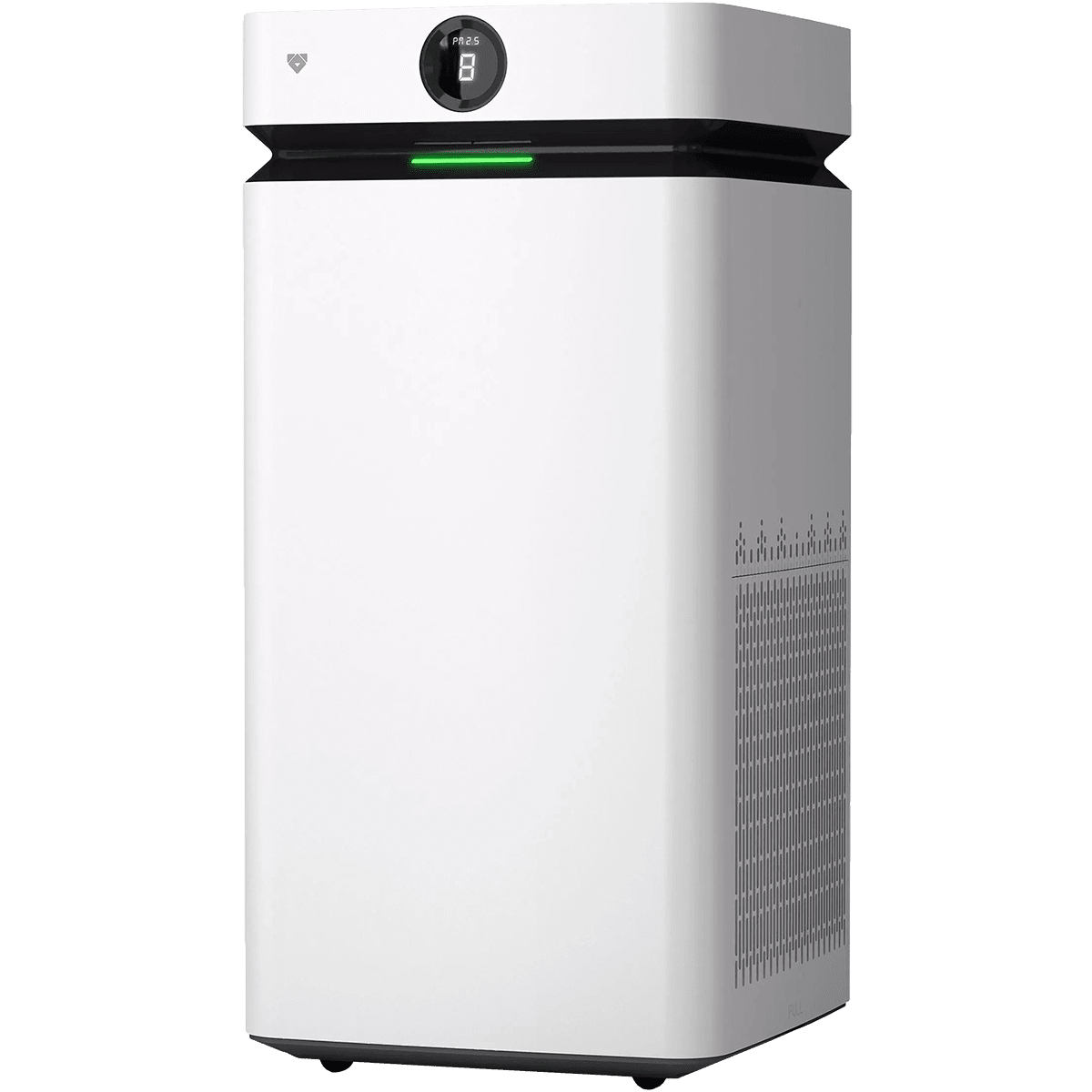 PROS
---
Even better ionizer than the predecessor
Reduces the waste of filter replacement
Good fan power
Great additional features
Very quiet
CONS
---
Way more expensive than its predecessor
Lacks of casters
Airdog is the product of Silicon Valley Air Expert company, which raised fund successfully via its initial Airdog X5. Up until now, it has released the Airdog X8 and Airdog X3 to fill other price brackets, though they both remain the core of utilizing ionizer to trap and actively kill the live airborne viruses. Well, let's check it out in our today Airdog X8 Review.
Other Airdog's Air Purifier Reviews:
1, Airdog X5 Review.
2, Airdog X3 Review.
Airdog X8 Price
The fund-raising Airdog X5 turned out to be one of the most successful air purifiers on Indiegogo, and I must confess I have a lot of expectation for the flagship Airdog X8. At its price range, clearly the Airdog X8 isn't for anyone, because it's really expensive. For those who enjoy air purifiers without constantly replace the air filter to maximize the performance, and reduce waste on Earth (tell me, who don't), this is a great choice.
The Airdog X8 is the best air purifier the company has made for years, and I really, really want to make a review for it, but the amount of work for other devices in line let me delay until now. Still, the Airdog X8 is the flagship of the company, and I guess we won't see another soon.
Talking about the price first, it's expensive. Of course you would guess the price knowing it's a big brother of the Airdog X5. The Airdog X8 is $1199, which is double the price of the first Airdog model. Is it worth it?
Well, I just reviewed the LG Signature AM501YWM1 that even asks for higher price, but for a product of a small company, maybe we really need the good return policy from the distributors. Luckily, you can ask for a refund from our deal.
The Airdog X8 targets silently at the IQAir HealthPro Plus and Blueair Pro XL, that the company tries to conceal "lazily" the compared products. In my honest opinion, such direct attack is only effective if it's the comparison of performance, which I likely to show you later.
I believe the top air purifier to compare with the Airdog X8 at this price range is the LG PuriCare AS560DWR0, which I put in the list of the best air purifiers in our website. Yes, it uses HEPA filter, but the performance and smart features are, by far, better than the Airdog X8.
Top Airdog X8 deals right now
Airdog X8 Ionic Air Purifiers for Home with Washable Filter.
The TPA technology of Airdog can filter particles down to 14.6 nm. Airdog X8 is suitable for rooms up to 1000 square feet. Pay as low as $53/month.
Related post: Best air purifier 2023.
Airdog X8 Design and Size
The design of the Airdog X8 isn't significantly different to that of the older Airdog X5, despite that it's bigger with the height of 30 inches and the width and depth are both at 15 inches. So if you've seen previous model from the company you can expect a similar affair here.
The same big and bulky with what Airdog called "aerodynamic design" returns here, but this time I must say the air inlet is much better with larger grill size at both sides. Compared to the smaller X5 model, the Airdog X8 can utilize its high fan power much better. Also the new air outlet grill is not only just sleek but it can distribute the fresh air much wider.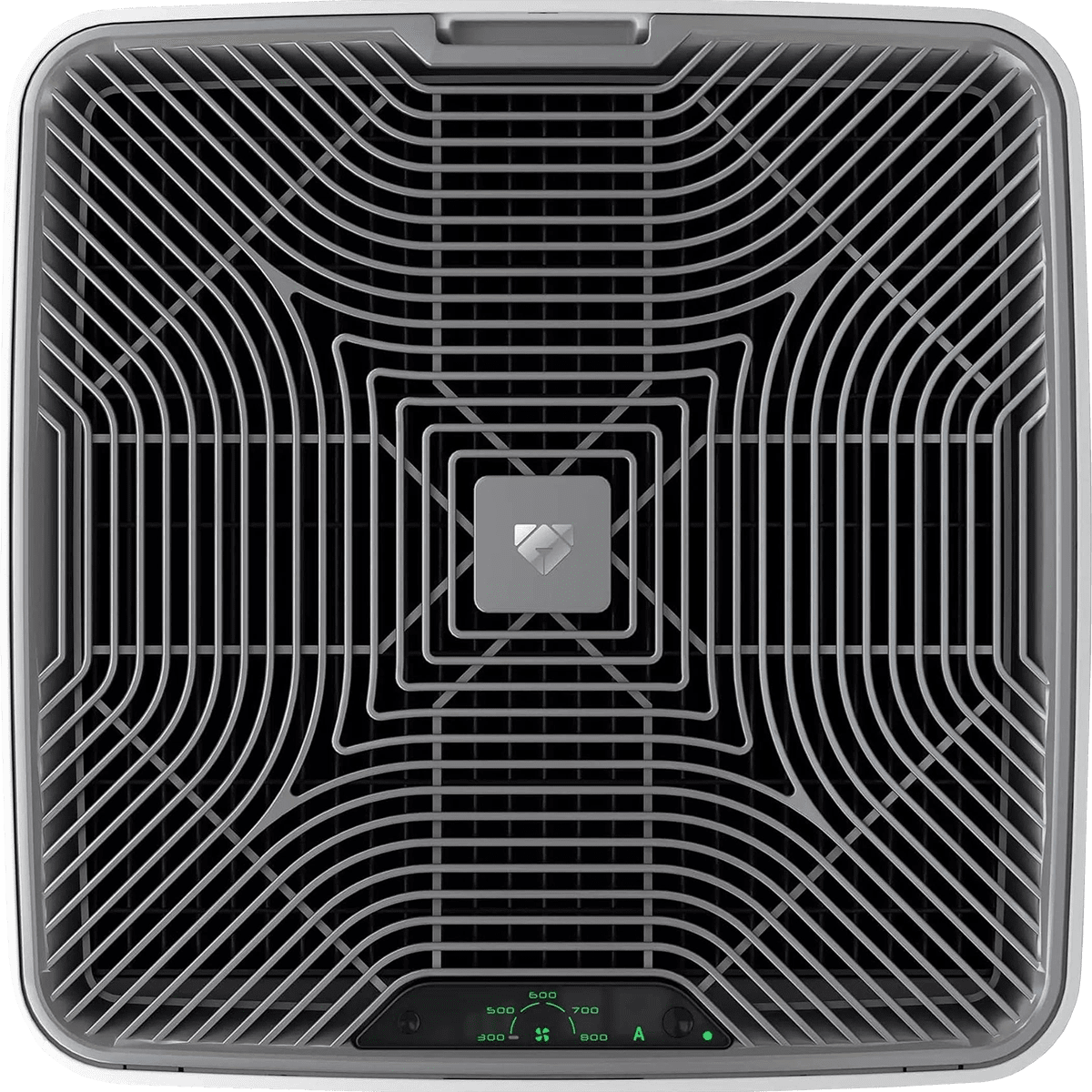 Source: Sylvane website
This is still the usual bottom-to-top airflow system concept, that I think it's especially suitable for the Airdog X8, as its filter system requires extra height to be efficient. Replace the filtering system in this air purifier is quite challenging, as they aren't all in the same place. The pre-filter sticks with the air inlet grills, while the main collecting plates needs you to remove the back shroud first, and the composite catalyst is on top.
The real problem is where Airdog chose to set up the air sensor, well, behind the Airdog X8. Such location makes it harder for the detector to update and report the correct status of the current air quality indicator. I notice that my testing unit takes time to correct the air quality indication, and therefore, it affects the Auto Mode performance.
For the control panel, Airdog still rocks with a clean, simple UI. You should remember that you will have both remote and app controls to take care of this air purifier. So, the nice UI is really well done.
Airdog X8 weighs 43.4 lbs. It is heavy, but this is the weight of a powerful air purifier, so I don't complain. I just wish the handle was better, or at least it has casters.
Related post: Best air purifiers for bedroom.
Airdog X8 Filters
We mostly decide the performance of one air purifiers based on the quantity and the quality of its air filters, as well as what air filter types are used. The Airdog X8's main selling point is its filterless air system, with an actual 4-stage air cleaning system.
Pre-filter – The polluted air must pass through a pre-filter screening, where it traps large particles of pollutants like hair and dander. It is washable and permanent.
Ionizer – The ionic field is created on the surface of the generator wires (or emitter wires) and also the main filtration method of the Airdog X8. It can destroy even the 0.0146 microns ultra-fine particles, such as bacteria, germs and viruses. In addition, it is also effective in removing the pet dander, pollen, dust and other particles that are larger than 0.3 microns.
Collecting Plate – While not being a layer of protection, the collecting plate is necessary to collect the harmful particles inside. These heavy-duty but dishwasher-safe plates can easily be cleaned, saving you from expensive replacement filters.
Composite Catalyst – The last filter of this Airdog X8 is actually an Activated Carbon filter, which removes odors, smoke and chemicals. This is also where the Airdog X8 remove the ozone emission, to guarantee the cleanest air quality for your home.
Well, for an air purifier purist like me (I must be honest), the HEPA filter is still the most economical and efficient method to combat the airborne contaminants. I always look for a way to change this, but most air filter needs more to get rid of the HEPA filter completely.
For example, the LG Signature AM501YWM1's watering system is blessing with its natural air filtration, but it is far less efficient. even than a $200 HEPA air purifier. The Molekule Air Pro is pretty innovative, but it hinders its fan power to the point that you will need more electricity (and thus it affects environment much worse).
The Airdog X8 wants to be different, that it relies on only one filter to be replaced, and doesn't need such energy to work. Ionizers, however, isn't the most wanted device at the moment. It emits ozone, and clearly the Airdog X8 isn't certified by the California Air Resources Board (CARB) to pass the safety test.
Ionizers generate ions which tackle and affect electric devices, and thus they aren't as durable as a common air purifier. For an expensive device like the Airdog X8, I really hope of using it for a long time.
Moreover, the ionizer can't capture odors and chemicals. Honestly, the PCO system will be a lot better in dealing with Volatile Organic Compounds (VOCs), and any HEPA air purifiers at this price point will come with a massive carbon air filter. No way the Activated Carbon filter of the Airdog X8 can match one like Austin Air HealthMate Plus, Airpura UV600 or IQAir GC MultiGas.
Also, it seems the marketing team of Airdog X8 go really far to say that some "air purifier brands" ask for $2000 of filter replacement in 3 years. Honestly I don't know which environment that you need to change such many air filters in the span of 3 years. For example the IQAir HealthPro Plus's HyperHEPA can last for 4 years, yes, 4 years with average daily usage of 10 hours. The filter set costs around $300-$400, and that's it.
Source: Airdog website
Airdog X8, in paper test, makes me feel that it can stand against even the hardest test of Breathe Quality. In an area of 500 square feet, the Airdog X8 can capture 99.95% of airborne particles down to 0.3 microns, in just 1 hour. That makes our testing unit match the performance of the LG PuriCare AS560DWR0, which is surprisingly great for a common air purifier at this price. However it's still behind our top recommended air purifier – the Blueair HealthProtect 7770i.
It seems the Airdog X8 will share just the same pre-filter as of the Airdog X5. Though the air purifier doesn't need replacement, I recommend to change the composite catalyst filter every 12 months.
Related post: Best air purifiers for allergies.
Airdog X8 Room Coverage
Airdog X5 once impressed us with how strong an Indiegogo fund-raising air purifier can deliver. The brother Airdog X8 seems to push the limit even farther. It is recommended to use in rooms up to 1000 square feet by the manufacturer.
The ACH of Airdog X8 is 2X to 5X. Airdog told us that the flagship Airdog X8 can clean 8.5 times per hour in a 450 square feet room size, and our test show that the claim is true.
The CADR of Airdog X8 is 470 cfm in general, but for gases the CADR drops to just 190 cfm. Maybe that's why it doesn't reach the expected performance even with such strong fan power.
Related post: Best large room air purifiers.
Airdog X8 Sound
Airdog maybe is proud of their Airdog X5 to be one of the most silent air purifiers to date, but the Airdog X8 with such high fan power, pushes the noise level to as high as 63 decibels (db).
And that's why I don't know which air purifier that Airdog team tried to convince us to compare with. They said that the noise level of 8 Airdog X8 equals to only 1 IQXXX (well, such lazy attempt to conceal the competitor). By saying that, I wish to know whether it is the Airdog X8's loudness volume is 1/8 of the IQXXX, or 8 Airdog X8's resonance equals the IQXXX.
At 63 decibels on highest speed, however, it is impossible for both the former and latter. Our test indicated the IQAir (well, if the IQXXX is another brand, please tell me to edit the content) tops at 57 decibels.
On lowest speed (if Airdog uses this number to compare with the highest noise level of "other air purifier brands"), I measured the noise level to be 42 decibels, while it needs to be 20 decibels to be, well, 1/8 as quiet as they said.
Such noise level can be explained by the nature of the ionizer, that produces crackling noise when using.
Related post: Best air purifiers for baby.
Airdog X8 Power Consumption
One of our most FAQs is "Do air purifiers use a lot of energy?" In fact, air purifier must be used for a long time to be efficient. And power consumption is one important criteria to review if this air purifier is good or not.
Airdog X8 still features the same DC brushless motor from the predecessor, and it asks for only 110 watts for its performance.
For using the Airdog X8 at least 8 hours per day, it would cost you $40 each year.
Related post: Best air purifiers for pets.
Airdog X8 Additional Features
The Airdog X8's detector is detachable, so if you feel the report isn't accurate, you can place it in another part of your room. It has battery inside, and you need to turn it on when using independently. When using the detector inside the unit, you need to turn it off.
Airdog X8 is one of the few high-end air purifiers that has both Smart Sensor and Wi-Fi capability. It's new year and I think that other air purifier brands should watch and learn Airdog for what it has done with its flagship air purifiers. Smart Sensor is necessary in running air purifier in a smart way, which automatically calculate the amount of particles in the air, then the Auto Mode simply adjusts its speed according to the current air quality level. On long-term use, the Smart Sensor can help reduce the noise level and power consumption. Airdog X8 reports the air quality index in both color and number codes.
The Wi-Fi capability is, by far, the most debated feature of the Airdog X8. I've read a lot of negative reviews about the app is malfunction and they can't control the air purifier. Well, I found zero problem with making my testing unit connect to Wi-Fi, so I can't complain at all. Also, you can use the remote control to make it work.
Other features can be found are the Child lock, Sleep Mode and filter cleaning reminder. They work great, and you should reset the filter reminder after you clean and put the filters back on.
Related posts:
1, Best air purifiers for smoke.
2, Best air purifiers for dust.
3, Best air purifiers for mold.
Airdog X8 Customer Service
The Airdog is the new kid on the block of air purifier industry, so Silicon Valley Air Expert really cares about the customer service. They make a vow to not make profit from shipping, and they try everything to keep the Free Shipping policy within 48 states of the U.S, excluding only Alaska and Hawaii. Moreover, you can get a 30-day free trial of their product, and if you don't satisfy, you can make a refund easily.
If you need support, you can contact their customer service from 9 to 5 at 800-958-9609 via phone, or anytime at support@siliconvalleyairexperts.com via email. They will try to contact you back as soon as possible.
However, you will only get a free 1-year warranty for the Airdog air purifiers. To get an additional year of warranty, you need to pay $49, and for two additional year, the cost will be $99.
The flagship Airdog X8 has a 2-year warranty.
Top Airdog X8 deals right now
Airdog X8 Ionic Air Purifiers for Home with Washable Filter.
The TPA technology of Airdog can filter particles down to 14.6 nm. Airdog X8 is suitable for rooms up to 1000 square feet. Pay as low as $53/month.
Our verdict
Airdog X8, again, makes the claim to stop the waste and dispose of HEPA filters, and the company behind it told that it is environment conscious. While I appreciate the effort they put in the air purifier and I know that it is by far better than many "non-HEPA" air purifiers out there, an ionizer is still a method that is "more bad" than traditional HEPA air filter. And will it last for long? Perhaps we need time to tell.
Airdog X8 Air Purifier: Trusted Review & Specs in 2023
Airdog X8 Reviews and Specs (Air Purifier Trusted Reviews in 2023). ✓ Cleaning Power: Ionizer ✓ CADR 470 ✓ Value: 4.3/5 ✓ Certified Review
Product Brand: Airdog
Product Currency: USD
Product Price: 1199
Product In-Stock: InStock
Performance

Features

Annual Cost

Design

Price
Summary
Airdog X8 is good at its first impression, and it proves its value.