LG's new flagship: LG PuriCare 360° AS560DWR0 is a tempting, high-powered package. It is a confident step forward, not just for LG's experimental air purifier branch with a few models, but for their flagship devices in general. Simply put, this is LG's best in recent memory and as a result, it's also one of the best high-range air purifiers you can get. It's time for the complete LG PuriCare AS560DWR0 Review.
In Breathe Quality, we have reviewed all air purifiers under these sections. Also, we guarantee that:
We do give honest reviews (both pros and cons) so anyone will guarantee to have the wisest choices.
We do not (and never) exaggerate one product just to let you click the links and buy that product blindly.
Sections
PROS
---
Streamlined, 360° design
Bursting with enjoyable features
High-quality build
Powerful Turbo Mode
10-year warranty for motor
Quiet operation
CONS
---
Quite expensive
Fan power isn't industry-leading
LG is a famous brand name for many electronic products you're using in real world. The South Korean only shares a few air purifier products for the North America market, but these PuriCare air purifiers are certified by the most reputable organizations like the AHAM, Energy Star, Asthma & Allergy Foundation of America and California Air Resources Board. The flagship – LG PuriCare AS560DWR0 is the best LG air purifier you can get for the moment, and it's certainly one of the best air purifiers with smart features. It's time we get a proper, in-depth LG PuriCare AS560DWR0 Review.
Other LG's Air Purifier Reviews:
LG PuriCare AS560DWR0 Price
The LG PuriCare AS560DWR0 stands out from the competition enough to be considered LG's true flagship air purifier, even for 2021. This air purifier is the main reason LG discontinued the tower PuriCare AS401WWA1 model, as the flagship has stronger performance, with the core of a True HEPA filter. If you prefer a more budget solution, the round console LG PuriCare AS401VSA0 and the half LG PuriCare AS330DWR0 is your best bet.
The LG PuriCare AS560DWR0 is truly the air purifier that LG needs to win the high-range competition. It has frankly everything from other competitors: a high-end HEPA filter, strong fan power and attractive design. It also packs with the uncommon smart features on high-range, where only the industrial air purifiers are the winners. Until they met the LG PuriCare AS560DWR0, finally.
But making all of the right moves comes at a high cost. $1299 officially on LG website means the air purifier is only for serious users. LG wants anyone who dare to spend a lot of money for an air purification system, can taste the high-end smart features for an easy life.
It is certainly one of the most expensive air purifiers out there, competing the IQAir GC MultiGas and Airocide APS-200 PM 2.5 directly. If you prefer the concept of commercial air purifiers, however, you should look for the AeraMax Professional 3, AllerAir AirMedic Pro 6 or Airpura F600.
Top LG PuriCare AS560DWR0 deals right now
LG AS560DWR0 PuriCare 360-Degree Air Purifier with SmartThinQ Wi-Fi and Voice Control, White.
The powerful flagship air purifier of LG. Certified by the Asthma and Allergy Foundation of America (AAFA). Whisper-quiet operation.
Related post: Best air purifier 2021.
LG PuriCare AS560DWR0 Design and Size
That amount of money will basically get you any flagship air purifier on the market, or even a lot cheaper. To demand that much for a device, LG needs to make the LG PuriCare AS560DWR0 the most unique air purifier in the world. And yes, the flagship of this company is a beautiful air purifier device to look at and use.
Starting on the front, the LG PuriCare AS560DWR0 is built with high-quality materials. The device measures in at 45.4 inches in height, so this LG PuriCare AS569DWR0 is even bigger than the Blueair Pro XL, Rowenta Intense Air XL PU6020 or Dyson Pure Cool Tower. It has a diameter of 17 inches, so the air purifier isn't portable to be moved around your home. Really, it is double its brother – the LG PuriCare AS330DWR0.
That said, it's remarkable that LG has made a huge air purifier system for serious air cleaning. The LG PuriCare AS560DWR0 presents the most complicated air flow system concept. With the unique air purification method, this air purifier sucks in the air 360° from the low ground and high air. Then it releases the air on top and middle. It is a very complicated air flow direction, requiring more fan motors than a common air purifier.
The top air outlet can be adjusted to enhance the air delivery. It can tilt the top grill up to 55°, and rotate the top body up to 70°. This feature ensures more even distribution for the clean air. Also, the LG PuriCare AS560DWR0 can deliver the air farther (up to 24 feet).
LG PuriCare AS560DWR0, just like many other South Korean air purifier models, use perforated holes to act as preliminary filter. The sophisticated design is awarded by Reddot, and I think it's worth an unique selling point of this LG's flagship.
Glancing upward has me stumbling upon the LG PuriCare AS560DWR0's control panel. It keeps the simple icons and instructions like a portable LG PuriCare AS401VSA0, but the Air Quality Monitor displays more information like Wi-Fi signals, color-coded LED indicator or other settings.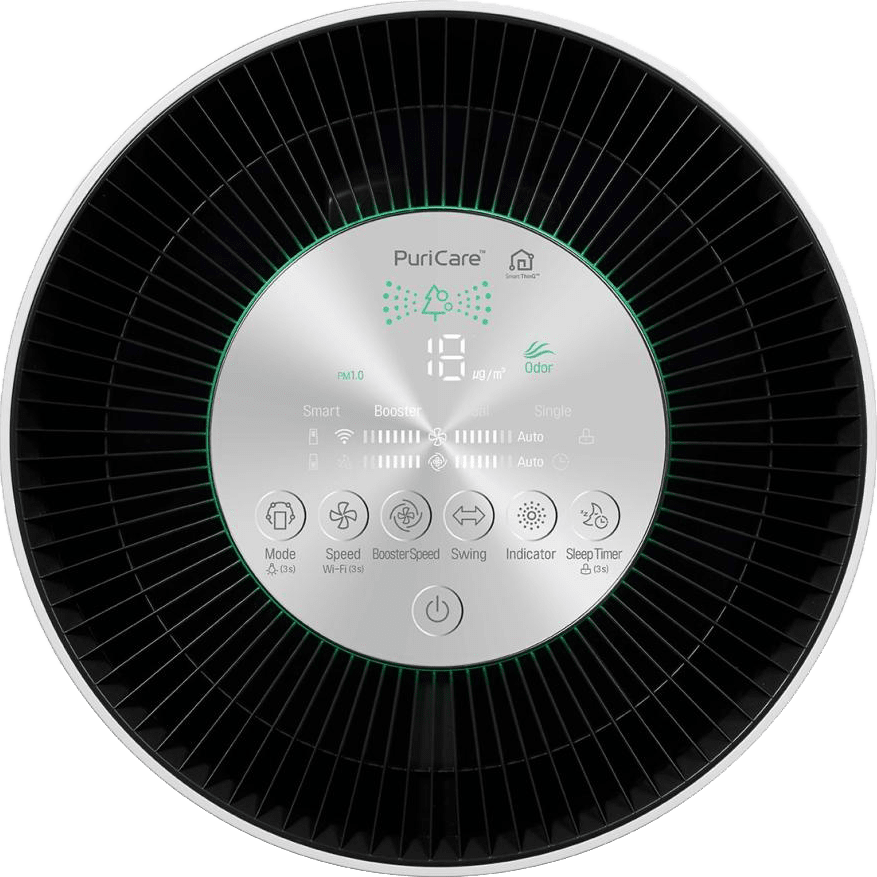 Source: Sylvance.com
That huge air purifier from LG is really heavy at 42.3 lbs. It is designed for extra-large rooms, and you shouldn't move the air purifier too often.
Related post: Best air purifiers for bedroom.
LG PuriCare AS560DWR0 Filters
The LG PuriCare AS560DWR0 remains the traditional 2-stage air cleaning system, which is popular in cylindrical air purifier devices.
True HEPA filter – The main HEPA filter that captures 99.97% of down to 0.3 microns allergens, virus particles, pollen, mold and fungi particles.
Activated Carbon Filter – The deodorization filter catches odors, smoke and Volatile Organic Compounds (VOCs) like formaldehyde.
This LG flagship is powerful enough to enter any tests for large room at Breathe Quality. In a room of 500 square feet, I let the LG PuriCare AS560DWR0 run for 1 hour. It had a promising performance in our test, scored 99.95% of trapping any particles as small as 0.3 microns. However, this air purifier had overall slower efficiency against many competitors, like the AeraMax Professional 4, Winix T1, Blueair Classic 680i or Oransi Erik 650A.
The LG PuriCare AS560DWR0 makes use of the latest air filter from LG, named AAFTDT301. You need to replace the filter every 12 months, with a quite high cost of $150.
Related post: Best air purifiers for allergies.
LG PuriCare AS560DWR0 Room Coverage
Powerful fan features require more than just a standard fan motor. The LG PuriCare AS560DWR0 features an unmatched fan power to easily achieve room coverage of 512 square feet.
The ACH of LG PuriCare AS560DWR0 is 4X. At maximum power, the air purifier can clean the air every 15 minutes.
The CADR of LG PuriCare AS560DWR0 is 330 Dust/ 330 Smoke/ 365 Pollen (cfm). This could be the first attempt in making air purifier with high fan power by LG, and this flagship can be equal with the Coway's flagship – AIRMEGA 400S. Cleaning a large room of 500 square feet is ab easy goal for this air purifier to meet, especially when it is certified by the Association of Home Appliance Manufacturers (AHAM).
Related post: Best large room air purifiers.
LG PuriCare AS560DWR0 Sound
When it comes to the silent performance, all air purifier units from South Korea seems to be the best. LG gave this air purifier a funny name for its quiet operation: LoDecibel. You can easily translate it into understandable language.
And the quiet operation is really impressive, as for an air purifier with such high fan power, the LG PuriCare AS560DWR0 can go as low as 25 decibels (db). This sound level is lower than the whisper, and you won't notice any sound for sure.
However, the LG PuriCare AS560DWR0 is still an air purifier for large rooms, and it requires more fan power to do this task. As a result, the noise level is measured at 54 decibels. It is still just like the common conversation at home, and somehow it acts like white noise to help you sleep easier.
Related post: Best air purifiers for baby.
LG PuriCare AS560DWR0 Power Consumption
One of our most FAQs is "Do air purifiers use a lot of energy?" In fact, air purifier must be used for a long time to be efficient. And power consumption is one important criteria to review how much energy this air purifier will consume.
The LG PuriCare AS560DWR0, as the flagship, has the certification of Energy Star. So to say, you can use the air purifier with a very high CADR/watt rate, meaning the air purifier consumes better energy for performance.
The rated power of this LG PuriCare AS560DWR is recorded at 80 watts. For an air purifier with such high fan power, the LG flagship requires less energy than many low-range units, for example the Winix 5500-2. On lowest speed, the power consumption of this air purifier is just only 18 watts.
If you use the LG PuriCare AS560DWR0 for 8 hours each day, it would cost you just $6-$29 per year.
Related post: Best air purifiers for pets.
LG PuriCare AS560DWR0 Additional Features
LG PuriCare series air purifiers are traditionally very savvy in the additional features arena. The flagship LG PuriCare AS560DWR0 is obviously no exception, and it ups with the unique Wi-Fi Enabled Connectivity feature. For a high-range air purifier for more than $1000, the LG PuriCare AS560DWR0 deserves to be the best smart air purifier.
When it comes to the Wi-Fi Capabilities feature, LG PuriCare AS560DWR0 can easily connect with many virtual assistant technologies like Google Assistant or Alexa. The air purifier is ready to be controlled from anywhere, at anytime, thanks to the LG SmartThinQ app.
The Air Quality Monitor is also the most enjoyable feature in this LG PuriCare AS560DWR0. The intelligent LED indicator will change from red to green, and you can check the air quality improvement from the PM (10, 2.5, 1.0) display. LG PuriCare AS560DWR0's Smart Sensor can quickly detect the density of contaminants in your indoor air, and it automatically adjusts the fan speed to match the environment's need.
Like I've said earlier, the LG PuriCare AS560DWR0 can act like a tower fan. It can oscillate for 70°, and it can tilt up to 55°. This air purifier is ready to deliver the air into any corners in your room.
The LG PuriCare AS560DWR0 comes with two extra modes: Clean Booster and Dual Mode. Both settings are for quickly cleaning your room. Moreover, the operating mode defaults to the last mode selected, even after a power failure.
Finally, we have many other basic settings like a Child lock function, to lock down the setting for any unwanted changes. LG PuriCare AS560DWR0 has a Timer setting to schedule the time off. And don't forget the filter reminder, it only alerts you when the device needs filter replacement.
Related posts:
1, Best air purifiers for smoke.
2, Best air purifiers for dust.
3, Best air purifiers for mold.
LG PuriCare AS560DWR0 Customer Service
LG is still one of the best electronics manufacturers in the world. So far, the company focuses on improving the customer service, at the world-class level. Buying an LG product means you will get the full support from this company.
To contact LG, there are many methods. You can either email them online, or through their community forum, Facebook or Twitter fan page. If you look for the direct contact, you can live chat with them online, or call them at 800-243-0000. LG's support is available from 7 AM to midnight CST.
The company supports you with the most competitive warranty for any air purifiers. All air purifiers are covered with a 10-year warranty for Inverter motor only. For other parts and labor, the company deliver a common 1-year warranty.
Top LG PuriCare AS560DWR0 deals right now
LG AS560DWR0 PuriCare 360-Degree Air Purifier with SmartThinQ Wi-Fi and Voice Control, White.
The powerful flagship air purifier of LG. Certified by the Asthma and Allergy Foundation of America (AAFA). Whisper-quiet operation.
Our verdict
The LG PuriCare AS560DWR0 is not only the rare high-range air purifier with high-end smart features, it's the best air purifier that LG has ever made. Having a real True HEPA filter and powerful, unmatched fan power means you don't have to look for any other alternatives. It's the first to offer the best of both worlds, and it should be your desired air purifier.
However, the LG PuriCare AS560DWR0 is a little too expensive at launch, at least in the U.S, to consider buying over the competition. It's a good air purifier, perhaps it's too good to be true, as the air purifier is really unique, but there are several other options out there that have better performance for your money. If you want an absolute air cleaning efficiency in just 1 hour, the LG PuriCare AS560DWR0 is far from perfect in high-range segment.
But who only run the air purifier for 1 hour? Then, the LG PuriCare AS560DWR0 is the most powerful solution for any indoor air quality problem.
Cleaning Power

Portability

Features

Power Consumption

Price
Summary
Perfect flagship from LG, a masterpiece of air cleaning solution.