The Hunter Medium Console HP700 is disrupting competition from day one. It is the most popular Hunter air purifier, and sometimes you will find it out of stock. A pre-order is recommended if you love to get a decent EcoSilver air purifier, without paying as much as the Hunter HP800. Today, we're happy to give you a full Hunter Medium Console HP700 Review.
In Breathe Quality, we have reviewed all air purifiers under these sections. Also, we guarantee that:
We do give honest reviews (both pros and cons) so anyone will guarantee to have the wisest choices.
We do not (and never) exaggerate one product just to let you click the links and buy that product blindly.
Sections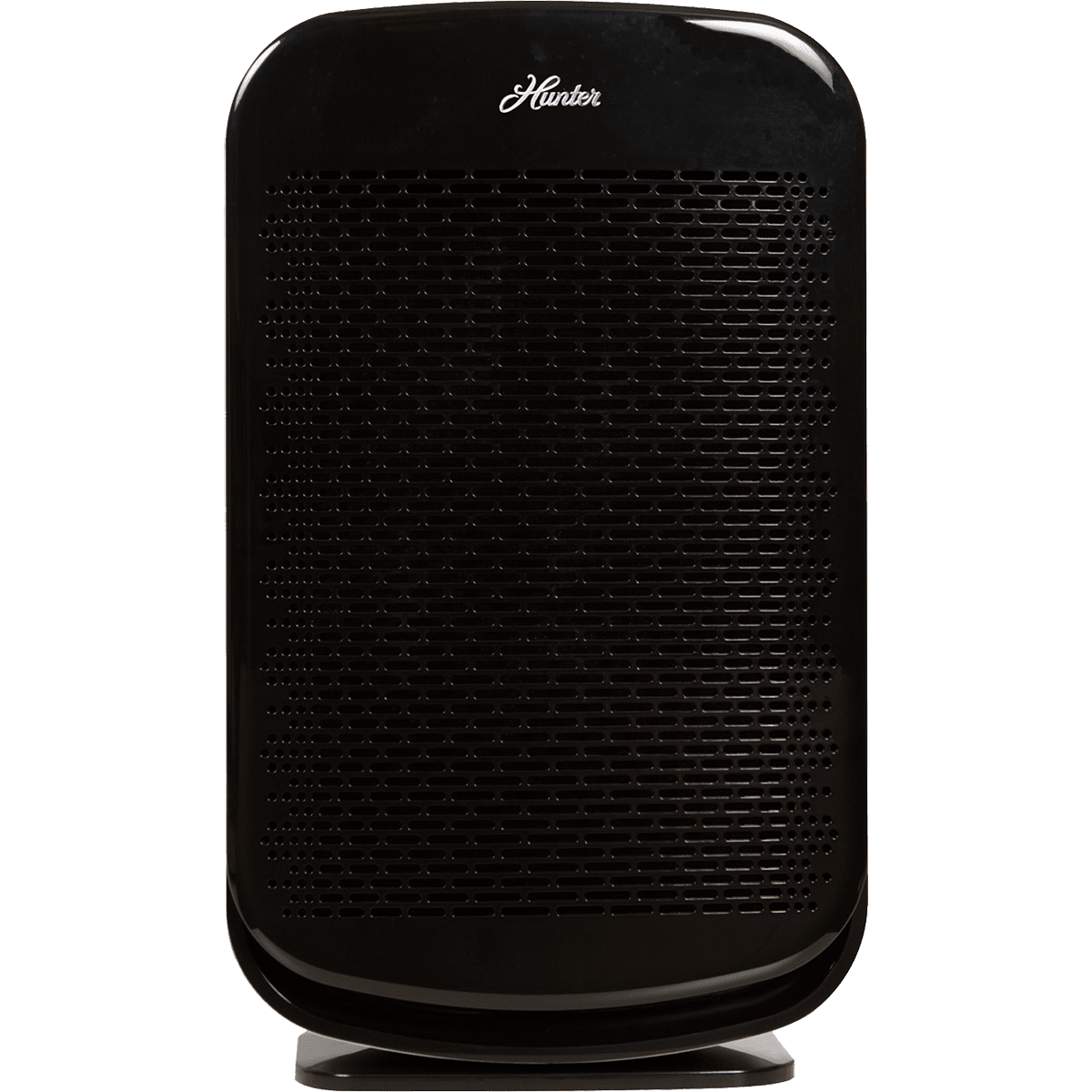 PROS
---
EcoSilver pre-filter can block bacteria growth
Coconut carbon for better performance
Covered by good warranty
Competitive fan power
CONS
---
No Smart features
Unattractive design
Hunter is going big with the Hunter Medium Console HP700. This air purifier needs to join in the most aggressively competitive segment, where you can blindly pick the AIRMEGA 200M or Honeywell HPA300 for certainty. But the firm has built a reputation for making attractive, powerful devices with EcoSilver filter, and I believe the Hunter HP700 deserves a check, thanks to our Hunter HP700 Review.
Other Hunter's Air Purifier Reviews:
Hunter Medium Console HP700 Price
The Hunter Medium Console HP700 could be one of the budget hits of this year with what appears to be a great balance of features, power and style for a price that is hugely attractive. In fact, many popular air purifiers can be found at this price, most notably the Coway AP-1512HH, Sharp FP-K50UW or more.
The new Hunter HP700 is also a key device for the firm, as it's a core top-tier low-range offering which should appeal to value hunters. No pun intended.
Hunter has made sure this Hunter HP700 will be a lot different from the tower Hunter HP600. A console air purifier type is suitable for the price segment, because the Hunter HP700 can be found at $199 on official Hunter website.
So, it has basic power like any other competitors in this price range. I can list a few names like Filtrete FAP-T03BA-G2, Bissell air220 or Vornado AC550. All of them are good, and the difference in performance is completely negligible.
Top Hunter Medium Console HP700 deals right now
Hunter HP700 Medium Console Air Purifier for Large Rooms. White.
The most popular EcoSilver + HEPA console air purifier from Hunter, with Energy Star operation. Backed with a 5-year warranty.
Related post: Best air purifiers 2023.
Hunter Medium Console HP700 Design and Size
Most console air purifiers with a similar price to the Hunter HP700 will use a simple bottom-to-top air flow system concept, with a large air inlet on the front. It looks like other common air purifiers, and other people who see you using the Hunter HP700 won't be able to tell the name.
But hey, a common air purifier isn't too bad for average use, and if you only check the price per performance of one air purifier, you won't care about the design much. Hunter HP700 is tall at 25.7 inches, but it is really slim with the depth of 7.5 inches.
It's still large though – and the air purifier has a large base to make the 14-lb device stand firm on the ground. Considering the size of the air purifier, we can guarantee it holds a bigger and more powerful fan than either the compact Hunter HP400 or Hunter HP600.
The air purifier has two color options: black and white. The soft touch control panel is located on top, which is neat but detailed, so you don't need to check the manual.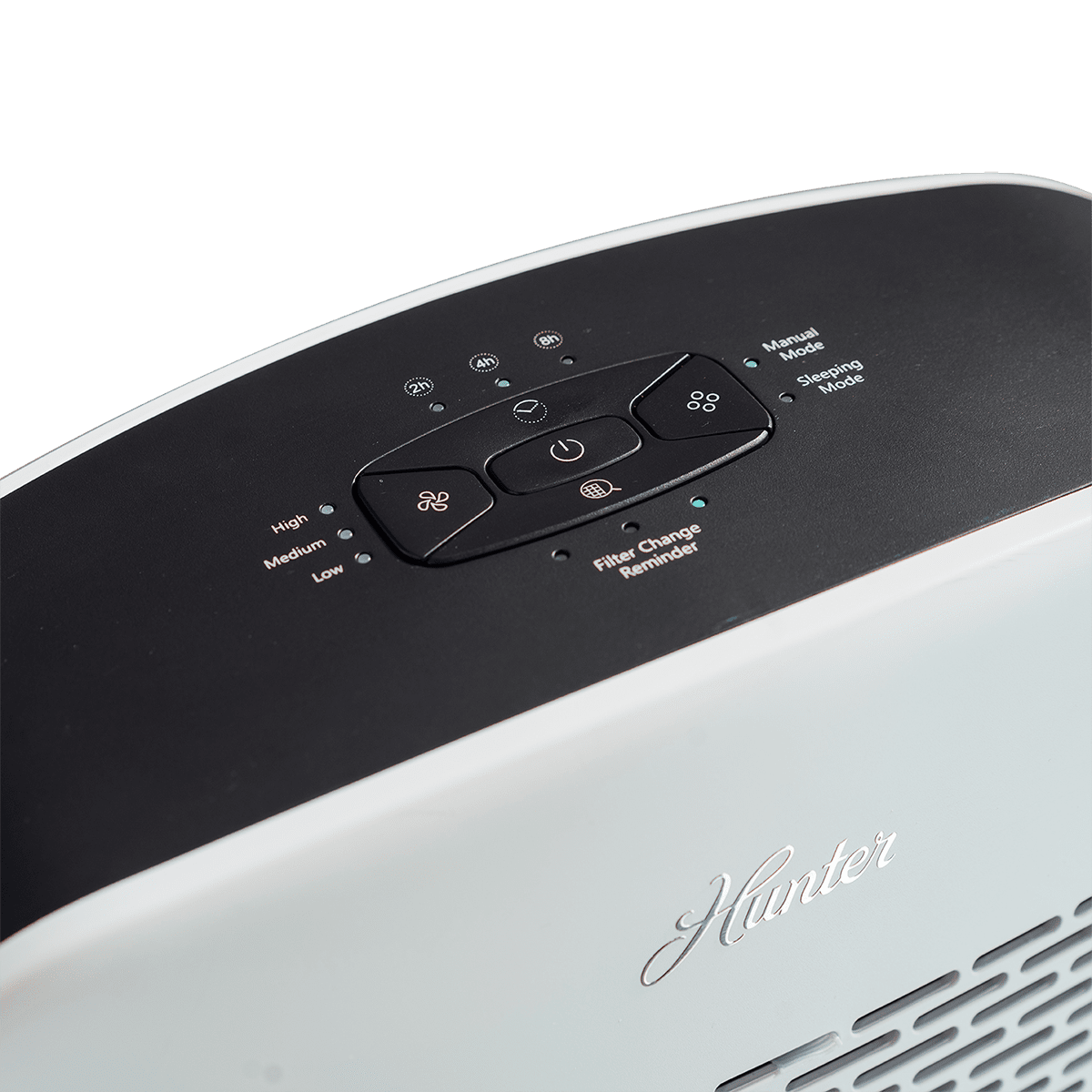 Source: Sylvane.com
Related post: Best air purifiers for bedroom.
Hunter Medium Console HP700 Filters
Hunter HP700 sticks with the traditional 3-stage air cleaning system of the company, and features the signature EcoSilver pre-filter.
EcoSilver Pre-filter – The Hunter's exclusive pre-filter with silver nanoparticles to prevent the growth of microorganism pollutants like viruses, bacteria and mold. It also catches larger particles to protect other air filters.
Activated Carbon Filter – This coconut carbon filter neutralizes harmful VOCs and household odors from cooking, cleaning, smoking and pets.
True HEPA filter – Hunter HP700 has a True HEPA filter to remove up to 99.97% of airborne particles as small as 0.3 microns including smoke, dust, pollen, pet hair and dander, mold spores and dust mite debris.
The reliability of the air purifier is great. In my week of testing, I let the Hunter HP700 run in a large room of 200 square feet. The result was 99.9% for trapping any particles down to 0.3 microns. It was the same as the Bissell air400, and a bit better than the Oreck Air Response Large. However, I recommend you to get the Medify MA-40 if you want the highest air cleaning performance.
About the air filter's life time, the Hunter HP700 can serve you for 6 to 12 months without filter replacement. After that, to guarantee the optimal performance, you should buy a new set of air filters, which is H-HF700 model.
Related post: Best air purifiers for allergies.
Hunter Medium Console HP700 Room Coverage
The standout feature the Hunter HP700 sells over the Hunter HP600 is its more powerful fan. At least, Hunter has one candidate to compete against the top winners at the $200 range. This Hunter HP700 is suggested to use in a room of 315 square feet, and it will run with very good ACH rating.
The ACH of Hunter HP700 is 5X. This air purifier can clean a large room up to 300 square feet 5 times per hour.
The CADR of Hunter HP700 is 240 Dust/ 203 Smoke/ 268 Pollen (cfm). Though the CADR rating is still behind the most recommended air purifiers, it is still a big jump up from most previous devices.
Related post: Best large room air purifiers.
Hunter Medium Console HP700 Sound
Average use of the Hunter HP700 is as quietly as possible, with the lowest speed being only 33 decibels (db). It is impressive because Hunter is adding more power for the fan, but they still keep the whisper quiet operation.
More impressively, the noise level of the Hunter HP700 on highest speed is just 52 decibels. It is even quieter than the tower Hunter HP600. That means it is just like the normal conversation at home, and you can even sleep on highest speed if you are heavy sleeper.
Related post: Best air purifiers for baby.
Hunter Medium Console HP700 Power Consumption
One of our most FAQs is "Do air purifiers use a lot of energy?" In fact, air purifier must be used for a long time to be efficient. And power consumption is one important criteria to review if this air purifier is good or not.
The Hunter HP700 is another Energy Star air purifier from the Hunter lineup, together with the flagship Hunter HP800. The power consumption is just only 50 watts, which grants a very high CADR rate per watt.
If you run the Hunter HP700 for 8 hours per day, the annual cost is just $18.
Related post: Best air purifiers for pets.
Hunter Medium Console HP700 Additional Features
Hunter Medium Console HP700 doesn't add much for the additional features from the previous Hunter HP600. It doesn't have any air sensor, and I could say it is a bit outdated for the market.
Well, perhaps the basic fan settings are enough for any common use. For example, it has a Timer setting, to schedule the time off after 2, 4 or 8 hours. The LED indicator for filter replacement is also useful, so you don't need to remember the date manually.
Depends on your needs, any smart air purifiers like the Levoit LV-PUR131S, Medify MA-Smart or even TruSens Z-2000 with Smart Sensor are more appropriate. For me, the stable air cleaning power is better than the fancy additional features, and I will stick with the Hunter HP700.
Related posts:
1, Best air purifiers for smoke.
2, Best air purifiers for dust.
3, Best air purifiers for mold.
Hunter Medium Console HP700 Customer Service
Hunter is a well-known brand for manufacturing air purifiers in more than 100 years, so we don't need to doubt their dedicated customer service. For any questions, you can contact them directly via phone at 716-221-3948, or via email at info@hunterpureair.com.
They also have a Free Shipping policy for any orders over $69, with speed is 2-5 business days. The company has a refund policy for 30 days with a 15% restocking fee.
However, Hunter provides a great 5-year warranty for all of their air purifiers. You need to register the product online to get the warranty.
Top Hunter Medium Console HP700 deals right now
Hunter HP700 Medium Console Air Purifier for Large Rooms. White.
The most popular EcoSilver + HEPA console air purifier from Hunter, with Energy Star operation. Backed with a 5-year warranty.
Our verdict
If you're looking for a Hunter console air purifier on a budget, the Hunter HP700 is well suitable for you. It has high fan power, decent air filtration system and an Energy Star rating. It costs less to operate, and it still keeps the wonderful whisper-quiet sound level.
However, it is still behind from some serious competitors, in terms of both performance and fancy additional features. For most users, I recommend to get the Winix AM90 or Coway AP-1512HH, which are the best air purifiers you can get at this price range.
Hunter HP700 Air Purifier: Trusted Review in 2023
Hunter HP700 Reviews and Specs (Air Purifier Trusted Reviews in 2023). ✓ Cleaning Power: True HEPA ✓ EcoSilver ✓ Value: 3.9/5 ✓Certified Review
Product Brand: Hunter
Product Currency: USD
Product Price: 199
Product In-Stock: https://schema.org/InStock
Performance

Features

Annual Cost

Design

Price
Summary
Overall the most sold out Hunter air purifier.