Overpriced and forgettable, although the Airfree Lotus is an okay air purifier, the alternatives offer more for less or excel in a particular area. Now we see a drop in the price, so I guess it's time to write a review for this flagship of Airfree family. So, are you ready with this Airfree Lotus Review?
In Breathe Quality, we have reviewed all air purifiers under these sections. Also, we guarantee that:
We do give honest reviews (both pros and cons) so anyone will guarantee to have the wisest choices.
We do not (and never) exaggerate one product just to let you click the links and buy that product blindly.
Sections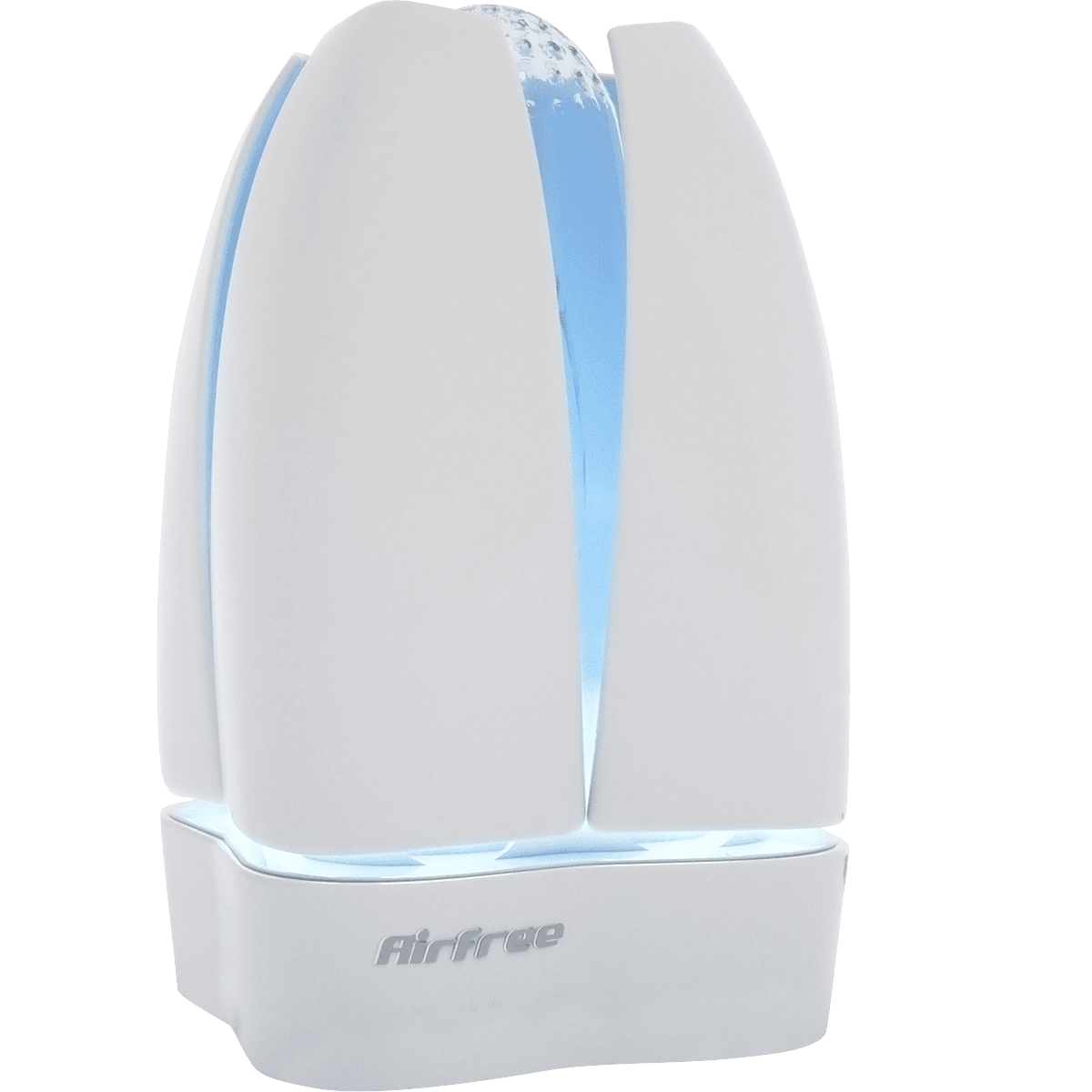 PROS
---
Totally filterless, no maintenance cost
Completely silent
Portable size to use
Multi-color nightlight
New design
CONS
---
Can't capture the actual particulate matters
Lacks of additional features
A bit too pricey
Airfree is one of the biggest air purifier brands in the world since 2004. This company is founded in Portugal, but they has sold their products to all regions and continents around the globe, reaching to us – the U.S residents with popular retailers like Amazon, Walmart or Sylvane. The Airfree Lotus is currently their flagship air purifier, with the same performance as the previous Airfree Iris 3000, as well as the next-gen chromotherapy function. Want to learn more? Let's read our Airfree Lotus Review.
Airfree Lotus Price
The Airfree Lotus touts a super new design, which can open the "petals" on top to emit different colored lights to help create a welcoming environment. This function is developed well since the Airfree Tulip and Airfree BabyAir, and the more affordable Airfree Iris 3000 also makes chromotherapy feature as the selling point.
That's why, you only want an Airfree Lotus when you are tired of the old design from the popular Airfree P1000 and Airfree Onix 3000. This air purifier is really unique even among its kind, and buying an Airfree Lotus makes you quite special.
There is no significant upgrade over the high-end predecessors, making the high price of Airfree Lotus really unacceptable. The launching price on some retail websites is about $349.
You may immediately be wowed by the exclusive air filtration technology of Airfree Lotus, but in comparison, we are having too many outstanding devices to consider. Blueair Classic 205, Medify MA-40 and Winix AM90 could be the most well-known air purifiers, with smart features to control by app or Alexa voice commands. You can also select between the Dyson Pure Cool Link, Dyson Pure Cool Tower or Dyson Pure Hot+Cool with nearly the same cost.
Without the actual ability to capture the particulate matters, paying $399 for a device like Airfree Lotus is quite difficult, but if you are in love with the exclusive Airfree technology, here is a deal for you.
Top Airfree Lotus deals right now
Airfree Lotus air purifier, small, White.
The CARB-rated air purifier, with filterless technology. Multi-color nightlight function in pedals. Completely silent and 100% ozone-free.
Related post: Best air purifier 2023.
Airfree Lotus Design and Size
The Airfree Lotus could easily be the most detailed and complex air purifier of this company in terms of design. And when design has been one of Airfree's strengths recently, the new Airfree Lotus feels like a hodgepodge of different ideas and inspirations.
Just like its name, the Airfree is really like a lotus blossom, which opens the pedals when running. Airfree puts an emphasis on the top "pedals", making it distinctive with a change of colors. With 9 different colors: Red, Pink, White, Violet, Blue, Dark Blue, Green, Yellow, and Orange; Airfree wants to endorse the chromotherapy to the users. In their manual, Airfree gives some simple attributes of the colors, listing as below:
Red: Color of joy, activity, warmth, fire, power, passion and strength. Red brings vitality to physical functions and reduces inertia, melancholy, sadness, depressions and lethargy.
Pink: Protective and nourishing color, warm and soft. It stimulates affection and feelings of love and compassion.
White: Reflects all other colors and represents peace, chastity, innocence, purity and truth.
Violet: Reflects dignity, nobility and self-respect. It helps normalize hormonal or glandular activities.
Dark Blue: A refreshing, relaxing and serene color. It helps cleansing your thoughts and feelings, producing clarity in your communication.
Blue: Creates a notion of space, serenity and peace. It produces a relaxing and tranquillizing effect.
Green: Its energy reflects participation, adaptability, generosity and cooperation. This color eases emotions, helps correct reasoning and amplifies consciousness and understanding.
Yellow: Relates to the sun shining light, joy and good mood reinforcing the nervous system and muscles, including the heart, helping circulation.
Orange: Dynamism. Relates to ardor and enthusiasm energizing the body and helping assimilation.
This air purifier is also taller than most Airfree models with 13 inches in height. The whole device still makes use of the bottom-to-top air flow system concept, mostly because this is the only usable air flow direction for Airfree air purifiers.
It is also the heaviest air purifier in the family, however, it is still very portable with the weight of 5.2 lbs. Say goodbye forever to the chunky air purifiers with Airfree device.
Source: Amazon.com
Related post: Best air purifiers for bedroom.
Airfree Lotus Filters
Just like the Airfree Iris 3000 and Airfree Onix 3000, Airfree Lotus is the finest product with the exclusive Airfree air filtration technology in the world.
Exclusive Patented Thermodynamic TSS Technology – This technology has been independently tested in real-world conditions by ISO 17025 laboratories. The Airfree Lotus destroys the microorganisms and allergens by heating it to over 400°F (200°C) and instantly sterilizing it.
The process of eliminating microorganisms is similar to boiling the water, Airfree Lotus will continually draw in the air to proceed the heating, to the point that no common germs or viruses could be alive. Then it will cool the air and release to the room. The heating process occurs only inside the device, thus makes the air purifier warm, not hot.
Again, I will repeat that the filtration process of this Airfree Lotus is only the heating process. It is unable to capture the physical particulate matters like the HEPA filter, which makes this technology quite useless against common impurities like dust, pet hair, pet fur or other pollutants inside the smoke. It is also unable to remove the chemicals, odors or smells, either. We only use the Airfree air purifiers when we need a solution for extreme allergies and asthma for mold spores, or viruses.
We should know that the heating process is not like any ionizer or UV light filtration, it won't release any ozone and as a result, won't trigger asthma or any breathing issues for your respiratory system.
Without the installation of air filter, you will no longer need to remember the date of filter replacement, or worry about the air filter cost anymore.
Related post: Best air purifiers for allergies.
Airfree Lotus Room Coverage
The Airfree Lotus shares the same performance as the Airfree Iris 3000 and Airfree Onix 3000, so it can cover a room of 650 square feet.
Source: Amazon.com
Basically, the Airfree Lotus is not a regular air purifier. It doesn't use the fan as a mean to pull in the air, while the CADR rating indicates volume of filtered air delivered by an air cleaner, which is not designed for Airfree air purifiers. Also, the device needs to run gradually for uninterrupted cycle of air, so there is no ACH rating, either.
Related post: Best large room air purifiers.
Airfree Lotus Sound
Without any fan power, the Airfree Lotus is completely silent. You won't notice or hear any sound from this air purifier. In fact, you don't even know if the air purifier is working or not. Airfree suggests to check the top lid and see if it's warm, the air purifier is working perfectly.
Some people can't just sleep with even the slightest noise, so the Airfree Lotus is a great solution to both purify your indoor air, and save you from loud noise.
Related post: Best air purifiers for baby.
Airfree Lotus Power Consumption
An air purifier is designed to run for a long time to be more efficient, making the high-priority question in Breathe Quality is: "Do air purifiers use a lot of energy?" To know the answer, we will need to check the power consumption of this air purifier.
The Airfree Lotus must run gradually 24 hours a day to reach the highest efficiency. Moreover, the patented technology of Airfree can't have its cycle interrupted. The rated power of this Airfree Lotus is around 52 watts, which is a bit higher than other energy-saving air purifiers, but not too much.
If you run the Airfree Lotus for at least 8 hours each day, you need to pay $19 each year.
Related post: Best air purifiers for pets.
Airfree Lotus Additional Features
One common thing shared among all Airfree air purifiers is the lack of additional features. For a device of minimalism, Airfree Lotus doesn't have a simple power button. You just only plug it in, and the air purifier will run instantly.
Source: Amazon.com
As the flagship of this company, the Airfree Lotus packs with an exclusive multi-color nightlight, with 9 adjustable colors, which are Red, Pink, White, Violet, Blue, Dark Blue, Green, Yellow, and Orange. You can choose the favorite color and even the intensity, or just let it randomly choose the colors.
Related posts:
1, Best air purifiers for smoke.
2, Best air purifiers for dust.
3, Best air purifiers for mold.
Airfree Lotus Customer Service
Though the Airfree's origin isn't American, you can find their products in many of the most trusted retailers like Amazon, Sylvane or Walmart. They provide full support via email from their Contact Us page, or via phone at 626-921-4426.
The Airfree air purifiers are also backed up with a 2-year warranty policy. Though this is not the best warranty policy in the air purifier industry, it is enough for you to rely on the devices.
Top Airfree Lotus deals right now
Airfree Lotus air purifier, small, White.
The CARB-rated air purifier, with filterless technology. Multi-color nightlight function in pedals. Completely silent and 100% ozone-free.
Our verdict
Another fancy version of the previous Airfree Onix 3000, with the more fancy multi-color nightlight function.
Airfree Lotus Air Purifier: Trusted Review in 2023
Airfree Lotus Reviews and Specs (Air Purifier Trusted Reviews in 2023). ✓ Cleaning Power: Thermodynamic TSS ✓ Filterless ✓ Value: 2.9/5 ✓Certified Review
Product Brand: Airfree
Product Currency: USD
Product Price: 349
Product In-Stock: https://schema.org/InStock
Performance

Annual Cost

Features

Design

Price
Summary
The Airfree Lotus is a more fancy version of the previous Airfree Onix 3000, and it charges you with $100 more.