Beyond the high-quality HEPA filter, and the dedicated customer service you get as a result, the Boneco P400 doesn't have too many impressive features, and the fan power is still too low for the value. Let's read our latest Boneco P400 Review to see if it should be your next air purifier or not.
In Breathe Quality, we have reviewed all air purifiers under these sections. Also, we guarantee that:
We do give honest reviews (both pros and cons) so anyone will guarantee to have the wisest choices.
We do not (and never) exaggerate one product just to let you click the links and buy that product blindly.
Sections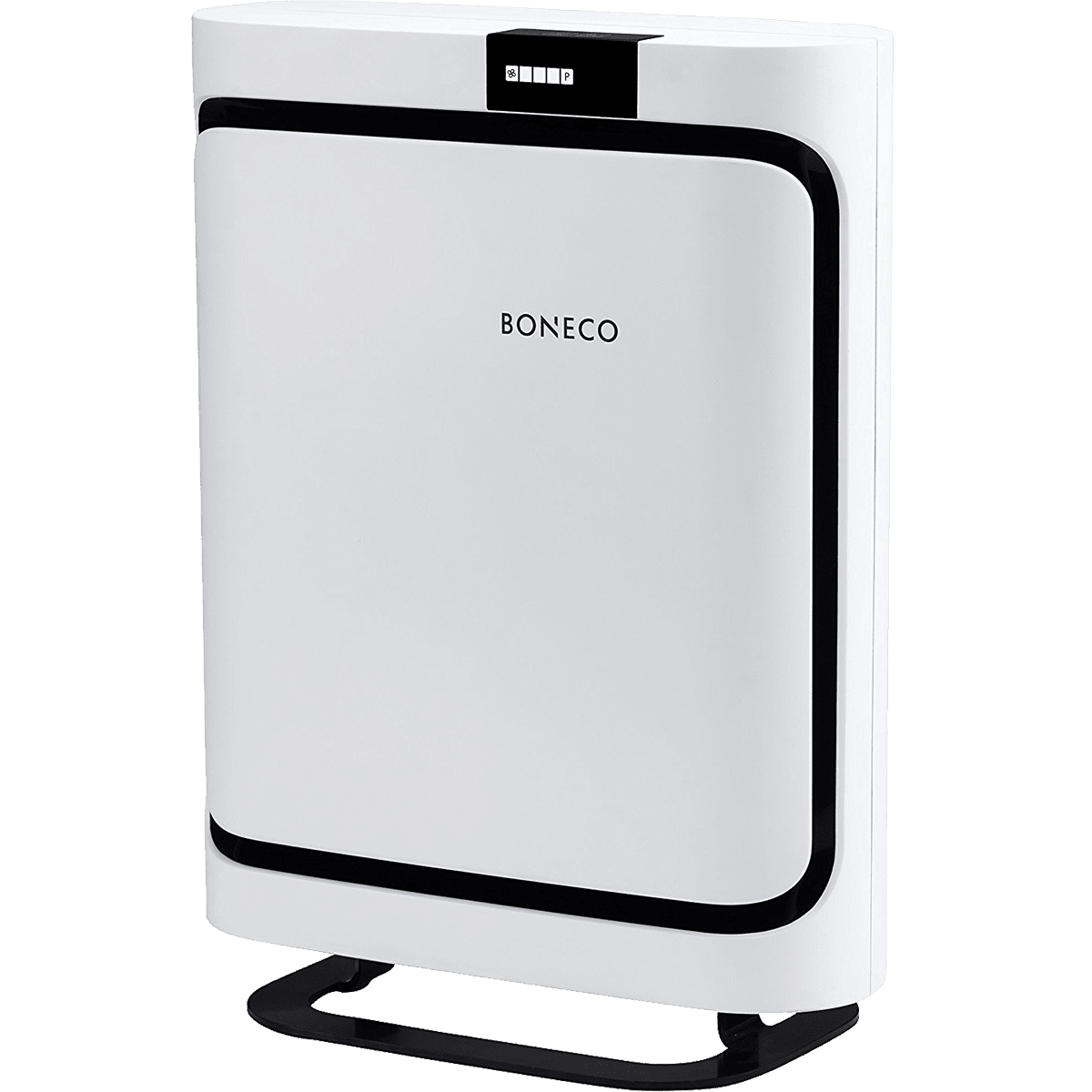 PROS
---
High-quality air filter
Low power consumption
Very quiet
CONS
---
Low CADR rating
No Smart features
Since 1956, the Swiss brand Boneco is a symbol in Europe air purifier industry, with a long history exactly like the famous IQAir. Equipped with not only the signature hybrid air purifiers, Boneco also manufactures a product line of pure air purifiers, with the flagships named Boneco P400 and Boneco P500. Today, we will start first with the Boneco P400 Review. Are you ready?
Other Boneco's Air Purifier Reviews:
Boneco P400 Price
Stuck in the middle with a whole lot of Boneco air purifier series devices, the Boneco P400 may get lost in the crowd. It's a solid, if simple air purifier which doesn't have anything to really shout about.
It sits bang in the middle of Boneco's revamped air purifier lineup, as below it you will find the Boneco P340, while above there are the more feature-filled Boneco P500 and later, Boneco P700.
This immediately presents a potential problem for the Boneco P400. Why plump for it when you can spend a little more on an Boneco P500? And if you're looking to save money, the Boneco P340 may be a better financial option.
That said, up until now, Boneco never announce the Boneco P340 on trusted retailers, mostly to keep the reason to buy the Boneco P400 as an entry-level air purifier. Hopefully it will help you make the decision a little easier. To get a Boneco P400, you need to spend up about $329 (or €329 on official Boneco website). It will be more expensive than even the hybrid Boneco H300 or air washer Boneco W2055A.
However, we are happy to give an interesting deal to reduce the original price of this Boneco P400 up to 37%, to the point it is just only $299. Grab it or miss it!
The most similar products with high-quality air filter and low fan speed like the Boneco P400 are the Oransi Max, Medify MA-112 and Rabbit Air BioGS 2.0, and these latter air purifiers also uses an ionizer to boost the air filtration system.
Top Boneco P400 deals right now
Boneco air purifier P400 with HEPA & Activated Carbon Filter.
Swiss made HEPA filters. Suitable for room up to 600 sq ft. Customized air filters to fit the environment's needs. Up to 37% OFF.
Related post: Best air purifier 2023.
Boneco P400 Design and Size
First impression, the Boneco P400 gives me some familiar feeling of AeraMax 200 or AeraMax 300, with main tone of white covering with black bezel. Out of all of Boneco air purifier family, the Boneco P400 measures 22 inches in height, which is even taller than the high-end Boneco H680.
The design looks relatively premium, but check it closely and the lightweight frame and cheaper feel reveals it's made up of purely plastic. Still, it looks smart and functional, and it is sturdy enough to stand on its unmistakable base.
Boneco P400 doesn't use the signature top-to-bottom air flow direction from traditional Boneco hybrid air purifiers, instead, it uses a much common bottom-to-top air flow system concept. There is only a little space between the front cover and air inlet, which limits the amount of pulled air.
I found removing the front cover a bit easy, because it is magnetic and you don't need to unlock anything to change the filter replacement.
On top of this air purifier, we will see an LCD display and a top control panel. The screen is only in black and white, with an only exception of LED indicator for filter replacement.
Source: Amazon.com
For the weight, our today Boneco P400 weighs 16 lbs, and can be up to 20 lbs with the Allergy filter. It may have a large handle, but it is still heavier than most air purifiers in the same price range.
Related post: Best air purifiers for bedroom.
Boneco P400 Filters
To decide the performance of one air purifier, normally we will check the quantity and quality of its air filters, including of the air filter types. The Boneco P400 has customized air filter inside, depending on the customer's needs.
Allergy – Default equipment of Boneco P400, which is a combination of pre-filter, a layer of Allergy filter, True HEPA filter and Activated Carbon filter. The air filter can reduce 99% of PM 2.5 fine particles like dust, pollen, hair, allergens, viruses, microorganism, mite, bacteria, germs, insecticide, as well as harmful gases and odors.
Smog – It doesn't have a layer of Allergy filter like the default, but it is much more effective against tobacco smoke and harmful gases like VOCs, formaldehyde, and exhaust gases.
Baby – It has an additional Enzyme filter to replace the Allergy filter, to keep your family safe from viruses and bacteria.
As you can see, all three customized air filters bring to you a permanent pre-filter to help capture large objects of contaminants like large dust, pet hair and fur; a True HEPA filter with Swiss-made quality and an attached active carbon layer.
To know which filter is suitable for your need, you only need to remember by the name of this air filter. The Allergy filter will have an extra layer to ensure higher efficiency against fine dust, and decrease the susceptibility to allergies of your family. The Smog filter, however, will store much more activated carbon to adsorb more chemicals and odors in the air. Finally, the Baby filter, as a filter targeting the kids, will use a layer of Enzyme filter, to prevent the growth of bacteria, germs and viruses inside your home.
Source: Amazon.com
Our today unit comes with the default Allergy filter, and I made a test for this air purifier to give you better insight. The Boneco P400 will run in a room of 200 square feet, under 1 hour. I also used the Oransi Max, Austin Air HealthMate Jr and AllerAir AirMed 3 to compare the performance with this Boneco P400. The result, Boneco P400 and Oransi Max both scored high efficiency of 99.95% for trapping any particles down to 0.3 microns, which is only behind the air purifier from Austin Air, which can remove 99.97%. It is such an impressive result for the Swiss air purifier.
Like all other air filter in this brand, the Allergy A401 air filter needs to be replaced annually, and its default cost is €84 in the official Boneco website. However, in Breathe Quality, we have found a much more persuasive deal for you to get, which is right below.
Related post: Best air purifiers for allergies.
Boneco P400 Room Coverage
Without the humidifier function like the Boneco W200, Boneco W300 or Boneco H300, the Boneco P400 is only suggested for a much more humble room size – 20 m² or 215 square feet. Though the air purifier is not verified by AHAM, the suggested room coverage can be trusted completely.
The ACH of Boneco P400 is 2X to 4X. This air purifier can clean your room as frequently as 4 times per hour.
The CADR of Boneco P400 is 170 cfm in general, which is lower than most mid-range air purifiers. Therefore, this air purifier will need more time to fully clean your room.
Related post: Best large room air purifiers.
Boneco P400 Sound
Boneco has proved to trim down the noise level to a perfect range that is clearly one of the quietest operation in the market. Even for an air purifier with HEPA filter like Boneco P400, the Swiss company will try their best to keep the high record.
On lowest speed, the Boneco P400 is measured to be only 30 decibels (db), which is exactly the range of whisper. Technically, you won't notice any sound from this air purifier at the lowest setting.
Running the air purifier on highest speed, I recorded the noise level as high as 58 decibels, and this time, you will hear the noise. To prevent the noise from keeping you awake at night, make sure to switch the fan speed to the lowest.
Related post: Best air purifiers for baby.
Boneco P400 Power Consumption
One of our most FAQs is "Do air purifiers use a lot of energy?" because we need to run an air purifier for a constant long time, and power consumption is really a thing to consider.
Without the humidifier function like the hybrid air purifier lineup, Boneco P400 consumes only 27 watts at the highest setting. Except for the Rabbit Air BioGS 2.0, you can't find other air purifier to consume at such low rate like Boneco P400.
If you run the Boneco P400 all-year round, 8 hours per day, you will need to pay only $10.
Related post: Best air purifiers for pets.
Boneco P400 Additional Features
Though without a humidifier function like its brothers, the Boneco P400 still has a fragrance container, so it can spread the essential oils into the fresh air, to soothe your mind and body.
Other than that, this air purifier doesn't have anything like its hybrid air purifier counterparts: Boneco H300. It doesn't have Smart Sensor or Bluetooth connection, and sadly, you don't have a remote control, either.
Fortunately, we still have the LED indicator for filter replacement. Otherwise, you will need to remember the date all by yourself.
Related posts:
1, Best air purifiers for smoke.
2, Best air purifiers for dust.
3, Best air purifiers for mold.
Boneco P400 Customer Service
After the acquisition of Envion from the Ideal Living Group, Boneco strengthens successfully their market presence in the U.S. Anyone who is familiar with the old well-known American air purifier brand, should know about the Swiss brand right now.
Unfortunately, Boneco only gave their phone number in Switzerland, so you should contact them via mail, at two possible addresses: inquiries@boneco.com or service@boneco.com. They will get back to you as soon as possible.
Boneco has a global manufacturer warranty for their air purifiers, and you will be covered by a 2-year warranty. During this period, for any valid defect discovered and claimed, Boneco will offer you between repair, replacement or refund. You should check all the warranty prerequisites in official Boneco website.
Top Boneco P400 deals right now
Boneco air purifier P400 with HEPA & Activated Carbon Filter.
Swiss made HEPA filters. Suitable for room up to 600 sq ft. Customized air filters to fit the environment's needs. Up to 37% OFF.
Our verdict
The Boneco P400's air filters work really, really well for the price, so the air purifier doesn't need high fan power for maximum performance against all allergens. However, it lacks the fancy features from its brothers, which is the biggest obstacle for customer to buy it immediately.
Boneco P400 Air Purifier: Trusted Review & Specs in 2023
Boneco P400 Reviews and Specs (Air Purifier Trusted Reviews in 2023). ✓ Cleaning Power: HEPA filter ✓ Low power consumption ✓ Value: 3.5/5 ✓Certified Review
Product Brand: Boneco
Product Currency: USD
Product Price: 329
Product In-Stock: https://schema.org/InStock
Performance

Features

Annual Cost

Design

Price
Summary
An "entry-level" Boneco air purifier on Amazon, with a much reduced price.