The Boneco H680 is Boneco's most powerful hybrid air purifier, and while there may not be any game-changing features to make this a must-buy device, it's solid addition to the signature Boneco hybrid range. If you're looking for the Boneco ultimate top-end device you will want to opt for this Boneco H680 Review.
In Breathe Quality, we have reviewed all air purifiers under these sections. Also, we guarantee that:
We do give honest reviews (both pros and cons) so anyone will guarantee to have the wisest choices.
We do not (and never) exaggerate one product just to let you click the links and buy that product blindly.
Sections
PROS
---
High-end build, with high-end features
Low power consumption
Very quiet
CONS
---
Low CADR rating
It's getting really expensive
Proud to be tradition since 1956, the Swiss brand Boneco is now one of the biggest air purifier companies in the world, especially after acquiring too many well-known air purifier brands from other countries like Air-O-Swiss or Envion. Their flagship hybrid air purifier at the moment is the Boneco H680, a device that they called an all-rounder for large offices and city apartments. But let's see if it's worth such high-range money in our today Boneco H680 Review.
Other Boneco's Air Purifier Reviews:
Boneco H680 Price
Boneco's newest range of hybrid air purifiers are here and ready for you to buy, and you heard us right – it's now a range of hybrid air purifiers rather than just one. The Boneco H300 and H400 are introduced at the same time, and they didn't even get an official price tag on Boneco website.
The Boneco H680, however, doesn't hide its expensive cost. It has a noticeably larger build, and is therefore bigger in general, and it comes with a few upgrades under the hood compared to the standard model.
To buy the Boneco H680 outright, you need to spend €999, or $1091 at the time of writing, which is 3 times higher than any standard hybrid air purifiers. We have a special deal up to 10% for you on Breathe Quality, so the Boneco H680 is just $999, and it is only available for a short time.
It may costs you more than another Swiss model IQAir HealthPro Plus, or Blueair Pro L, or even some AllerAir 6000 models. While these aforementioned air purifiers don't have the humidifier function to really compare with our today unit, they have such formidable air filtration system that if you have serious allergies or asthma, you can't just skip them.
Top Boneco H680 deals right now
Boneco Hybrid Humidifier & HEPA Air Purifier H680.
High humidification output. High-end smart features. Super quiet. Swiss made.
Related post: Best air purifier 2023.
Boneco H680 Design and Size
The Boneco H680 is designed to be a humidifier rather than an air purifier, so it mostly improves on making a high humidification output. A bigger evaporator mat is used, which covers a big fan inside the air purifier. Also, Boneco H680 store a much bigger water tank than any other devices of Boneco family, as it can hold 2.6 gallons of water.
Source: Amazon.com
The body of this air purifier is also different from anything like Boneco W200, Boneco W300 or Boneco H300. I imagine of this air purifier as the face of GLaDOS – the famous villain in the Portal game series. It is 19 inches in height, 17 inches in width and 13 inches in depth. Such dimensions can outsize any brothers of Boneco family, and Boneco H680 uses it huge body to hold not only a larger evaporator mat, but also a bigger Hybrid filter.
Boneco H680 doesn't use the signature top-to-bottom air flow direction like its brother, either. Instead, it will use a 360° air input, with 4 air inlet from 4 corners of this air purifier. The reason Boneco H680 can pull in so much air is because of its big fan, which can continuously spin to clean the indoor air.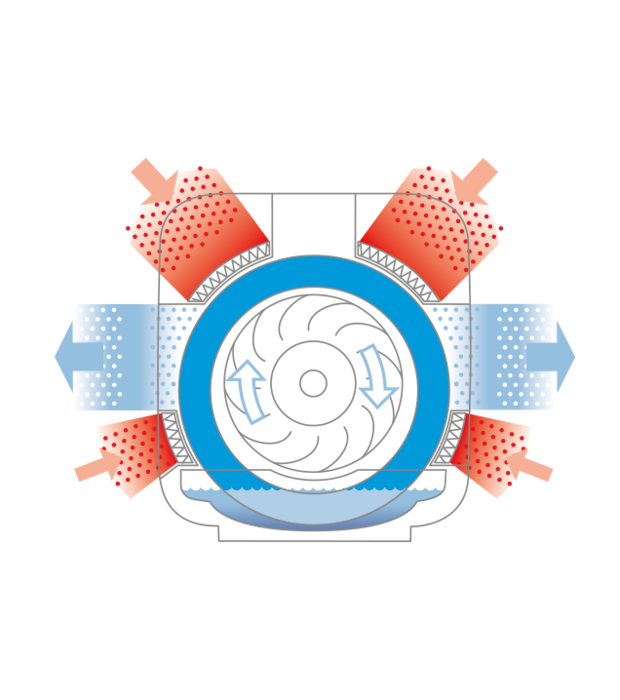 Source: Boneco website
There is also one LCD display to give you the information of air quality and humidity level on the front of Boneco H680. Also, you can find a top control panel right above the display screen, so you can manually change the settings.
Boneco H680 weighs 23 lbs, and that's reasonable for an air purifier with so many features.
Related post: Best air purifiers for bedroom.
Boneco H680 Filters
The flagship hybrid air purifier of Boneco will use a 4-stage air cleaning system as below.
Pre-filter – Boneco H680 uses a permanent pre-filter to stop the large objects of pollutants, like pet hair, fur or large dust.
True HEPA filter – The core filter of Boneco system, which can remove 99% of PM 2.5 particles, like fine dust, pollen, viruses and dust mites.
Activated Carbon filter – With an additional layer of active carbon, the Boneco H680 can reduce tobacco smoke, harmful gases such as VOCs, formaldehyde, cooking odors and exhaust gases.
Boneco Air Washer System – The textured evaporated mats turn in the water, to add moisture to the air. It also uses the water to wash the air from impurities (like dust, pollen and odors).
As a high-end air purifier, the Boneco H680 will combine both the air washer system and the True HEPA filter to deal with all allergens. I believe the quality of Boneco air filter is at least the same as the IQAir.
Source: Amazon.com
Boneco H680 also has a silver stick to naturally inhibit the growth of mold spores on the surface of filter and the overall humidification process. This silver stick is staple between Boneco models, and you need to replace it every season. It also contains active chemical substance like silver chloride, just so you know.
As I said earlier, the Boneco H680 is much more likely a humidifier than an air purifier, so it is upgraded much in term of air purifying function. I made a test for the device in a room of 150 square feet, and this air purifier scored high efficiency of 99.95% for trapping any particles down to 0.3 microns. The only downside is, the efficiency will reduce in much larger room, for the same duration.
We will use the A681 Hybrid filter for this air purifier, which costs you $79 and lives for a full year of operation.
Related post: Best air purifiers for allergies.
Boneco H680 Room Coverage
We only have the humidifier capability of this Boneco H680, and the manufacturer suggest to use it in a room of 150 m2, or 1600 square feet. It is reasonable for the humidifier part, because the humidity output is at least 4 times more than any standard hybrid air purifier or air washer of Boneco. But for the air purifier part, I'm not quite sure.
The ACH of Boneco H680 is 2X to 4X. This air purifier can clean your room as frequently as 4 times per hour.
The CADR of Boneco H680 is only 120 cfm in general, and it's nowhere near the fan power capability of other high-end air purifiers in this price range.
Related post: Best large room air purifiers.
Boneco H680 Sound
However, we must all agree that the low fan power results in quiet operation. Even with a bigger HEPA filter, the Boneco H680 is really, really silent to use.
Its lowest noise level is only 27 decibels (db), which is even lower than the Boneco H300, and you won't notice any sound when using this setting.
On highest speed, the noise level is only measured to be 51 decibels, and it could be the best air purifier with silent operation at high-range.
Related post: Best air purifiers for baby.
Boneco H680 Power Consumption
One of our most FAQs is "Do air purifiers use a lot of energy?" because we need to run an air purifier for a constant long time, and power consumption is really a thing to consider.
With such high humidity output, and a bigger fan, you may think it costs a lot to run the Boneco H680, right? But no, the rated power of this Boneco H680 is amazingly only 30 watts, which is unmatched by any other high-range air purifiers.
If you run the Boneco H680 all-year round, 8 hours per day, you will need to pay only $11. It is only as high as a compact Levoit LV-H132.
Related post: Best air purifiers for pets.
Boneco H680 Additional Features
For unknown reasons, Boneco H680 can't be connected with Bluetooth, but you are compensated with a remote control. However, as an air purifier with so much active information, you will want to be notified right on your smartphones.
Boneco H680 integrates both air sensor and humidity sensor, and gives you the feedback for both level on the screen. It also triggers the Auto Mode, and let the device automatically choose the most suitable fan speed for your environment. Remember that it reacts not only by the air quality index, but also the humidity level.
The Sleep Mode and Baby Mode are remaining in this flagship device, and it keeps the fan power to a limit, and reduce the noise level to a minimum.
There is also a fragrance container inside the Boneco H680, so you can add essential oils into and fill your home with favorite aroma. Yes, that's why we think of it much more like a humidifier, rather than an air purifier.
It also introduces a basic Timer and Child Lock function for the first time. Now you can easily schedule the time off for your Boneco H680, up to 12 hours.
Finally, the high-end Boneco air purifier has 3 different indicator to remind you when to refill water, when to replace the filter and when to replace the silver stick.
Related posts:
1, Best air purifiers for smoke.
2, Best air purifiers for dust.
3, Best air purifiers for mold.
Boneco H680 Customer Service
After the acquisition of Envion from the Ideal Living Group, Boneco strengthens successfully their market presence in the U.S. Anyone who is familiar with the old well-known American air purifier brand, should know about the Swiss brand right now.
Unfortunately, Boneco only gave their phone number in Switzerland, so you should contact them via mail, at two possible addresses: inquiries@boneco.com or service@boneco.com. They will get back to you as soon as possible.
Boneco has a global manufacturer warranty for their air purifiers, and you will be covered by a 2-year warranty. During this period, for any valid defect discovered and claimed, Boneco will offer you between repair, replacement or refund. You should check all the warranty prerequisites in official Boneco website.
Top Boneco H680 deals right now
Boneco Hybrid Humidifier & HEPA Air Purifier H680.
High humidification output. High-end smart features. Super quiet. Swiss made.
Our verdict
You should think of the Boneco H680 as a high-end humidifier with air purifier function, most likely because of its low fan speed. The air filter is high-quality, though, and the air washer technology can give you a much better fresh air in your home. So, grab it, if you can afford it.
Boneco H680 Air Purifier: Trusted Review & Specs in 2023
Boneco H680 Reviews and Specs (Air Purifier Trusted Reviews in 2023). ✓ Cleaning Power: HEPA filter ✓ Humidifier + Sensor ✓ Value: 3.5/5 ✓Certified Review
Product Brand: Boneco
Product Currency: USD
Product Price: 999
Product In-Stock: https://schema.org/InStock
Performance

Features

Annual Cost

Design

Price
Summary
Low performance combines with high price tag.