Is the new Boneco W300 the best air washer on market? We don't know, but if you think the water capacity of Boneco W200 too little, then the Boneco W300 is a good solution to try. So, let's find out in our Boneco W300 Review.
Update: As the Boneco W300 appears to be fully sold out, I recommend properly checking our deal before reading this review, as the review itself is pretty lengthy.
In Breathe Quality, we have reviewed all air purifiers under these sections. Also, we guarantee that:
We do give honest reviews (both pros and cons) so anyone will guarantee to have the wisest choices.
We do not (and never) exaggerate one product just to let you click the links and buy that product blindly.
Sections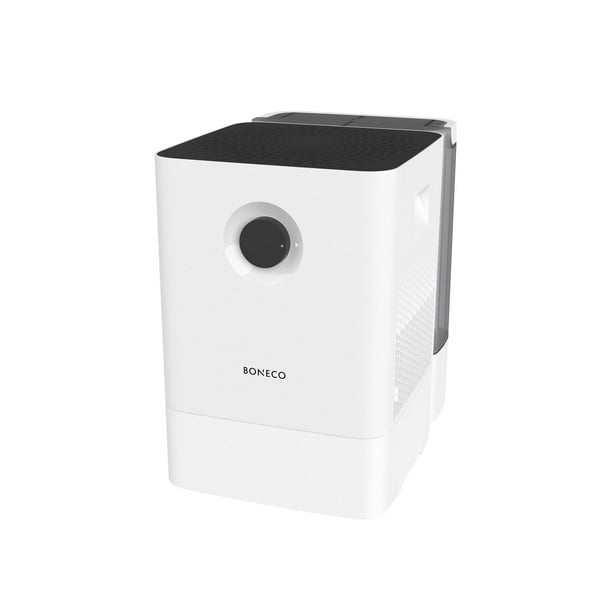 PROS
---
No filter replacement cost
Low power consumption
Water base can be filled directly, with higher capacity
Very quiet
CONS
---
Low performance rating
Can't capture ultra-fine particles
Boneco is a Swiss company of air purifier with history for more than 50 years. Now, as a part of Plaston Group, the company is active internationally, first acquiring long-standing Envion. The Boneco W300 is an air washer, which is an air purifier without filter, but thanks to the advanced Swiss Made technology, you will enjoy the fresh air. Okay, let's get back to Boneco W300 Review.
Other Boneco's Air Purifier Reviews:
Boneco W300 Price
Boneco W300 is a quick and convenient upgrade of the Boneco W200, with an additional water tank. I believe only this sentence can wrap the whole today review, and if you are a W200's user, you should know what to do.
Boneco is just a new player in the U.S market, and maybe many people don't even hear about the company. In fact, this is one of the big air purifier brands in the world, with expertise in air purifier industry alone. While Sharp manufactures the hybrid air purifiers with humidifier function, Boneco can "wash" the air with their unique products.
This Boneco W300 costs you €299, or around $327, which is $50 more expensive than the previous model. That difference in cost covers an extra water tank, for your comfort in mind.
As I previously mentioned, the Boneco W300 is a reasonable competitor of the Sharp KC-850U and Sharp KC-860U, both made by Sharp with high-quality True HEPA filter. If you need the mechanical filter, you should search for the Boneco H300, which adds one more filtration layer to increase the air purifying performance.
Top Boneco W300 deals right now
Boneco Humidifier Air Washer W300.
Humidifies the air with high efficiency to wash it from impurities, like dust, pollen and odors. Can be used all year round without filter replacement.
Related post: Best air purifier 2023.
Boneco W300 Design and Size
For anyone who have been Boneco W200's users, the Boneco W300 is exactly the popular air washer, with an attached additional water tank from the back. As the result, the Boneco W300 extends the depth from 11 inches to 15.7 inches. Other dimensions remain the same, with the height of 16 inches and the width of 11 inches.
As I've reviewed previously for the smaller air washer, the Boneco W300 borrows the design concept from many popular air purifiers in the world, like the Philips 5000i or Levoit LV-H135. The cubic design is for simplicity of operation and maintenance.
You should be aware that the Boneco W300 will run the top-to-bottom air flow system concept, which reverses the common air flow direction. The fan power draws the polluted air from top air inlet, and releases the fresh air from both sides, as well as adds moisture to the air.
Now you don't need to remove the whole body to refill the water tank, just like in the W200 model. Instead, just remove the outside water tank and do the refill. It's quicker and more simple.
Boneco W300 weighs 14 lbs, thanks to the additional water tank. It is still light enough, and you can carry anywhere with two handles from the sides. The air purifier is able to hold 3.2 gallons, nearly 3 times the amount of water a W200 can hold.
Related post: Best air purifiers for bedroom.
Boneco W300 Filters
The Boneco W300 is an air washer, which is quite different from normal air purifier. It uses an evaporator mat to purify and humidify the air. From this section onward, the Boneco W300 is pretty much the same as the Boneco W200.
Boneco Air Washer System – The textured evaporated mats turn in the water, to add moisture to the air. It also uses the water to wash the air from impurities (like dust, pollen and odors).
Basically the Boneco W300 is much more of an air humidifier, rather than air purifier. During the humidifying process, the Boneco W300 can remove any allergens in the air. Such hybrid process is really clever, which has been popular in Europe for years, but only jumped into the U.S market recently.
Just like so many special air purifiers reviewed in Breathe Quality, I don't make a test for the Boneco W300. This air purifier doesn't have any mechanical filter, so you can say 'goodbye' to the annual filter cost forever.
Related post: Best air purifiers for allergies.
Boneco W300 Room Coverage
Just like any air purifier with evaporating process, like Airfree Onix 3000 or Airfree Iris 3000, the Boneco W300 is suggested to cover a room of 50 m2, or 540 square feet by the manufacturer.
The air washer is not really a conventional air purifier, so it doesn't include ACH or CADR ratings.
Related post: Best large room air purifiers.
Boneco W300 Sound
Boneco W300, despite of filter-less, has a fan inside, to keep pulling and pushing air in and out. And for any air purifier with fan power, it makes noise. However, the Boneco W300 doesn't need a powerful fan to cover such a large area of space, so the lowest noise level is just 27 decibels (db). This noise level is even lower than the whisper, and you won't even know whether it runs or not.
Switch the fan power to maximum, and the noise level is only 43 decibels. This is still the noise level of library, meaning you can run the air purifier on highest speed all day, without disturbing you while sleeping or working. Great, right?
Related post: Best air purifiers for baby.
Boneco W300 Power Consumption
One of our most FAQs is "Do air purifiers use a lot of energy?" because we need to run an air purifier for a constant long time, and power consumption is really a thing to consider.
Boneco W300 has a very low power consumption to operate such low fan power, with the rated power between 12 and 23 watts. The air purifier can automatically shut off when water base is empty, and it can reserve more energy for you.
If you run the Boneco W300 all-year round, 8 hours per day, you will need to pay only $4 to $8.
Related post: Best air purifiers for pets.
Boneco W300 Additional Features
Just like the Boneco W200, our today Boneco W300 has two performance levels for day and night, which are two different fan speeds. You use the knob to change the suitable mode, and you can even add essential oils in the fragrance container, so your indoor air is fresh and soothing.
Again, there is a LED indicator to check the water level in water bank. If the water base is empty, the Boneco W300 will warn you with a red LED, and automatically shut off the fan power. However, you don't need to worry about the water capacity of Boneco W300, because it has 3.2 gallons of water, and it can run for almost 3 days.
Related posts:
1, Best air purifiers for smoke.
2, Best air purifiers for dust.
3, Best air purifiers for mold.
Boneco W300 Customer Service
After the acquisition of Envion from the Ideal Living Group, Boneco strengthens successfully their market presence in the U.S. Anyone who is familiar with the old well-known American air purifier brand, should know about the Swiss brand right now.
Unfortunately, Boneco only gave their phone number in Switzerland, so you should contact them via mail, at two possible addresses: inquiries@boneco.com or service@boneco.com. They will get back to you as soon as possible.
Boneco has a global manufacturer warranty for their air purifiers, and you will be covered by a 2-year warranty. During this period, for any valid defect discovered and claimed, Boneco will offer you between repair, replacement or refund. You should check all the warranty prerequisites in official Boneco website.
Top Boneco W300 deals right now
Boneco Humidifier Air Washer W300.
Humidifies the air with high efficiency to wash it from impurities, like dust, pollen and odors. Can be used all year round without filter replacement.
Our verdict
Boneco has improved the Boneco W200 with more convenient water tank, for an extra cost. However, you don't need to doubt the performance of a high-quality product from a Swiss brand.
Boneco W300 Air Washer: Trusted Review & Specs in 2023
Boneco W300 Reviews and Specs (Air Purifier Trusted Reviews in 2023). ✓ Cleaning Power: Water filtration ✓ Air Washer ✓ Value: 3.3/5 ✓Certified Review
Product Brand: Boneco
Product Currency: USD
Product Price: 327
Product In-Stock: https://schema.org/InStock
Cleaning Power

Portability

Features

Power Consumption

Price
Summary
It is a bit more expensive than the Boneco W200, but it saves you time for refilling the water tank.