The Boneco P500 has a high-quality air filtration system and high-end features which makes it one of the best air purifiers the Swiss brand could provide. Users looking for a neatly balanced air purifier, this air purifier is where you should be looking at. Okay, it's time for the latest Boneco P500 Review, in Breathe Quality.
In Breathe Quality, we have reviewed all air purifiers under these sections. Also, we guarantee that:
We do give honest reviews (both pros and cons) so anyone will guarantee to have the wisest choices.
We do not (and never) exaggerate one product just to let you click the links and buy that product blindly.
Sections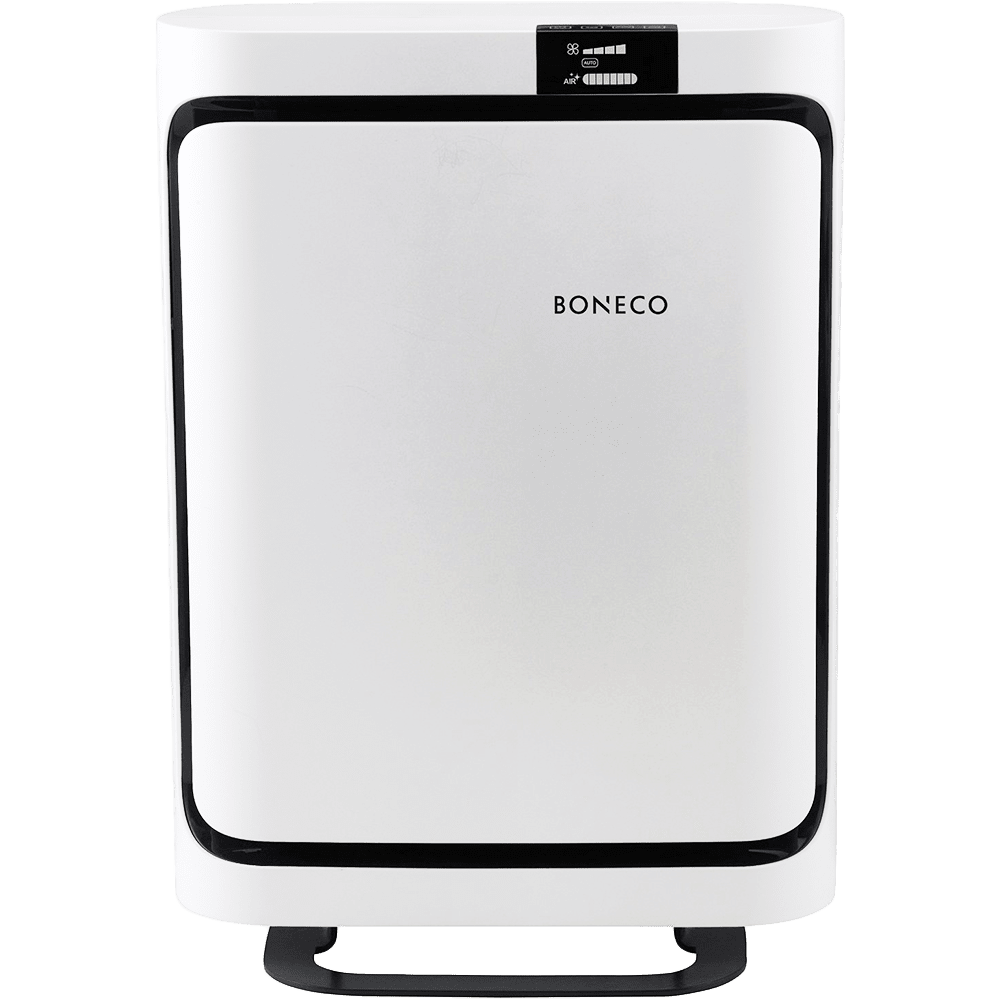 PROS
---
High-quality air filter
Smart features
Low power consumption
Very quiet
As one of the most influential air purifier brands in the world, the Swiss brand Boneco has manufactured the top-notch air purifiers, as well as the signature hybrid air purifiers on the market. The Boneco P500 is the necessary upgrade of the Boneco P400, and it is truly a step in right direction. It's time for the Boneco P500 Review.
Other Boneco's Air Purifier Reviews:
Boneco P500 Price
With the Boneco P500, this Swiss company tries to recreate their dominance in the upper levels of the mid-range air purifier market. It leads the current pack of pure air purifiers with features like high-end Smart Sensor, an advanced sets of customized air filters, and the ultimately low power consumption.
Then, there is great customer service which is only available for the top-class air purifier brands. This only increases the Boneco P500's value-for-money quotient.
This air purifier raises the price tag from its brother – Boneco P400 to $610 (or €559 in official Boneco website). Such price tag makes the Boneco P500 one of the most expensive air purifiers in the whole family, only under the high-range ones like Boneco P700 or Boneco H680.
However, this Boneco P500 has reduced the price to only $409, so it is a 33% OFF for the original price. You should grab it as quick as possible, because the price fluctuates from time to time.
The Boneco P500 lands at a price point that's majorly dominated by Rabbit Air MinusA2 and later, Medify MA-112 and Alen BreatheSmart 75i. If you're looking for an air purifier with Smart Wi-Fi connection, you will have a lot of options in this price range, you can choose between the Dyson DP04, Dyson HP04 and Dyson TP04. These air purifiers are the current flagships of the British Dyson company, and I bet you've heard about their name, right?
Top Boneco P500 deals right now
Boneco air purifier P500 with HEPA & Activated Carbon Filter.
Swiss made HEPA filters. Suitable for room up to 720 sq ft. Customized air filters to fit the environment's needs.
Related post: Best air purifier 2023.
Boneco P500 Design and Size
Right off the box, the Boneco P500 looks eerily similar to its younger cousin, Boneco P400. It's got a plastic build which feels very polished and curves towards the sides allowing for a better grip. It is bigger, though, as the height reaches 25 inches, and the width is 18 inches.
On the downside though, Boneco P500 is easily susceptible to scratches, lint and fingerprints. The white color on Boneco P500 also feels a bit cheaper than other air purifier brands, like Alen and IQAir.
Just like its closest brother, Boneco P500 is a console air purifier with the normal bottom-to-top air flow system concept. The air intake grill is covered by a front panel, which is attached to the body by magnetic.
Source: Amazon.com
On the same location as P400, the Boneco P500 has a small display for all information it can give like air quality index, current fan speed, or current timer function. There is a control panel right above the display.
This Boneco P500 weighs 16 lbs, and can be up to 20 lbs with the Allergy filter.
Related post: Best air purifiers for bedroom.
Boneco P500 Filters
To decide the performance of one air purifier, normally we will check the quantity and quality of its air filters, including of the air filter types. The Boneco P500 has customized air filter inside, depending on the customer's needs.
Allergy – Default equipment of Boneco P500, which is a combination of pre-filter, a layer of Allergy filter, True HEPA filter and Activated Carbon filter. The air filter can reduce 99% of PM 2.5 fine particles like dust, pollen, hair, allergens, viruses, microorganism, mite, bacteria, germs, insecticide, as well as harmful gases and odors.
Smog – It doesn't have a layer of Allergy filter like the default, but it is much more effective against tobacco smoke and harmful gases like VOCs, formaldehyde, and exhaust gases.
Baby – It has an additional Enzyme filter to replace the Allergy filter, to keep your family safe from viruses and bacteria.
As you can see, all three customized air filters bring to you a permanent pre-filter to help capture large objects of contaminants like large dust, pet hair and fur; a True HEPA filter with Swiss-made quality and an attached active carbon layer.
To know which filter is suitable for your need, you only need to remember by the name of this air filter. The Allergy filter will have an extra layer to ensure higher efficiency against fine dust, and decrease the susceptibility to allergies of your family. The Smog filter, however, will store much more activated carbon to adsorb more chemicals and odors in the air. Finally, the Baby filter, as a filter targeting the kids, will use a layer of Enzyme filter, to prevent the growth of bacteria, germs and viruses inside your home.
Source: Amazon.com
Testing the Boneco P500 is quite similar to the previous Boneco P400, in a room of 200 square feet and under 1 hour. I also used the Rabbit Air MinusA2 and Alen BreatheSmart to compare with the efficiency of this Boneco P500. We had a positive result for the Boneco P500, as it can clean up to 99.97% for any particles down to 0.3 microns in size.
The Allergy A501 air filter needs to be replaced annually, with the official cost of €99. Again, we have a great deal for you below, so you can cut cost of the filter replacement.
Related post: Best air purifiers for allergies.
Boneco P500 Room Coverage
Without the humidifier function like the Boneco W200, Boneco W300 or Boneco H300, the Boneco P500 is only suggested for a much more humble room size – 26 m² or 280 square feet. Though the air purifier is not verified by AHAM, the suggested room coverage can be trusted completely.
The ACH of Boneco P500 is 2X to 4X. This air purifier can clean your room as frequently as 4 times per hour.
The CADR of Boneco P500 is 180 cfm in general, which is lower than most mid-range to high-range air purifiers. Therefore, this air purifier will need more time to fully clean your room.
Related post: Best large room air purifiers.
Boneco P500 Sound
The Boneco P500, with higher fan power, will produce more noise, especially on highest speed. However, thanks to the advanced technology, Boneco can reduce the noise level on lowest speed to only 31 decibels (db), which is only the range of whisper. You won't notice any sound from the air purifier in such range.
But when you run this air purifier on highest speed, you will surely notice the sound, as the noise level reaches 60 decibels at maximum. It is a bit annoying, so you should make sure to keep the Auto Mode on, because this mode will keep your Boneco P500 mainly on lowest speed.
Related post: Best air purifiers for baby.
Boneco P500 Power Consumption
One of our most FAQs is "Do air purifiers use a lot of energy?" because we need to run an air purifier for a constant long time, and power consumption is really a thing to consider.
One of the best selling point of Boneco air purifiers is the low power consumption. To operate a Boneco P500, you only need the energy from rated power of 30 watts.
If you run the Boneco P500 all-year round, 8 hours per day, you will need to pay only $11.
Related post: Best air purifiers for pets.
Boneco P500 Additional Features
Boneco deploys a lot of high-end features on this Boneco P500, to replace the old non-smart Boneco P400. Smart Sensor is the key feature, and it helps ease our lives by automatically adjust the fan speed to match the environment's needs, and keeps the noise level as low as possible.
Boneco has also included the basic features like the Sleep Mode and Timer on this high-end air purifier. You can schedule the time off up to 19 hours, which is really convenient to use.
Though without a humidifier function like its brothers, the Boneco P500 still has a fragrance container, so it can spread the essential oils into the fresh air, to soothe your mind and body.
Finally, we have a LED indicator for filter replacement. Thanks to that, you don't need to remember the date by yourself.
Related posts:
1, Best air purifiers for smoke.
2, Best air purifiers for dust.
3, Best air purifiers for mold.
Boneco P500 Customer Service
After the acquisition of Envion from the Ideal Living Group, Boneco strengthens successfully their market presence in the U.S. Anyone who is familiar with the old well-known American air purifier brand, should know about the Swiss brand right now.
Unfortunately, Boneco only gave their phone number in Switzerland, so you should contact them via mail, at two possible addresses: inquiries@boneco.com or service@boneco.com. They will get back to you as soon as possible.
Boneco has a global manufacturer warranty for their air purifiers, and you will be covered by a 2-year warranty. During this period, for any valid defect discovered and claimed, Boneco will offer you between repair, replacement or refund. You should check all the warranty prerequisites in official Boneco website.
Top Boneco P500 deals right now
Boneco air purifier P500 with HEPA & Activated Carbon Filter.
Swiss made HEPA filters. Suitable for room up to 720 sq ft. Customized air filters to fit the environment's needs.
Our verdict
We love the Boneco P500 for its top-class air filters' quality, but the air purifier still operates with low CADR rating, thus takes more time to clean a medium room.
Boneco P500's features are also richer than the previous model, and if you want to aim at an easy life, you shouldn't skip this air purifier.
Boneco P500 Air Purifier: Trusted Review & Specs in 2023
Boneco P500 Reviews and Specs (Air Purifier Trusted Reviews in 2023). ✓ Cleaning Power: HEPA filter ✓ Smart Sensor ✓ Value: 4.1/5 ✓Certified Review
Product Brand: Boneco
Product Currency: USD
Product Price: 409
Product In-Stock: https://schema.org/OutOfStock
Performance

Features

Annual Cost

Design

Price
Summary
The high-end air purifier from a well-known brand.