The Whirlpool AP25030K (Whirlpool Whispure AP25030K) isn't one of those air purifiers that immediately catches the eye and gets pulses racing. It's a fairly ordinary-looking air purifier, with a functional rather than flashy design. Together with the old Whirlpool AP45030K, this air purifier was a solid choice for low-range in the past, but for now? This Whirlpool AP25030K Review will answer you.
Update: As the old product is discontinued, you should look for the current lineup of Whirlpool, for example, the Whirlpool WP500.
In Breathe Quality, we have reviewed all air purifiers under these sections. Also, we guarantee that:
We provide honest reviews (both pros and cons) so that everyone can make the best decisions.
We do not (and never will) exaggerate one product just to let you click the links and buy that product blindly.
Sections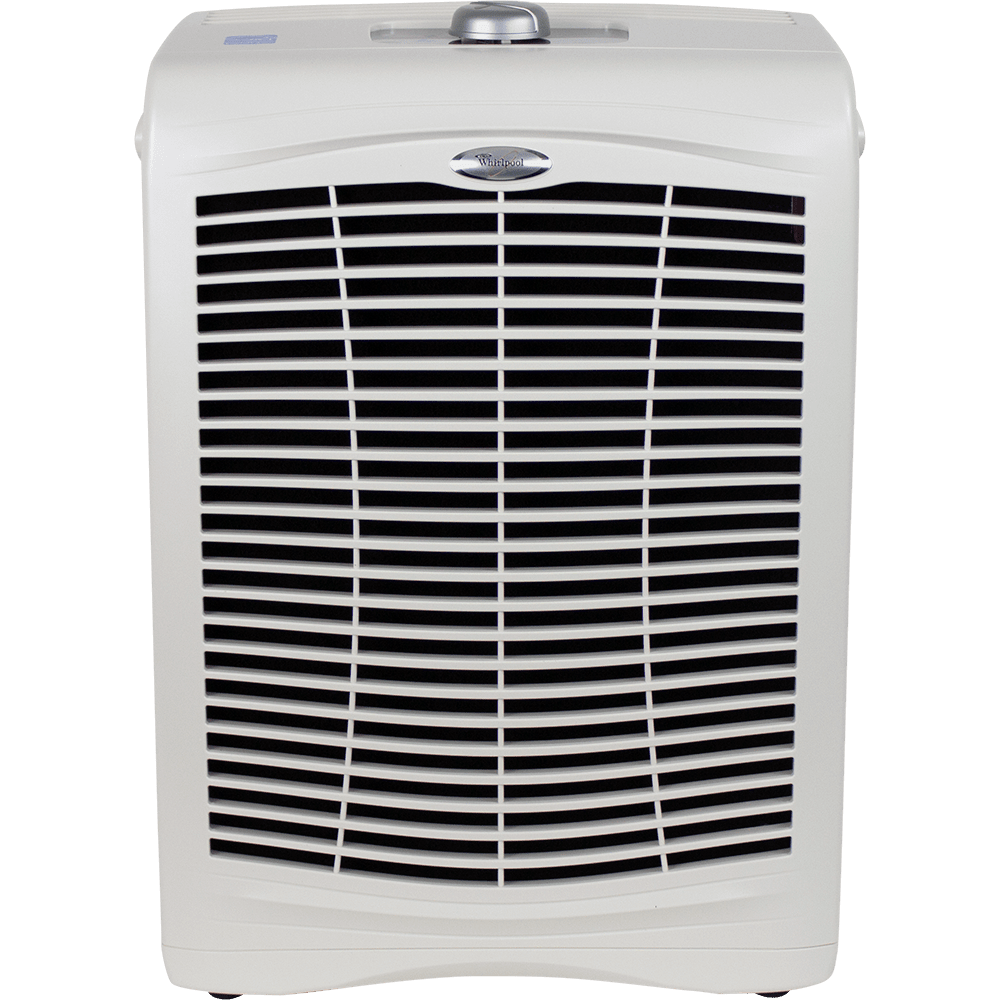 PROS
---
Cheap and affordable
Decent performance
Good CADR rating
CONS
---
Hard to find filter replacement
Discontinued
Whirlpool is a leader in major home appliance manufacturing, but in the competitive air purifier market, can the company compete against the long-established brands like Honeywell, Blueair or IQAir? The Whirlpool AP25030K is a very old device of this brand, and if you want to know if the air purifier is still available right now, you should read this Whirlpool AP25030K Review.
Other Whirlpool's Air Purifier Reviews:
Whirlpool AP25030K Price
For an old air purifier like the Whirlpool AP25030K, people may forget about it completely. It is hard to recommend, especially when the Whirlpool Corporation is not making the air purifiers and air filters for this model anymore.
But beneath the low-key exterior, the Whirlpool AP25030K packs a feature punch similar to some of the new top-spec Whirlpool air purifiers, like the Whirlpool WP500 and Whirlpool WP1000. It has a good performance for a decent room of 250 square feet to 320 square feet.
Because you can't find the Whirlpool AP25030K anywhere outside Amazon, you can only have one if you accept the $179 price tag. The price is a little bit higher than the Whirlpool WPT80 and Whirlpool WPT60, and for an older model, it is everything to keep you away from this air purifier.
Am I being too harsh on the old Whirlpool AP25030K? We will find out later in this review, but remember that for your budget, you can easily select between the Coway AP-1512HH, Winix 5500-2, Honeywell HPA200 or AeraMax 300. Since they are all famous air purifiers, the Whirlpool AP25030K will be left behind pretty far, I guess.
However, if you still like the Whirlpool AP25030K, here is the only deal we can find for you. Grab it, or better switch to other air purifiers. The sad news is that Whirlpool has discontinued this air purifier.
Top Whirlpool AP25030K deals right now
Whirlpool AP25030K Whispure Air Purifier, HEPA Air Cleaner.
CADR rating of 205 cfm, ACH of 5X and a great True HEPA filter. Get shipped today.
Related post: Best air purifier 2023.
Whirlpool AP25030K Design and Size
The Whirlpool AP25030K has a no-nonsense sort of design that we've seen plenty of times on successful Whirlpool air purifiers. The low-range air purifier is cheaper than the Whirlpool AP45030K and, of course, the next-gen Whirlpool WP500, because some of that cost savings may be accounted for by its cheap build.
It is made mostly of plastic, with a footprint of 22.8 inches (height) x 16.3 inches (width) x 12.5 inches (depth). The Whirlpool AP25030K weighs 17 lbs, and without a convenient handle, you can't move it around your home easily.
The bottom-to-top airflow system concept is popular for bulky air purifiers like this one, as you can find an air intake grill on the front as well as another air outlet on top of this Whirlpool AP25030K. The shape of its body is quite firm and stable; combined with its already heavy weight, the Whirlpool AP25030K cannot easily fall to the ground.
The main control panel isn't too fiddly, with only one switch to change the fan speed and the LED indicators for the HEPA filter and the Activated Carbon filter.
Related post: Best air purifiers for bedroom.
Whirlpool AP25030K Filters
To check the performance of one air purifier, you need to know about the quantity of the air filtration system as well as the types of air filters being used. Just like its predecessor, the Whirlpool AP25030K uses a 2-stage air cleaning system.
Activated Carbon filter – Covering the HEPA filter is the layer of Activated Carbon filter, which helps adsorb the odors, smoke, and VOCs before the polluted air reaches the HEPA filter.
True HEPA filter – We will have here a True HEPA filter to capture 99.97% of airborne particles as small as 0.3 microns, such as dust, pet dander, pollen, tobacco smoke, fabric fibers, and mold spores.
Like the previous Whirlpool APT40010R, the Whirlpool AP25030K runs a HEPA filter; however, it has more filter media than a tower air purifier. It's not the greatest air filter you might expect on a high-end air purifier, but the so-called synthetic-based filter membrane is effective at capturing the allergens lurking in your home air.
With better fan power than its predecessor, the Whirlpool AP25030K has high efficiency for trapping particles down to 0.3 microns in size. As you can see from the chart below, this air purifier achieved a score of 99% in 1 hour for a room of 250 square feet.
The filter replacement for this air purifier is the Whirlpool 1183051K, which is available for both the Whirlpool AP25030K and the old Whirlpool AP150.
Related post: Best air purifiers for allergies.
Whirlpool AP25030K Room Coverage
With the great True HEPA filter onboard, we only need to check the fan power to know the actual performance of this Whirlpool AP25030K. This air purifier is able to handle a room up to 320 square feet.
The ACH of Whirlpool AP25030K is 5x. Just like Honeywell, the Whirlpool air purifiers are designed to clean a room more often than other brands, and the Whirlpool AP25030K can clean a room every 12 minutes.
The CADR of Whirlpool AP25030K is 215 Dust/ 205 Smoke/ 224 Pollen (cfm). The higher the CADR rating, the quicker an air purifier can clean your room.
Related post: Best large room air purifiers.
Whirlpool AP25030K Sound
The True HEPA filter is great, but it requires fan power to pull in the polluted air. The downside is clearly the noise level. However, the Whirlpool AP25030K operates at a noise level of 50 decibels (dB), which is still lower than the noise level of an air conditioner at 100 feet.
I have found some negative reviews about the old Whirlpool unit making noisy sounds. It is mostly due to the old age of this air purifier, and because the manufacturer isn't making more Whirlpool AP25030K, you should change to the Whirlpool WP500 instead for better customer support.
Related post: Best air purifiers for baby.
Whirlpool AP25030K Power Consumption
One of our most FAQs is "Do air purifiers use a lot of energy?". In fact, we need to run an air purifier for a long time to be efficient.
The Whirlpool AP25030K runs at 40 watts of power consumption, which is quite suitable for an Energy Star air purifier. If you care about the annual energy cost, you can also check for the SilverOnyx or AIRMEGA 200M.
For using a Whirlpool AP25030K for 8 hours per day, it would cost you up to $14 per year.
Related post: Best air purifiers for pets.
Whirlpool AP25030K Additional Features
As the old device from the Whirlpool family, we shouldn't expect any additional features, as well as high-end smart features, on this Whirlpool AP25030K. Apart from the knob to change the fan speed, you will have nothing else.
Luckily, we still have the LED indicators for filter replacement to remind us when we need to change the air filter.
In this price range, if you want one air purifier that can be controlled via smartphone, you can only look for the GermGuardian CDAP4500BCA, Levoit LV-PUR131S or Levoit Vital 200S.
Related posts:
1, Best air purifiers for smoke.
2, Best air purifiers for dust.
3, Best air purifiers for mold.
Whirlpool AP25030K Customer Service
Whirlpool is a global leader in making major home appliances, and with more than 92,000 employees and 65 manufacturing and technology research centers, this company dedicates a lot of time to the customer service field. You can easily reach customer service via email at info@whirlpoolairpurifiers.com and/or info@aromalivingstyles.com or via phone at 866-666-1168.
The warranty policy of Whirlpool is only for one year. From the second through fifth years, the limited warranty is only on the air purifier motor. Also, Aroma International Limited (which covers the supply and warranty for Whirlpool air purifiers) will not pay when your air purifier is used other than for normal, single-family household use. How the company can know that is still unknown.
Top Whirlpool AP25030K deals right now
Whirlpool AP25030K Whispure Air Purifier, HEPA Air Cleaner.
CADR rating of 205 cfm, ACH of 5X and a great True HEPA filter. Get shipped today.
Our verdict
This Whirlpool AP25030K is too old to handle. It may have been a good air purifier in the past, but remember which year we are in. Whirlpool finally discontinued the Whirlpool AP25030K.
Whirlpool AP25030K Air Purifier: Trusted Review in 2023
Whirlpool AP25030K Reviews and Specs (Air Purifier Trusted Reviews in 2023). ✓ Cleaning Power: True HEPA ✓ Large room: 320 sq ft ✓ Value: 4.1/5 ✓ Certified Review
Product Brand: Whirlpool
Product Currency: USD
Product Price: 179
Product In-Stock: SoldOut
Performance

Features

Annual Cost

Power Consumption

Price
Summary
Whirlpool AP25030K is quite good at rank B+, but it is discontinued.