The Whirlpool APT40010R (Whirlpool Whispure APT40010R may look like one of the cheapest air purifiers on the market, but in fact, the company is trying to steer the customer into buying the latest Whirlpool WPT60 and Whirlpool WPT80. Is it available at the moment you read this post? Let's find out in our Whirlpool APT40010R Review.
Sadly, the only Whirlpool tower air purifier with a Smart Sensor is discontinued. If you're looking for a Whirlpool air purifier, perhaps you should check out the Whirlpool WPT80 instead.
In Breathe Quality, we have reviewed all air purifiers under these sections. Also, we guarantee that:
We provide honest reviews (both pros and cons) so that everyone can make the best decisions.
We do not (and never will) exaggerate one product just to let you click the links and buy that product blindly.
Sections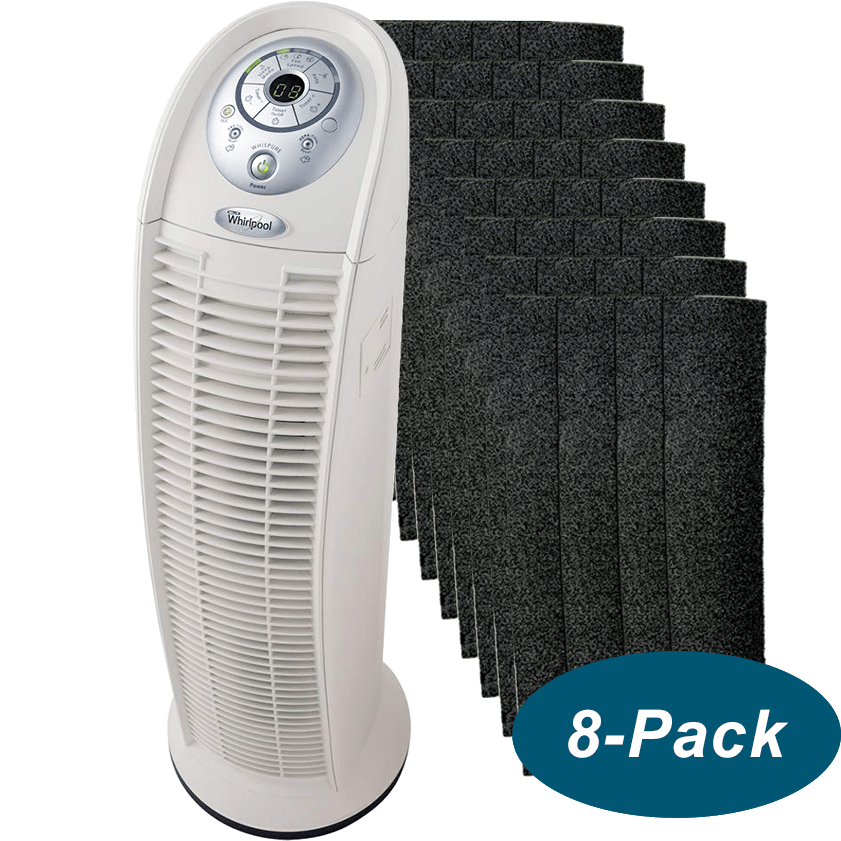 PROS
---
Cheap and affordable
Decent performance
CONS
---
Low CADR rating
Discontinued
Whirlpool is clearly a giant in not only the air purifier industry but also many other home appliances. With more than 100 years of history, we can trust the high-quality products of this company. The Whirlpool APT40010R is a very old air purifier, and if not for the valuable help of one of our friends, there is no way we could make this Whirlpool APT40010R Review.
Other Whirlpool's Air Purifier Reviews:
Whirlpool APT40010R Price
The Whirlpool APT40010R (and the Whirlpool APT42010M) are the upgrades to the low-key Whirlpool APT30010M, something that can't be found anywhere on the Internet at the moment. Clearly, there is a nostalgia for the very old air purifier models.
And if any air purifier can sell itself with such a classic design, it could be this Whirlpool APT40010R. This air purifier isn't a high-spec, high-end dazzler, but it still performs well for the price. Okay, so you want to check the Whirlpool APT40010R price? It launched at $149 from the beginning, but it has dropped to a point where it can compete with other modern air purifiers just by the price tag. However, it has been completely discontinued.
For the new price, which you can check below, the Whirlpool APT40010R is a clear contender to select among the Levoit LV-H132, Blue Pure 411 and GermGuardian AC4825. You also may have the feeling of similarity between this air purifier and the Honeywell HFD-120-Q, but remember that all Whirlpool air purifiers use True HEPA filters, something the American multinational competitor can't do.
Top Whirlpool APT40010R deals right now
Whirlpool Whispure Tower Air Purifier- HEPA Air Cleaner, APT40010R.
CADR rating of 125 cfm, ACH of 5X and a great True HEPA filter. Only below $100. Get shipped today.
Related post: Best air purifier 2023.
Whirlpool APT40010R Design and Size
If you're looking for a no-nonsense air purifier, where solid and weighty is good, then the Whirlpool APT40010R is a great place to start. It stands 29 inches tall, which is even taller than the GermGuardian AC5000 or Honeywell AirGenius 3. However, it is quite slim with other dimensions: 9 inches for both width and depth, and you should be careful because your children can shove this device off.
As a tower air purifier, this Whirlpool APT40010R uses the back-to-front airflow system concept, so the large air vent you can see on the front is actually its air outlet. The air purifier's body is nicely rounded and easy to grasp, owing to its light weight of 14 lbs.
The navigational control panel and display are slightly raised from the top of this air purifier, which is similar to things like the Honeywell HFD-120-Q or Winix P150. Below is the logo of this company, and as you can see, it is the old logo.
Related post: Best air purifiers for bedroom.
Whirlpool APT40010R Filters
There is one rule in classic tower air purifiers: they only use the all-in-one air filter or 2-stage air cleaning system at most to save the narrow space for the fan. Back to the Whirlpool APT40010R, it only has a 2-stage air cleaning system.
Activated Carbon filter – Covering the HEPA filter is the layer of Activated Carbon filter, which helps adsorb the odors, smoke, and VOCs before the polluted air reaches the HEPA filter.
True HEPA filter – We will have here a True HEPA filter to capture 99.97% of airborne particles as small as 0.3 microns, such as dust, pet dander, pollen, tobacco smoke, fabric fibers, and mold spores.
There is no hidden shenanigan going on here – the Whirlpool APT40010R uses the classic and trusted air filtration system, with the core of a certified True HEPA filter. For moderate users of an air purifier, or for new ones, the Whirlpool APT40010R is generally straightforward to operate.
Of all three of these old Whirlpool air purifiers, the Whirlpool APT40010R is clearly the weakest, both in terms of the smallest filter size and the lowest fan power. In the usual comparison, we can see the difference between the Whirlpool APT40010R, Whirlpool AP25030K and Whirlpool AP45030K, as our current unit is only efficient for trapping 98% of any particles down to 0.3 microns in a room of 250 square feet.
For the filter replacement, you can use the Whirlpool 1183900 HEPA filter. This is also the most budget-friendly air filter of this brand, and you need a set of two filters for the Whirlpool APT40010R.
Related post: Best air purifiers for allergies.
Whirlpool APT40010R Room Coverage
We were impressed with the excellent room coverage of the recent Whirlpool air purifiers, but going back to the old Whirlpool APT40010R, this is an air purifier meant for small rooms. That being said, the room coverage of this air purifier is only 200 square feet.
The ACH of Whirlpool APT40010R is 5x. Just like Honeywell, the Whirlpool air purifiers are designed to clean a room more often than other brands, and the Whirlpool APT40010R can clean a room every 12 minutes.
The CADR of Whirlpool APT40010R is 136 Dust/ 125 Smoke/ 150 Pollen (cfm). The higher the CADR rating, the quicker an air purifier can clean your room. So to say, for an air purifier around $150, the Whirlpool APT40010R is quite good.
Related post: Best large room air purifiers.
Whirlpool APT40010R Sound
The True HEPA filter is great, but it requires fan power to pull in the polluted air. The downside is clearly the noise level. However, the Whirlpool APT40010R operates at a noise level of 45 decibels (dB), which is still lower than the noise level of an air conditioner at 100 feet.
I have found some negative reviews about the old Whirlpool unit making soothing noise. For my testing unit, it is nearly 2 years old, but the noise is just white noise, and it can help you sleep faster. It will satisfy most of the users, but if you have any trouble with its noise level, please contact Breathe Quality to help us improve the review.
Related post: Best air purifiers for baby.
Whirlpool APT40010R Power Consumption
One of our most FAQs is "Do air purifiers use a lot of energy?". In fact, we need to run an air purifier for a long time to be efficient.
The Whirlpool APT40010R runs at 40 watts of power consumption, which is reasonable for a compact tower air purifier. The power consumption is far lower than the GermGuardian AC5000 or even the AeraMax 100. And don't forget that the Whirlpool APT40010R is Energy Star-rated.
For using a Whirlpool APT40010R for 8 hours per day, it would cost you up to $15 per year.
Related post: Best air purifiers for pets.
Whirlpool APT40010R Additional Features
When I first saw the Whirlpool APT40010R, I just thought it was an old air purifier without any 'fancy' additional features. But I was wrong; the Whirlpool APT40010R packs with a very accurate VOC sensor. As a result, this air purifier can run in auto mode, which automatically adjusts the fan speed to match the current environment's needs.
The Whirlpool APT40010R even has the Sleep Mode, a necessary mode for helping you sleep well. It will reduce the fan speed to its lowest setting and dim the display light whenever it detects a change in ambient light.
Finally, we will have the basic timer as well as an LED indicator for filter replacement in this Whirlpool APT40010R.
Related posts:
1, Best air purifiers for smoke.
2, Best air purifiers for dust.
3, Best air purifiers for mold.
Whirlpool APT40010R Customer Service
Whirlpool is a global leader in making major home appliances, and with more than 92,000 employees and 65 manufacturing and technology research centers, this company dedicates a lot of time to the customer service field. You can easily reach customer service via email at info@whirlpoolairpurifiers.com and/or info@aromalivingstyles.com or via phone at 866-666-1168.
The warranty policy of Whirlpool is only for one year. From the second through fifth years, the limited warranty is only on the air purifier motor. Also, Aroma International Limited (which covers the supply and warranty for Whirlpool air purifiers) will not pay when your air purifier is used other than for normal, single-family household use. How the company can know that is still unknown.
Top Whirlpool APT40010R deals right now
Whirlpool Whispure Tower Air Purifier- HEPA Air Cleaner, APT40010R.
CADR rating of 125 cfm, ACH of 5X and a great True HEPA filter. Only below $100. Get shipped today.
Our verdict
The Whirlpool APT40010R is good, as it has an Energy Star design. You should follow our deal to get the most savings on this air purifier.
This air purifier features a good air sensor and a programmable timer, and its CADR rating is quite good for the price. Perhaps this could be the best Whirlpool air purifier you should get. But it is discontinued, sadly.
Whirlpool Whispure APT40010R: Trusted Review in 2023
Whirlpool APT40010R Reviews and Specs (Air Purifier Trusted Reviews in 2023). ✓ Cleaning Power: True HEPA ✓ Value: 3.1/5 ✓ Certified Review.
Product Brand: Whirlpool
Product Currency: USD
Product Price: 149
Product In-Stock: SoldOut
Performance

Features

Annual Cost

Design

Price
Summary
It is discontinued.