The Whirlpool new range has certainly set tongues wagging, boasting a high fan power with True HEPA filter in place of the common old, familiar bulky air purifiers that we've become accustomed to, like the Whirlpool AP25030K and Whirlpool AP45030K. And the Whirlpool WP1000 (Whirlpool Whispure WP1000), the awkward middle child, makes us think it priced smack bang in the middle of its two brothers. But is it true? Let's find out in this Whirlpool WP1000 Review.
In Breathe Quality, we have reviewed all air purifiers under these sections. Also, we guarantee that:
We do give honest reviews (both pros and cons) so anyone will guarantee to have the wisest choices.
We do not (and never) exaggerate one product just to let you click the links and buy that product blindly.
Sections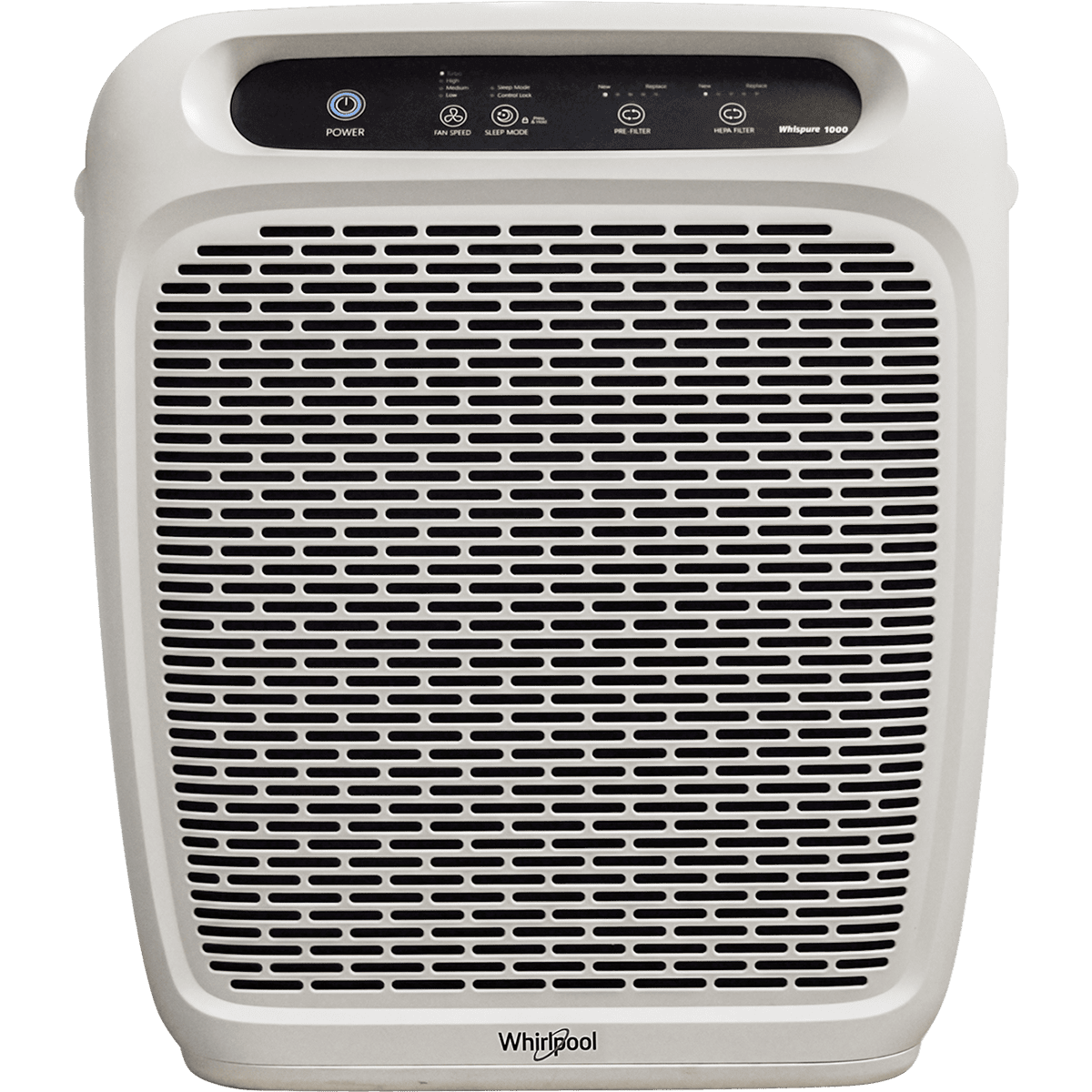 PROS
---
Overall high-quality air filters
New design, new feature
Good CADR rating
CONS
---
High power consumption
Lacks of Smart Sensor
Only 1-year warranty
The Whirlpool is a trusted brand for home appliances in the United States for more than 100 years, just like the Honeywell. But unlike the American counterpart, Whirlpool is not a popular name in air purifier industry, and now they need something to anchor their position in mid-range segment. The Whirlpool WP1000 and the flagship – Whirlpool WPPRO2000, are exactly the necessary key to do such task. Now, onto our Whirlpool WP1000 Review.
Other Whirlpool's Air Purifier Reviews:
Whirlpool WP1000 Price
The assumption is that this Whirlpool WP1000 is aimed at replacing the old Whirlpool WP500 (or Whirlpool AP51030K), you can easily see the similar in paper specs for both these air purifiers. Frankly, the difference is so minor it made Whirlpool keep only one color option for this Whirlpool WP1000.
This air purifier is also the start of the second wave of the new Whirlpool air purifiers, and it's time for the resurgent brand to prove that it can offer more than just a single-hit of nostalgia, if you know what I mean.
The original Whirlpool WP1000 got a strong 4-star review with some caveats – notably the lack of colorful choice and still no Smart Sensor. When the Whirlpool WP1000 was announced, there was a lot of excitement among air purifier purists about the better fan power within a good price. Well, there is no better fan power, but the price of this Whirlpool WP1000 is actually the same as the old Whirlpool WP500.
As an Energy Star rated air purifier, it's worth mentioning that the price of this model Whirlpool WP1000 is $329, a price that Whirlpool can safely compete with others. We can tell that by the similar in price with others like Whirlpool WP500 or Whirlpool AP45030K. The company itself calls it 'Whirlpool WP1000', but there is nothing new in the specs.
Before we get into whether it's worth the extra spend, it's worth mentioning that there are some competitors out there. The Winix P450 and Winix U450 are clearly the best ones with high fan power, just like the Whirlpool WP1000. Meanwhile, the Winix AM90, Medify MA-40 and Philips 2000i are the best examples of the air purifiers with modern smart features. Come on, we are in new era, and even the air purifier needs some new cool stuff, right?
I am using both the Whirlpool WP1000 and Whirlpool WP500 in this review, but it's useful to know because the Whirlpool WP500 (also in the name of Whirlpool AP51030K) is still out there, and you will want to double check you are buying the newer device before you pull the trigger.
Below is a great deal for the Whirlpool WP1000, which is only available for limited time, reducing the price point to just $279.
Top Whirlpool WP1000 deals right now
Whirlpool Whispure Air Purifier – WP1000 (upgrade ver. of WP500), Pearl White.
Whirlpool WP1000P, with the combination of True HEPA and Activated Carbon filters, can clean a room of up to 490 square feet. Pay as low as $12/month.
Related post: Best air purifier 2022.
Whirlpool WP1000 Design and Size
There are some new changes, but in true Whirlpool style. The Whirlpool WP1000 is built like a tank. The 24 x 20.55 x 10 inches body is made mostly from the plastic, with flat diamond-cut sides, rounded corners and a highlight color on the outlines.
My review model has a typical pearl white color option, and this company doesn't make the black counterpart just like on the Whirlpool WP500. The Pearl White color is the same color they has painted on Whirlpool WPT60 and Whirlpool WPT80 later on.
Between the all-plastic body and the thickness of the device, this is a weighty piece of tech at 20.4 lbs, and the gross weight is going to be 26 lbs. It feels reassuringly like it could handle the fan power without easily being pushed.
This air purifier is still a fairly straightforward console air purifier with large air intake grill on front and another top air outlet to release the fresh air. The bottom-to-top concept is the most popular one on the market, and wherever you set up your Whirlpool WP1000 in your room, you will be assured to enjoy the clean air.
On top of this air purifier, Whirlpool remains the same control panel as it was in the previous Whirlpool WP500.
Related post: Best air purifiers for bedroom.
Whirlpool WP1000 Filters
To check the performance of one air purifier, you need to know about the quantity of the air filtration system, as well as the air filter types being used. The Whirlpool WP1000 makes use of the traditional 2-stage air cleaning system in Whirlpool family.
Activated Carbon filter – Cover the HEPA filter is the layer of Activated Carbon filter, to help adsorb the odors, smoke and VOCs before the polluted air reaches the HEPA filter.
True HEPA filter – We will have here a True HEPA filter, to capture 99.97% of airborne particles as small as 0.3 microns, such as dust, pet dander, pollen, tobacco smoke, fabric fibers and mold spores.
The Whirlpool WP1000 uses exactly the same air filters as the previous Whirlpool WP500, with a mechanical latch front grill to act like a pre-filter. For those who don't know about the predecessor of this air purifier, the True HEPA filter is truly powerful with the attached Synthetic-based filter membrane, and it can reach the performance of trapping 99.97% of any airborne particles down to 0.3 microns.
Like its older brother, I used a room of 300 square feet to test the Whirlpool WP1000's performance in 1 hour. The testing samples for our today air purifier were the Levoit LV-H133, Winix HR900 and even Oransi Max – a much more expensive air purifier. As you can see from the chart below, the Whirlpool WP1000 had better performance than the Oransi Max, Levoit LV-H133 and Winix HR900, to remove 99.92% any particles as small as 0.3 microns.
Like I said earlier, the Whirlpool is running the same air filter as the Whirlpool WP500, the air filter 1183054K which costs you $94 for one year of use. You can also buy the air filter 1183054KC, which is a combination of both True HEPA and Activated Carbon filters. This new air filter will cost you $115, resulting in a saving of $20.
Related post: Best air purifiers for allergies.
Whirlpool WP1000 Room Coverage
Whirlpool WP1000 is truly a beast in a large room coverage, as it can clean for up to 490 square feet. Considering how inexpensive it is, the fan power stamina on the Whirlpool WP1000 is better than you might expect, only weaker than the Blue Pure 121 in the same price range.
The ACH of Whirlpool WP1000 is 5x. Just like Honeywell, the Whirlpool air purifiers are designed to clean a room more often than other brands, and the Whirlpool WP1000 can clean a room every 12 minutes.
The CADR of Whirlpool WP1000 is 343 Dust/ 315 Smoke/ 344 Pollen (cfm). You can decide the actual fan power of one air purifier just by looking at its CADR rating. Well, the higher CADR rating is, the quicker it can clean the polluted air out of your space.
Related post: Best large room air purifiers.
Whirlpool WP1000 Sound
Whirlpool is truly a brand that clearly emphasizes (in writing and speaking, of course) the importance of the silent operation for their products. The Whirlpool Whispure WP1000, right at its name, is meant for a quiet running just like the whisper.
But despite of the advertisement, and the so-called Quiet Partner system, the Whirlpool WP1000 has a minimum noise level of 40 decibels, which is quite higher than the minimum threshold of other brands. The Levoit LV-H133 runs at only 25 decibels, or Oransi OV200 trims it down to just 30 decibels.
Fortunately, the highest noise level of this Whirlpool WP1000 is really good, as it reaches only 49 decibels (db), which is similar to the noise of your electric air conditioner at 100 feet. As a result, the Whirlpool WP1000 is a recommendation to use in the quiet places, like your bedroom or office.
Related post: Best air purifiers for baby.
Whirlpool WP1000 Power Consumption
One of our most FAQs is "Do air purifiers use a lot of energy?" An air purifier is meant to run for a long time to be efficient, that's why many air purifier brands consider the energy-saving standard, mostly in the rate of Energy Star, is one important selling point.
Just like the old Whirlpool WP500, Whirlpool WP1000 pushes the power consumption to a very high threshold, 110 watts. In the same price range, the GermGuardian AC9400W runs at only 48 watts, and the Rabbit Air BioGS 2.0 is even lower with 29 watts. It is quite high for an air purifier with Energy Star rating like Whirlpool WP1000.
For using a Whirlpool WP1000 8 hours per day, it would cost you $40 per year.
Related post: Best air purifiers for pets.
Whirlpool WP1000 Additional Features
It is safe to conclude that the Whirlpool WP1000 is just another Whirlpool AP45030K with an addition of Sleep Mode and Child lock function. But are these things important to upgrade? The answer is, not much.
Yeah, you can use the Sleep Mode as another way to reduce the fan speed of Whirlpool WP1000 to the lowest. It is impractical in real-world use, even when you can set a timer for this mode, up to 8 hours.
The Child lock function is common in many air purifiers out there, and because many of us will ignore this feature, it is not a great selling point for Whirlpool WP1000.
Finally, we still have the LED indicator for filter replacement.
Related posts:
1, Best air purifiers for smoke.
2, Best air purifiers for dust.
3, Best air purifiers for mold.
Whirlpool WP1000 Customer Service
Whirlpool is a global leader in making major home appliances, and with more than 92000 employees and 65 manufacturing and technology research centers, this company dedicates a lot in the customer service field. You can easily reach them via email at info@whirlpoolairpurifiers.com and/or info@aromalivingstyles.com, or via phone at 866-666-1168.
The warranty policy of Whirlpool is only for one year. From the second through fifth year, the limited warranty is only on the air purifier motor. Also, the Aroma International Limited (which covers the supply and warranty for Whirlpool air purifiers) will not pay when your air purifier is used in other than normal, single-family household use. How they can check that is still unknown.
Top Whirlpool WP1000 deals right now
Whirlpool Whispure Air Purifier – WP1000 (upgrade ver. of WP500), Pearl White.
Whirlpool WP1000P, with the combination of True HEPA and Activated Carbon filters, can clean a room of up to 490 square feet. Pay as low as $12/month.
Our verdict
If you have one Whirlpool WP500, you are cool. The Whirlpool WP1000 is just a slight change for the appearance, mainly for the new air grill style. But deep in this air purifier, we still have the same power and performance to keep the position of Whirlpool on the market.
Performance

Features

Annual Cost

Design

Price