The Amaircare 2500 has a good and durable housing, but hard to recommend at the price. It is exactly like the AllerAir AirMed 3 or AeraMax Professional AM 2, which are good but expensive. Well, let's check the entry-level industrial air purifier of this Canadian family in our today Amaircare 2500 Review.
In Breathe Quality, we have reviewed all air purifiers under these sections. Also, we guarantee that:
We do give honest reviews (both pros and cons) so anyone will guarantee to have the wisest choices.
We do not (and never) exaggerate one product just to let you click the links and buy that product blindly.
Sections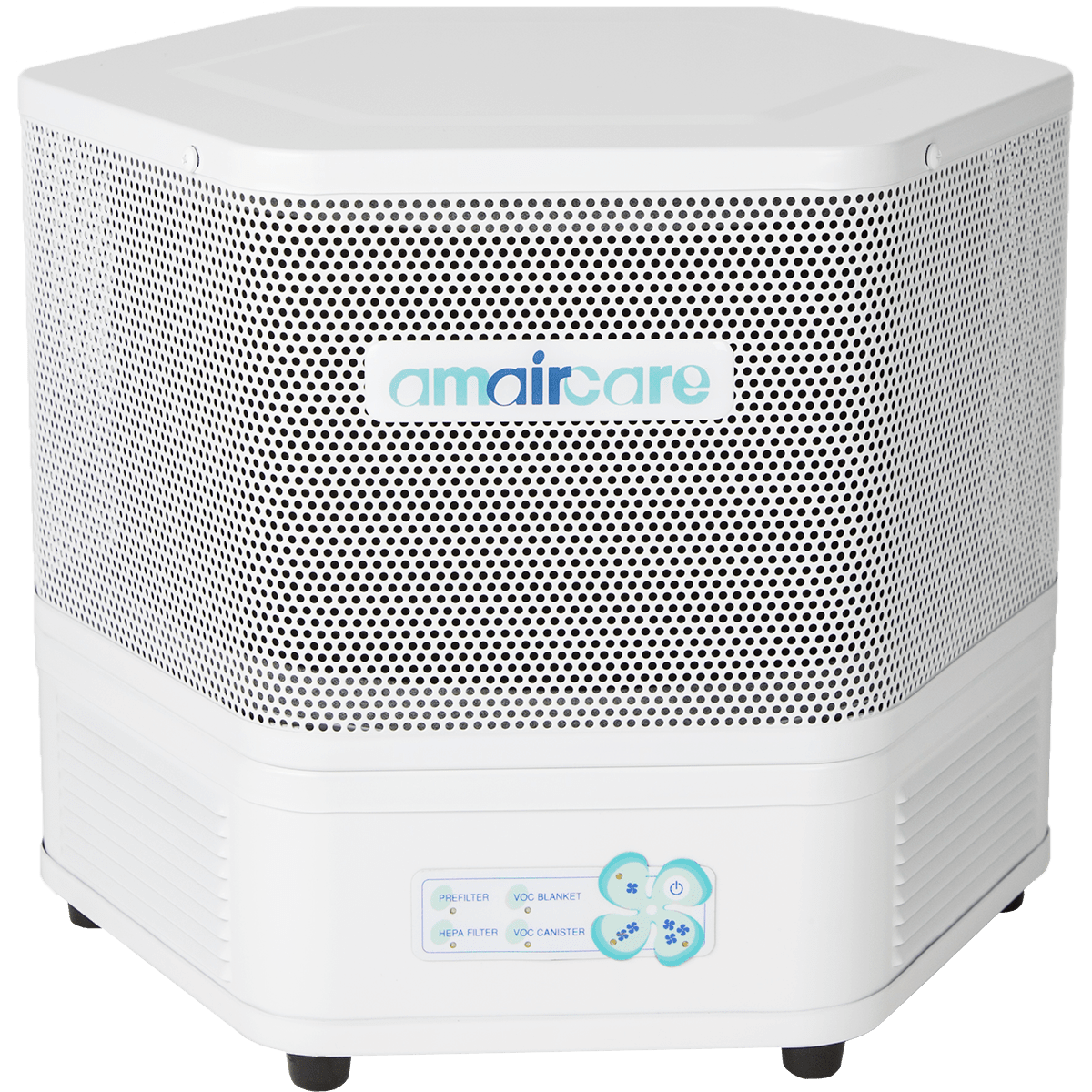 PROS
---
Strong, durable quality
High-quality air filter
High-efficiency fan/motor
5-year warranty
CONS
---
Quite noisy on high speed
Low fan power for the price
Easily out of stock
Amaircare could be the second most popular air purifier brand in Canada, as well as the whole North America region. The company is founded in 1994, so it is even longer-standing than Airpura. The Amaircare 2500 is the entry-level air purifier of this company, but compared with things like the Airpura H600 or Austin Air HealthMate, it is behind too far. So, let's grab our Amaircare 2500 Review, and decide which air purifier is suitable for your home.
Other Amaircare's Air Purifier Reviews:
Amaircare 2500 Price
Like I've said earlier, the Amaircare 2500 is the entry-level home air purifier of this Canadian company. Of course you can find the Amaircare Roomaid for half the price, but this air purifier is only for car users. If you want a proper air purifier for your room or home, you must seek the Amaircare 2500 instead.
Yes, just like the AllerAir AirMed 3 or AeraMax Professional AM 2, the Amaircare 2500 doesn't show off high fan power. Instead, it uses a metal housing to make the machine more durable, and position its pricing. The Amaircare 2500 costs as high as many flagships from other well-known companies, most notably Rabbit Air and Dyson.
The official price tag of this Amaircare 2500 is around $519, which is $200 cheaper than the Amaircare 3000. It is also the cheapest among the "portable air purifiers" lineup of Amaircare, with the flagship being Amaircare 4000.
Yes, you pay to get a steel housing, but both the Airpura H600 or Austin Air HealthMate can do exactly the same with nearly the same price. Even the junior model of Austin Air, the Austin Air HealthMate Plus Jr can be cheaper than Amaircare 2500, but it still has a deeper air filtration system.
And don't forget modern air purifiers like Rabbit Air MinusA2, Sharp FX-J80UW or Airdoctor UltraHEPA. These air purifiers are proved to be highly efficient, and they can offer you more high-end taste. So, which one would you like?
But first, let's check our best deal for the Amaircare 2500.
Top Amaircare 2500 deals right now
Amaircare 2500 Air Purifier, White.
Steel construction doesn't emit toxins. Run tested for 50000 hours. Get one for as low as $23/month.
Related post: Best air purifier 2023.
Amaircare 2500 Design and Size
At 13.5 inches in height, the Amaircare 2500 is even smaller than the Austin Air HealthMate Jr, largely owing to the fact that, unlike the American air purifier, the air purifier supports a larger width of 16 inches. As a result the Amaircare 2500 can optimize the fan much better.
The top reason to get the Amaircare products is the high-quality materials to make the air purifier: 24 gauge cold rolled steel is applied. Its finish comes with powder coated baked enamel, which can last longer and it's naturally anti-corrosive. So far, only Amaircare products have an enamel finish.
Just like any other machines in this family, the Amaircare 2500 is available with Black and White unit. Our today unit is a white one, so I recommend you to check the black version and see if you prefer the slate color more.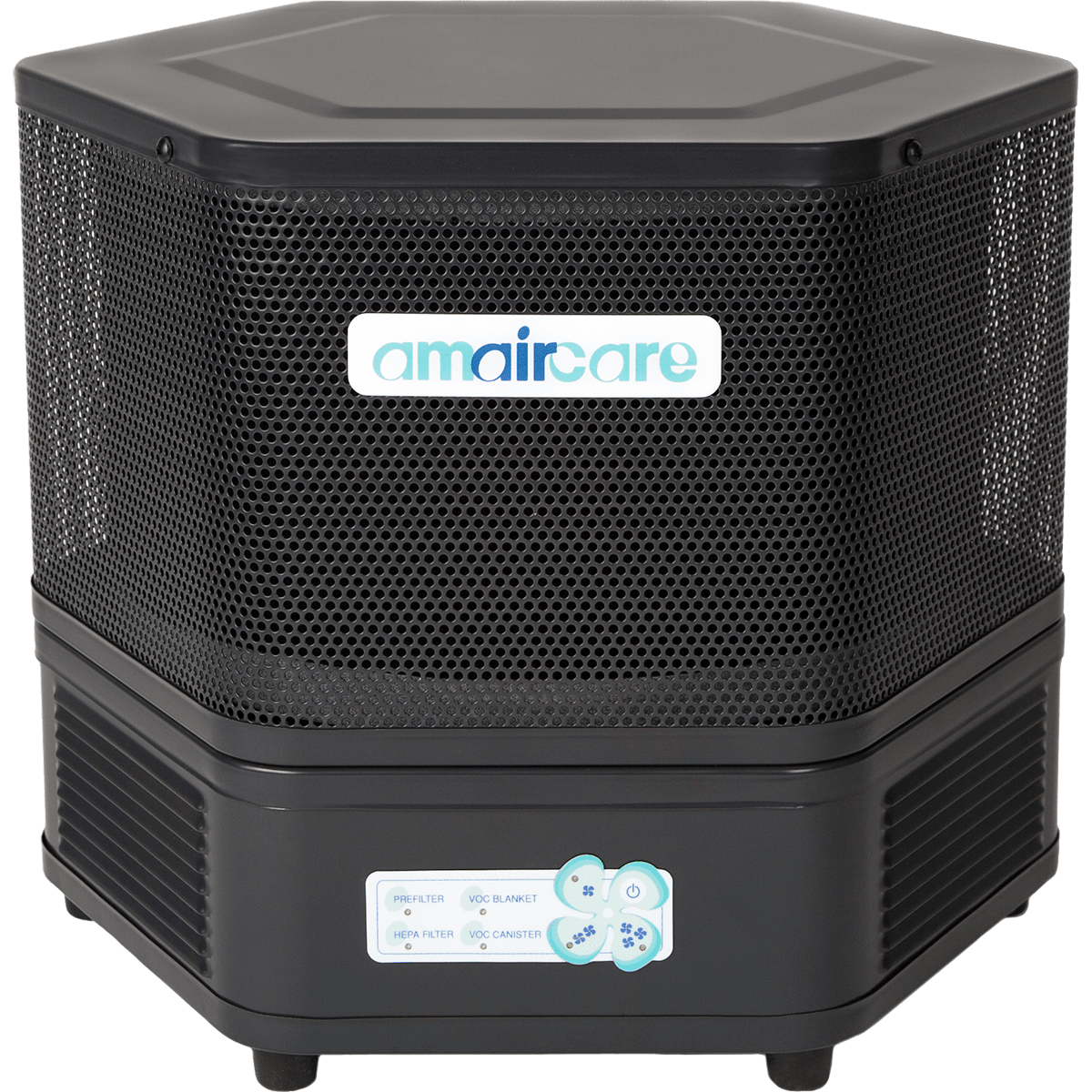 And the Amaircare 2500 has a discreet design with wheels, so you can easily move it into the corner of a room or side table. It is not heavy, either, as the Amaircare 2500 is only 15 lbs.
Of course, for a pure air purifier with only mechanical filters like the Amaircare 2500, the air flow system concept is the common bottom-to-top one. However, the air outlet isn't actually on top, and Amaircare 2500 has 360° air grills for both air inlet and outlet.
Related post: Best air purifiers for bedroom.
Amaircare 2500 Filters
The entry-level Amaircare 2500 keeps a simple but trustworthy 3-stage air cleaning system, to guarantee zero ozone emission which causes asthma and other breathing issues for the users.
Pre-filter – A carbon pre-filter traps large dust and VOCs out of the air.
True HEPA filter – The main HEPA filter that captures 99.97% of airborne particles down to 0.3 microns like virus particles, pollen, mold and fungi particles.
Activated Carbon Filter – Further removes odors with the last filtration.
In the same test of 200 square feet, and I let all the air purifiers run in 1 hour, the Amaircare 2500 ended up very good at 99.95% for trapping any particles down to 0.3 microns. Sure, it's a bit lower than the AIRMEGA 300 or Sharp FX-J80UW, but considering its low fan power, the Amaircare 2500 is truly amazing.
The best part? The HEPA filter can last as long as 5 years, depending on your use. However, such high-quality HEPA filter costs a bit more upfront, but generally the annual filter cost is much lower than average air purifiers.
Related post: Best air purifiers for allergies.
Amaircare 2500 Room Coverage
Amaircare 2500 isn't the best air purifier in this price range for its fan power. However, the manufacturer even suggests to run this air purifier in a room of 1250 square feet. The truth is much smaller, I guess.
The ACH of Amaircare 2500 is 2X to 4X in a room of 300 square feet. If you try to use this air purifier in the suggested room size of Amaircare, it will exchange the air only one times per hour.
The CADR of Amaircare 2500 is only 175 cfm in general. Yes, such fan power is even lower than many $200-ish air purifiers like the Coway AP-1512HH or Winix 5500-2.
Related post: Best large room air purifiers.
Amaircare 2500 Sound
Problem for the industrial air purifier type like the Amaircare 2500 is its loud fan power. It is as noisy as any floor fan you can get for your home, with the maximum noise level to be more than 60 decibels.
I recommend you to keep the fan power as low as possible, because on such speed, you won't notice any sound. The sound level is a lot less than the highest speed, at 41 decibels (db).
Related post: Best air purifiers for baby.
Amaircare 2500 Power Consumption
One of our most FAQs is "Do air purifiers use a lot of energy?" In fact, air purifier must be used for a long time to be efficient. And power consumption is one important criteria to review how much energy this air purifier will consume.
The power consumption of Amaircare 2500 is quite high for its performance. The low speed consumes 52 watts while the high speed can reach 65 watts. However, if you calculate your energy bill, the Amaircare 2500 is still good.
If you use the Amaircare 2500 for at least 8 hours each day, it would cost you $19 – $23 per year, depending on your most used option.
Related post: Best air purifiers for pets.
Amaircare 2500 Additional Features
Just like Airpura, Amaircare doesn't give any additional features for their air purifier users. Well, at least you get a filter light indicator to remind you when to change the HEPA filter. That's better than most other high-range air purifier brands.
Actually, even in the high-end air purifiers of Amaircare family like the Amaircare 4000, Amaircare AirWash 7500 or Amaircare AirWash 10000, you won't find any additional features.
Related posts:
1, Best air purifiers for smoke.
2, Best air purifiers for dust.
3, Best air purifiers for mold.
Amaircare 2500 Customer Service
As a Canadian air purifier company, Amaircare really focuses on their customer service. You can call them toll-free at 800-268-7732. Their main number is 905-565-9488. Or, you can email them at info@amaircare.com.
Amaircare offers 5-year warranty for the motor and fan parts of the air purifiers. All other component parts are warranted for only 1 year. It is more than enough to secure your air purifier.
Top Amaircare 2500 deals right now
Amaircare 2500 Air Purifier, White.
Steel construction doesn't emit toxins. Run tested for 50000 hours. Get one for as low as $23/month.
Our verdict
Summing up this review, you should only buy the Amaircare 2500 if: one, you really value the steel construction and two, you have a small room. Well, if you have large rooms, the Amaircare 2500 still works, but it takes longer to clean your room.
But hey, I urge you to look for the Austin Air HealthMate or Blueair Classic 480i if you need the steel air purifier that much. They have better fan power and overall better performance.
Amaircare 2500 Air Purifier: Trusted Review in 2023
Amaircare 2500 Reviews and Specs (Air Purifier Trusted Reviews in 2023). ✓ Cleaning Power: True HEPA ✓ Value: 3.3/5 ✓ Certified Reviews
Product Brand: Amaircare
Product Currency: USD
Product Price: 519
Product In-Stock: InStock
Performance

Features

Annual Cost

Design

Price
Summary
The entry-level Amaircare powerful air purifier.