The Amaircare 3000 combines a hefty HEPA filter canister with a luxury steel housing, but it only comes with a very expensive price tag. So is this air purifier really a better option than the old Amaircare 2500? Let's find out in our Amaircare 3000 Review.
In Breathe Quality, we have reviewed all air purifiers under these sections. Also, we guarantee that:
We do give honest reviews (both pros and cons) so anyone will guarantee to have the wisest choices.
We do not (and never) exaggerate one product just to let you click the links and buy that product blindly.
Sections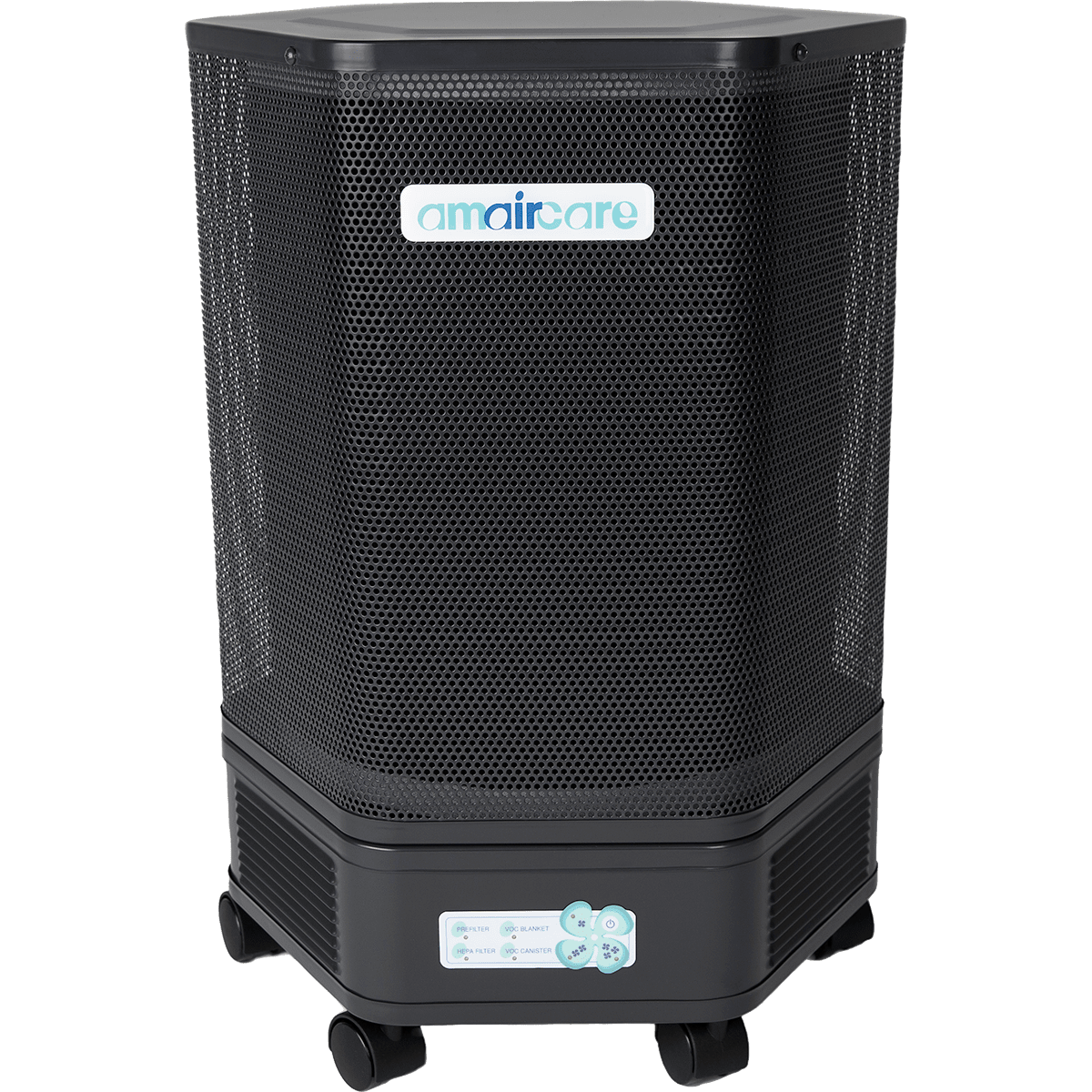 PROS
---
Strong, durable quality
High-quality air filter
High-efficiency fan/motor
High mobility
5-year warranty
CONS
---
Quite noisy on high speed
Low fan power for the price
Lacks of features
Amaircare is one of the best air purifier brands in North America, with a series of high-range air purifiers, especially the lineup of ducted air purifiers for both commercial and residential use. So, about the most popular portable product, we have our today Amaircare 3000 Review.
Other Amaircare's Air Purifier Reviews:
Amaircare 3000 Price
The Amaircare 3000 distills much of what makes the Amaircare Roomaid a portable air purifier into something that's different. In this case, it's a lot bigger, bigger than even the predecessor Amaircare 2500. The Amaircare 3000 is actually the big opponent of things like the Austin Air HealthMate Plus or AllerAir 5000.
Is it better? It depends, and I urge you to read the whole review of Amaircare 3000 to decide. But first, let's talk about the price of this air purifier. The Amaircare 3000 will start at $719, meaning it's only $200 less than the flagship Amaircare 4000. It's also $200 more expensive than the previous Amaircare option, so is it worth?
If you crave the cutting-edge 24 gauge cold rolled steel housing only the Amaircare products pack, and don't want to pay for the flagship, look at the Amaircare 3000. On the other hand, if you need a real modern air purifier for the price you spend for, perhaps the LG PuriCare AS560DWR0, Alen BreatheSmart 75i or AIRMEGA 400 are better choices.
Also, I recommend you to check the Rabbit Air MinusA2 and Sharp FX-J80UW for a lower price but similar performance with the Amaircare 3000. Yes, the Amaircare 3000 has a quite low fan power for the price, and sometimes this weakness can kill it from the competition.
I also suggest you to check the Airocide APS-200 PM 2.5 or Molekule Air for different air system, and see if they fit your home more than the traditional air purifiers or not.
Top Amaircare 3000 deals right now
Amaircare 3000 Air Purifier.
Steel construction doesn't emit toxins. Run tested for 50000 hours. Get one for as low as $33/month.
Related post: Best air purifier 2023.
Amaircare 3000 Design and Size
The Amaircare 3000, like its predecessor Amaircare 2500 and next-gen Amaircare 4000, all these air purifiers have one thing in common: the housing of 24 gauge cold rolled steel. It is recommended to make devices of cold rolled steel for good combination of cost and structural integrity.
The finish is thermoset powder coat, so the Amaircare 3000 has better resistance against any types of corrosion, as well as enclosures no off-gas.
For the size, the Amaircare 3000 is really similar to the flagship Amaircare 4000. It has the height of 23 inches and the width of 16 inches. The Amaircare 3000 is at the same size as other competitors like Austin Air HealthMate Plus or AllerAir AirMedic Pro 5.
There is also two color options for the Amaircare 3000: black and white. Our today unit is slate black color, which I prefer for the steel air purifiers. If you want a white unit, you can check the link below.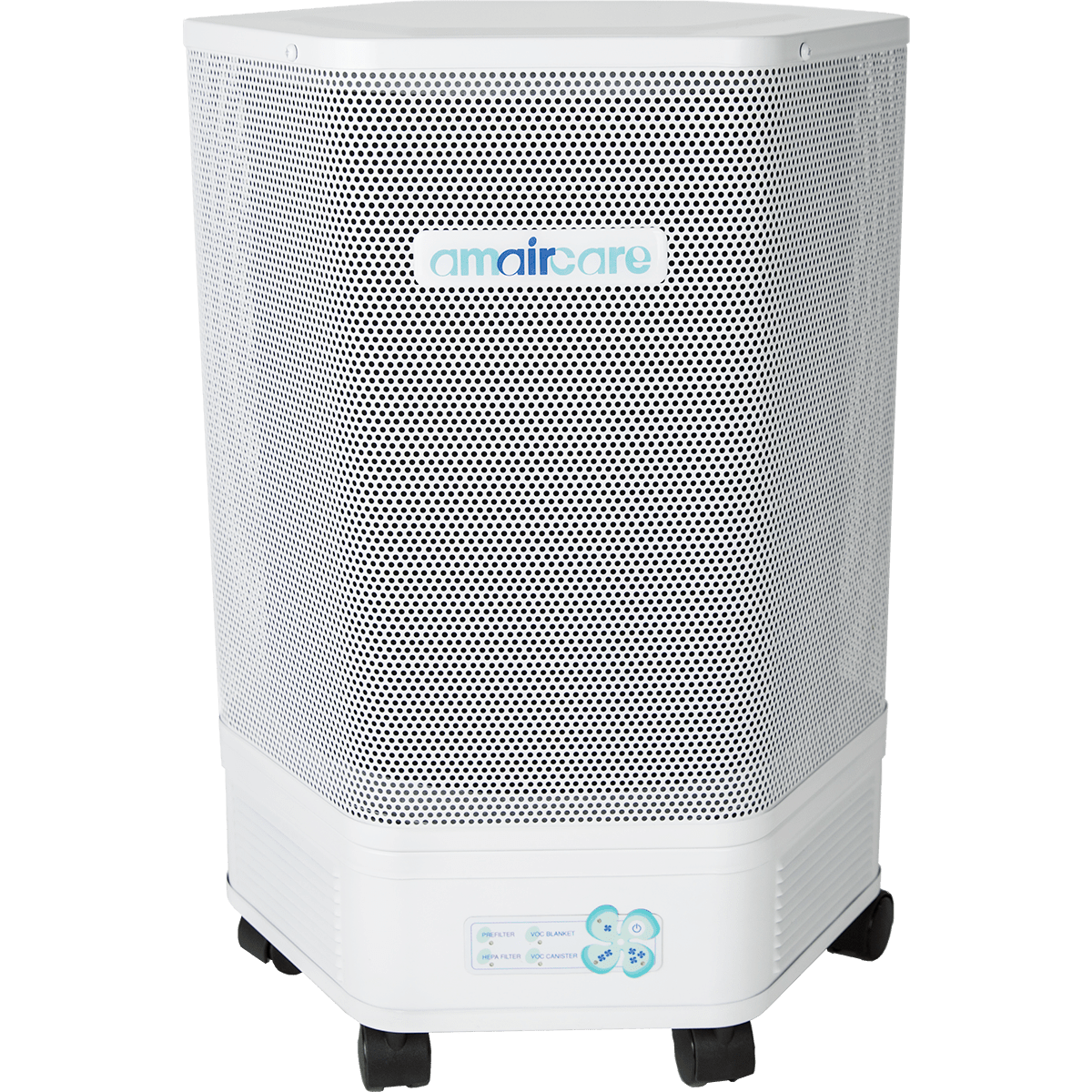 The model 3000 of Amaircare portable air purifier is really easy to handle, as it comes with 4 casters. So even with heavier weight at 22 lbs, you will have no trouble in moving the air purifier from room to room.
Related post: Best air purifiers for bedroom.
Amaircare 3000 Filters
Again, we have a 3-stage air cleaning system in this Amaircare 3000. The filtration system comes with only mechanical air filters, so even without a proper certification from the California Air Resources Board (CARB), you know the air purifier is safe to use.
Pre-filter – A carbon pre-filter traps large dust and VOCs out of the air.
True HEPA filter – The main HEPA filter that captures 99.97% of airborne particles down to 0.3 microns like virus particles, pollen, mold and fungi particles.
Activated Carbon Filter – Further removes odors with the last filtration.
Amaircare 3000 is stronger than the Amaircare 2500, and its performance is near the flagship-level. As you can see how it performed in the same test with its brother, it can surpass many good candidates for the price like the Alen BreatheSmart FIT50, AIRMEGA 300 or Sharp FX-J80UW.
And the powerful HEPA filter can last up to 5 years, so you wouldn't mind the high upfront cost of $219. The annual filter cost is just only, well, $44.
Related post: Best air purifiers for allergies.
Amaircare 3000 Room Coverage
The Amaircare 3000 is suggested for room size of 1600 square feet. Given its increasing fan power, the Amaircare 3000 is still insufficient to run in large rooms.
The ACH of Amaircare 3000 is 2X to 4X in a room of 300 square feet. If you try to use this air purifier in the room of 1600 square feet, it will exchange the air only one times per hour.
The CADR of Amaircare 3000 is only 225 cfm in general. It is just the same CADR rating of the junior series of Austin Air, so I really don't think the Amaircare 3000 can clean your large room quick enough.
Related post: Best large room air purifiers.
Amaircare 3000 Sound
The motor of the Amaircare 3000 is the thermally protected Class "B" insulated motor, which is designed for continuous operation. Its performance and noise level is unchanged through many years, and the stability is what I value the most.
At the lowest noise level of 43 decibels (db), the Amaircare 3000 is as quiet as a local library. You won't notice any sound when using this air purifier.
On highest speed, however, the noise level can reach 61 decibels. This is the common noise in a public restaurant or office, and maybe you won't tolerate such noise while sleeping. So make sure to switch the fan speed to the lowest whenever you need the silence.
Related post: Best air purifiers for baby.
Amaircare 3000 Power Consumption
One of our most FAQs is "Do air purifiers use a lot of energy?" In fact, air purifier must be used for a long time to be efficient. And power consumption is one important criteria to review how much energy this air purifier will consume.
Amaircare 3000 is a great air purifier with the same power consumption with the previous Amaircare 2500, while being much more powerful. Its power consumption range is 52 to 65 watts.
If you use the Amaircare 3000 for at least 8 hours each day, it would cost you $19 – $23 per year, depending on your most used option.
Related post: Best air purifiers for pets.
Amaircare 3000 Additional Features
Just like Airpura, Amaircare doesn't give any additional features for their air purifier users. Well, at least you get a filter light indicator to remind you when to change the HEPA filter. That's better than most other high-range air purifier brands.
Actually, even in the high-end air purifiers of Amaircare family like the Amaircare 4000, Amaircare AirWash 7500 or Amaircare AirWash 10000, you won't find any additional features.
Related posts:
1, Best air purifiers for smoke.
2, Best air purifiers for dust.
3, Best air purifiers for mold.
Amaircare 3000 Customer Service
As a Canadian air purifier company, Amaircare really focuses on their customer service. You can call them toll-free at 800-268-7732. Their main number is 905-565-9488. Or, you can email them at info@amaircare.com.
Amaircare offers 5-year warranty for the motor and fan parts of the air purifiers. All other component parts are warranted for only 1 year. It is more than enough to secure your air purifier.
Top Amaircare 3000 deals right now
Amaircare 3000 Air Purifier.
Steel construction doesn't emit toxins. Run tested for 50000 hours. Get one for as low as $33/month.
Our verdict
The Amaircare 3000 is a better product than the Amaircare 2500, but it is still too expensive for what it gives, so generally I don't recommend to go for it, unless you have money to spend.
But what I value from the Amaircare 3000 is its luxury and wonderful design and quality, which is sometimes worth such a big chunk of cash. Well, your answer? Please share with us.
Amaircare 3000 Air Purifier: Trusted Review in 2023
Amaircare 3000 Reviews and Specs (Air Purifier Trusted Reviews in 2023). ✓ Cleaning Power: True HEPA ✓ Value: 3.3/5 ✓ Certified Reviews
Product Brand: Amaircare
Product Currency: 719
Product Price: USD
Product In-Stock: InStock
Performance

Features

Annual Cost

Design

Price
Summary
It is expensive, and it is not really worth the price.