The Amaircare Roomaid is one of the best affordable air purifiers the company has ever made. For a company mainly focusing on high-end devices like the Amaircare 4000 or Amaircare 3000, the Amaircare Roomaid is the cheapest option for anyone who want an air purifier for small spaces like the private car or toilet. Okay, let's begin with our today Amaircare Roomaid Review.
In Breathe Quality, we have reviewed all air purifiers under these sections. Also, we guarantee that:
We do give honest reviews (both pros and cons) so anyone will guarantee to have the wisest choices.
We do not (and never) exaggerate one product just to let you click the links and buy that product blindly.
Sections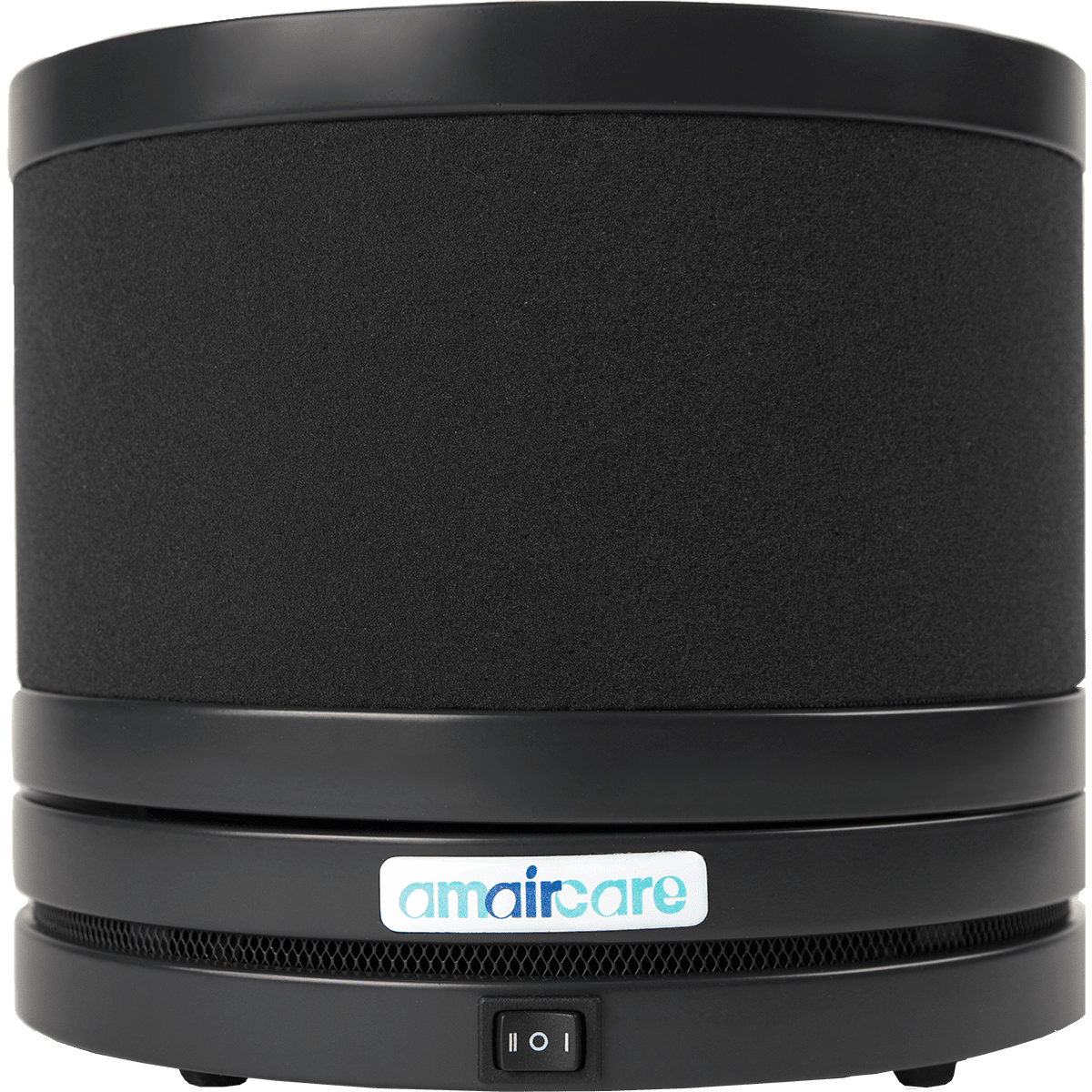 PROS
---
Strong, durable quality
Compact and available for car
5-year warranty
Quiet operation
CONS
---
Low fan power
Not really affordable
Lacks of features
Amaircare is one of many long-standing North American air purifier companies, and just like Austin Air, AllerAir and the closest Airpura, the company focuses mainly on high-end big air purifier machines. But the Amaircare Roomaid is what they want to tackle the lowest-end market, with a compact and mobile device. Okay, let's find out in our Amaircare Roomaid Review.
Other Amaircare's Air Purifier Reviews:
Amaircare Roomaid Price
The Amaircare Roomaid isn't going to floor you in what it can do, but considering the price you should be impressed with a cheap Amaircare, especially when you want a native North American origin.
With strong build, the Amaircare Roomaid can easily last the 5-year warranty on it. This air purifier is targeting car users, and it comes with a 12 DC power cord for use in cars. The company told us that the Roomaid can exchange fresh air up to 16 times per hour in a medium car, and 8 times in an SUV.
But for a device of a brand mainly targeting high-range segment, the Amaircare Roomaid isn't really "affordable". Its official price is around $199, and perhaps you can an used device for cheaper from our deal.
If you are looking for a real "room" air purifier, the Filtrete FAP-T03BA-G2, Bissell air220 or LivePure Apsen LP350TH are much better choices. I also suggest the LG PuriCare AS401VSA0 for personal use.
Top Amaircare Roomaid deals right now
AmairCare Roomaid Portable HEPA Air Cleaner (Slate Black).
The only Amaircare air purifier you need for your room and car. Comes with 3-stage air filtration.
Related post: Best air purifier 2023.
Amaircare Roomaid Design and Size
This is an affordable air purifier, and if you consider that when handling it then you'll likely be pleasantly surprised with how the Amaircare Roomaid feels. It's is surprisingly great for desk, as the dimensions are 7.5 inches in height and 8.5 inches in width.
Also, as one device of the Canadian Amaircare group, the Amaircare Roomaid is made of steel, so it's a lot more durable than normal plastic air purifiers in the same price range. The finish is baked with thermoset powder, so the air purifier itself doesn't release off-gas chemicals. It also supports the filter housing to make the replacement easier.
Amaircare Roomaid comes with two basic colors: dark and white gray. Our today unit is a slate black dark Roomaid unit, but if you want to check the white unit, you can follow our below link.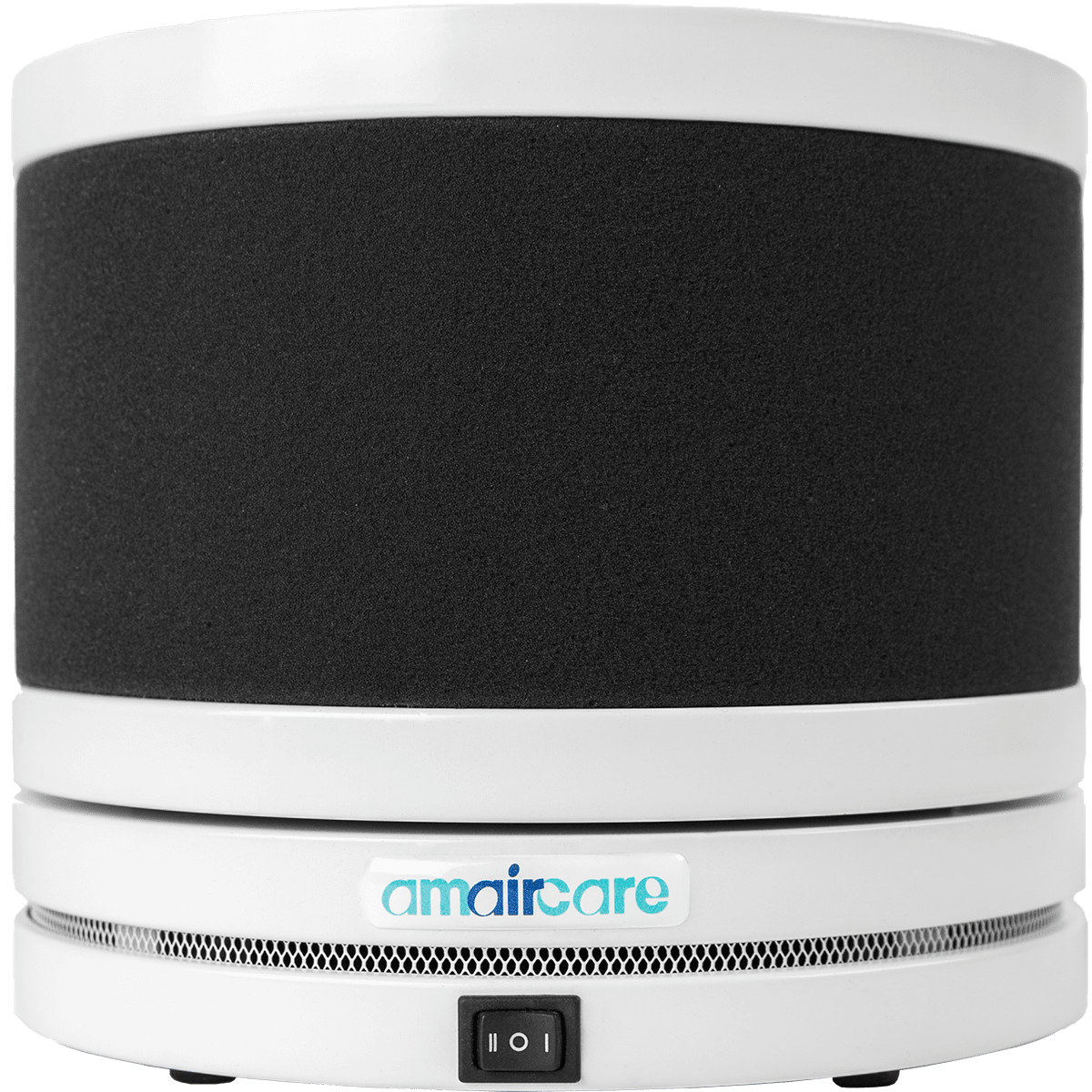 The Amaircare Roomaid has an all-in-one air filter, so it is perfect for the cylindrical design and 360° air cleaning system. It utilizes a simple bottom-to-top air flow system concept, which is really common in air purifier world.
Amaircare Roomaid weighs only 4.5 lbs, so it is great for any small spaces. The air purifier is easy to use, with only one switch to turn on and change fan speeds.
Related post: Best air purifiers for bedroom.
Amaircare Roomaid Filters
Amaircare Roomaid uses a pretty simple 3-stage air filtration, to reduce any ozone emission from ionizer or UV-C light filter.
Pre-filter – A foam pre-filter traps large dust and debris from contacting the HEPA filter. It has an inner carbon cloth to reduce odors and smoke.
True HEPA filter – The main HEPA filter that captures 99.97% of airborne particles down to 0.3 microns like virus particles, pollen, mold and fungi particles.
Activated Carbon Filter – Removes household chemicals that may off-gas from household cleaners, paints, carpets and other materials containing chemical substances.
Sadly, as an air purifier mainly for car users, the Amaircare Roomaid has a very low fan power. The result, in even a simple test of 100 square feet, the Amaircare Roomaid has an efficiency of just 99.6%, which is lower than many air purifiers of $100 like Levoit LV-H132 or Filtrete FAP-C02WA-G2. If you get the Dayton 2HPB8 or Hunter HP700 in the same price range, its performance is much better for daily room use.
For the filter replacement, you should only get the genuine Amaircare filter. Also, I recommend to replace the filter every 2 years. Yes, that's the powerful performance of the Amaircare air filter.
Related post: Best air purifiers for allergies.
Amaircare Roomaid Room Coverage
The Amaircare Roomaid is mainly for car users, and if you want it to be your tabletop air purifier, I recommend to use it in a room of only 100 square feet.
The ACH of Amaircare Roomaid is 2X to 4X in a room of 100 square feet. At maximum power, the air purifier can clean the air every 15 minutes.
The CADR of Amaircare Roomaid is only 40 cfm in general.
Related post: Best large room air purifiers.
Amaircare Roomaid Sound
As an air purifier designed to be used in cars, the Amaircare Roomaid is virtually silent to not distract the drivers. It maximum noise level is only 47 decibels, and it is even quieter than the car's air conditioner.
On lowest speed, the noise level of Amaircare Roomaid is around 40 decibels (db), which is like the noise level of the library. You won't notice any sound from this air purifier while running.
Related post: Best air purifiers for baby.
Amaircare Roomaid Power Consumption
One of our most FAQs is "Do air purifiers use a lot of energy?" In fact, air purifier must be used for a long time to be efficient. And power consumption is one important criteria to review how much energy this air purifier will consume.
Amaircare Roomaid uses just 5 watts of energy consumption. The portable air purifier is truly the best energy-saving option for your car and small room alike.
If you use the Amaircare Roomaid for at least 8 hours each day, it would cost you just $1.7 per year, which is negligible.
Related post: Best air purifiers for pets.
Amaircare Roomaid Additional Features
However, with so many focus on high-quality build, the Amaircare Roomaid must compensate on the additional features. In other words, there is no other setting for this air purifier.
Actually, even in the high-end air purifiers of Amaircare family like the Amaircare 4000, Amaircare AirWash 7500 or Amaircare AirWash 10000, you won't find any additional features. Many high-range brands also do it, like Austin Air and Airpura.
Related posts:
1, Best air purifiers for smoke.
2, Best air purifiers for dust.
3, Best air purifiers for mold.
Amaircare Roomaid Customer Service
As a Canadian air purifier company, Amaircare really focuses on their customer service. You can call them toll-free at 800-268-7732. Their main number is 905-565-9488. Or, you can email them at info@amaircare.com.
Amaircare offers 5-year warranty for the motor and fan parts of the air purifiers. All other component parts are warranted for only 1 year. It is more than enough to secure your air purifier.
Top Amaircare Roomaid deals right now
AmairCare Roomaid Portable HEPA Air Cleaner (Slate Black).
The only Amaircare air purifier you need for your room and car. Comes with 3-stage air filtration.
Our verdict
For the price, the Amaircare Roomaid is a fantastic choice for any car users. It can be upgraded with the Auto Adapter Kit and clean the dirty car 32 times in an hour. Also, if you're looking for an air purifier with long-term quality, you should look for the Amaircare Roomaid.
But don't buy it if you have large rooms, because there are many other options to consider for around $199, like the Honeywell HPA300 or Coway AP-1512HH. The Amaircare Roomaid is inferior both in the performance and efficiency.
Amaircare Roomaid Air Purifier: Trusted Review in 2023
Amaircare Roomaid Reviews and Specs (Air Purifier Trusted Reviews in 2023). ✓ Cleaning Power: True HEPA ✓ Value: 3.6/5 ✓ Certified Reviews
Product Brand: Amaircare
Product Currency: USD
Product Price: 199
Product In-Stock: InStock
Performance

Features

Annual Cost

Design

Price
Summary
A great car-used air purifier.