Vornado CYLO50 is the newer version of the Vornado QUBE50, and it remains the low price point and simple control that may turn heads. Let's find out in our today Vornado CYLO50 Review.
In Breathe Quality, we have reviewed all air purifiers under these sections. Also, we guarantee that:
We do give honest reviews (both pros and cons) so anyone will guarantee to have the wisest choices.
We do not (and never) exaggerate one product just to let you click the links and buy that product blindly.
Sections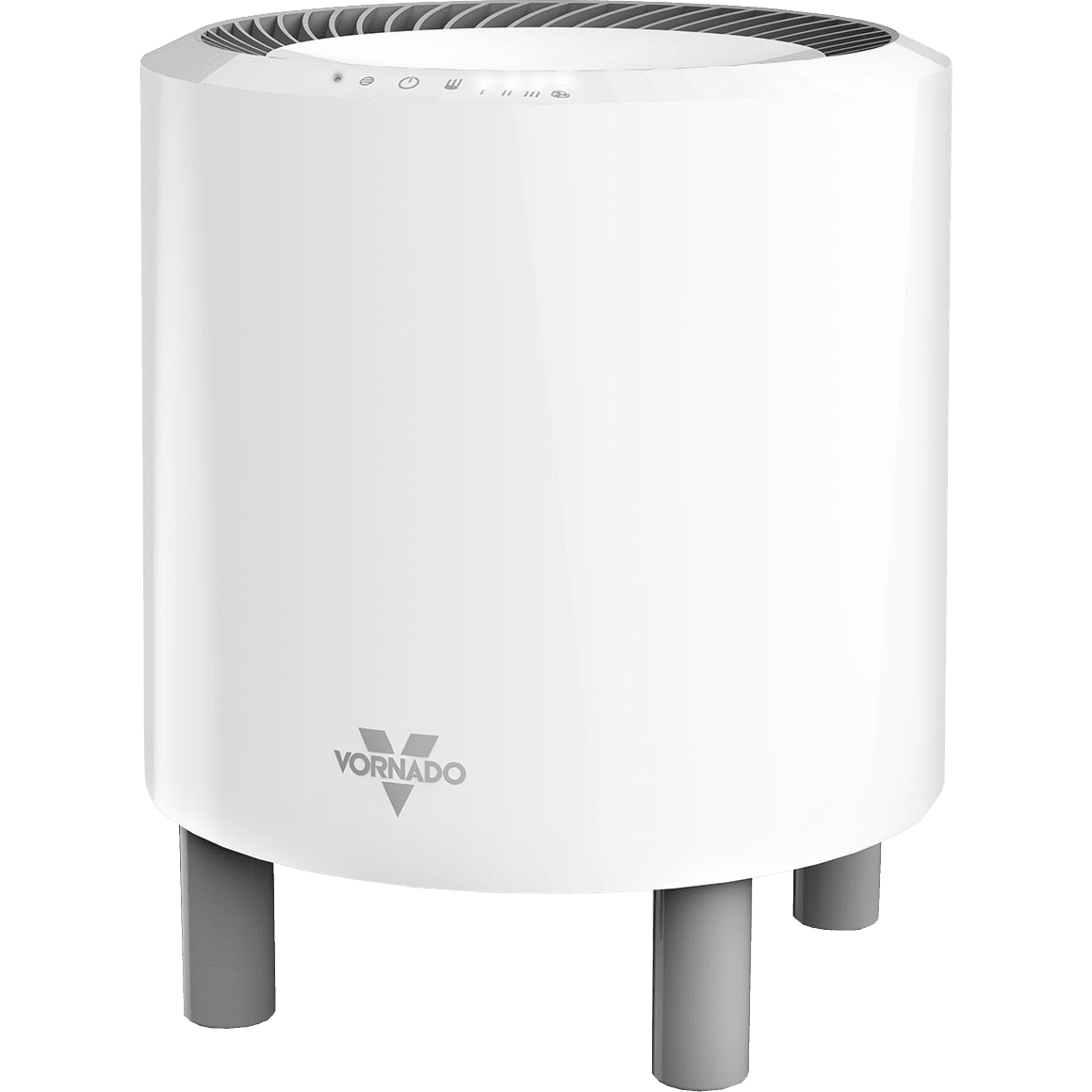 PROS
---
Compact size, lightweight
Simple to use
Decent performance
CONS
---
Quite noisy on highest speed
Not too many additional features
Vornado has updated all of their old models, starting with the simple but popular Vornado QUBE50. The new Vornado CYLO50 stands for a more modern air purifier, and if you like using the sophisticated devices in your home, just don't skip our today Vornado CYLO50 Review.
Other Vornado's Air Purifier Reviews:
Vornado CYLO50 Price
The Vornado CYLO50 does a lot right with a simple touch control, good True HEPA filter and attractive price, but there's a frustrating number of missing features and options. Of course, it is just a new look of the Vornado QUBE50, and I don't expect more from this air purifier.
What's so good about it? While it may not be the necessary upgrade for the current users of Vornado QUBE50, but if you are looking for a new air purifier, the Vornado CYLO50 is more "future-proof". In fact, Vornado removed the QUBE50 from their air purifiers list.
This Vornado CYLO50 still keeps the price to be officially $99. Compared to other air purifiers like the Vornado AC350 and Vornadobaby Purio, it's cheaper.
The air purifier is the main competitor to the VEVA ProHEPA9000 and Levoit Core 300. If you are getting fond of the 360° air purifiers, don't forget the Blue Pure 411 and Airthereal ADH80.
Top Vornado CYLO50 deals right now
Vornado CYLO50 True HEPA Whole Room Air Purifier, White.
Simple to control, with only basic settings. Compact, but packed with True HEPA filter to remove 99.97% of all allergens. Free returns.
Related post: Best air purifiers 2023.
Vornado CYLO50 Design and Size
It's difficult to see where the Vornado CYLO50 is meant to take over the Vornado QUBE50 with its similarity to the original, as the design only further muddies the waters.
But hey, as you can't find the QUBE50 officially anymore, the Vornado CYLO50 is really special in Vornado family. The compact size can fit easily in most spaces. It is only 12.75 inches in height and 10.5 inches in width, so the Vornado CYL50 is compact and small.
It certainly feels more premium than the QUBE50, because the 4 legs are made in round shape. The Vornado CYLO50 is suitable for personal areas like desks and bed-side tables, and I bet the modern and minimalist style can blend into any room. Also, the new legs are more stable and durable than the old detachable legs.
We still have the simple electronic touch screen on top, with not so much different from the previous device.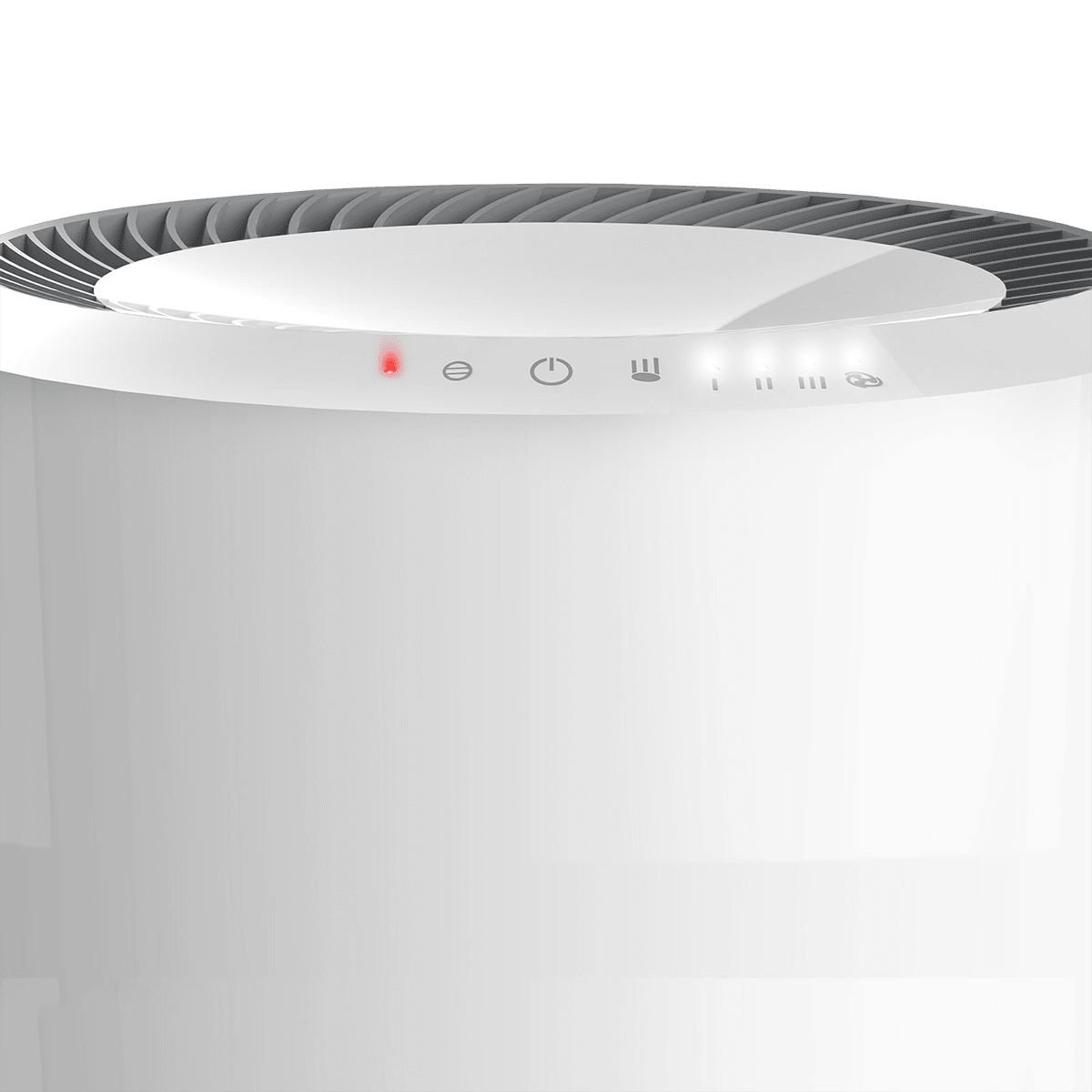 Source: Sylvane
As the most compact air purifier in the family, the Vornado CYLO50 weighs only 7 lbs. You can move it to anywhere in your house.
Related post: Best air purifiers for bedroom.
Vornado CYLO50 Filters
Vornado is aiming at making the air purifiers to fit CARB certification with their budget air purifiers, including of the Vornado CYLO50. That's why the air purifier has a simple 3-stage air cleaning system.
Pre-filter – A preliminary filter covers the True HEPA filter, to extend the life time of the core filter, by trapping the large objects of pollutants like fur, hair and large dust.
True HEPA filter – With the True HEPA filter, this air purifier can capture 99.97% of as small as 0.3 microns allergens, virus particles, pollen, mold and fungi particles.
Activated Carbon filter – Honeycombed carbon filter to effectively remove odors.
When testing the Vornado CYLO50, I always felt it could be better than the old Vornado QUBE50, as I don't think it is just a new coat for an old air purifier. Stress tests for the Vornado CYLO50 shows that it can clean 99.8% of all particles down to 0.3 microns in 100 square feet, just after 1 hour. It is not as good as the Honeywell HPA100 or Levoit LV-PUR131, but it is a lot cheaper.
For the air filter, make sure to use the all-in-one MD1-0039 air filter from Vornado. You should only get the genuine air filter, and remember to change the filter every 6 months.
Related post: Best air purifiers for allergies.
Vornado CYLO50 Room Coverage
As checked on Vornado website, the Vornado CYLO50 can perform well in a room of 144 square feet.
The ACH of Vornado CYLO50 is 4X to 9X. I appreciate that a budget air purifier can exchange up to 9 times per hour in a room of 64 square feet, thanks to precise aerodynamics.
The CADR of Vornado CYLO50 is 73 Dust/ 60 Smoke/ 84 Pollen (cfm).
Related post: Best large room air purifiers.
Vornado CYLO50 Sound
The low fan power is always the feature of the budget air purifier, but it comes with silent operation. I assume this is to do with keeping costs down, but as it's such a major selling point of the air purifier Vornado should really have told it clearly.
The sound level of Vornado CYLO50 is 35 to 55 decibels (db), depending on the fan speed. It is okay for an air purifier with as low as 850 rpm fan speed.
Related post: Best air purifiers for baby.
Vornado CYLO50 Power Consumption
One of our most FAQs is "Do air purifiers use a lot of energy?" In fact, air purifier must be used for a long time to be efficient. And power consumption is one important criteria to review if this air purifier is good or not.
Vornado CYLO50 has a power consumption of 61 watts. For an air purifier with such low fan power, the power consumption is a bit higher than average.
If you run the Vornado CYLO50 for 8 hours per day, it would cost you $22 each year.
Related post: Best air purifiers for pets.
Vornado CYLO50 Additional Features
Together with the Vornado AC350, the Vornado CYLO50 is the most simple air purifier this company has manufactured. It only has one LED indicator for filter replacement, to remind you when to change the air filter. Don't expect any other additional features in this product.
If you want to taste the high-end Smart Sensor from Vornado family, at least you should look for the Vornado AC550 or Vornado PCO375DC. Or if budget isn't your problem, the Vornado PCO575DC is certainly the best this company can offer.
Related posts:
1, Best air purifiers for smoke.
2, Best air purifiers for dust.
3, Best air purifiers for mold.
Vornado CYLO50 Customer Service
As an U.S firm based, Vornado gives the best customer service to any local customers. If you are from outside the U.S, don't worry as they have subsidiaries in 12 different countries in the world.
The company not just back you up, they also hear from you. If you have any feedback, feel free to contact Vornado. You can live chat with them, from Monday to Friday, within their chat hours. Or else, you can call them directly via phone at 800-234-0604 or via fax at 316-733-1544. If they are out of office, I recommend you to email them at help@vornadobaby.com or help@vornado.com, depending on your product.
To guarantee your satisfaction, unopened air purifiers are free to return within 30 days. Remember that the shipping costs are non-refundable. You should check their FAQs page for more information.
Most of Vornado air purifiers are covered with a 5-year warranty, including of the Vornadobaby products, against material and workmanship defects, from the date of purchase. The flagships of Vornado, however, increase the satisfaction guarantee to 10 years. Not so many companies would dare to extend the warranty duration like Vornado.
Top Vornado CYLO50 deals right now
Vornado CYLO50 True HEPA Whole Room Air Purifier, White.
Simple to control, with only basic settings. Compact, but packed with True HEPA filter to remove 99.97% of all allergens. Free returns.
Our verdict
The Vornado CYLO50 comes with nice and compact design and feel, and it can fit most spaces without difficulty. It is impressive with good fan power and decent True HEPA filter for less than $100.
Vornado CYLO50 Air Purifier: Trusted Review in 2023
Vornado CYLO50 Reviews and Specs (Air Purifier Trusted Reviews in 2023). ✓ Cleaning Power: True HEPA filter ✓ Value: 3.1/5 ✓ Certified Review.
Product Brand: Vornado
Product Currency: USD
Product Price: 99
Product In-Stock: https://schema.org/InStock
Performance

Features

Annual Cost

Design

Price