With a shiny new white color applied for the old body, a super attractive Energy Smart check and extra 5 more years for warranty, the Vornado PCO375DC offers real value for money. It is the perfect alternative for the starting old Vornado PCO300. So, are you ready to check our proper Vornado PCO375DC Review.
This Vornado PCO375DC gets a better ranking than even its flagship brother – the Vornado PCO575DC.
In Breathe Quality, we have reviewed all air purifiers under these sections. Also, we guarantee that:
We do give honest reviews (both pros and cons) so anyone will guarantee to have the wisest choices.
We do not (and never) exaggerate one product just to let you click the links and buy that product blindly.
Sections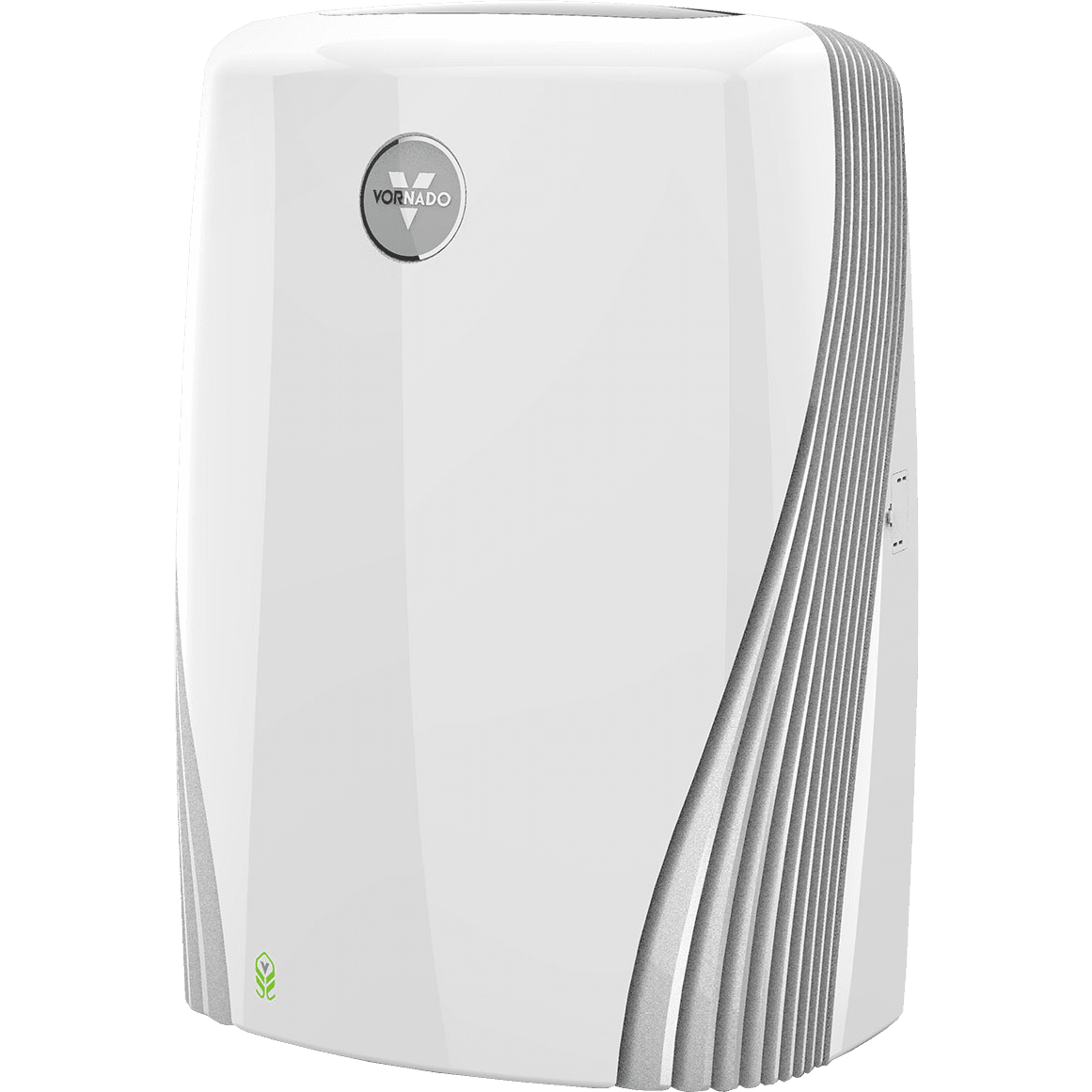 PROS
---
Impressive high ACH rating
Advanced Silverscreen technology
Energy efficient
Intelligent control with dual sensors
Strong customer service
The Kansas-based Vornado starts the new decade of 2020 with two new air purifiers, which are the necessary improvements of the old Vornado PCO300 and Vornado PCO500. The little brother, and also our today reviewed unit – Vornado PCO375DC, is the more popular one, thanks to its same price tag with the previous model. So, the true question here is, what exactly are the "improvements"? Let's find out, in our Vornado PCO375DC Review.
Other Vornado's Air Purifier Reviews:
Vornado PCO375DC Price
Vornado's PCO Series is the the firm's best selling air purifier range ever, and the main installments are the Vornado PCO375DC and its flagship brother, Vornado PCO575DC.
The manufacturer has decided to kick things up a notch with a more premium, advanced air purifier and an impressive host of extras that you wouldn't find in the previous Vornado air purifiers.
Just like the previous Vornado PCO300, the Vornado PCO375DC starts at $419, but you can always find a better deal in Breathe Quality. It is $50 cheaper than the flagship, which is released at the same time as our today air purifier.
However, Vornado PCO375DC doesn't have better fan power, and in the world of air purifiers with high CADR rating like the Blueair Classic 280i, Dyson Pure Cool Link or Sharp FP-A80UW, it is a main weakness. To compensate for the smaller room coverage, Vornado increase the frequency of its fan power, with high ACH rating.
So in compared with the predecessor, the Vornado PCO375DC is a lot better. Does it convince you to buy the newest air purifier of Vornado? We will find out.
Top Vornado PCO375DC deals right now
Vornado PCO375DC air purifier with True HEPA and carbon filtration to capture allergens, smoke, odors, and Patented Silverscreen technology, White.
Advanced air filtration system with True HEPA + Silverscreen technology. Energy Smart performance. Built to meet U.S voltage requirements. Pay as low as $16/month.
Related post: Best air purifiers 2023.
Vornado PCO375DC Design and Size
Although this air purifier is targeted towards those can afford mid-range budget, you wouldn't guess it just by looks alone. The Vornado PCO375DC looks a lot like the Vornado PCO300, and thanks to the white option, it is nearly the same as the cheaper Vornado PCO200. Such similarity means you don't feel more premium in this newest air purifier.
Taking design cues from the older models, Vornado PCO375DC is 21 inches in height and 15.2 inches in width. A few other noticeable borrowed examples are the V-shaped front plate and the air intake grills. The logo changes from red to gray, and we have a symbol of Energy Smart at the bottom of this Vornado PCO375DC, which is easily ignored when we look at the product.
Obviously, the same design means the effect carries over in full-force. Do you know gaps, poorly sealed filter housings, and excessive air velocity all reduce the effectiveness of the air purifier. Vornado PCO375DC simply doesn't allow such weakness.
It is still the same bottom-to-top air flow system concept, with the top air outlet in new parallel shape, instead of diagonal shape like in the Vornado AC350 and Vornado AC550. There are two air sensors beside the air intake of Vornado PCO375DC, to give the most accurate result.
If you are a loyal customer of Vornado, you will easily find out the top control panel is now different, and in a much better way. I love the sleek touch-sensitive navigation made by this company.
Source: Amazon.com
Vornado PCO37DC weighs 16.4 lbs, a bit less than the PCO300 model.
Related post: Best air purifiers for bedroom.
Vornado PCO375DC Filters
Running the signature air filtration system with 4 stages of Vornado, the Vornado PCO375DC is truly a high-end air purifier, which can "go beyond" HEPA level.
Pre-filter – A permanent, washable pre-filter covers the True HEPA filter, to extend the life time of the core filter, by trapping the large objects of pollutants like fur, hair and large dust.
True HEPA filter – With the True HEPA filter, this air purifier can capture 99.97% of as small as 0.3 microns allergens, virus particles, pollen, mold and fungi particles.
Activated Carbon filter – The honeycombed carbon filter adsorbs odors, freshening the air inside your home.
Silverscreen Chamber – Using an UV-C light filter, this Silverscreen technology can destroy and disable the harmful gases, Volatile Organic Compounds (VOCs), viruses and bacteria.
If you happened to use the Vornado PCO300, you will get used to the term "Photo Catalytic Oxidation", which is in short "PCO". This is the compass for the signature air filtration system, called Silverscreen technology. By combining UV-C light filter with the patented titanium dioxide media, Vornado PCO375DC can not only kill germs and bacteria, but also break down the VOCs into harmless molecules like H2O and CO2.
Together with the True HEPA filter, the efficiency of this air purifier is perfectly adequate. I didn't have any issues cleaning the air on it, and I believe the honeycombed structure of its Activated Carbon filter is much better than low-level carbon sheer, thus it can last for 1 year.
Source: Amazon.com
There is only one problem: using the same internals as the PCO300 means it can't surpass the predecessor in terms of performance rating. In fact, the Vornado PCO375DC has exactly the same efficiency like the previous model, in the same testing conditions. Perhaps it is better than the GermGuardian AC9200WCA and Oransi Finn, but I must remind you this is only for 150 square feet. The result changed a lot for tests conducted in larger areas.
We will need the air filter MD1-0022 and MD1-0027 for this Vornado PCO375DC, which costs $39 and $16, respectively. Both air filters can last for one year, until they need to be replaced for optimal performance.
Related post: Best air purifiers for allergies.
Vornado PCO375DC Room Coverage
The room coverage of this Vornado PCO375DC is smaller than others in the same price range. The manufacturer only suggests to use it for up to 180 square feet.
The ACH of Vornado PCO375DC is 4X to 8.5X. In fact, the ACH rating of this air purifier is even lower than the Vornado PCO300. And it can only clean with 8.5X ACH in a room of 100 square feet.
The CADR of Vornado PCO375DC is 139 Dust/ 151 Smoke/ 115 Pollen (cfm). This is the same CADR rating with the previous model, meaning the Vornado PCO375DC reduces the speed rpm for lower performance, but better quiet operation.
Related post: Best large room air purifiers.
Vornado PCO375DC Sound
Like I've mentioned earlier, Vornado reduced the speed rpm of this Vornado PCO375DC, to trim down the noise level. In fact, the quiet operation of this air purifier is typical, as its lower fan speed is just 35 decibels (db), at 500 rpm speed.
When I changed the fan speed to the highest, the noise level is only 52 decibels, that might be explained by the fact that Vornado has shrunk the rpm speed from 1600 to only 1350 rpm. This could be the best quiet air purifier of this American company.
Related post: Best air purifiers for baby.
Vornado PCO375DC Power Consumption
One of our most FAQs is "Do air purifiers use a lot of energy?" In fact, air purifier must be used for a long time to be efficient. And power consumption is one important criteria to review if this air purifier is good or not.
On paper, the power consumption of Vornado PCO375DC sounds impressive. It has an Energy Smart rated by this company, to save 80% more energy, one thing that you never find in previous models. However, the rated power of this product is around 48.5 watts, which is still high for its fan power.
But saving the power from 80 to nearly 50 watts is an amazing success of Vornado group, and we can expect better energy saving air purifiers from this company in the near future.
If you run the Vornado PCO375DC for 8 hours per day, it would cost you just $17 each year.
Related post: Best air purifiers for pets.
Vornado PCO375DC Additional Features
To take the mantle of the previous Vornado PCO300, the Vornado PCO375DC remains every single additional feature from the predecessor, most notable the advanced Smart Sensor, which can track both dust and odor particles. The visual air quality indicator is now bigger and brighter, and you wait less time for the Auto Mode responds.
Vornado PCO375DC is an air purifier of a company specialized in making household fans, so it isn't strange to see up to 10 different fan speeds in this device. Perhaps only Dyson can match the number of fan speeds in setting with Vornado, as the British air purifier company is manufacturing fan, too.
The device can go full speed with the Quick Clean mode, or be extremely quiet with the Sleep Mode option. In the Sleep Mode, it overrides even the Auto Mode, to keep on lowest speed and dims the luminous display automatically in low light situations.
There is also a Child lock setting, to prevent any unwanted changes in control panel made by your children and pets.
The LED indicator for filter replacement is basic, and it can alert you the end of not only HEPA filter, but also the carbon filter, Silverscreen tray and the UV bulb.
Related posts:
1, Best air purifiers for smoke.
2, Best air purifiers for dust.
3, Best air purifiers for mold.
Vornado PCO375DC Customer Service
As an U.S firm based, Vornado gives the best customer service to any local customers. If you are from outside the U.S, don't worry as they have subsidiaries in 12 different countries in the world.
The company not just back you up, they also hear from you. If you have any feedback, feel free to contact Vornado. You can live chat with them, from Monday to Friday, within their chat hours. Or else, you can call them directly via phone at 800-234-0604 or via fax at 316-733-1544. If they are out of office, I recommend you to email them at help@vornadobaby.com or help@vornado.com, depending on your product.
To guarantee your satisfaction, unopened air purifiers are free to return within 30 days. Remember that the shipping costs are non-refundable. You should check their FAQs page for more information.
Most of Vornado air purifiers are covered with a 5-year warranty, including of the Vornadobaby products, against material and workmanship defects, from the date of purchase. The flagships of Vornado, however, increase the satisfaction guarantee to 10 years. Not so many companies would dare to extend the warranty duration like Vornado.
Top Vornado PCO375DC deals right now
Vornado PCO375DC air purifier with True HEPA and carbon filtration to capture allergens, smoke, odors, and Patented Silverscreen technology, White.
Advanced air filtration system with True HEPA + Silverscreen technology. Energy Smart performance. Built to meet U.S voltage requirements. Pay as low as $16/month.
Our verdict
If you're not willing to take a chance on an unfamiliar brand, then the Vornado PCO375DC remains the best value air purifier for U.S users. Strong customer service is the best backup for a native American company.
There are significant improvements over the old Vornado PCO300 in terms of the additional features, better power consumption and quiet operation. However, the Vornado PCO375DC has taken a small step back in terms of ACH rating by lowering the fan's rpm speed.
Vornado PCO375DC Air Purifier: Trusted Review in 2023
Vornado PCO375DC Reviews and Specs (Air Purifier Trusted Reviews in 2023). ✓ Cleaning Power: True HEPA filter ✓ Silverscreen ✓ Value: 4.2/5 ✓ Certified Reviews
Product Brand: Vornado
Product Currency: USD
Product Price: 419
Product In-Stock: https://schema.org/InStock
Performance

Features

Annual Cost

Design

Price
Summary
The new air purifier of Vornado, with 10-year warranty for satisfaction.