We're often impressed with what air purifier manufacturers can pack into budget devices these days. The Sharp FP-F30UH is exactly the ambition that Japanese largest air purifier company aims at – low-range segment. Yes, the air purifier is inexpensive, but to call it really a bargain, let's first read our Sharp FP-F30UH Review.
The Sharp KC-860U is a much better air purifier-humidifier combo than its predecessor, Sharp KC-850U, thanks to its more powerful fan, one thing that is not an advantage of this company. For the price, this air purifier has a leading True HEPA filter as well as a large room humidifier attached in. We are happy to deliver the Sharp KC-860U Review this time, so you can decide to buy it for $110 more than the Amazon's Choice Sharp KC-850U or not.
In Breathe Quality, we have reviewed all air purifiers under these sections. Also, we guarantee that:
We do give honest reviews (both pros and cons) so anyone will guarantee to have the wisest choices.
We do not (and never) exaggerate one product just to let you click the links and buy that product blindly.
Sections
PROS
---
Compact design
High-quality True HEPA filter
Decent fan power
Really silent
CONS
---
No Plasmacluster
Customer service isn't U.S based
With so many high-quality air purifiers in hand, it's hard for Sharp to skip a potential market like the United States. Within a few years, the Japanese corporation has released their finest products into the mid-range segment, and now, they are going to target the highly demanded low-range. In our Sharp FP-F30UH Review, we will talk about the latest air purifier of Sharp.
Sharp FP-F30UH Price
Back in 2018, Sharp announced two budget air purifiers to fill out the lower end of its range: the Sharp FP-F50UW and Sharp FP-F60UW. However, inappropriate pricing and low fan power force the manufacturer to low down the price tag, and also end the ambition of Sharp to win the low-range market in U.S like Coway and Winix previously did.
It seems Sharp is expecting their new Sharp FP-F30UH to have more widespread appeal, given that they have decided to wait many years to release the compact air purifier.
Currently, we only have a few products in stock for Sharp FP-F30UH. The official price tag of this air purifier is $119 in U.S Sharp website, but it can be lower down much by following our deal, up to only $89. The only problem is, you don't know when the product is available. But I will update you if I hear more.
Setting at the low-range segment, the Sharp FP-F30UH is the main competitor to air purifiers from the most popular American brands, like Levoit Vital 100, Envion Allergy Pro AP200 or GermGuardian AC5000. Without the signature Plasmacluster in it, we shall see how the Sharp FP-F30UH can compete against these top dogs, especially when the air purifier market has settled down.
Top Sharp FP-F30UH deals right now
Sharp FPF30UH True HEPA air purifier for home, office or small bedroom with Express Clean.
Energy Star rated. Powerful True HEPA filter that lasts for 2 years. Quiet Operation.
Related post: Best air purifier 2020.
Sharp FP-F30UH Design and Size
Devices this inexpensive often feel like toys, but that's not the case with the Sharp FP-F30UH. It's weighty enough to feel solid, and – particularly in the white colorway of our review unit – actually looks quite smart and clean.
Sharp used to provide high-quality air purifiers in the whole Asian region, so they know how make a device with nice design. Sharp FP-F30UH is still compact enough with the dimensions of 18 inches in height, 16 inches in width and 7 inches in depth. However, the hourglass shape makes our today unit feels sturdier and firmer on ground, while still lightweight enough to grab with only 8.6 lbs in weight.
Unlike other higher-range air purifiers of its family, Sharp FP-F30UH won't have Plasmacluster feature, so it doesn't have a signature symbol right at the center of the device. Instead, Sharp changed the logo to a "Library Quiet" line, to indicate that this air purifier is mostly for bedroom. Perhaps, one day we will see Sharp FP-F30UH as a strong candidate for the list of best air purifiers for bedroom, right?
The air purifier still follows the bottom-to-top air flow system concept, just like any common console air purifiers at the moment. The air intake is hidden under the back cover, and you will see an air outlet on top, beside a small circular control panel.
Source: Amazon.com
Related post: Best air purifiers for bedroom.
Sharp FP-F30UH Filters
Again, we will look at the air filtration system, including of the quantity and quality of air filters, as well as air filter types to decide the performance of this air purifier. In our today Sharp FP-F30UH, we only have 1-stage air cleaning system.
True HEPA filter – The True HEPA Filter that captures 99.97% of as small as 0.3 microns particles like pollen, dust, pet dander, smoke, germs, bacteria, viruses, odors, mold, and fungus.
When you want to reduce the size of the air purifier to cut cost, but still try to keep the high performance, then the only solution is to reduce the quantity of air filters. At the core of Sharp FP-F30UH, there will be a large and high-quality True HEPA filter from Sharp, which can last for 2 years instead of 6 months like regular air filters.
Source: Amazon.com
I've made a lot of tests for Sharp units in our labs, and this time I only made the conditions to be a room of 100 square feet, and the duration of 1 hour. I chose the Levoit Vital 100, Biota Bot MM108 and Envion Therapure TPP230 to help you compare with our today air purifier. Well, the Sharp FP-F30UH was not the best performer with only 99.8% of trapping any particles down to 0.3 microns, which is lower than the Levoit Vital 100. However, I'm happy with this result, because the Sharp FP-F30UH only has one air filter.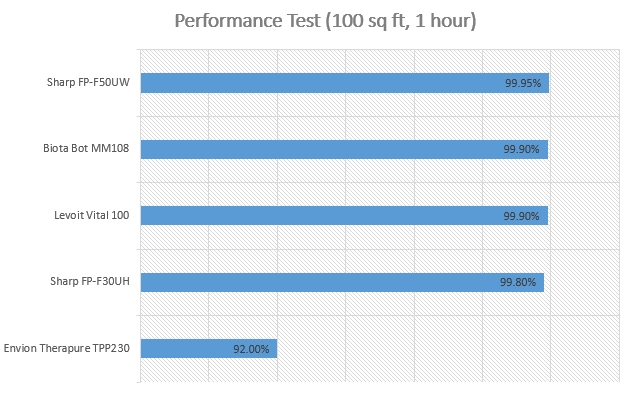 At the moment, I can't find a proper filter replacement for the Sharp FP-F30UH. I will update the review as soon as possible, and you don't need to worry, because the Sharp air filter can last for 2 years.
Related post: Best air purifiers for allergies.
Sharp FP-F30UH Room Coverage
The entry-level air purifier of Sharp is obviously a device for small bedroom, and the manufacturer only recommends to use Sharp FP-F30UH in a room of 143 square feet.
The ACH of Sharp FP-F30UH is 2X.
The CADR of Sharp FP-F30UH is 101 Dust/ 92 Smoke/ 109 Pollen (cfm). Its CADR rating can be proper even for a room coverage of 150 – 200 square feet, so if you plan to use Sharp FP-F30UH in a small bedroom, the device will clean your room pretty quick.
Related post: Best large room air purifiers.
Sharp FP-F30UH Sound
Library Quiet is the top selling point of not only Sharp FP-F30UH, but also the whole family of Sharp air purifiers. In fairness, the Sharp FP-F30UH's lowest noise level is not as good as Sharp KC-860U, but 23 decibels (db) is really, really quiet. You won't be able to notice any sound while the air purifier is operating.
Even when you run the Sharp FP-F30UH on highest speed, the noise level is only 46 decibels, and I bet this is the lowest noise level you can get from maximum fan speed of an air purifier. It is truly Library Quiet.
Related post: Best air purifiers for office.
Sharp FP-F30UH Power Consumption
One of our most FAQs is "Do air purifiers use a lot of energy?" In fact, air purifier must be used for a long time to be efficient. And power consumption is one important criteria to review how much energy this air purifier will consume.
As an Energy Star air purifier itself, the Sharp FP-F30UH has rated power of only 45 watts, which is reasonable for a compact air purifier.
If you run Sharp FP-F30UH for 8 hours per day, you need to pay $16 each year.
Related post: Best air purifiers for pets.
Sharp FP-F30UH Additional Features
As the entry-level air purifier of Sharp, the Sharp FP-F30UH doesn't include too many additional features. You can't find the basic timer on this air purifier.
But Sharp FP-F30UH features the latest additional features of Sharp technology, only available in the new devices in 2020: the Express Clean and Auto Resume functions. The first feature is a special cycle which runs the highest fan speed in 1 minute, then switches back to the previous setting. For the Auto Resume, Sharp FP-F30UH can remember the last setting you used on the previous time, so when you turn the device on, it will automatically repeat this setting.
Finally, Sharp FP-F30UH has one LED indicator for filter replacement. You can easily reset the indicator by only one button.
1, Best air purifiers for smoke.
2, Best air purifiers for dust.
3, Best air purifiers for mold.
Sharp FP-F30UH Customer Service
Sharp is a huge brand, of course they are. But this brand is not as popular in the U.S market as it is in the rest of the world. Yes, marketing is one aspect of this unpopularity, but it also implies a difficulty in finding the good customer service if you live in the United States.
But don't worry, as the U.S subsidiary of Sharp is quite active to hear from you. You can reach them toll free at 800-237-4277, or via email through their "Product Support" page. They are available for you 24/7, and this is one of the best parts for Sharp's Customer Service.
However, for their air purifiers, they only provide an 1-year-warranty. For most situations, I believe this warranty is enough to cover your device.
Top Sharp FP-F30UH deals right now
Sharp FPF30UH True HEPA air purifier for home, office or small bedroom with Express Clean.
Energy Star rated. Powerful True HEPA filter that lasts for 2 years. Quiet Operation.
Our verdict
Sharp FP-F30UH is the first attempt to enter the lowest-range segment of Sharp, and it has its own advantages over other competitors. The design is quite clean and smart, and Sharp didn't forget to add many unique feature into this new device. Perhaps, this air purifier will be the next candidate on our list of best air purifier soon.
Cleaning Power

Portability

Features

Power Consumption

Price
Summary
Newest Sharp's compact air purifier is about to shine.
Sharp FP-F30UH Air Purifier: Trusted Review & Specs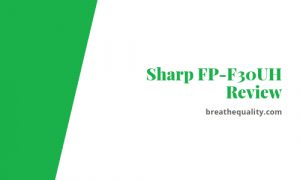 We're often impressed with what air purifier manufacturers can pack into budget devices these days. The Sharp FP-F30UH is exactly the ambition that Japanes
Product Brand: Sharp
Product Currency: USD
Product Price: 89
Product In-Stock: 1